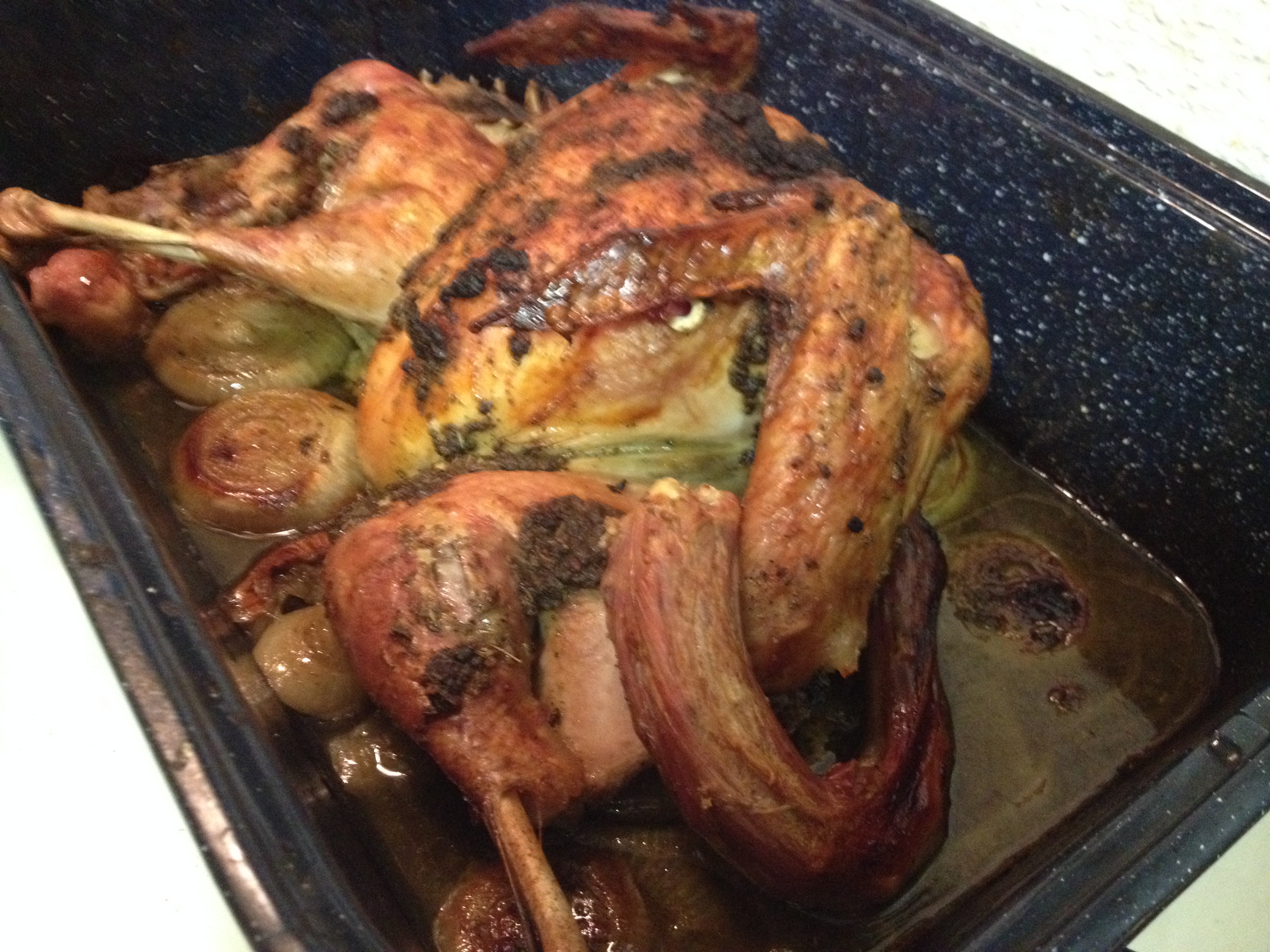 The Hot Mess–Thanksgiving Edition
Hello, Dear Readers:
Here's hoping all of you are recovered from not only Thanksgiving but the god-awful day known as "Black Friday." I had to work, and at least it was cold.
Yesterday I worked in the garden for the winter growing season,  and it looks a lot better. Yes, I still have that huge pineapple plant (top left), and I'm gonna pass it along to SOMEBODY who has room for it
I've planted three pots of garlic, two of a lettuce mix, and parsley, which was nearly gone and has come back to life with some water and a bigger pot. Let's hope the mint plant resurrects too, as it normally does. I forgot to take closeups, but there are three little green tomatoes on my scraggly tomato plants (top right.) There is a freeze planned this weekend, so they may not happen unless I bring them in.
Now onto what you've been waiting for. Yes, I still have two posts sitting in draft, but I thought you'd enjoy reading about how a food blogger does Thanksgiving for a friend–and messes it up royally.
BTW, the duck dinner was scotched, but that's another story I don't want to discuss here.
Last year I decided that I would go straight to one of my favorite Thanksgiving things, Leftover Turkey Chowder, or "The Soup of Enlightenment."   I invited the ex-boyfriend who is now "very good friend" for Turkey Day and promised him a dinner he'd never forget.
Trust me, he hasn't yet. But it is partially his own fault.
When he told me that he was likely going to have hot dogs from the gas station, I couldn't see that happening, and I insisted on making him something delish. This dinner guest is the son of Big Joel, who passed away in September, and has been busy taking care of his late father's affairs and recently cleared out his father's house. He is well aware that I'm a very good cook (usually) and accepted my invitation.
I had to do something nice for him, you know? Unfortunately, that's not exactly what happened.
As it has happened before, I ended up buying a full sized turkey of 8 pounds the night before. Darnit. Well, it was one of those HEB Naturals, you know, the kind fed a vegetarian diet and no hormones or antibiotics. It was the smallest one I could find, and even a turkey breast "roast" was more expensive.
I got it all thawed, and on the hook for dealing with it. While looking up the Cranberry Ginger Relish recipe, I saw on Martha Stewart's website about a trick called "spatchcocking." I've heard the term for many years but never bothered to learn what it was. I clicked and decided that's what I would do.
I will also tell you that I made six batches of that cranberry ginger relish, two of them with SomerSweet for me and my dinner companion, and handed off four batches for the duck roaster folks. They were given two containers full of Cranberry Ginger Relish, and I have not heard a word from them since. We'll not discuss that here.
I also baked a loaf of Rosemary Bread (with rosemary from the HeatCageKitchen Garden) from The Joy of Gluten-Free, Sugar-Free Baking.  Turned some of that into little squares and made something of a stuffing with it for the Enlightenment dumplings. I like it, but. . .let's get back on track.
The 8-pound spatchcocked turkey took about 90 minutes to cook, simply by cutting out the backbone and letting it lie flat in the roasting pan over a bed of onions using the method I used last year for The Tuscan Turkey, with some of Suzanne Somers' now-discontinued Tuscan Sea Salt Rub and a stick of butter. Although the pop-up timer worked well, I stuck and instant-read thermometer into the thigh to make sure. When it went past 200F, I knew we were good. This is what it looked like when it came out of the oven:
Then I got to work on some other things when I heard a knock on the door.
Before he arrived, I tidied up a little too, including mopping floors and making the bathroom look extra nice. Mostly everything was done–I made Yeast Free Brownies for dessert, too. However, when it came to the soup. . .
See, I've known this guy for more than 10 years, and one thing he does have is manners. And he brought a nice bottle of Red Guitar Sangria, an import from Spain that was darn good. From the first glass until I finally stopped, with about one fifth of the bottle left. Seriously.
Close friends know I don't drink much, or often. At least this time, I didn't have a hangover.
I tossed in four tablespoons of gluten-free flour, the yellowish kind from Bob's Red Mill. The same stuff I use for Babycakes' Waffles. Yeah, and I did a Rachel Ray–I "eyeballed" four tablespoons, using my fingers. So by the time it was done, and I was quite. . .juiced, I didn't realize it tasted, well, not the way I intended. I should have put more half-and-half in it, or less of the flour. Oh, boy. . . .
He didn't care for it, but I did give him half of the roast turkey, which he later told me was "delectable." When I had the second bowl of the gluten free stuff, I realized it was a) kinda coagulated and b) tasted not quite right. He did mention that he did not like the soup, but was very polite about it. I gave him four slices of the rosemary bread to make sandwiches with, as well as some of the brownies to take home.
I emailed him later and told him that he was right, that the soup wasn't good at all. He wrote back and said although I made some great food for him previously, including dinner about a month ago. . .this was the worst food he'd ever had! He didn't like that rosemary bread, either, calling it "inedible."
Darnit.
He also offered me a cookbook from the 1950's; um, probably not, but I do have lots of other good books to cook from. He's a bit afraid I went overboard with the "bizarre ingredients," but I guess it was too much gluten free. He also said he told a friend that he should have brought over a loaf of whole wheat bread and a jar of Duke Mayo! They had a laugh at my expense, and I promised not to do that to him again.
Amazingly, he did remember a cake I made for him ten years ago. My Aussie friends had sent me a copy of Donna Hay magazine, a well-known chef Down Under who does simple and delicious food. Her cookbooks are widely available here in the US (with American measurements), and one of these days I'm going to get around to getting them, darnit! The magazine is also available here in the US in bookstores, although out of sync with the calendar in order to keep in sync with the seasons. (It's currently summer Down Under.) Big and glossy, you'll see some interesting ideas, like the one he mentioned–a pistachio raspberry cake I made for him one time, and I will have to make him again to make up for the bungled Soup of Enlightenment.
Maybe if I can pull it off, I'll make it correctly this time, with <gulp> real flour, just for him. Cake too. See, he hasn't gotten the wind of why gluten-free is a good thing. Not my mission to "convert" him, but I do my best with it.
Remember, a holiday is not a good day for experimenting on your friends! Even the good ones.
Happy Dining!