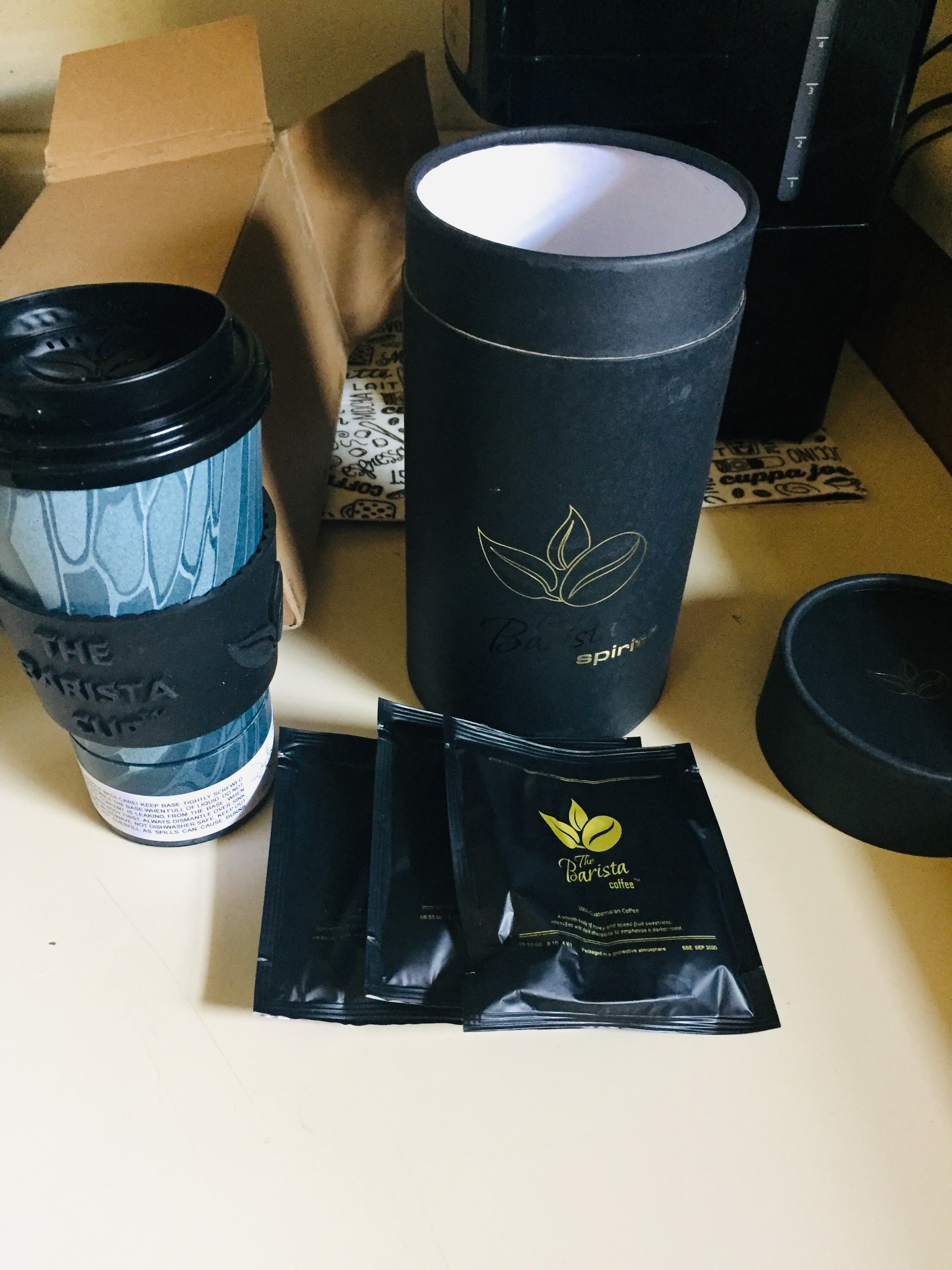 Are you a coffee-on-the-go drinker? Have you seen the new Barista Cup yet? Let me tell you about it.
Hello, again, Dear Readers:
I'm sorry that it's been so long. There's been a lot going on around here, and now it's summer. But piggybacking off my last post, I would like to continue the coffee thing with something that will make nearly any coffee drinker very happy.
Still On Strike (Sort Of)

Although I have cooked some food for the both of us, mostly, me and BF generally do not eat the same thing much anymore. It makes him happy to eat frozen pizza, and I'm at the point where I just say go for it.
However, recently after one of our discussions of food, I decided that I would make myself something delicious. Remember the sweet potato sheet pan dinner?
I told him that I was making it for myself, and that he was not welcome to try it. However, when he saw the amount of bacon that was involved, he was willing to overlook anything else. Asparagus is one of those things that he "knows" that he doesn't like, because he had it one time at his friend's house. This is a friend who is a car guy and also fancies himself a chef. Clearly, he isn't. But I don't say much, and I really don't like him. (We're not invited over anymore for whatever he's grilling anyway, so that's a good thing.)
Well, because this dish is roasted a high temperature for quite a time, the asparagus also gets nicely roasted. Guess what? Turns out the BF actually likes roasted asparagus. Who the heck knew this would happen?
I think we must've used too much bacon, because I used to make it in the toaster oven. This time, we had to put it on a bigger sheet pan in the big oven. That's OK, we ate it more than once, happily. And now this asparagus-hating BF is one who will happily eat it, as long as it's roasted.
Gazpacho Soup Is Served Cold
You may have heard of this soup, a cold tomato concoction that's usually served as a starter. If you haven't tried it, well, I have, finally.
What you may not of heard of, especially if you don't hang around me for a long period of time, is an old British TV show called Red Dwarf. I've written about it before, and it's been on the air intermittently for about 30 years now, with the 12th season wrapped up a couple of years ago. It used to be on PBS and BBC America, but it's now just for the British and for die-hard Americans who love it. (The entire series runs on the paid streaming service Britbox and Amazon Prime Video.)
In one of the early episodes of Red Dwarf , (I think it's series 1, might be series 2) there was a reference to Gazpacho. One of the characters, Arnold J. Rimmer, is a hologram of one of the dead crew members. At the time of the accident, his last dying words were "Gazpacho soup." The last living human alive, Dave Lister, found out about it, insisted on knowing why, and deviously got a confession.
He Didn't Know
It turns out that Rimmer was once invited to have dinner at the Captain's table, and Gazpacho was served as a starter. However, Rimmer took one taste of this cold concoction, and called up the shelf and demand that he take it back into the kitchen and heat it. During the period all of his dining companions were laughing at him while he ate his piping hot Gazpacho. Because why? He had no idea that "Gazpacho soup was served cold," and nobody told him. He never ate at the Captain's table again, leading him to believe that that was the end of his career, and he would never progress past being a chicken soup vending machine repair man, second class.
You can watch the interchange here on YouTube.  It's frat-boy kind of humor from 30 years ago, and you should use your own discretion if you decide to watch it at work. Depending on your company, it might invite the ire of your IT Security people if their parameters are set high. If you're not sure, wait until you get home, or watch it on your own smartphone.
Why Do I Mention This?
One recent Saturday morning while sewing, I was watching the Barefoot Contessa make some food for a weekend barbecue. One of the things she made was this Gazpacho soup with goat cheese croutons. It was really simple, and everything was done in the food processor. First words out of my mouth were, "Gazpacho soup is served cold." It's a knee-jerk reaction. And then I realize, in all the years I've been cooking, I've never made Gazpacho. I don't know why, I just never did. So, I went to Walmart, got a few ingredients, came home and made it.
Then I tried it, and asked myself, "why have I never made this before?" It taste like fresh salsa!
Please, promise me this summer that you will make this very simple and delicious recipe for Gazpacho. I'm going to make my fourth batch this week, and eat it every day. Why, in the middle of summer, wouldn't you?
I will point out that I did not make the goat cheese croutons, primarily because I don't eat bread, and because I know that I would never hear the end of it from BF. He has not touched the Gazpacho, and I told him that this was not for him either. I actually think he would like it, but I don't want him touching it, anyway. If he likes it, I'll never be able to keep it around.
The Barista Cup
So, a funny thing happened after a recent blog post. This is what happens when you practice SEO backlinking.
After I told you about Nick Usborne of Coffee Detective, and his discovery of the new Barista cup, I got an email from Elaine in the company's marketing department. She had one question: would you like to try one?
Seriously? <Insert smiley face here>
Here's the deal: they send me a barista cup to try out for myself and write a blog post in return with a review. I can handle that!
I was more than surprised when I got her email. In fact, I was wondering if it was a scam email. But when I did a little checking, I discovered that yes, indeed, she was telling the truth and she really was who she said she was. I sent my address so that she could send me the cup. Because the team was busy with two conferences in Europe, she said, it might be a while before I saw it. That's OK – I just said thank you.
There were a few delays, so I emailed Elaine for an update a month or so later, and she sent it by UPS. With everything that she had going on, I certainly didn't mind the wait and wasn't going to complain.
The Cup Arrives
One thing I did request was anything but camouflage. There's enough of BF's stuff from years his in the military in this house that I don't really need my coffee cup to blend in so I can't find it. Besides, things get lost in the vortex around here if you're not careful. And, as I always say, I don't do cammo. I mean, unless I'm in a situation where I need to blend into the forest or something, I just really don't need it. Elaine was happy to comply with my request and sent me the Komodo Dragon style, which Is a lovely blue slate color.
This box is perfect for gift-giving with just a tag, isn't it?
There are a number of styles available, including camo, so there is something for just about everyone. If you like your camo, have at it–you can tote your coffee around in it.
Making Coffee
So what's it like to use? Well, it's pretty straightforward. Like anything else, it's simple as soon as you read the directions.
The cup comes in three parts, and there are two gaskets involved to keep liquid from leaking out of it.
That cup sleeve is actually heavy silicone–but it feels like a rubber tire. No kidding. Super thick, keeps your fingers and hands from getting burned, and lets everyone know what kind of cup that is.
And here is something that I've never seen on a travel cup before: a little drain screen to keep you from drinking the grounds with the coffee. That alone is an improvement over any other coffee cup out there.
After you wash it completely, the process is simple. Boil your water, pour it in first:
Then add your coffee, sweetener, milk, or anything else you like in your coffee. Stir up a little, carefully, and then carefully screw the lid on.
And this is what you get:
Now you see why the screen in the cup is so handy. You don't ingest that at all. Again–genius!
Warning
One thing you'll have to be careful of is not to overfill the cup. The cup lid screws on, doesn't pop on and off. Therefore, there has to be a little bit more room to allow for that. I say this, because I've done it. And yes, I have spilled coffee on the counter. Fortunately, I have a very plentiful supply of dish towels.
Honestly, it's almost like instant coffee, but tastes much better. Once you put the lid on, you can take your barista cup anywhere you want. I could have used one of these when I was working, especially at Boeing, where I was one of the few decaf drinkers. I had a French press on my desk, after seeing one of the executives have one in his office. But then I joined the coffee club, and we always had decaf coffee brewed. And of course, I had to put up with comments about "wussy coffee." But that's OK, I could have good coffee anytime I wanted it.
Barista Cup vs. French Press
Aficionados of the French press know that it's a great way to make coffee, it's ecologically friendly, and the coffee really tastes good. I still have several, and use them occasionally. However, the Barista Cup eliminates the pot part. In other words, instead of making your coffee in a pot, then pouring it into a cup, you just make the coffee in the cup. You only wash one cup, instead of a pot and a cup.
Another benefit to the Barista cup is that your coffee is always fresh. Unless you like making coffee in your regular coffee pot, the coffee will not sit around for any length of time. You'll be making a fresh cup for each cup of your coffee.
Better Than A Pod
If you're thinking, "But I have one of those K machines," I bet you didn't know that those little plastic pods are almost impossible to recycle. I know that Nespresso does the recycling thing, but the plastic K-cups are not recyclable. In fact, I found out recently that the man who invented the Keurig wished he hadn't done it. Why? Because of the un-recyclable pods. I've never bought one, because I don't like the extra trash.
Look, I'm all for new inventions and free market capitalism. But just because you can invent something, doesn't mean we need it. Sure, the K-thing is a great convenience and makes great coffee. But the environmental impact is another matter altogether.
The Barista Cup makes great coffee, quickly, fresh every time, with whatever kind of coffee you want, and eliminates those extra little cups, too.
No, I'm not environmentalist. I just hate all that needless extra trash going to landfills.
Filters
Another advantage is that there are no filters to wash or throw away. The filter is built into the part of the cup where you drink, so you won't adjust them. There are no other filters involved. You just empty the grounds out into your compost bin, or your trashcan if you don't compost.
Note: if you work in the Boeing building, please do not put your grounds down the sink drain. You'll stop up the drain and upset a number of people if you do.
Downsides
OK, you knew there had to be a downside of this cup well, I don't really see them as a "downside," but some of you might.
If you start using the Barista Cup instead of your regular coffee maker, your coffee maker might feel neglected and start to complain. I do use our regular coffee pot, a small 4 cup model, when I haven't washed the Barista Cup. But in all seriousness, your regular coffee pot may feel a bit neglected, and you may wonder why you have it after a while.
If you're accustomed to having a cuppa coffee waiting for you right after your alarm clock goes off and you stumble into the kitchen, having to make coffee "from scratch" may be a bit of an issue for you. After all, the purpose of having a timed coffee pot that has your coffee ready at a certain time is because you are incoherent and are very morning challenged. If this is you, you may choose to have your regular coffee pot make your 1st cup of coffee, and the Barista Cup to make the coffee that you take on the way out the door. There's no waiting, because you literally put everything in the cup at one time. So it's certainly a win-win situation, not really a downside.
Like Nick Usborne mentioned, think about all the coffee machines that go into landfills. The electronic parts that go into it, and the plastic that may never biodegrade. This is definitely an improvement from all the stuff that can be slowly eliminated and left out of landfills, especially the little cups.
Where Can I Get One?
So far, the Barista Cup is only available on their website.  The cup is $25, and honestly, I was planning on buying myself one anyway, because it just looks like such a cool thing. It really is, and it's worth the money you spend for it. Highly recommended.
When you buy your barista cup, it comes in a beautiful circular box:
Inside the box is, of course, your cup, plus a replacement gasket for the bottom portion. The instructions, of course, as well as three packets of their own coffee.
I've tried the coffee, and it is very good. However, because it's regular coffee, it's a little too strong for me, so I'll have to stick with my decaf. I have not seen anywhere about the coffee is available for sale, but that may be coming later. (Then again, I may have missed it on the website.)
The Barista Cup As A Gift
So now it's the middle of June, and we are smack dab in the middle of wedding season. If you know two coffee lovers that are getting married, this would be a great shower or wedding gift. A pair of these cups in their favorite individual colors, with a pound or two of their favorite coffee, would make a great shower or wedding gift. It would also be a great gift for any coffee lover's birthday, any time of year.
It maybe too late to get a graduation present for someone going to college, but if you haven't gotten a gift yet, this is an excellent time to do so. You have time to get it before they head off to classes in the fall, especially if they're going to be doing the dorm room thing.
And if you're the coffee lover, there's never a bad reason to order yourself one, right?
Washing The Cup
OK, I saw one issue: the bottom of the cup says "dishwasher safe," but the instructions say, "hand wash only." Who's right?
I asked Elaine to clarify, and she said that although it's "top rack dishwasher safe," the design may not last in the dishwasher. She recommends hand-washing, which isn't difficult at all once you empty out the grounds.  (It wouldn't fit in the top rack of my countertop dishwasher, anyway.)
Also, I caution you not to lose the gasket out of the top of the cup, which will quietly fall out if you bang it in the trash can to remove the grounds. You'll see what I'm talking about if it happens–that thin piece of black rubber keeps it from leaking while you drink. That is, if you screw the top on correctly. . .never mind how I know this.
I Love The Barista Cup!
Honestly, when I see something like this, I wonder: why hasn't someone thought of this before? But we have it now, so what's enjoy it now. It really is "a coffee machine in a cup," and you just need hot water.
To be fair and give full disclosure, I really was graciously sent this cup in order to try it out and write a review. Like Nick Osborne says, it does the job they say it will do, you'll use a bit less coffee, and it's a good thing. (I would tell you if it wasn't.) So I really can't say anything bad about The Barista Cup, even with the "downsides" I mentioned earlier.
Many thanks to Elaine at The Barista Cup for finding my blog and offering me the chance to try this cup. I highly recommend it. And a special thank you to the gentleman who invented it, Aziz Patel, who just wanted a better way to make a cup of coffee while reducing waste in the process.
As Martha Stewart would say, it's a good thing. Just heard my kettle boil. . . .
Enjoy!