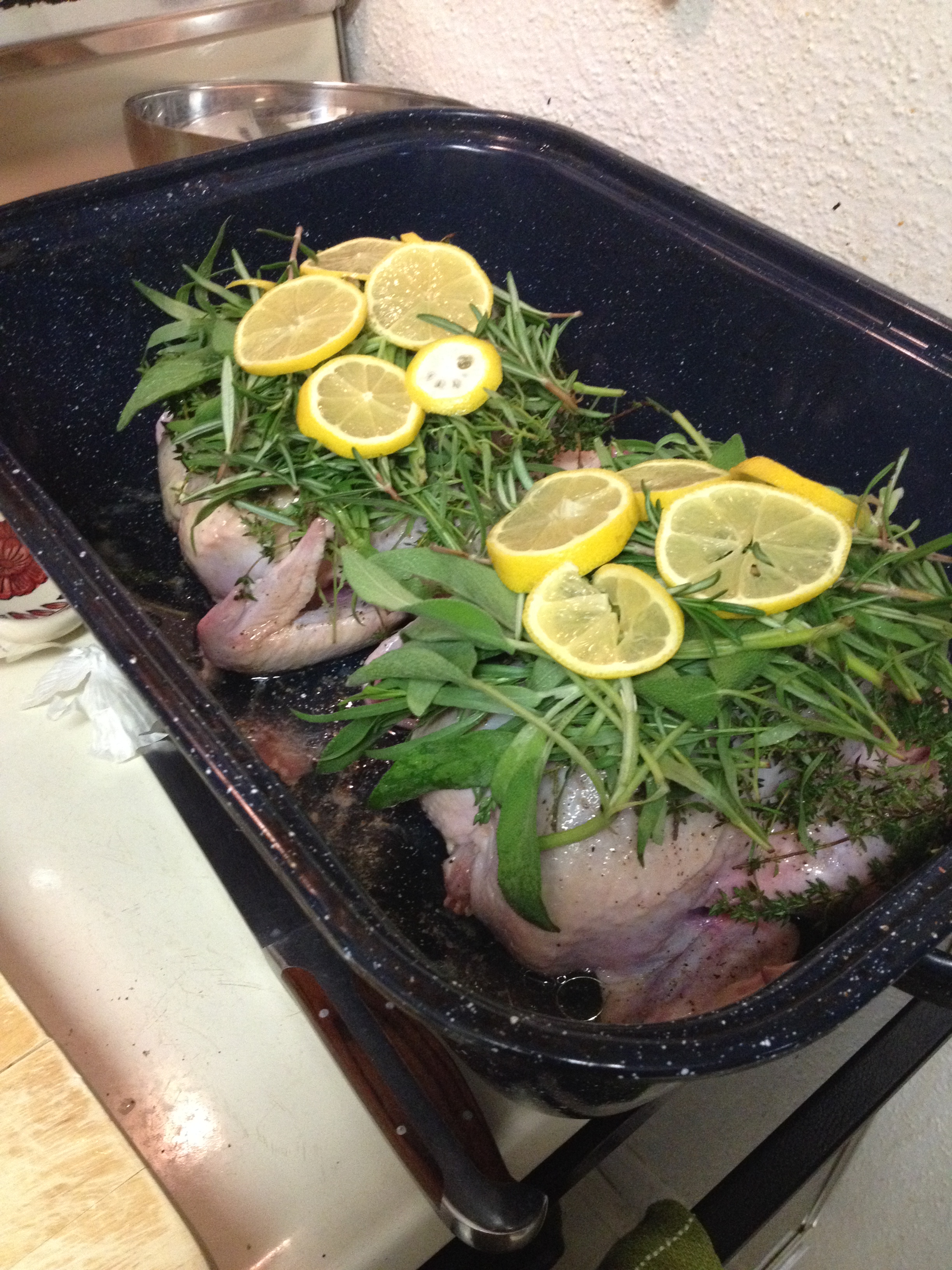 Part 2: The HeatCageKitchen Christmas!
Hello, again, Dear Readers:
I'm sorry I dropped the ball again. . .but there's more to tell about Christmas dinner. And dessert, of course!
If you're in the US, you're likely freezing your butt off. I know I have been, but heck, I love it. I've got firelogs, and the little laptop in the living room with the fireplace burning all day long (including early this morning.) It's been raining in addition to being cold, so there's been coffee, tea, yeast-free hot chocolate and more tea.
And if you're Down Under, you've got shrimp on the barbie. Enjoy them for me, OK?
On the sewing side, I finally finished the hot/cold grocery bag LAST NIGHT. (On the pattern, it's bag E.) What I'll show you is the prototype for the planned gifts for Neighbor K and Neighbor R that didn't happen. First, I used up some denim that R had given me a few years ago, because I thought it would be great. Nope. Too thick. Then I couldn't sew on the Velcro, even with the help of a friend who sews.The bag has actually been stitched up for quite a long time. So a few months ago in Joann Fabrics I came across contact cement. Hey–my Dad used it all the time on stuff! So I bought a bottle (with a coupon, of course) and finally, yesterday, I finished the darn thing:
I had to wait until I could work outside, and the rain has stopped for a few days. Contact cement has some mind-bending fumes, and I can't afford to get bended, you know. This is the side of it:
This is the inside, though this is one time it doesn't look like the pattern envelope picture. Hey–at least it's not a cocktail dress:
Next time I go to Trader Joe's, or even HEB, I'll give it a field test and let you know how it works. That inside fabric is $10 a yard–it better work great!
Now to continue with the holidays. . . .
So I wondered what to have for Christmas dinner, and despite my love for roasting turkey, I went with chicken. Specifically, two small organic chickens, and a recipe from Suzanne Somers' Sexy Forever Recipe Bible, called Zannie's Perfect Roast Chicken. It really was, and simple, too. After rinsing them off, you rub some garlic on it, there's lemon, onion, and a bunch of herbs. Oh, heck, let me show you–this is the actual recipe from the book:
I took out my really big roasting pan and went after it. I topped it with slices of butter before putting it into the oven. I left it completely alone in the oven. And after two hours, I had some delicious chicken that I enjoyed for quite a while:
While that was in the oven I was making some of my favorite sweet potatoes, and also made a complicated but interesting dessert involving gelatin. I showed you the finished product in the last post, but this is the long process to make it.
You can find the recipe for Cafe Gelatin here, and my comment at the bottom from the first time I made it.
The first layer is a espresso panna cotta layer, which involves ground espresso and filtering it through cheesecloth.
Because you use real ground espresso in this, not instant, and you don't want to crunch down on a coffee ground. Next up is the absolutely vexing espresso gelatin layer:
I say "vexing" because if you scroll past the recipe, you'll see my comment from 2008, the first time I made this recipe. Unfortunately, the same thing happened this time–needs a little more gelatin than the recipe specifies. I could do it for the stuff in the baking dish, but it was a bit too late for the stuff I poured into the glasses:
The espresso gelatin layer doesn't set like it should because there isn't enough gelatin in it. Like the last time, I re-boiled the remainder, added a bit more, and set it back in the fridge for later.
Now to make sure each glass came out exactly right, I used a good ol' Pyrex measuring cup:
I know, people might eyeball it, but even though it was for me, I wanted to make absolutely sure it came out as good as I could get it.
Now, in between each layer, it had to go into the fridge to set, so I covered them with plastic wrap just in case:
Of course once that's set up well, you add 2 tablespoons of the espresso gelatin layer on top, and let that set. Then you get on with the vanilla panna cotta layer, and when the time is right, strain that with cheesecloth like the first layer, and pour a quarter cup into each glass, over the espresso gelatin layer, like this:
Since the espresso gelatin layer didn't set up well, I had to be VERY careful pouring in the top layer, or the espresso gelatin would bubble up, just like the first time, and not make it as pretty. Are you seeing the problem?
So I poured each quarter cup in by tablespoons until it was done.
I know, you'd think I was serving Christmas Lunch to HRH Queen Elizabeth. No, just me. But I want to get it right, because it's SO good.
So back into the fridge they went for longer, and the rest of the espresso gelatin was firming up too. Meantime, I made my favorite Spicy Sweet Potatotes with regular paprika and no cayenne. When those were done, so was the chicken:
So while Queen Elizabeth might not have been impressed, I thought it was pretty tasty and was pretty darn happy with it. And of course, at the end, I ran a knife through the espresso gelatin in the baking dish to make tiny dices, and fixed up the final part of the delicious sugar-free dessert:
Yes, eventually, it was worth it. Had I gotten up earlier I could have been done earlier, but you know how that goes.
Neighbor R wasn't home, but K was, and I offered her one. (I had six. She got a perfect looking one.) She didn't have it right away, but I did point out that it was made with Somersweet, so no guilt. A day or two later when she finally got to it, I got a text message: "Excellente, chica!" She loved it. And rightly so–it's a nice, refreshing dessert that even works on Christmas.
Now that the holdiays are over, we're all on diets again, right? I am, actually, the yeast-free diet that I've written about before. Why? Heartburn. . .but I was sick in October, so the antibiotics started that process. Then all the dairy, sweet stuff. . .well, you know. Sugar feeds yeast, that's all I'm saying. . .so I'm back on it with some Yeast Control and missing the milk in my coffee already.
I've got more updates coming soon. Happy New Year!!