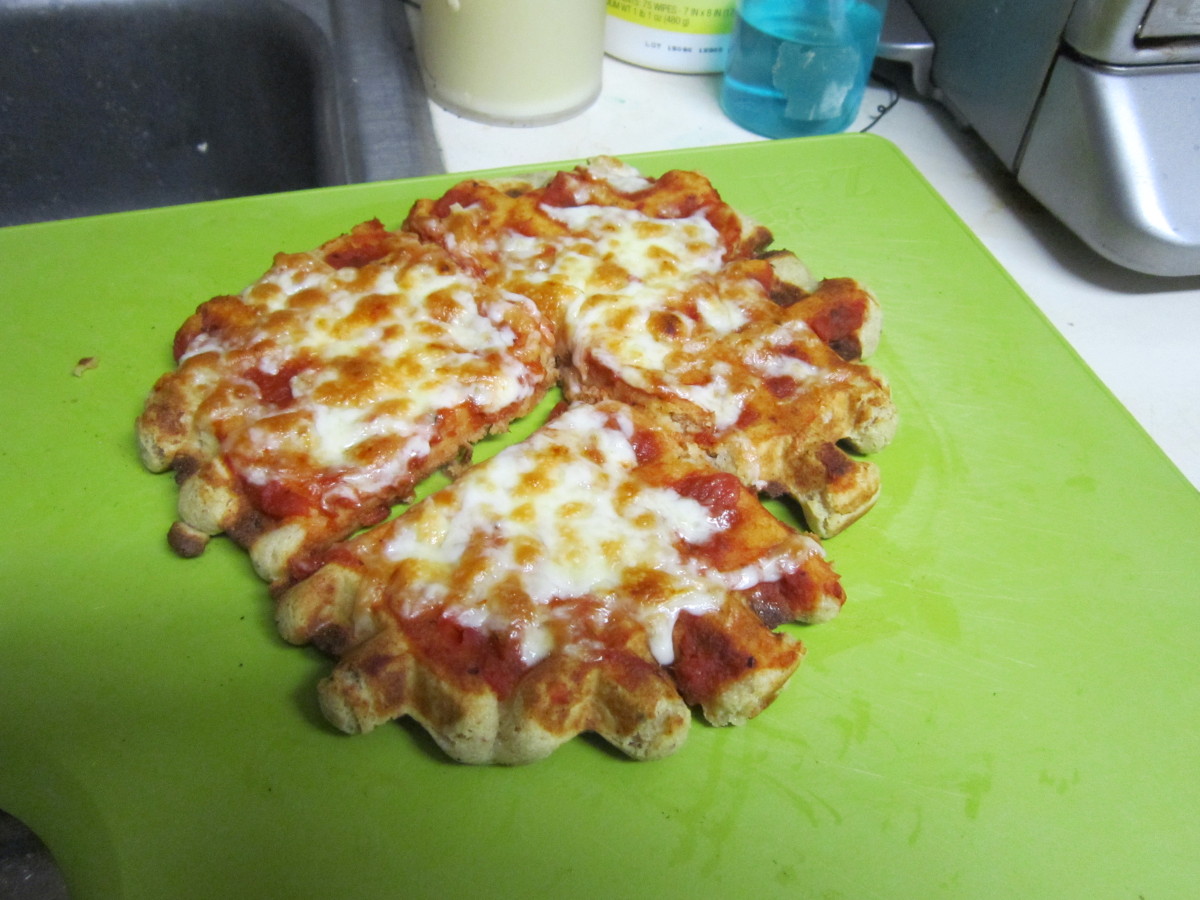 Happy Monday, Dear Readers:
So after my waffle and Thanksgiving post, have you started thinking about your own Thanksgiving celebration? I'm still intrigued with the idea of the pizza waffle, so I kept going. I'll tell you more about that in a minute. But Thanksgiving is coming up quick–if you haven't started thinking and planning, better hurry up!
The GER has been informed of Thanksgiving, but has not responded, even though I'll be making a delicious pecan pie on Wednesday. If he doesn't show up, I'll go get him.
Want to give a quick welcome to new friend of the blog AC. She's in California this week with her parents, but she'll get around to reading this one eventually. She's a longtime friend of LK, and is also a longtime Buddhist like we are. Woo hoo! I'm glad she's in our district now, and glad she will be enjoying (or reviling) my posts.
Wal-Mart has a site with some additional tips and hacks that can help you out, including a quick way to chill a bottle of wine. Cover it with a damp towel, stash it in the freezer for 15 minutes, run it under cold water again, remove the towel, and enjoy.
BuzzFeed also has this article on making an entire Thanksgiving dinner in a Crock Pot. No kidding, it serves 6 to 8 people. It's like any other Crock Pot recipe–you chop it up, layer it, put the lid on, turn it on, and leave it. (Instructions are included.) Uses boneless, skinless turkey breasts, thighs or other parts you like, and potatoes, sweet potatoes, stuffing, Brussels sprouts, the whole bit. Add cranberry sauce and a nice dessert, maybe a nice salad, and you're good. Better than Thanksgiving In A Box, which I've seen once in Wal-Mart. I offer suggestions where I can, and just maybe one of my readers will be able to do this. It requires a 6-quart or larger Crock Pot (yes, I have a round one) and it is not gluten-free, since there's bread and flour involved for gravy.
Doesn't look bad, and maybe it could be made gluten free, right? Consider this option if you're looking to make something but not a big, fancy dinner, and not a huge 20+ pound turkey. I haven't tried it, but it looks pretty simple to do, and one of you dear readers may be looking for it.
The esteemed Washington Post recently ran an article about Houston as one of America's great food cities. Well, DUH!! Of course we are!  Phoenicia's two locations got a mention, as well as the Hong Kong Food Market, a chain grocery with multiple locations serving the large Asian community (and they don't mind if this redhead pops in from time to time, either.)  Houston, like New Orleans, has a large Vietnamese population, migrated after the Vietnam war. But smoked brisket, barbeque and modern cuisine is also covered. I've not been in any of those restaurants myself, but I've heard good things about Underbelly. So there! And Houston is now #3 in the US, not #4, because of the inbound migration from other US states.
If you're a fan of local raw honey, you may be able to find more of it one day. I already knew that Central Market on Lovers Lane in Dallas has a rooftop beehive that produces raw honey for sale. But I just found out that the Waldorf Astoria in New York is doing the same thing, and using the honey in the hotel's kitchens. Pretty neat! It was, at one time, illegal to keep bees in NYC, but that's changed, and the busy bees are making honey and pollinating all of New York. Could "rooftop beekeeping" catch on elsewhere? It's always possible, especially for the rest of the Central Markets in Texas. But with more people starting and expanding urban gardens (some including backyard chickens), beekeeping may also not be far behind. Culinary seller Williams-Sonoma has an entire collection of what they call "Agrarian," which includes beekeeping supplies. You can learn more about beekeeping in this section of their website. If you're considering beekeeping, of course, you'll need to do a little more research.
Switching gears. . .
If you like holiday humor, I discovered many (but not all) uncut episodes of one of my favorite Britcoms, My Family, is on YouTube. It aired on BBC America and PBS for a while, but they stopped. It's one of the funniest sitcoms ever, although it's probably not for kids. Only series 1 through 4 are available on DVD in the US, but a boxed set is available of the entire series, including 9 Christmas episodes, in the UK. You can order them from the UK, but of course, you have to have a region-free DVD player in order to play it. So. . .one of my goals is to one day a) get a region-free DVD player, and b) order that series as well as some other UK-only stuff and c) binge-watch all 11 seasons of My Family. Repeatedly. It's that funny.
The series revolves around a dentist, his wife and their three children. The daughter drops out of college when she is pregnant with her son Kenzo, the eldest son is an idiot, and the youngest is a smart, conniver who his always up to something, usually involving money and his computer. The series ran until 2011 when they ended it, and of course, I don't know how it all wrapped up. Yet.
In the early-series episode called Ding Dong Merrily, there is a particularly amusing scene when the wife/mother, who sees herself as Britain's premiere gourmet home cook, (and she isn't) is stuffing a turkey for Christmas lunch. The husband, a dentist, walks in and asks what kind of a turkey it is. The wife responds, "Chocolate Raisin Turkey. It's Moroccan!" Then the husband says, "Oh, no, look–your cookbook pages are stuck together. You've gone from poultry straight to dessert." The wife replies, "That's how great discoveries are made!"  Then he goes into the living room and looks at the TV schedule, and finds "Carols From The Oil Rig" in the TV schedule.
When Christmas Lunch is finally served, the mother asks the pregnant teenage daughter what part of the turkey she'd like; the daughter responds, "I'm a vegetarian, Mom." The mother responds: OK, Janie, help yourself to vegetables." When she asks the smart-aleck youngest son, he responds the same way. The mother replies, "I wish you'd told me before." The son responds, "I wanted to see what it looked like first."  It's a half hour, and there are short commercial breaks, but if you really want to watch it, this show is what I'd call "probably not safe for work."  There's minimal swearing, not very much, no nudity or anything like that, it's just more for grownups. Oh, and the phrase "up the duff" means the same thing as "knocked up" does here.
Happy Christmas!
Now, I'm still intrigued with the idea of pizza from a waffle maker, so I had to try it myself. Ree Drummond actually made one recently on her Pioneer Woman show on The Food Network, in an episode called Dorm Room Dining. Her eldest daughter, Alex, has left the ranch and gone to Texas A&M for college, so I guess this episode was just for her. There are also waffle-maker quesadillas and paninis, as well as what she calls a Wafflet, which is eggs, ham and mozzarella cheese. See? WAFFLES!! They're sweeping the country!!
Well, almost. I went into our new Sur la Table here in Baybrook Mall for the grand opening, and was checking out some of their pizza things. I mentioned to two ladies next to me (one of whom was in a wheelchair) that I'm fascinated with pizzas made in a waffle iron. The one pushing the wheelchair gave me a rude look and said, "I guess that's good if you're single, huh?"  My response: "Depends on the size of your waffle maker, I guess."  No, Toto, we're not in The Woodlands, either. But they did sharpen my big knife for free. (First one is free, the rest are $5 each, all year long.)
So what happens when the star food blogger in the HeatCageKitchen gets a hankering for pizza? That's definitely one of those things I miss having, but of course, there are alternatives to ordering from Papa John's. So she goes on Pinterest and finds what she wants. This time, my new taste tester, Neighbor E, also got to try some pizza waffles. I've stocked up on pizza sauce, but will get more cheese soon,so I can make it anytime this winter, along with Pea & Pesto Soup.
Let that roll around in your head awhile, OK? Pizza. Waffles. Or, Waffled Pizza. Or nearly instant pizza from the waffle maker, depending on what recipe you use.
Pizza. Waffles.
I've uploaded these two to the Recipes page, one is a scan and one is a PDF created from the blog it came from. One is a thick crust pizza, the other a thin, crispy crust. I liked both, and so did Neighbor E, but Neighbor R wasn't crazy about the thick crust. So here's the first one, thick crust and easy.
The new function in WordPress, a "mosaic."
I discovered that the quinoa flour called for in the recipe is about $13 a pound, but oat flour can be used. Well, I have used oat flour for many years, and it's about $3 or $4 pound, depending on where you buy it. So guess what I used? I also don't have sweet rice flour, so I used the brown rice flour I have.
Really, this is pretty simple, you just mix it up, pour it on the waffle maker and waffle it. Top it with whatever you like, and stash it under the broiler to melt the cheese.
The first time I bought Classico's pizza sauce, but when I went to HEB last week, I discovered their store brand, (organic, no less!) for sixty cents less a bottle:
Now, the second one, from the fabulous new book Will It Waffle?, takes a little more work. (It's the book I wrote about in the first waffle blog post.) The recipe isn't gluten free–so if you just want regular bread flour, go for it. However, I wanted to try this recipe, which also includes instant yeast, just to see if it would work with a gluten free flour. For this one, I picked up a bag of Bob's Red Mill 1-for-1 baking flour, which, I think, ran about $4 in Kroger:
This recipe involved letting the dough rise like you would bread. But since it was cool on Saturday, leaving the dough in a warm place to rise involved heating up the toaster oven, putting the dough in a bowl, covering it with a pot lid, putting it into the oven and turning it off for a couple of hours while I went out for a 2 hour bike ride:
Worked like a charm, too:
Then you punch it down, knead it, and you end up with six potential pizzas:
Daniel Shumski does tell you that the recipe makes extra crusts. Well, I waffled two regular sized pizzas and one about the size of a donut, and the rest were packed up to freeze for a future pizza (just let the dough thaw at room temp):
After that, it was pretty much like dealing with pie crust but a lot more delicate. Roll it out on a floured board (you don't need much.) Then, like a pie crust, roll it onto the floured rolling pin, the unroll it onto the plate until you're ready to waffle it:
Neat, huh?
Then you just proceed with the cooking process on a heated waffle maker:
Take it out, top it, and just like the prior pizza, stash it under the broiler to melt the cheese:
Since I'd been on the bike for 2 hours (ahhhh. .  .) I ate a whole regular sized pizza and the donut-sized pizza. Stop it–it wasn't THAT much! I gave Neighbor E and Neighbor R each half of the second pizza right out of the broiler.
Now, with the yeasted crust, it'll take a while because you have to let the yeast rise. However, the crust can be made in advance and thawed. I haven't thawed any yet, but it probably shouldn't take long. Then just roll it out and waffle.
This crust came out a bit like a crispy pappadam, the crispy bread served in Indian restaurants. I didn't think it was going to taste good, because the raw dough wasn't tasty at all. But boy, once you apply that waffle heat to it, it stiffens up really good, and the toppings just make it.
Three thumbs up! (Mine, E's and R's.)
Shimski also gives an option for a cannoli-style pizza, which I haven't tried yet either. But I might, adding some sausage, pepperoni or something else. Hmmm. . .waffled pineapple, maybe? (Yes, pineapple on pizza is good.)
But with the first pizza, you can have it in the time it takes to call out for pizza, and it's gluten free.
So here's where I'll close this delicious and interesting post, and wish everyone in the US (or anywhere) a Happy Thanksgiving. Enjoy what there is to enjoy, and remember what you're thankful for, too.
Don't forget the best recipe ever for Leftover Turkey Chowder on the Recipes page, too.
And if you're going out to Christmas shop on "Black Friday, " please, please be careful–or reconsider. Sometimes it's actually dangerous to go out shopping, and people have been badly hurt just trying to get at that great deal on a TV, DVD player, PC, or whatever. I might just walk up to my Starbucks instead, just to go for a walk that day.
Whichever pizza you chose, keep it in mind for a quick meal sometime. The fun is in trying something new, and experimenting with it. With or without salad, soup, or whatever else you might have with it, making pizza waffles is a neat way to make a pizza when you're in the mood for it.
Happy Thanksgiving and Happy Dining!!