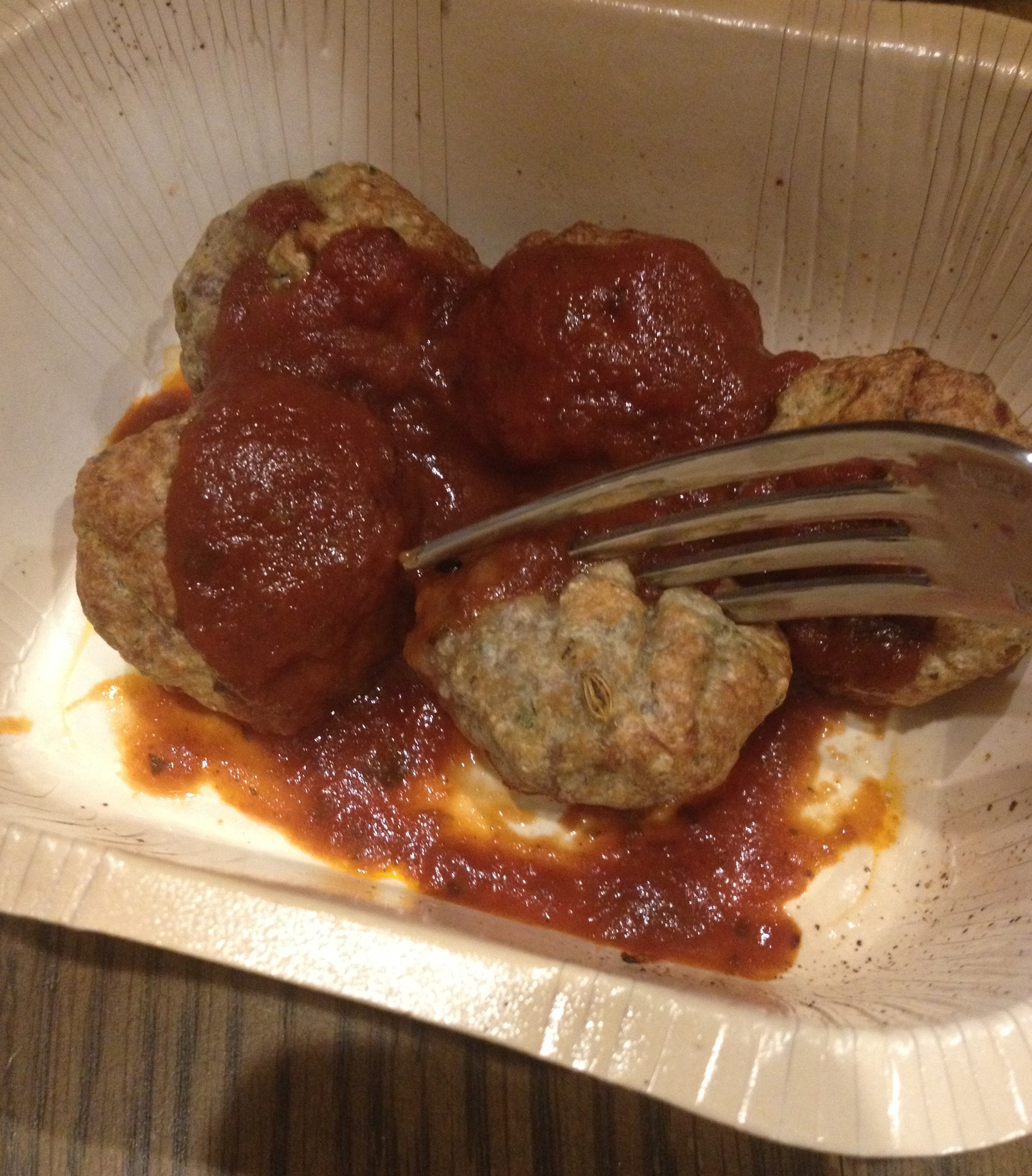 Good evening, Dear Readers:
Well, I finally did it and tried out the new Starbucks Evenings Menu at a nearby Starbucks. (The one on my street isn't yet up and running with it, so I went to the one across the street from Ellington Field.) What did I have? Meatballs!
Why meatballs? Heck, I don't know, I had to think fast when I ordered. I had to first head to Jiffy Lube for a Texas state inspection. After that I was on my own.
Let me back up a little. . .first of all, I had a coupon. No kidding, a few weeks ago, after getting a coffee one morning, I was given a coupon to try one of their Evening menu items for $2.50. Then I lost it. I cleared out my purse, and found it. Hot dawg! Well, no, it was meatballs, so let me tell you about it.
Neighbor R also generously gave me another gift card recently. Coupled with the coupon, it was a nice treat.
I've mentioned the Evenings menu before, and you can see the menu here. Everything that's currently being offered is shown, including the wine list. (You'll have to enlarge it and wait for a few minutes, or download it and pull it up in Adobe Reader.) While I was there, a couple of other customers were also having something. When I was leaving, one gentleman had a glass of red wine with what looked like a small quiche (but I didn't ask or take pictures.) The wine was served in a stemless glass with a small bowl of toasted pumpkin seeds in the top. The nut bowl served as a"cover" on the wineglass on the way to the table. Nice! I didn't take that picture either. Maybe next time.
Now, they were nice enough to accept the coupon, so I wasn't going to fuss when the barista served it to me in a to-go box. He just forgot I was eating in. (But had he remembered the plate, it was a little round white one that I've seen on the menu.)
He was really nice, apologized and offered to get me a plate. Nah–this was fine. However he did bring me a very nice stainless steel fork to enjoy them with. So what did I get in the little box?
Five meatballs. About the size of golf balls. In a tangy sauce that's slightly on the side of barbecue but not entirely. (The little round white dish would have made a better picture, I know.) However. . . .
Understand that the Starbucks Evenings menu is not intended to be a full meal, like their Bistro Boxes or breakfast sandwiches. These are small plates of savory evening meals, similar to ordering an appetizer in your favorite restaurant. And, to be honest, I was not disappointed, either. They're made with a mix of ground beef and Italian sausage, and not spicy hot.
The outside was a tiny bit dry, and takes a bit of force to stick the fork into, but not bad. Once you tear it open, it's fine. And the fork was stainless steel, not plastic.
So why would you want small plates after 4:00 pm at a Starbucks? Well, lots of reasons–if you're single, you just might be on a blind date. (When I was doing that, I was in town, and had them meet me at Central Market, including the GER. I had no idea how far south he lived.) Might it be the closest place for a date night when the kids are elsewhere? Now they have more options for people who don't drink coffee at all, and think of Starbucks as "just coffee."
If you're in downtown Houston where I was a couple of years ago, you could duck down to one of the two or three Starbucks around for some food and work later until you're ready to leave. Maybe you're meeting friends or clients after work. You're a little hungry, but not for a full meal. It's an idea. But let's turn it up a little.
Live in Texas? You might find yourself in a horrendous traffic jam on the freeway, and you see a bunch first responders rushing to the scene on the shoulder of the road. (That actually happened to me many when I headed to Beaumont one day for shopping; I was on I-10  so long I was doing yoga stretches on the freeway after 3 hours of being parked.)  You know what that means. Hop off at the next exit and wait it out at Starbucks with a small plate, some iced tea, your laptop, tablet and/or smartphone. (Make sure to call home and let someone know where you are.) You might listen to the radio or check the traffic before you leave your office and discover that you're about to head into it. That alternate route is going to take longer than your normal route, and you're hungry as it is. Or, as one of my friends experienced many years ago, you're in the middle of a kitchen renovation, (or heaven help you, damage of some kind) and you can't get in there to cook for a few days (or weeks.) There are any number of reasons to keep the Starbucks Evenings Menu in your back pocket for the day you might need it.
Or–I just thought of this–if you are single and of the ingenious variety, and didn't feel like cooking that night, one order of these meatballs with some pasta you boil and drain at home might not be a bad thing. Just order them through the drive-through. It's sort of "home cooked," right? Your call.
Amy's Note of Caution: since I don't drink if I even think I have to drive. . .use your own discretion on trying wine or beer in Starbucks. I am not suggesting anyone drink and get behind the wheel of a car, but I know there are those who may be able to handle a single glass of wine with food and drive without a problem. Not everyone can. If you can walk home, that's a good thing (but probably not alone.) I err on the side of caution and only drink at home, or where I will not have to drive or be with anyone who has been drinking. Just be safe, that's all I'm asking.
Of course, if you're not interested in the Evenings menu, but you just want some food, you can always ask if they have any breakfast sandwiches left from the morning. Yes, I've done it on occasion, particularly one with a croissant bun, and even later in the evening. Sometimes they have them, sometimes they don't, but all they can do is tell you no, so ask.
It's a bit unusual, to have a light dinner at Starbucks–but why not?
The nice barista who waited on me said that they have been selling quite a bit of the Evenings menu selections, but their biggest seller is, of course, coffee.
Now I'm sure you're wondering what these delightful little things cost. (Mine was $2.50, but that was because I was lucky enough to have a coupon from a previous visit.)  Honest, the most expensive one I saw was $6.95, and I think that was what I had, and perhaps the Chicken, Sausage & Mushroom Flatbread. Others were $3.95 and up. A glass of wine or beer will set you back about the same, but if you add in a dessert like a muffin, cake or something else big, you may be looking at $15. Up to you. I do know that the Michigan Cherry Oat bar is about $2.50 here in Houston. (I saw it recently, and well, I like cherries, too.) But if you just have one of the small plate dishes and a cup of water, or maybe a smaller coffee, (not a big Venti Frappuccino with lots of sugary add-ins) you'll be under $10, and you can call yourself a "cheap date."
Remember that a plate of meatballs or a flatbread could be the thing that stands between you and starvation after work one day, too.
I did notice a new bistro box in the case while I was waiting in line: the Southwestern Style Steak Wrap. No kidding:
It's considered a "lunch item," but I found it after 6:00 pm. Interesting, no? (I put it on the table to get a better picture.) It does have wheat and soy, darnit.
I know, I know, I go on about Starbucks too much. I need to get a life, too. But with so many tasty things available, I feel the need to try as many as I can.
Then again, I remember that Ree Drummond, The Pioneer Woman, would love to have a Starbucks on her street. . .but I don't think they're expanding into Pawhuska, Oklahoma. Yet. Ree laments about missing Starbucks at home on the ranch, but she and husband Ladd are restoring an old building in downtown Pawhuska. Hmm. I wonder if she's going to get Starbucks to go there? Oh, that would be interesting! Ree would be blogging about that daily.
Starbucks is also a good company. They give back to their communities, their employees, and also to veterans. If you've heard the repeated urban legend that "Starbucks hates our troops," click here to read how that got started and how they worked to right it.  Much like the old Proctor & Gamble rumor about the logo containing satanic images, urban legends like these take on a life of their own, especially now with social media. Starbucks is a socially conscious company that also works to do good in the world.
OK, enough of that. No, this is not a sponsored post. I wish!
Just checked my email, and there's yet another offer for bonus stars for cardholders who buy a Carmelized Honey Latte from March 29th through April 4th. Um, pass. . .that sounds too much like the exalted Pumpkin Spice Latte. No, I'd do it if it were my favorite Molten Chocolate Latte (description here) but that's gone away for a while. May have to learn to make it myself one day. . .but I'll pass on the new one, especially since my Starbucks has a sticker on the outdoor menu saying that they're "sold out" of the Honey Latte.
But if you're a Starbucks fan, and you're bored or something, head to a Starbucks that serves the Evenings Menu and give it a try. You might find a new favorite.
Happy Dining!