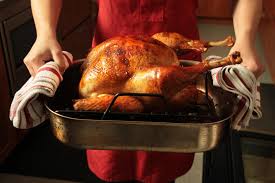 Short post: Happy Thanksgiving!
Happy Saturday, Dear Readers:
Well, after having a nearly complete post deleted–POOF!–here I go again.
Here's a study that ties chocolate consumption to cognitive function. We need a study for this?
Seriously. . .chocolate is The Food of the GODS, although BF doesn't think so. Of course, that doesn't stop BF from asking me to make brownies. . .from a box. As I explained, I'm accustomed to making brownies from a BOOK. And because he was busy with something else in the morning, I got to make them. One of those mixes with a packet of fudge that you mix in the middle, producing a "molten lava" center. Yeah. . .I'm not eating that.
While this week is focused primarily on whole turkeys, the Butterball company is looking to next week, and expanding turkey all year long. Ground turkey goes up against ground beef, and so the CEO is focused on winning that battle. Plus he tells you not to thaw your turkey in the dryer. (No kidding.) I'm still hoping to find turkey thighs around here–they really are the best part of the turkey. But if you've got a whole bird, get thawing.
And wine aficionados can rejoice: this years supply of Beaujolais Nouveau has started to ship, and while I don't know if I can find it here, it's a rather inexpensive bottle. If you're not familiar with it, BN is a "young" wine, not intended to age. I used to hear Martha Stewart talk about it every year about this time, and it's produced in time for Thanksgiving in the US (although that's not the original intent.) You can read more about it here.
Well, we got a little surprise last night–BF's daughter is coming to Turkey Day with her spouse and child. (BF is actually a grandfather, too.) So, all of a sudden, I've doing turkey and everything else. Well, not all of it–she's bringing some pumpkin (or is it pecan?) pie, and mac and cheese. Me? TURKEY! While we were on the phone with her, I told BF I was going to brine (it will probably be a turkey breast or two.) He said, "she's going to brine it, whatever that means." It means, darling, that I will knock your socks off. I know I have a jar of this brine somewhere in the pantry along with brining bags, but if I can't find it, I'll make this one from Martha Stewart's website. Of course, there will be Cranberry Ginger Relish, some (non-gluten-free) cornbread, sweet potatoes (probably this recipe) and maybe one or two other things I've made before.
I'm also thinking about what I might be able to waffle and/or slow-cook ahead of time. Cornbread waffles?
Thankfully, BF is off Monday and Tuesday, so we will be working at the Casa on the proyecto embellecimiento (or "beautification project," thank you, Google Translate.) We will primarily be clearing an area for the five of us to dine in, rapidly moving my things into the studio and many of this automotive things back to the garage where they belong. (A house is not a car repair shop.) We'll find a designated spot–and a box–for the things that he can't put outside. I hope to share studio pictures one of these days.
Now, if you'll excuse me, there's some chocolate with my name on it at my local Winn-Dixie.
Happy Thanksgiving!