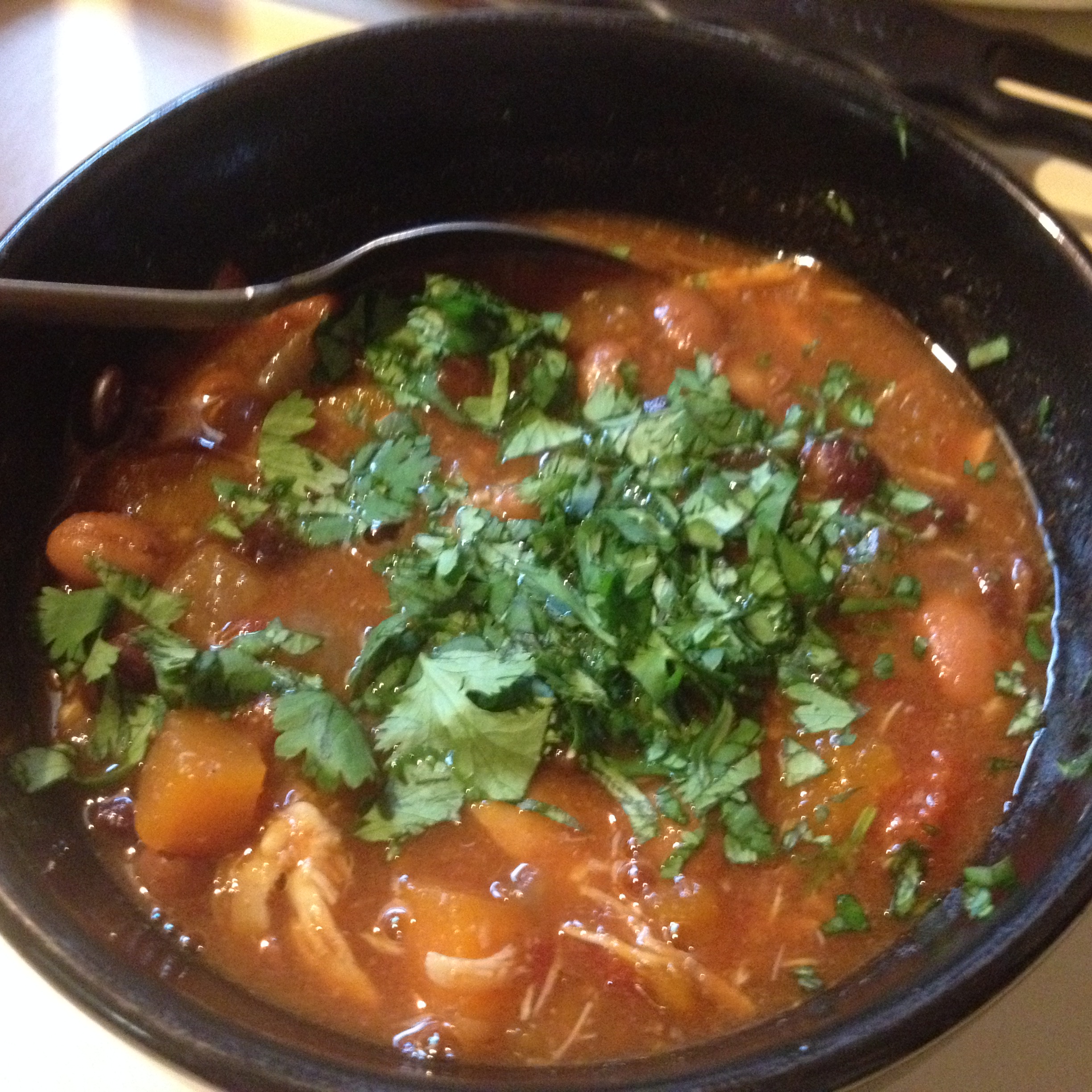 Easy Slow Cooker Chipotle Chicken Chili
Do you like chipotle chicken? I've got more slow-cooked good for you today: Easy Slow Cooker Chipotle Chicken Chili
Hi, again, Dear Readers:
How's your week so far? Thinking about dinner? Thinking about some slow cooking this week? You're in luck.
I've got a good one for you.
I'm still writing on Upwork, and although the big project has cooled off for a bit, I'm still at it. This past week has been particularly busy, and so have the slow cookers at the Casa de Rurale. We've had a pot roast, some lima beans, some of Stephanie O'Dea's Chicken with 20 or 40 Cloves of Garlic, and an unexpected new favorite.
Easy Slow Cooker Chipotle Chicken Chili
I'm still getting Stephanie's emails every day, but some of them are, shall we say, not suitable for our purposes. Last week she sent out this recipe for Thai Coconut Soup. If it's your thing, go for it. I started reading it, and I see that it includes coconut milk. First thought: "no way he's going to eat this." Then I saw that it includes 1/2 pound extra firm tofu, cubed. And then I thought, "no way I'm going to eat this!" So that was the end of that. But I'm holding it in my back pocket for April Fool's Day, along with a couple of other irritants for BF.
Chicken & Garlic
I managed to find a package of on-sale cut-up chicken in Winn Dixie the other day, and I was pulling up my email in the store so I could find the recipe for Chicken with 20 or 40 Cloves of Garlic. Turns out I only needed. . .garlic and chicken. So one night, that's what we had. Really, really good chicken, and not strong like you'd think , but BF gave me a funny look when he saw all that garlic. It's a slow-cooker version of a classic French dish; this is Ina Garten's Barefoot Contessa version, although, admittedly, I've not made this one.  I posted a comment on Facebook about how good it was (BF was working late) and three people asked for the recipe and said they would be making it. It's pretty straightforward, so I'm not reviewing it here. Go try it, it's darn good. Thanks, Stephanie.
So what *are* you talking about today, Amy?
No, the recipe here is another chicken dish that came to me via Bloglovin. You've obviously seen my header about it, and of course, you can find this humble blog with many others on that site. I get an email every day about "blogs you need to read today," but I can't say I read them all. I primarily get blogs about sewing, but this particular recipe was in one of the daily emails.
And I talked BF into letting me make it. He did not regret his decision.
Easy Slow Cooker Chipotle Chicken Chili
It started with a packet of chicken thighs and a busy day.
Despite getting up early, things didn't go exactly as planned, and the prep stage took longer. But I'm getting ahead of myself. Let's make this deliciousness, courtesy of Lisa Lin at Healthy Nibbles & Bits.
Admittedly, the chicken was supposed to be breasts, but I'm cheap and use what I have on hand. Unfortunately, the chicken was neither boneless nor skinless, so guess what I was doing in a big hurry? Oh, well. At least I could get some cilantro in Walmart that night. (I so miss my HEB.)
I got all the cans opened:
Rinsed the beans:

And dumped them into the slow cooker. Then diced a sweet potato:
And diced the onion. . .although not without incident. The knife slipped, and. . . .
It's all REAL in the HeatCageKitchen
After adding those to the crock, there were the chipotles:
My Texas readers will recognize these immediately, but if you're not familiar with them, you'll find them with the taco shells, seasonings and sauce. You also add one tablespoon of the sauce these babies come in:
Goes right into the pot:
And cumin. . . .
Some salt:
Now the tomatoes:
Mix that all up:
Enter the chicken
So, now I realize that I have to skin and debone this chicken, which, unfortunately, took a while. For this kind of recipe, I HIGHLY recommend boneless and skinless! But I got on with it:
Now, this is Lisa's little trick: don't mix the chicken into the chili. Park them on top, like this:
And follow Amy's basic rule of slow cookery: Put the food in. Put the lid on. Plug it in. Turn it on. Leave it alone.
Hours later, it's dinnertime
Open the lid, and you see and smell this, but there's one more step to this chipotle chicken chili:
Scoop out the chicken and shred it with two forks:
You'll have a pile like this.
These two ingredients are added last. Putting the cilantro in water and into the fridge helped:
Return all the shredded chicken to the pot, stir it again, and add the lime juice:
Put it into a bowl, chop some cilantro and drop it on top, and you're ready to eat:
This rich, flavorful chipotle chicken chili is good anytime you want a satisfying meal in a bowl. We ate it twice and froze the rest for another day. So far, I haven't had any trouble freezing most of my slow cooker soups. Might need to cook and frreze more often, too.
Oh, and I forgot to buy and add corn. But it was still really good.
Caveat
The chipotle peppers and adobo sauce add spice, but it's not really, really hot. But if you eat it hot out of the pot, the spiciness is intensified. Let it cool a bit. I still have a painful burn in my mouth!
The reluctant taste-tester
Now, BF approached this strange looking concoction with a little hesitation, (and a funny look on his face), but agreed to try it. Nothing weird in this soup, just an unusual combination of ingredients (at least, for him.) Here's a picture of his reaction:
So, another win for me.
Easy Slow Cooker Chipotle Chicken Chili is a real treat with simple ingredients that will make any night of the week special. I just keep looking for more good things to slow cook, and we keep enjoying it. That comes in handy come summer in the south!
I hope you try this soon and enjoy it like we did. The print version from Lisa's site is here on the Recipes page. I've got a couple of posts in mind that just need a little research and phone calling. Meantime. . . .
Enjoy!