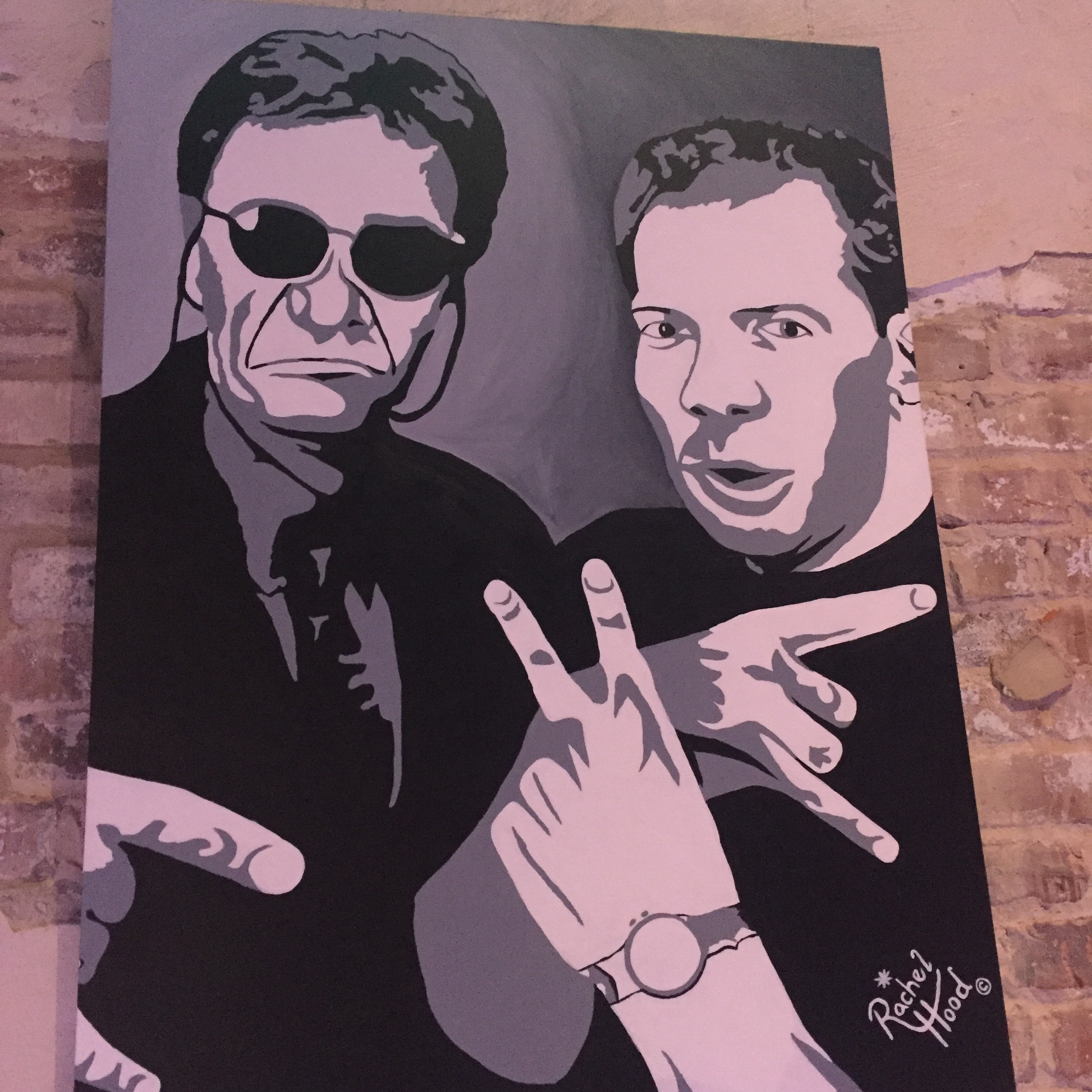 The John Walton Celebration of Life
My very late report on the Celebration of Life for John Walton of the long-running Walton & Johnson Show.
Hello, again, Dear Readers:
I know, it's been months since my last update. My apologies. I'm writing and reading and taking care of the house and helping with BF's Dad these days. So much for New Year's Resolutions.
I've been trying to finish this post since the day after the event. June 3rd, two days ago, marked a year since the last show with the late John Walton. I can't believe it's been that long, but it has. So it's time for me to finish this blog post, darnit. I also have procrastinated so that I might do justice to the subject at hand, and give him the respect he deserves.
We're talking about this man, a radio legend since the early 1980's.
So, finally, here's my report on our visit to New Orleans last July to celebrate the life of an incredible radio veteran.
The Walton & Johnson Show
If you're not familiar with one of the longest-running morning radio shows in the US, here's a brief intro. You can read the updated bio here on their website. That picture of two sharp-dressed men at the top is of Steve Johnson and Ken Webster, taken last year.
The video at the bottom of the page was made in the last few years, I'm guessing, and runs about five minutes. (It was also shown at the activity.)
John Walton and Steve Johnson began their joint radio career in Beaumont, TX, about 1981 or 1982. Somewhere in there, they were approached by a man named Phil Shaw from NOLA station WQUE to begin doing morning drive. He intended to hire someone else, but ended up hiring these two. John Walton once said on the air that someone took him to lunch in New Orleans, and he had the best food he'd ever tasted in his life, so he stayed for 20 years. And that was that.
I actually was listening to them that first day back in 1982, and it was just a "talk show" chatting kind of thing, where Shaw welcomed them to New Orleans, they discussed a few topics politely, and they were saying "thank you, we're really glad to be here." They were warned ahead of time that New Orlenians didn't take kindly to Texans (tell me about it), but over time, well. . .I'm getting ahead of myself.
The next day, the full force of Walton & Johnson was released in the city of New Orleans. Funny. Silly. Rude. Raunchy. Topical. Irreverent. Satirical. Sarcastic. Naughty. Lots of hilarious and topical parody songs about current events. And always interesting and controversial.
It didn't take long for these two "shock jocks" to bowl over listeners with their back-and-forth banter with the others on the air, at the expense of a competitive morning drive show called Scoot In The Morning. "Scoot," (real name: Scott Paisant) ruled NOLA morning radio for many years, until these two Texans blew into town with their different ways of doing things. Walton & Johnson quickly gained a very faithful following in the metro New Orleans area and held on tight. (Paisant is now on in NOLA now in the afternoons, but quite a bit different from W&J, it seems.)
John and Steve worked at nearly every radio station in New Orleans and were booted off the air more than once for different reasons. According to one story Steve Johnson told on the air, they made a comment about then-president George H.W. Bush. The next day, two Secret Service gentlemen showed up for a "visit." The radio station's receptionist was used to greeting people that "wanted to have a word with them," and she didn't even flinch. Without missing a beat, she just called out, "Walton and Johnson, you have company!"
This story was also told, both on the air by Nathan Ailes, a former radio sales guy and longtime W&J ally, and at the activity. When they first started, it wasn't long before the radio station's salespeople began to revolt. "We can't sell this show, it's too nonstandard," or something like it. Many threatened to quit. Radio station management just said, "sorry to see you go!" Most got on board and successfully sold the show's advertising.
Taking The Show
On The Road
Walton & Johnson started out in top 40 radio, and later migrated into what's now called "classic rock radio." A few years ago, the show moved into conservative talk radio. More on that later.
On a few of those "hiatus" periods when they were off the air in New Orleans, they left the city. They attempted to "set up shop" in Dallas, New York, and one or two other places. Dallas lasted a month, New York, not much longer. Ultimately, it was always back to New Orleans where their biggest and most loyal fan base lived.
Despite their popularity, you could only hear them in the NOLA area as long as they were on the air. But that was long before the Internet changed nearly everything in life. Again, I'm getting ahead of myself.
On Their Own
Somewhere around 1993, the guys split up for a while and worked with other people. They were successful but realized that they were better together–but on their own terms. They created the Walton & Johnson Radio Network. Instead of being employees of the radio station, W&J would be self-employed, and the radio station would be their client. It was rather revolutionary at the time, especially in NOLA, but it put them on par with national radio figures like Howard Stern (who they always beat in ratings.) It's similar to how I work now as a freelancer.
Suddenly, the show could be heard outside of the metro NOLA area, and outside Louisiana on any radio station that wanted to have W&J grace their airwaves. Today they are on 15 southern US radio stations between Midland in West Texas and northern Georgia, as well as worldwide on iHeartRadio, streaming from the flagship station in Houston, KPRC 950 AM. I stream it from KPRC because I can't stand the godawful local radio station that hosts it.
The Houston Migration
One of the things I did miss about leaving Louisiana in 1998 was Walton & Johnson. I did try streaming it online a few times using RealPlayer, but it just didn't work well on dial-up, the standard for home Internet service at the time. I once heard a weird discussion of dinosaurs, and people kept calling in about it. A bit clunky, so I abandoned the idea.
Then one day in 2001, I was getting ready for work, and I got a phone call from my brother. He lived on the north side of Houston at the time. "Turn on your radio to KLOL," he said. That was a longtime classic rock radio station that later became one of multiple Latino stations in Houston. I did, and there they were.  WALTON AND JOHNSON!!!
I couldn't believe it–they were in Houston! After 20 years in New Orleans, they decided to do their show in the Houston area, where they were both born and raised. Because they didn't work at one radio station, there wouldn't be any interruption–they would just be broadcasting from a flagship station in Houston, and would still be on all the regional affiliate stations.
This didn't sit well with the New Orleans listeners initially, who were shocked that they would leave. One gent who called in to express his displeasure said to them, "but we're gonna miss you here." Walton explained that they would still be on the air in NOLA, and visit for personal appearances from time to time, but the show would now be based elsewhere. "It's not like we come to your house for dinner," Walton countered. Listeners were undeterred in expressing their disappointment over the move to Texas, but they still listened and called in as before. (You can always tell when it's someone from this side of the Sabine even before they tell you where they're calling from. Trust me.)
More To Talk About
Suddenly W&J discussed a much wider range of topics that weren't all New Orleans-centric, and some that wouldn't mean anything to listeners outside the Houston area. That wasn't all of what they discussed, and still isn't. I knew there would be listeners in Houston wondering about these two. But the Texas listeners caught on quick, and it wasn't long before the top morning drive radio show in Houston was Walton & Johnson, too.
As was the case in New Orleans, they changed stations a few times in Houston. The mainstream press avoided talking much about them and their top-tier status on the radio. At one point, they were on the air on all their stations but Houston, making online streaming a necessity. Eventually, they found a home at KPRC 950, an AM talk station that is conservative- and libertarian-leaning. But in other places, the show is found on FM stations, like WRNO (also a talk radio station) in New Orleans and Classic Rock 92.1 in Lake Charles. (I still prefer the stream from KPRC, or listening from their iPhone app.)
The Listener's Perspective
Granted, there were many times when I laughed hard at what I heard. But if I had to pick one thing about John Walton that I remember well, it was the day I was driving to work at Rice University (I wasn't there long and laid off after 4 months). This was in the early part of 2001. There I was on the freeway feeder road (now called I-69), in the left lane, coming up on the Weslayan exit.
Walton was talking about the awful "music" that was popular at the time, namely, two grunge-style bands called Creed and Pearl Jam. They all sounded alike. The lead singers had a style that was hard to describe, a sort of growling moan. Walton had a name for it: "sick on seafood."
I was laughing so hard I nearly crashed my car the wall on the overpass. Thankfully I kept control of my car, but only just. Anytime I heard him say "sick on seafood," it made me laugh.
Outlaw Dave
Another cold morning, I was on the Bay Area Park & Ride headed downtown for work and was listening on a small radio I bought just for this purpose. This was the period from 2013 through early 2014. I wish I'd bought my iPhone sooner, too, because I could have been streaming it live every morning on the bus and finishing listening on the 90-minute-plus ride home at night.
Well, this particular winter day, the discussion turned to a story about Dwayne Chapman, aka, Dog, The Bounty Hunter, with his big blonde mullet. (I will admit that I only know who he is through news stories, like where his wife passed away last year.) There was a picture in the Houston Chronicle of Mr. Chapman, and Walton asked, "Is that Outlaw Dave?"
Outlaw Dave is the "afternoon guy" from their days at KLOL, and  now has show on KPRC in the evenings. They've worked together for a long time. He used to have a LOT more hair.
Suddenly I had a vision: an older couple, maybe mid-to-late 60's, sitting at their little kitchen table by the window, somewhere in the New Orleans area, listening and having their coffee. They're obviously enjoying what they're hearing until they hear the comment about Outlaw Dave. The man stops with a puzzled look on his face and asks his wife, "Who's Outlaw Dave?" The wife shrugs her shoulders and says, "I dunno."
Dear Readers, those two were walking around Generations Hall that day. In spades.
There were so many other instances of John Walton's incredibly fast, sharp wit that stopped people in their tracks. Naturally, not everyone was a fan, and they have been the target of derision many times.
Walton's Illness
This man rarely, if ever, took a sick day. That's how dedicated he was to the show, and to the listeners who enjoyed it. It was, quite literally, his life's work, even though he had other things going on, like owning a radio station in Beaumont.
Earlier in the year, he began to have a number of health problems. I don't recall him talking about them on the air, although, admittedly, I don't listen as often as I'd like. I keep up with the show on Facebook and listen sometimes with the app on my iPhone. But I still consider myself a "ten percenter" as well as a Texan.
Then one day I started to see people on Facebook asking about why Ken Webster was on the air instead. Mr. Walton was off the air receiving medical treatment, was doing ratherwell, and would be out for a little while. He was out for a couple of weeks, and Ken went from producer to fill-in host, with Steve doing what he normally does. It was the same great show, only slightly different with Ken's voice from the other chair.
Mr. Walton was expected back on the air on Monday, July 8th. But about a week or so before, on a Friday, he decided to stop receiving treatment and go home for the rest of his days. He'd had enough, apparently, and passed away at his home in Fulshear, Texas, on July 1, 2019, with his wife and family at his side. It was a shock to everyone, including longtime radio partner Steve Johnson. When the news broke, fans were stunned, including me and BF.
Radio lost a true legend that day.
Future State: The "New" Walton & Johnson Show
Ken Webster is great about keeping listeners in the loop on the show's social media channels, including using video. He also hosts his own show in the afternoons called The Pursuit Of Happiness Radio. It's on the same station, and he also does it live on Facebook, as well as podcasts.
Ken did a video on Facebook that Tuesday, July 2nd, with updates, which included:
They would be on the air the next day, July 3, at the normal time, as usual, but would be taking calls from friends of the show as well as listeners, and talking about the show's past as well as future.
The show will continue, as Steve Johnson is in great health and is ready and willing to keep going.
The show will continue as long as listeners want it (and we do.)
The name of the show will not change, out of respect for Mr. Walton, who founded the show and shared responsibility for its success and longevity.
Listeners can expect more of the same, just with Ken in the other chair. (After 7 years of being in the producer's chair, I think he's got a general idea.)
There would be a public memorial both in Houston and in New Orleans, where John Walton enjoyed living and visiting when he moved back to Houston. Details would be announced as soon as they had them.
Since this was just the day after Mr. Walton's passing, everything was raw and understandably, nobody was quite sure what to do next.
I played the FB video on my TV, running the HDMI cord from my laptop to the TV (I do that a lot.) We sat on the futon and watched Ken's video and talked about it a little more.
We both listened to that first show from the 5:30 am beginning, and I listened through 9:00 am. they started out as they did every day at 5:30 sharp with Stevie Ray Vaughn's Little Wing. BF listened until he got to work. I streamed it online and put it on the big speaker I have in front of my TV, listening until 9, and catching up on the final hour of the show later on the app. There were a lot of stories told about the 30+ years of the show.
One of their favorite things W&J enjoyed was going out to lunch. As Steve Johnson put it, "nobody did lunch better than Walton & Johnson." He then told many stories about how they "did lunch," frequently on the radio station's expense account, and more importantly, getting away with it! But you'd have to hear Steve tell those stories, I wouldn't be able to.
After that first show, they began the process of moving forward without him, but keeping the John Walton legacy alive. They've since taken some new promo photos as well, and they're quite good.
The Celebration Of Life
When the show announced the New Orleans Celebration of Life activity, BF surprised me when he said, "I want to go to that." So we made plans with The E-Man to go to New Orleans. We picked him up early and he was our navigator to the venue. Finally, BF met one of my oldest friends, The E-Man.
John Walton always told people that when he left the earth, he wanted a big New Orleans-style going-away, complete with a second line and all that. Because of all the connections that W&J made over the years, they were able to arrange it, as Steve Johnson said, "with just a few phone calls."  Everything came together fairly quickly, although it had to be postponed by two weeks because of Hurricane Barry. The New Orleans activity finally happened on July 28th.
Generations Hall is a place I'd never heard of or visited myself, but I have to say it's quite a nice venue for whatever kind of activity you're having. I haven't done corporate event planning for a long time, but if I were asked to set up something in NOLA, I would definitely consider it.
Also in attendance was a classic rock band called Superchargers, and they were quite good.
A number of us thought they would play the show's opening tune, Little Wing, but they didn't. They just stuck to what they know and did it very well.
Meeting Webster And Johnson
Although I have met W&J once or twice before, it's been many, many years. But thankfully, the guys were meeting the fans, and we greatly appreciated the opportunity:
Because I follow them on Facebook, I'm also friended with Morgan Webster, aka Mrs. Ken Webster, who's as absolutely drop-dead gorgeous in person as she is on FB when she's out with Ken. I talked her into a fangirl selfie, and she is ever so nice:
Honestly, Kenny and Morgan look so cute together! But at this event, they weren't "together" much, because they were talking to literally everybody and mingling throughout the activity. But on social media, they are quite regularly together and post pictures of their Texas adventures. I didn't get to talk to Christine Johnson, either, who is otherwise nearly always with Steve.
We stood in line for however long to talk to them for a couple of minutes and get an autograph on the little banners they handed us for the second line later. I told them about my "John Walton memory" of "sick on seafood." 
I'm sure they were all exhausted when it was all over.
Also in attendance was John Walton's wife, Lainie:
This was the best pic I could get from the floor, I tried my best to get a good one. I also tried to get to talk to Mrs. Walton, but she wasn't on the floor very much. I was only going to say Hi, and offer our condolences, but let's face it–there were at least 1,000 people in there. She was hanging out in the VIP area, and under the circumstances, I was not about to crash it.
John Walton's Car
The first thing we saw when we arrived was his gorgeous car, a 1966 (I think) Ford Galaxie:
I don't have a picture of it here, but people were laughing about the Texas inspection sticker that's on the lower part of the windshield on the driver's side.  The expiration date is 4/20, which is a thing for smokers of. . .non-tobacco cigarettes.
I know I'm showing my age when I say, "kids today don't know what it means to 'roll down the window.'" 
Thankfully, it wasn't raining. But it sure was hot that day. And BF did enjoy seeing the car up close.
Interior Decor
It wouldn't be W&J without some pictures and things:
And a canvas that people could sign, that I believe went to Mrs. Walton:
I signed it, but I think BF didn't:
Hanging With The "Ten Percenters"
Listeners to the show are called this for one reason: they are the ten percent of the listening audience that actually *gets* the show and the exclusive, unique humor. This is true in any city that they broadcast in, but especially in New Orleans.
During their time in the Crescent City, W&J developed a few "catch-phrases" or "keyword phrases" that are unique to the show and the listeners. For instance, many years ago, Walton made the comment that Ten Percenters should have their own recognizable greeting, like "Green Beans" or "Ungawa." It stuck. They were also called the "Radio Gawds," in a nod to the New Orleans accent, markedly similar to a New York/Brooklyn accent.
It was a friendly, albeit raucous, crowd, and everyone had a story to tell about their connection to W&J. Many shared pictures. And then there was the man who had a little handwritten sign that said something like:
In 1991, I won the tickets to the Saints game on the 50-yard line.
He walked around with it, holding up as you would see someone on the side of the road.
Another man and his wife had strung green beans around their necks.
Lots of folks had Mardi Gras beads on, or clothes with purple, green, and gold. A couple of male attendees wore kilts.
Throughout the event, we had conversations with many folks who were fans and occasionally interacted with them in one way or another, either at events like this one, personal appearances, or the many benefit motorcycle rides they participated in over the years. Both did motorcycle rides anytime they could, and were avid riders.
Of Course, There Was Food
If you want to have a successful activity in New Orleans, you must have food, and this event had some interesting and delicious dishes.
In the courtyard, a local restaurant named Dragos was serving little shrimp sliders out of a food truck, but I didn't get pictures of it, darnit. BF enjoyed that one first.
Inside the Hall, catering was provided two different local restaurants, one called 12 Seasons Catering, the other called Zea Rotisserie & Grill. WOW. They know how to cater a party!
Of course, there was the requisite po-boy, a staple of New Orleans food, with fried shrimp:
I caught a shot of them making one up:
That's a huge loaf of French bread, bigger than you get in the grocery store, even in this part of the US:
BF said there were slices of honeydew melon on the po-boy. It's not traditional–shredded lettuce and tomato are, but this was a special event, so they jazzed it up. Shrimp pasta was also on the menu:
The classic "Dirty Rice," with beef and spices.
There was also hummus, and an interesting way to serve it, alongside quinoa:
This not being exactly traditional New Orleans food, many folks weren't sure what to make of it! (I thought it was tasty myself.) And then there was this very interesting version of sandwiches:
There was a specific and fancy name for these, but I didn't write it down and I don't recall what it was. They were similar to quesadillas but using pita bread, the round kind with pockets. Again, not traditional New Orleans food, so many people were a bit unsure and asked questions. But you know me, no complaints here.
It was also a free bar (it's NOLA, what did you expect?), and BF and I stuck to the non-alcoholic imbibements. The E-Man had a beer or two, I think, but others were, shall we say, quite happy about the open bar kind of thing.
Kudos to all the vendors involved, because they all did an outstanding job for John Walton's legion of fans.
The Other Members Of Walton & Johnson
Ken and Steve are the "chief protagonists," but there are others who are on the air with them every day.
Mr. Kenneth, a professional hairdresser, celebrity expert, and fashionista of the Walton & Johnson show, was so much fun. He became connected to the show when he gave both of them George Michael haircuts back in the day. He loved my outfit, but said I shouldn't wear so much red because it clashes with my hair. He said the background blue of my top works really well, but I was overwhelmed by the poppies. As a professional hairdresser, he knows that there's nothing like red hair.
Billy Ed Hatfield, the show's engineer from Clute, Texas, easily bonded with BF over cars and engines and other "guy things." However, BF put him in his place when he started talking about "the hot redhead with the glasses," because he realized Billy Ed was making comments about me. That didn't sit too well with BF, who took offense, and he figured Billy Ed would be flirting next. There was no fighting, but BF politely let him know who I was with. Billy Ed apologized profusely and complimented him on his taste in women. Then he sheepishly went on to talk to someone else.
Mr. Eaux, from "the 'hood," was also sporting his best bling with his black zoot suit for the occasion. He didn't want to admit he was sweating and insisted on leaving his jacket on. He, too, was a little flirty with all the women, but he was very polite to me. Maybe he saw how BF politely stood down Billy Ed. I also noticed Mr. Eaux steered clear of Morgan, as well, since Ken is a big guy, over six feet. He's nice, but Kenny wouldn't put up with Mr. Eaux or Billy Ed messing with her.
Then It Was Over
The second line brought Mr. Walton outside, where people paid tribute to the man, including a guy on bagpipes. People waved the little cloths around (except me, I don't do that), and said goodbye.
Everyone went home, happy to have taken part in a momentous occasion. We all had a great time, everyone enjoyed the day. That's what happens when Ten Percenters come together for Walton & Johnson. I don't know if the great staff of Generations Hall knew what to expect, but they did a fantastic job of keeping everything together and running well.
Ken and Steve also talked about having an annual John Walton activity, a benefit for charity, but not in July. Maybe in October, when it's not so hot.
As they say, "the show will go on," and both Steve and Ken have kept their promise to continue as long as fans are interested. We are. They were on the air on that Monday, but stayed in New Orleans and broadcast from, I guess, WRNO for a day or two.
The W&J app has a section of "The Best Of John Walton," where you can also hear the five parts of the July 3rd show, including the 9:00 am hour where John's wife, Lainie Walton, was the last person to call in.
Of course, there will never be another John Walton–everyone knows that. He "raised" Ken to be a great successor, even if he didn't intend to when they hired him. But of course, John Walton will not be forgotten, ever, either by listeners, by his family, and of course, by Steve Johnson and Ken Webster.
Thank you for the memories, Mr. Walton. We appreciate the time we had with you and will never forget you.
And as they say at 9:59 every day on the Walton & Johnson Show:
Don't forget, boys and girls, to eat it every day!