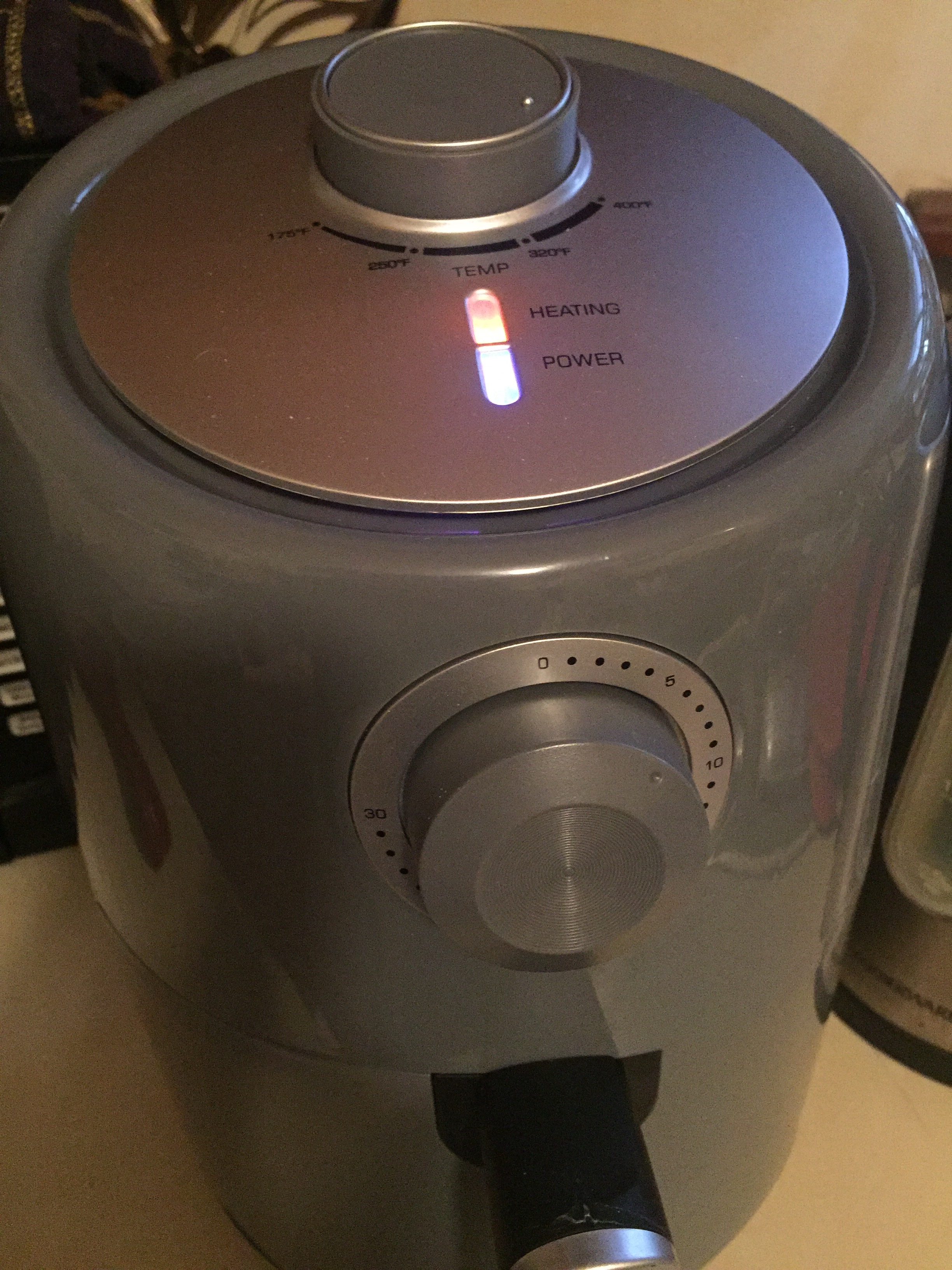 Amy's Air Fryer Experiment
The Air Fryer! After a couple of books on the subject, I bought one. I'll tell you what I've done with it and let you decide for yourself.
Hello, again, Dear Readers:
It's been a busy time at the Casa de Rurale, and being in the south, it's HOT. It'll be cooling down about late October or early November, long after the north has begun sipping hot Pumpkin Spice Lattes. Me, I'm hoping for a cold front for my birthday, as I do every year. Could snow happen? Well. . .it's always possible, but highly improbable.
After my post on Justin and Bronte's wedding, I got some nice comments, including one from Justin, and one from Stacy Asaro, the event coordinator from Southern Oaks. I didn't intend to say anything bad, honestly, and the "no coffee" thing is the only thing I would change if it were mine. But that's just me, and everything was lovely.
As I write this there are now FIVE named storms floating around the tropics! I've got more hurricane snacks at the ready. What level of Jumanji is it now?
Let's catch up.
Covering  The Mixer
It is here where my two worlds converge. It's fun when that happens.
Remember my black Kitchenaid Stand mixer? It was given to me many years ago by someone I used to know, and I don't use it as often as I should. Part of the problem is that it's always somewhere else, and I have to haul it into the kitchen. It's heavy, and it should be *in* the kitchen, not away from it.
The story was that someone gave it to the person who gave it to me after having it repaired and then upgrading to a new one. I just said, "thank you." I was saving up to buy one when it was presented to me about 2007 or 2008.
One big problem is that it collects dust. Well, the house collects dust, really, but the bowl holds on to it. I should be able to use it more, but where it was, it's a lot of trouble. So in an executive decision, I:
Moved the Instant Pot down to the bottom shelf of a kitchen cabinet
Moved the stand mixer from the shelving rack to the lower kitchen counter next to the toaster oven
Decided quickly that it needed a cover
You can buy these already made, but then tend to be expensive. So what did I do? I made one!
Sewing For The Kitchen
I went looking on Pinterest, and it didn't take long to find this one from a blog called Heart of Mary. Headed over to the Hammond Office Depot, printed out two copies of the pattern (in case I bungled one up), and got some fabric at Hobby Lobby up the street. Black and white thread is like salt and pepper in the kitchen, and I already had the batting piece. (Need to get more soon anyway.)
It took longer than I'd planned because the sewing machine kept breaking the thread. I changed the needle, the tension, and even the foot, using a walking foot to try and get it finished. Nope. For whatever reason, it was the day from you-know-what trying to finish it. Eventually, I did, making the bias tape from the lining fabric. Both fabrics were just some ordinary cotton.
The cover is also reversible, and like the blog says, stands up on its own.
I'm guessing I spent about $10 and an afternoon to make this, and it used up some excess batting in the process. I didn't have enough fabric to make it, that's the only reason I bought some. And that was the best fabric I could find for it at the time. But now it'll stay clean anytime I use it.
The End Of The Garden
After BF's enthusiasm for a garden, his input didn't last long. After the local wildlife population discovered the corn, he lost interest.
I pulled weeds as I could, but pretty soon they were overwhelming, and I didn't have several hours a day to pull them. I asked for help, but I didn't get it. Eventually, I walked away from it. No more watering, or concern for these plants.
Watermelon vines were growing until the melons started to rot and the critters came to feast. We had some, but BF's self-centered car guy friend (not Justin) told him to "pick that now, it's ready." BF ran inside and told me it was ripe and I should cut it immediately. It wasn't ripe, and it wasn't ready. See, this "friend" was also growing watermelon and brought over some for us. That was nice, but it wasn't about being nice, it was about making himself look "good." That's not what I said after he left.
BF recently did some "work" in the area with his favorite piece of equipment: the mower. There is still some basil, tarragon, and a pepper plant or two out there, and I plan to dig them up to put them into pots like I used to. Hoping for more pesto and maybe some tarragon vinegar for salad dressings. BF is talking about a "fall garden." He's on his own there–I'm going back to five-gallon paint buckets with holes drilled in the bottom.
What's An Air Fryer?
Ok, you've probably seen these machines in pretty much every discount, department, and home goods store there is. You've likely seen the Ninja versions, as well as their new air fryer oven that "flips." But there are multiple versions of these things at a variety of prices. So what's the big deal?
Maybe it's because the much-maligned "millennials" don't know how to cook. (Some do, some don't, it's probably not just a millennial thing.)  Could be that people are looking for faster, easier ways to make food. Many people (including this amateur chef) love the taste of fried foods but don't like the mess. Others are looking for ways to make tasty food in a different way, such as French fries, and make them "healthier."
Add to it the people who are camping in at home nearly 24/7 now, and you've got people looking for more dinner ideas, faster, easier, and with minimal cleanup.
Well, the air fryer addresses all this and more. Like the slow cooker and the countertop oven, it can also help keep the kitchen from overheating in the summer–a big plus throughout the southern US.
The One I Bought
Farberware's version is a 1.9 quart and is supposed to be suitable for cooking for one to two people. I bought this one last fall, but online they are black and a nice teal blue. When I bought mine, they were $30; now they are $40.
Dash also has one that is nearly identical but costs more. Besides, I could get this one immediately, like right now. Dash also has a larger one, spotted recently in Bed, Bath and Beyond:
Dash also has a six-quart model, if you need one that big. They can get complicated, like this seven-in-one thing.
If you have the infernal Instant Pot, you can also buy an "air fryer lid" that fits most models. Except for mine, I kid you not. I have the "newest" model of the Infamous Pot. (I know, I've got a post in the draft folder.)
Later, I bought this set of air fryer accessories for about $11 at my local Dirt Cheap.  They fit my air fryer perfectly, and I've made cornbread for BF with the pans already. But I'm getting ahead of myself.
What Is Healthy?
Let me give my standard disclosure here: I'm not a doctor, nurse, or another medical practitioner, nor do I play one on TV. I am a patient who reads and pays attention. I'm also not an attorney, but someone who does research and creates marketing content for them. I don't practice law, but I do read it a lot. That being said. . . .
Real fat is what keeps you alive. Sugar can and will kill you over time if you consume enough of it–and it's not difficult in the US. Notice I said "real fat," which are things like olive and coconut oil, avocados, butter, eggs, etc.
Taking all fat out of your food isn't necessarily healthy. If you replace hydrogenated vegetable oil with olive, coconut, or other healthy oils, that's a healthy change. If you don't believe me, check it out. What's called "vegetable oil" is actually hydrogenated soybean oil. Ditto for corn oil and a few others. Hydrogenation adds a hydrogen atom into the oil to prevent spoilage. Canola oil, when heated, also turns into a trans-fat oil. Crisco is anything but "healthy."
So the low-fat theory is prevalent here, but it doesn't necessarily mean you're making "healthier" food. It all depends on what you're working with, including the oils.
The Air Fryer Books
So thanks to my wonderful book benefit, I got curious about it. Most people think about using an air fryer for either chicken wings or French fries, but there are hundreds of recipes for it.
The first one I received was the Ninja Air Fryer Cookbook for Beginners by Linda Larsen. This book focuses solely on the Ninja® Air Fryer Max XL. The food looked delicious, and so far, so good. I tried two recipes, one for wings and one for a chocolate chip cookie that bakes in it. Because my air fryer wasn't the Ninja, it took longer to bake. That's OK, it was still pretty tasty. BF likes those wings, so I have to make them occasionally.
Then came some others:
I also have:
I'll explain why in a minute.
The books are now e-books, but that enabled me to send the vegetarian books to Miss Alice in Houston as well as make recommendations.
Using The Air Fryer
The thing to remember about any model of an air fryer is this: it's a vertical convection oven.
If you've never had one, "convection" means that a top-side fan circulates the hot air inside the oven, cooking more evenly and giving a really crispy crust. Some newer full-size ovens now come with an "air fryer" setting, which is pretty much the same as "convection." My countertop oven has this function, as well as the last one I had. In fact, Oster has a rather large countertop that also does convection, one of which I've seen at Walmart.
There are a few things you need to know before you start:
Although you can make fried foods, the coating can't be drippy. Any coating has to stick to the food and not run or fall off.
Cakes, cookies, eggs, and other foods that have a liquid texture before baking have to be in a dish you place into the air fryer.
With things like fries, you should take out the basket and shake them once or twice during cooking
You spray oil into the cooker basket as well as onto your food, especially those with a coating or a texture, to make it crispy.
The air fryer must be the only appliance plugged into the outlet. I have to unplug both the microwave and the kettle so I can use that particular outlet. Otherwise, you'll blow a fuse or something. (This is actually in the instructions for mine.)
The basket can be placed in the dishwasher, but not the entire unit.
You must warm up the unit for five minutes or so before you start cooking.
The unit gets very hot during cooking, so it needs plenty of "airspace." Read the instructions before you plug it in, of course.
The idea is that it cooks faster and healthier. Well, "faster" hasn't been my experience, but whatever.
Instructions
I got it at Walmart.
A simple booklet came with the machine, with instructions and great recipes like this one:
I think that's supposed to be Curry Fried Okra, but English isn't the first language of the copywriter. Just an observation.
There were no accessories included, just the machine. Fortunately, I have the aforementioned cookbooks to work with.
Chicken Wings
BF will go on forever about how Hooters has great chicken wings. When I worked at Boeing, some of us would head to Buffalo Wild Wings on Tuesdays for lunch. Holding your receipt for a week got you six free wings, which was great. I got the unbattered ones, and they were pretty tasty.
So when we discussed chicken wings, he had this idea that it would *almost* be like having them at Hooters. (Not wearing orange, thanks very much.) He was so excited he bought this stuff at Walmart:
Boy was he disappointed. "It doesn't taste anything like the sauce at Hooters!" he cried. I could have told him that, but he was undeterred until he tried it. The ingredient list was a nightmare.
Into the trash that went.
I used this recipe, which BF loves:
The recipe is created especially for the Ninja Air Fryer, I just cut it in half. Cooking was just until they were done, however long that took. To paraphrase Hague Law Blog author Aaron Lukken, air fryer cooking is not about "building rockets." Just cook the wings until they're done. (I read his blogs all the time, but not everyone will find them as interesting as I do.)
Then I just sprayed some oil in the basket and got started.
BF only ruined one of his wings with that god-awful sauce. The rest he gobbled up and said, "make these again!"
Other Air Fryer Cuisine
Since getting this thing, I've made some:
"Louisiana-style" fried fish (from one of the books)
Chicken Wings
Chocolate Chip Cookie
Sweet potato fries
In the case of the fish, you do the batter coating and press it into the fish:
The recipe calls for adding parchment paper in the fryer basket, then spraying it with oil:
Then spray the fish with the oil and cook it up.
The fish came out nice and crispy, but not *quite* as crispy as it would have if we'd fried it in oil in a pan. BF actually liked it, although he hasn't asked me to make it again.
Another Amy Favorite
Sweet potato fries seem to take longer in the air fryer.
They come out nice, but it takes an hour. Might as well use the toaster oven.
Dash's website has a number of recipes that are specific to their accessory package, including sweets. I've used the cake pan for some cornbread for BF. Made from scratch, he really liked it.
Air Fryer Desserts
Yes, you can make some desserts in an air fryer, no kidding. In addition to the ones at the above link, you can make a number of desserts in the air fryer. I did make some Air Fried Fudge Brownies for BF about a month ago, with the note to use a 6″ pan in a convection oven. If you use a smaller pan, it will take too long to cook.
Just looking at the Essential Air Fryer Book For Beginners, where I got the brownie recipe, you can make a chocolate Bundt cake (using a six-inch Bundt pan) banana cake, cherry cobbler, doughnuts, stuffed baked apples, apple hand pies, and pumpkin fritters. That's just from this book. For just about any contained dish, six inches is the number to remember.
The Big Cookie
One of our "couple friends" split last year, and because things were rather contentious between them, we invited the female to dinner. I made an old Martha Stewart recipe for bacon and egg pie, to which BF turned his nose up. In fact, he didn't stick around for dinner, he had to go out and do something or other. I think he found an excuse to leave because he didn't want bacon and egg pie, but whatever. So it was just me and AB for the night. The idea was for us to have a conversation without judgment, make sure she was all right, and certainly not trying to reconcile them.
So this was the bacon & egg pie for dinner:
The Big Chocolate Chip Cookie didn't work exactly as it should have. In fact, it took longer to cook, because I used a five-inch Corningware dish. It's what I had available at the time, and what I could grab quickly.
I had to get BF to bring home some chocolate chips:
I couldn't believe he brought home ORGANIC. From Piggly-Wiggly, no less.
So you mix it all up, and then add parchment to the pan, plus spray it with flour-infused cooking spray while preheating the air fryer. Then add the cookie dough into the pan.
Bake it at 300 degrees for, it says, 9 minutes. But as I recall, it took considerably longer–like 30 minutes. But this isn't the Ninja, and I didn't have the proper pan available or handy. I think I have the right one now since I bought the accessory kit. The recipe makes four servings.
Admittedly, I had a bit of this cookie, and it was quite tasty once it finished baking. The addition of a little white chocolate is a nice touch.
Verdict: It's A Toy
A toy, in sort of a Suzy Homemaker kind of mindset. The coiled heating element and the fan, very simply arranged in the housing. They're all like that in one form or another.
Honestly, it's not a bad thing, and if you like appliances, you may enjoy this one. But if you have a convection oven, especially a full size one, would it be a good idea to basically buy a smaller one? That's up to you and your kitchen.
I actually wanted to return it but BF asked me not to. I already have a convection oven, hence the other two convection books. Seriously, the air fryer does the same thing, just more fashionably.
Then again, there's always the Talkie Toaster.
Air fryer recipes are all over the web, especially at Pinterest. What do you want to air fry?  Chicken wings? Sandwiches? Keto dishes? It's all there, as well as with a quick search on Google (or your search engine of choice.) Like the Instant Pot, air fryer recipes aren't difficult to find for pretty much whatever you want to make with it.
Happy air frying!!