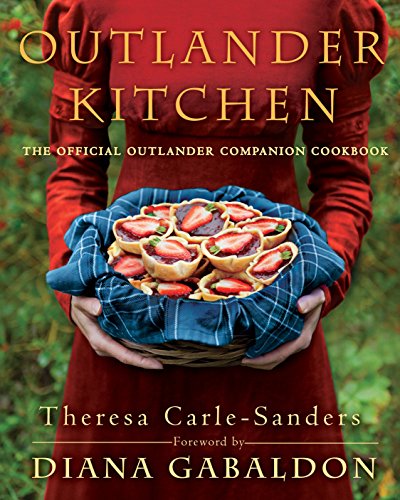 Cookbook Review: The Outlander Cookbook
Outlander is a popular historical drama on the Starz network. Like Downton Abbey, it has a legion of fans and a huge accompaniment of books, specials, merchandise, and heaven only knows what else. Today, it's the subject of a guest post on the food of this popular show.
Hello, again, Dear Readers:
Today's blog post is the first guest post to appear here, written by a writer, colleague, and friend Beverly Matoney who lives in the great state of Georgia. Like me, Beverly and her husband live rural. Unlike us, they are also raising chickens.
Beverly is a copywriter for the homeschool market. She homeschooled her own two children who are now grown and in their own careers. Beverly graciously offered to write a guest post when I was, one day, stumped for new ideas. (Well, I did order from Misfits Market, twice.) We chat weekly on a Zoom call with other writer friends, one of whom is in another country, eight or nine hours ahead of us.
I've made no secret of my love for Downton Abbey after it was recommended by friends in Houston and elsewhere. I watched it through the end of the series when Lady Edith finally got married to Bertie Pelham (spoilers?) I really enjoyed the kitchen scenes, like when Mrs. Patmore tried an electric stand mixer for the first time. No microwave ovens, air fryers, slow cookers, pressure cookers, or even a countertop oven at the House of Crawley.
Then, I got BF to take me to the movie a couple of years ago. There's another Downton Abbey film coming out in a couple of weeks. I can't wait, but he's not entirely thrilled.
Wait until I decide to get the official cookbooks of Downton Abbey and start using them to cook dinner for BF.
Another Series
Downton Abbey isn't the only historical series that has a devoted legion of fans. The series Outlander also has a fiercely loyal fan base. But since it's on Starz, I haven't seen it. It's available on Amazon Prime Video as well, but. . .I haven't bought one of those streaming subscriptions. I'm too busy with Britbox right now (where you can also see Downton Abbey.) It's longer than I want to admit since I watched anything on The Food Network.
Beverly is a fan of Outlander as well as of the cooking. Like me, Beverly enjoys cooking and embraces trying new and interesting things. Fortunately, her husband isn't the "don't mess with my Hamburger Helper" sort like BF.
There are actually two cookbooks, and this review is about the first one.
So starting with this first subheading, and very little editing (mostly for format), is Beverly's review of The Outlander Cookbook by Theresa Carle-Sanders. It's offered with great appreciation and thanks to Beverly for writing and sending it along. (The links are my live affiliate Amazon links, pictures gathered from Amazon, Google, and other attributed sources.)
Enjoy!
Outlander
If you've been introduced to Jamie Fraser and his time-traveling wife Claire, congratulations. You're already immersed in 18th-century Scotland and America.
And, if like me, you've devoured the novels, you've probably drooled over Diana Gabaldon's descriptions of the settings, the action, and yes…the food.
Not to worry if you've not read the books. The television series offers plenty of images of historical fare that will make you hungry.
You may even have visions of going back in time yourself to try your hand at knocking about in an 18th-century kitchen, whipping up some bannocks, or a nice fruit tart.
Outlander, The Books
I was introduced to Outlander in the summer of 2004 during a trip to Seattle, Washington. My friend was clearing off her bookshelves and handed me the first book in the series.
The story was so captivating that I raced through the book, then went on a spree to buy the next four in the series. By the time I finished The Fiery Cross, the sixth book was at the publisher's and A Breath of Snow and Ashes came out in 2005.
Not wanting to miss anything in the story, I re-read all five books before my new hardcover arrived, then melted into the tale, finishing with a long sigh.
What I didn't know at the time was how long I'd have to wait for the next novel, and the next, and the next. Sometimes the gap was 3 or 4 or even 7 years!
Just before each new book was released, I started at the beginning and read them all.
Which means I've read Outlander five times.
And I'll begin at the beginning when the tenth and final novel comes out…whenever that is.
And I've read all the side novellas.
And I've seen all of the episodes of the television series.
You could say I'm a little obsessed.
Enter Theresa Carle-Sanders
Her story offers insights into how she decided to create a cookbook around Diana Gabaldon's amazing novels.
One line of her bio that struck me was "As with so many of Diana's fans before and since, Outlander became the catalyst for the changes – some planned, many unforeseen – that have altered the course of our lives."
I can relate.
While Theresa focused on the cooking of Outlander, I dove into herbalism. I've spent nearly 20 years learning to identify medicinal plants and how to use them, inspired by Claire Randall Fraser and her adventures across the centuries.
When I discovered Theresa and her Outlander Kitchen, I don't believe more than three heartbeats passed before I had clicked "Buy Now".
The subtitle of the book is "The Official Outlander Companion Cookbook".
With blessings and a foreword by the gracious and generous Diana Gabaldon herself, the cookbook begins with the paraphrased first line from the first novel.
Nice touch.
Then Theresa follows with her personal introduction outlining her decision to embark on a "life reboot". Much like me, Outlander mysteriously appeared in her life, and so her culinary story begins.
As Theresa points out, the cookbook isn't historical. Since the novels cover 20+ years within a 200-year span, so do the recipes she's written.
But, inside, you will find historical recipes that are still common today, such as Cock-a-Leekie Soup and Veal Patties in Wine Sauce. As she says, they've stood the test of time.
Bannocks
My original reason for purchasing the book was to make bannocks. These oatmeal flatbreads feature often in the novels, and each time I read of the characters munching on the warm breads, I wanted to make my own.
The delicious recipe is on page 238 and delivers everything you'd expect of an unleavened oatcake…even instant transport back to a Scottish kitchen from 1740-something.
Along with each recipe, Theresa has included the passage from the book that inspired the dish.
Each brief excerpt plays an instant reminiscence from the tale. Not only can I picture the setting, but now, I can taste the food they were eating at the time.
Brilliant.
Imagine sipping on the same hot broth Claire had when she arrived at Castle Leoch (Outlander).
Or trying potatoes for the first time as roasted tatties at Lallybroch from Dragonfly in Amber.
Or having a pungent bowl of peppery oyster stew to take you to the pub with Jamie and Claire in Voyager.
Maybe some of Fiona's ginger-nut biscuits with Roger at the manse from Drums of Autumn.
Or a batch of Mrs. Bug's buttermilk drop biscuits dripping with butter and honey the way they ate them in the Fraser's Ridge kitchen in The Fiery Cross.
Perhaps you'd enjoy a glass of cherry bounce described in A Breath of Snow and Ashes.
Diana even contributed to the book by sharing a treasured family recipe for cheese enchiladas.
The Recipes Of Outlander
The recipe section of the book is laid out with beautiful color photographs, some of the process, some of the completed dish, all of them gorgeous.
Theresa has kept the recipes uniform by offering an Ingredient section, a Method section, and a Notes section.
I found the notes section to be most informative, including not only recipe hints, but also historical references.
Of course, Theresa has transformed the historical recipes into their modern versions, offering easy-to-find ingredients in place of some of the more exotic bits from days gone by.
She's included a wonderful recipe index for those seeking ideas to use ingredients on hand or to plan and prepare a delicious feast.
Honestly, I read (good) cookbooks like novels. I enjoy the recipe intro, the exposition, and the list of ingredients, and I follow along with the method in my mind whether it calls for chopping, mixing, kneading, or drizzling with butter.
Each of these recipes inspires me to add to my grocery list and then make a note on my calendar, "Outlander dish tonight".
And if you are a fan, you'll know what I mean.
For Foodies Everywhere
Even if you've never heard of Outlander, you won't be disappointed with Theresa's cookbook. Every page is filled with interesting culinary tidbits you can apply in your own kitchen.
There's something for everyone in the Outlander Kitchen. Modern, historical, romantic, delicious, soups, meat dishes, vegetarian dishes, breads, desserts…this book has it all.
You may even find yourself daydreaming about time travel to the 18th century yourself.