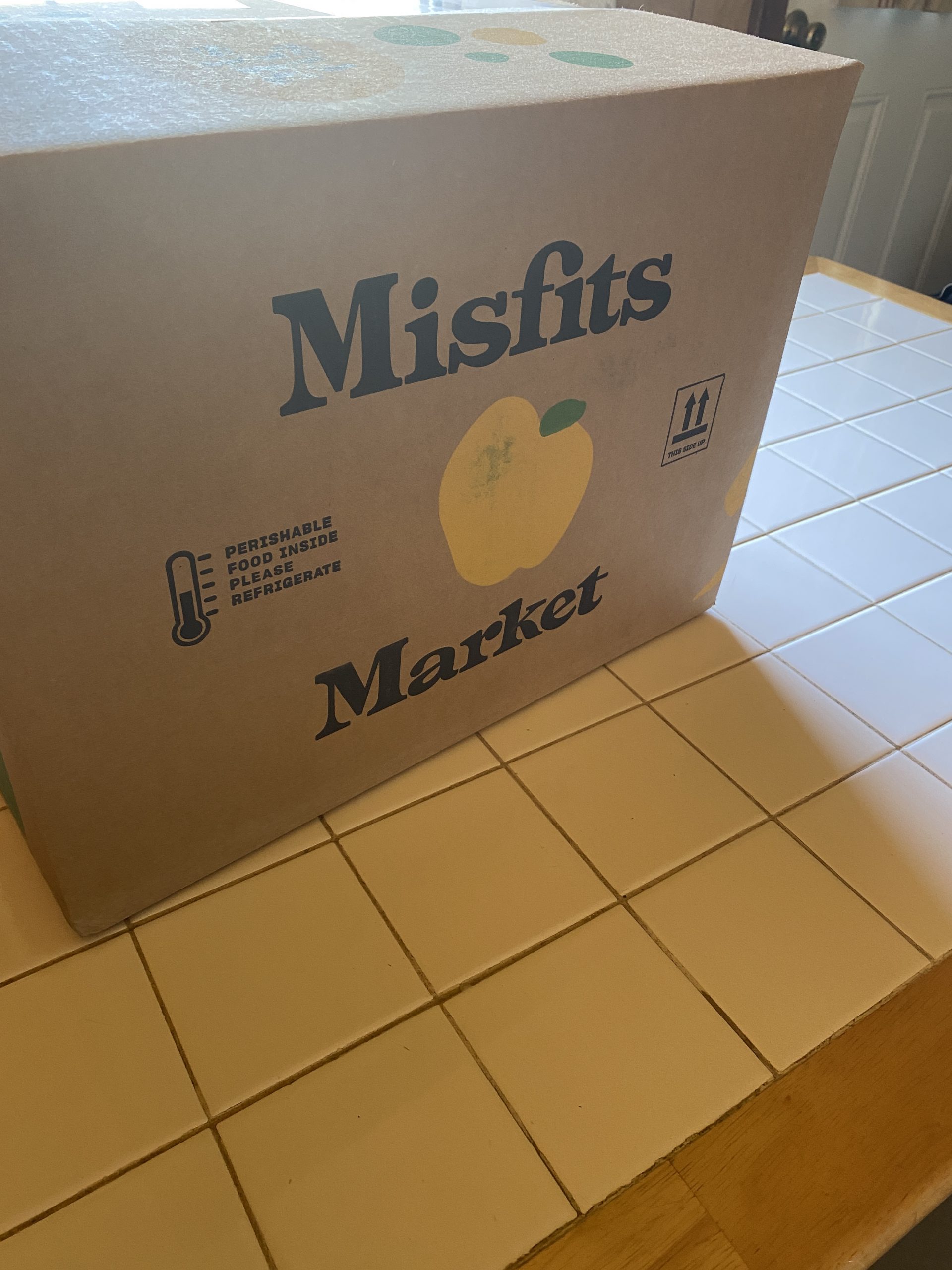 Misfits Market: The Meat Box
The Meat Box from Misfits Market arrived. Come see what I got!
Hi again, Dear Readers:
I said I was going to do it, and I did–I ordered a box of mostly meat from Misfits Market. BF was rather pleased, and we've got a little more stashed in the freezer. In this post, I'll open the box and show you what I received.
Blast from the Past
The other night, BF went somewhere, and I was flipping channels on the big TV. We actually have access to two, and sometimes three, sets of PBS stations locally. Generally, they have much the same thing. This evening, I happened to catch an old episode of Baking with Julia. Guess who was the guest? None other than Martha Stewart.
Let me point out that this is Martha Stewart from back in the day, like the late 1980s. It's not the current Martha Stewart that hangs out with Snoop Dogg.
Julia Child herself passed away in 2004. When this was filmed, Julia was all over public television, and Martha Stewart was best known as a caterer in Westport, CT, a few years after her first book, Entertaining.This show was likely filmed around the time of her original Weddings book.
In the show, Martha Bakes a beautiful three-layer wedding cake with apricot filling and a crisp dacquoise center. The wedding cake episode is in two parts because the cake takes quite some time to bake and construct. Martha baked the cake in the first show, along with the dacquoise, and made the buttercream icing. That's what they're doing in the picture above. The finishing and decorating with marzipan fruits are completed in the second show. I came in about halfway through the first episode.
I don't know where to find the recipe she made, but you can see the second half of the show in this video on YouTube. Although there is no wedding cake in my future, it certainly was interesting to watch from an artistic standpoint.
Pets Update
Buddy, the weird little dog, is growing quite quickly. If you don't believe me, look at this picture from his first day here:
Now, look at the size of his paw. This picture was taken just a couple of days ago.
He's learning to bark and frequently has barking fits for no reason. The cat has let Buddy know he's not the favorite. The pit bull frequently needs more breaks from being around this hyperactive puppy, even though he's a little bigger than Spencer now. And if we're not careful, Buddy likes to use the pit bull as a chew toy. Poor thing has teeth marks in a few spots.
And the cat doesn't care about anything else but himself.
Speaking Of The Cat
Over the weekend I went shopping in Hammond. I know, it's just Hammond, but it's what we've got here. I made it to Hobby Lobby first, then to the Target for some provisions I normally buy there.
One thing I prefer to buy at Target is the Fancy Feast cat food for Tab E. Cat, because they have a wider range of flavors for our resident apex predator. The big-name brands aren't particularly healthy, I've found, and even vet's offices use FF. Except for this past weekend, there wasn't any:
And that wasn't the only food they were out of this time:
So, I had to get something else in cans, and Tab E. Cat isn't liking it much.
Tractor Supply is also experiencing similar shortages, as well as our local Winn-Dixie. I've bought some of Tractor Supply's brand of canned cat food, but even that's kind of scarce, too. I've seen comments on Facebook about shortages of cat food all over the US, and it's particularly concerning for shelters. Fingers crossed that this will soon resolve and it doesn't spread too far.
The Meat Box
So this past Saturday, my second order from Misfits Market arrived:
I was a little concerned because the box did not appear to be completely taped shut.
Thankfully, it wasn't a big deal. I was also concerned because the box didn't feel cold. This is particularly worrying because I ordered meat in a "cold pack." But that also was not a big deal. Let me show you why.
Opening it carefully, I saw much the same thing I saw in the previous box:
But that's not the only cold pack.
Once I lifted off the cardboard, I saw why it wasn't a big deal. Inside the box was a Thermal lined foil pouch:
That's where all the meat was. Much like a mailing envelope, it was sealed shut with a sticky flap:
Inside were more cold packs keeping the meat cold:
Two go into this envelope:
And some of it was still frozen! Once I removed the meat and ice packs, I could see that the package was also insulated:
Now we have more ice packs, which we will keep in the big freezer for the occasional power outages. But you can recycle them:
Everything arrived in good shape.
The Other Stuff
Of course, I ordered another bag of sugar snap peas.
I washed them, dried them, drizzled on a tiny amount of sesame oil,and sprinkled in a tiny bit of salt. Tossed them around and enjoyed them immensely, because that's the most delicious way to eat them. If you have black sesame seeds, toss in a few with the oil and salt.
I also ordered a bag of those tiny bell peppers, which are sweet and great for snacking.
BF, of course, likes neither of these things.
From the Pantry section, I ordered another bag of Xanthan Gum, which was nearly 50% off:
And no, it's not past its sell-by date, either.
Good to know. I use this in some of my alternative baking projects like the ones in the Babycakes books.
The Meats
OK, so, to have a good round of protein, I got some of BF's favorites—pork chops:
Bacon ends, cost, $4.99:
Our next stirfry is in the freezer (no, not the dog, that's sarcasm):
This is where the meat comes from:
Two pounds of grass-fed ground beef, destined for the freezer, but I don't have a picture of, along with a couple of sirloin steaks:
Read the next section for more on these. This is the entire contents of the box:
This was $67. . .I don't know if it was a bargain or not, but the website said I saved $27.
The Little Steaks
Now, when we get steaks on occasion, they usually look something like this:
But these little grass-fed models are smaller than that:
These two steaks were $9.99, which I thought was pretty nice. (They've since sold out.) Not exactly Texas-sized, are they? But don't be fooled.
Originally, I intended to make them for dinner on Saturday evening when the package arrived. However, BF's sister came to town, so there was no cooking that night. I mentioned them to BF last night. After a couple of jokes, he said, "Why don't you have the little snack-sized steaks for lunch tomorrow?" Really, the packages aren't that big, so the steaks can't be terribly large, right?
Until I cut the packages open, unfurled them, and discovered that six ounces of grass-fed sirloin is a good six-ounce steak:
So, I texted that picture to BF and asked if he'd like to have steak and mashed potatoes for dinner. He was quite happy to see that, and said "yes."  I stashed them in a food storage dish and put them back into the fridge.
BF was impressed with the meat we got this time. The rest, not so much, but that's OK. There's probably going to be another order soon if I can pin him down in front of the laptop to look and see what's available.
Order As Much As You Want
I should point out that I ordered two sirloin steaks because that's what I wanted. Remember, this was the first time ordering meat from Misfits Market. In a future shipment, I can order six, if I want that many (assuming they have some.) Stash four in the freezer and keep two in the fridge for dinner. The pork chops are a package of two, so that's a dinner for us as well, and I can re-order those if I want.
But I could just as easily order more—or less—than that if I wanted. If BF decided he wanted me to stock the freezer a little more, we could order more of the steak, bacon, pork chops, or any of Misfit Market's chicken selections. Of course, the same rule applies to the $30 minimum for the cold pack, and a $30 minimum overall for the order. This last order was about $67, and I didn't have any promo codes.
The shipment is totally customizable for the single person all the way to families. For instance, Neighbor E or The GER might order just enough meat and things for a week, whereas someone with a family of four (or more) would probably order a larger amount for a week of meals. It's what you want, how much of it you want, and paying for it, just like your local grocery store. But with Misfits Market, you're buying food in a more direct fashion than grocery shopping while helping the supply chain and cutting down on wasted and discarded food.
I'm guessing they've done well during the last couple of years.
We're talking about another box, and we'll decide on Tuesday if we want to order again, or skip until next week.
Coming Soon To HeatCageKitchen
Well, actually, I don't know what's coming up just yet. But I'm working on these things. I have a couple of topics in the pipeline. But of course, I'm always open to researching and discussing anything you're interested in, too.
If you're considering ordering from Misfits Market, you can use my promo code: COOKWME-GK3IAXCZOGR for a discount on your first shipment. Just remember that it's an auto-ship subscription, and you must manually cancel weekly if you don't want a box.
Meantime, it's officially spring, and time for me to quit making and wearing sweaters all the time. But Walmart keeps bringing in these incredible cut bundles that are just the right yardage for sweaters. . .I'll try.
Enjoy!