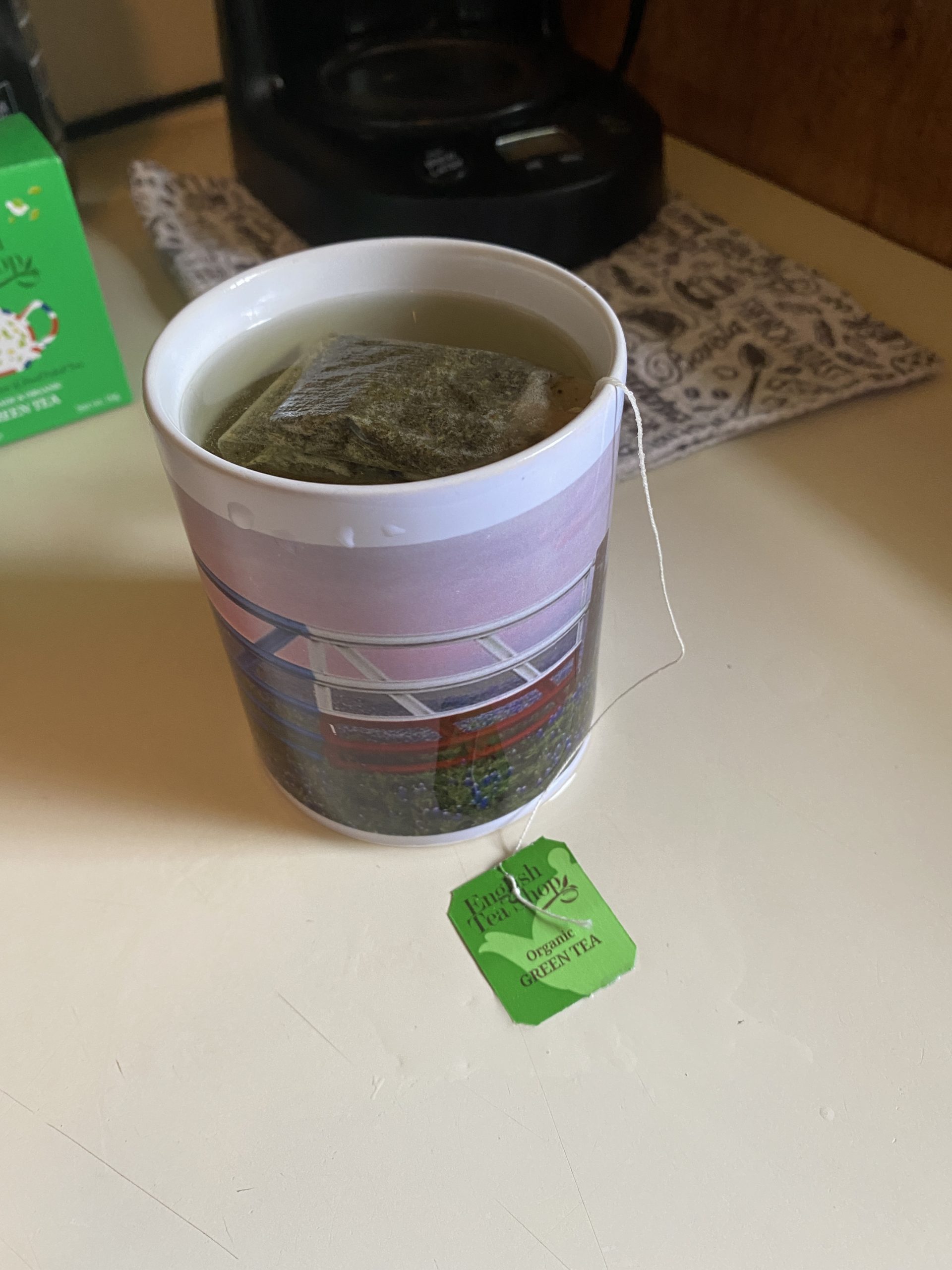 Do you like iced tea in summer or hot tea in the wintertime? Or is tea just something that's always in your pantry?
We've been drinking tea for hundreds of years. It's so readily available that we don't give it a second thought. In this first of two blogs, I'll introduce you to tea. In the second, I'll tell you about British tea and why I think it's the best. Put the kettle on, make a cuppa, and I'll tell you more.
Hello again, Dear Readers:
I intended to write this blog post weeks ago, but time got away from me again. Right before July 4th, we both got sick. No, it wasn't that, just some weird Louisiana swamp bug. BF got sick first, then me. We didn't visit a doctor or hospital, so no testing for the you-know-what. We're fine now, so what's the point?
I'm dividing this topic into two parts because nobody wants a 5,000-word plus blog post. Besides, after a certain point, it's diminishing returns from Google.
If you haven't seen the video of HRH Queen Elizabeth having tea with Paddington Bear, this YouTube link takes you right to it. The video became available after my last post.
Around The Casa de Rurale
It's summer, and it's HOT. Everywhere. Houston is again seeing multiple days of temps above 100F. At least there are amusing memes, like this one:
If you can bake lasagna in your mailbox, why not? Remember, your stove/oven is 220 volts, whereas your mailbox is free solar power.
Yes, that's a joke. It also might be a violation of federal law, but I haven't checked. In other news. . . .
Emilie Bailey, The Texas Granola Girl, has a new book on "dirty keto" coming out soon. The term means that you're not a strict practitioner, and you bend the rules a bit—like me. I've signed up to be a reviewer—again. Emilie will be sharing some on Instagram soon. If they are kind enough to send me an advance copy, I'll be doing a review and cooking some delicious food (whether he likes it or not.) But her recipes are awesome, and I'll be buying a copy if they don't. More details when I have them.
Blackberries
The wild blackberries are gone. I've picked a gallon-sized freezer bag of them like last year but should have picked more. (I still have last year's harvest in the freezer.) Buddy, aka, Broccoli Stir-Fry, discovered their deliciousness when I took him outside and fed him some by hand. The pit bull doesn't seem to care for them anymore. We've had little rain this spring, leading to the vines shriveling up early. Then a deluge followed.
BF requested a "real" dessert using our blackberries, "with flour and sugar." While I was looking for something to make, a perfect recipe arrived in the mailbox. If you're a subscriber to The Pioneer Woman Magazine, you've probably seen this galette already.
Guess what? He loved it. I'm planning to make another for him as soon as I get more ingredients. It's easy, fast, and bakes up nicely. The second go-round will be both to make him another treat and for a blog post to publish here.
Speaking of animals, both the new cat and the dog had their vet appointment with destiny a few weeks ago. Neither has figured out yet about the trip to Hammond or what happened during their naps. They're fine.
Ready for a cuppa?
Tea's History
Legend has it that tea came from China in 2732 B.C. when Emperor Shen Nung drank hot liquid after some leaves blew into his cup of boiling water. (Would you do that?) Odd, but that's what I've found in several references. He felt invigorated after this brew (hello, caffeine!) and the Emperor began encouraging people to cultivate this incredible plant. He became known as "The Father of Tea."
My other favorite drink, coffee, was discovered around the 5th Century in Africa and the Middle East. Coffee reached Europe first, and tea shortly thereafter. So, tea is the elder statesman here, although coffee became the American favorite after The Boston Tea Party.
Leaf tea was the norm, until one day, tea bags happened. Legend on the Internet credits New York vendor Thomas Sullivan as the inventor in 1904 (or 1908, depending on your source.)
The story goes that he sent out his tea samples in little silk bags. People just brewed the tea with them because they thought that's what you did. However, the first patent for a tea bag apparatus was filed in 1897, with another mesh-bag invention patent in 1901, so someone else got there first.
Eventually, tea manufacturing expanded, and American tea became primarily bagged. The British didn't take to tea bags until the 1950s, although Tetley did bring the idea back to the UK.
Our Brit friend WF, a UK ex-pat in the country of Turkey (officially, the Republic of Turkiye) wants you to know that her resident land is one of the biggest tea drinkers in the world.
Today about 96% of tea is in a bag, with loose tea being the outlier.
Pekoe And Black Teas
Black tea is from the Camellia sinensis plant. Once picked, it's allowed to dry and oxidize. This tea is grown in Sri Lanka, India, and Africa, and was discovered in China in the mid-17th Century. This type of tea is most of what's consumed in the US as iced tea. It's a stronger flavor than most others.
You've probably seen the term "orange pekoe" for years. I didn't pay attention until recently. But "orange pekoe" is tea grown in Sri Lanka and India, distinguished by its orange tips.
"Orange pekoe" is also part of the grading system for tea. It's the lowest grade of tea, indicating that the tea is comprised of whole leaves, not bits and dust like some commercially produced types. But it's a high grade of tea, meaning that it's produced from the prime leaves. This tea doesn't taste like orange, either.
Lipton Tea
Did you know that Lipton Tea is a British brand?
I didn't, either. Still, it's just regular tea in the US, available in every grocery store in America.
Like most people in the US, Lipton is just what you bought. Here in Louisiana people also buy Community Coffee's brand of tea, or the store brands.
That's what we had. As kids, we had Lipton tea every night with dinner, freshly made with lemon and sugar by the pitcher.
Nobody considered decaffeinated tea. We just drank it and rarely had soft drinks. My mother believed every urban legend around, such as kids weren't "old enough" for coffee. The old wives' tale said not to give your kids coffee, "because caffeine stunts their growth."
My siblings and I are all over five feet. I don't know how it would "stunt growth," since caffeine is a stimulant. And how many kids since then grew up with caffeinated soft drinks and Frappuccino?
Lipton's website has more information on tea, including this primer on British tea time. I just can't see Buckingham Palace staff serving Lipton to the Queen.
Hot Tea In A Cup
My Grandmother introduced me to hot tea when I was a teenager, but it was more of a treat. When I got older, I drank tea because that's what I was used to having.
Before coffee shops were everywhere, I'd have a cup of tea in the morning, whether at home or at the workplace. Coffee and tea were also available in the offices where I worked, or I just brought some as I did at Boeing.
Never mind that the tea had more caffeine than coffee. We didn't have Google back then to find out these things. I started drinking coffee when I was about 22 after I'd married and moved away.
But I always kept Lipton around and sometimes had Twinings. Lipton was the standard, as well as store brand teas. Later I used decaf for iced tea so I could drink it all the time.
Then I discovered British tea, and that was the end of the relationship. I'll explain that in the next blog post.
Yerba Mate
I've tried this a few times, and it's quite caffeinated. It's considered an herbal tea and is made from Ilex paraguariensis, a plant in the family of holly. Yes, as in the holly berries you see at Christmas.
Fans of Yerba Mate make multiple claims about it, including easing depression, relieving fatigue, helping weight loss, and other conditions. If it works for you, great. But there's a simple explanation.
Hello!! Caffeine!!
Exactly—and if you have high blood pressure or another condition that caffeine aggravates, avoid Yerba Mate. (NOTE: I'm not a doctor, nurse, scientist, or medical professional, just someone who reads and speaks from experience.)
I tried it once or twice, and I think this is the brand I bought in Houston. Honestly, it didn't do anything but give me plenty of heart-racing, no handsome guy in sight. Caffeine can also make me very hungry, grouchy, and jittery in large amounts, so it invalidates any other potential benefits. That's OK, I'll just have some PG Tips if I need that much of a jolt; it tastes much better. (More on that in the next blog post.)
The Mayo Clinic has more information on Yerba Mate on their website, as does WebMD. Use caution if you are so inclined. Don't say I didn't warn you.
Tisane: What Is Rooibos Tea?
One tea I do not like is Rooibos. It just doesn't taste good to me. I've tried the Celestial Seasonings brand as well as one or two other brands. I tried to like it, but I don't. Rooibos is a tisane, a fruit or herbal type of tea.
Turns out rooibos isn't a true tea at all. It comes from a South African herb plant, the Fabaceae plant family. When the leaves are harvested and dried, they are brewed into a reddish-brown herbal infusion. It's also called "African red tea" or "red bush tea" by the tea industry. It's sometimes made with vanilla, as with the Celestial Seasonings variety. But it's not enough to kill the awful taste. You can read more about rooibos here.
Orleans Coffee sells some very nice tisanes that are not Rooibos. This includes my favorite, called Blue Eyes. I have some in the pantry and make it now and again; I should get some more soon. It's sweet and fruity but not overwhelming. I make it by the cup occasionally for iced tea.
Bonus: Cooling Off
I used to drink iced tea all the time. Period. I made it in great big plastic pitchers of decaf. I just let the tea bags sit out overnight in the water, and it was ready in the morning.
When I used to see Dr. Davis in the Woodlands, they always had a large pitcher of cucumber-infused water in the lobby. I loved it. But when I made a pitcher of it at home on a Friday afternoon, I couldn't stand it on Sunday. I never made it again, but I will drink infused water if I'm out somewhere and it's available.
One day, about 10 years ago, I just didn't want iced tea anymore, and I haven't had it since. After that, I simply added lime juice and Sweet N' Low to a cup of ice water. Not lemons, just limes. That's what I've been drinking since June of 2012, right after the Boeing layoff. I still have three unopened, plastic-wrapped boxes of H-E-B decaf cold brew iced tea in the pantry, because I'm too cheap to throw them away.
When limes recently became as much as $0.75 each, I went looking for something else to drink. I'm not accustomed to paying that much for limes. Then again, I'm not accustomed to paying $15 for a box of five dozen eggs, either. But that's what they sometimes cost now. I wondered about a temporary replacement for limes in my water.
On a trip to our local Winn-Dixie, I was looking for my usual Community Coffee and Tazo Awake tea. They have a nice section with a good selection of local coffees and different teas, including Bigelow. But sitting there, on the shelf, were two boxes that caught my attention:
Hello, What's this? Bigelow's new Cold Water Infusions! It looked too interesting to pass up, so I didn't. Winn-Dixie only had two flavors, as did Walmart. Didn't take long for inflation to strike a new favorite:
When I went back to Winn-Dixie to buy more, I found more flavors. As it turns out, there are six flavors in all:
Watermelon Cucumber Mint
Cranberry Lime Honeysuckle
Blackberry Raspberry Hibiscus
Blueberry Citrus Basil
Strawberry Lemon Orange Blossom
Peach Lemonade Acai
That Amazon link takes you to bundles of packages, not individual boxes like you get in the grocery. Subscribe and save? Don't tempt me.
These are caffeine-free cold-water infusions that you just add to ice water and let it infuse. If you leave the bags in the water longer than 10 minutes. . .nothing else happens. Tea, on the other hand, will get bitter.
Walmart had a couple of boxes of the Peach Lemonade Acai flavor, and I bought them. I think that was an accident that they had them. I finished that flavor first because. . .I don't like that flavor much and just wanted to use up the bags. Much as I like peaches, this one just tastes funny.
As it turns out, there are multiple brands of these cold-water infusions. I'll try them as I find them. Remember that I'm not in Texas anymore. Anything new on the market takes months if not years before it's available on this side of the Sabine River.
Acai
If you're not familiar with it (and I'm not, but it's pronounced "AH-sigh-YEE") it's a berry native to Central and South America. It's been promoted as a "superfood" here in the US, and sold as frozen puree or powder because they spoil quickly once they're picked. No, I'm not jumping on that bandwagon, nor the one around goji berries.
Irony: my favorites are the first two, Watermelon Cucumber Mint and Cranberry Lime Honeysuckle. Those are the first two I found, and the two that our Walmart normally carries. Chances are I'll be sticking with those going forward. But I have something to drink that isn't as expensive as limes and is ready almost immediately.
Woo Hoo!
Is it any good?
It is, but it's not heavily flavored like, say, Hawaiian Punch. It's an infusion, which is probably a $20 word for tea, but you don't need hot water. Just add it to ice water and leave it to sit for eight to ten minutes.
It's a bit like that cucumber water at Dr. Davis' office, but a tad bit fruitier. In my steel Starbucks venti (24 ounces) cold tumbler, I use two of the bags, along with a single packet of Sweet 'N Low. But that's just me.
It's tasty and less expensive than the limes right now, so that helps. But people are buying those limes in Walmart and Winn-Dixie because I see the supply decrease. I also hear Spanish here, which was unusual a few years ago.
I do need to make a trip back to Los Primos in Hammond one of these days to get more chorizo and a few other things. Time to make more Salsa Macha, too.
Until Next Time
The next blog post will discuss my full introduction to British tea. It includes a very nice gift of British tea and other goodies from the UK that LH sent from California. She sent them in April, and delays mean I still haven't finished the blog and uploaded the pictures.
Our friend Beverly is also working on another blog post for us.
Also in the queue are blog posts that are a little more serious. Yes, they're food related, but I haven't finished them yet.
Stay cool and Enjoy!