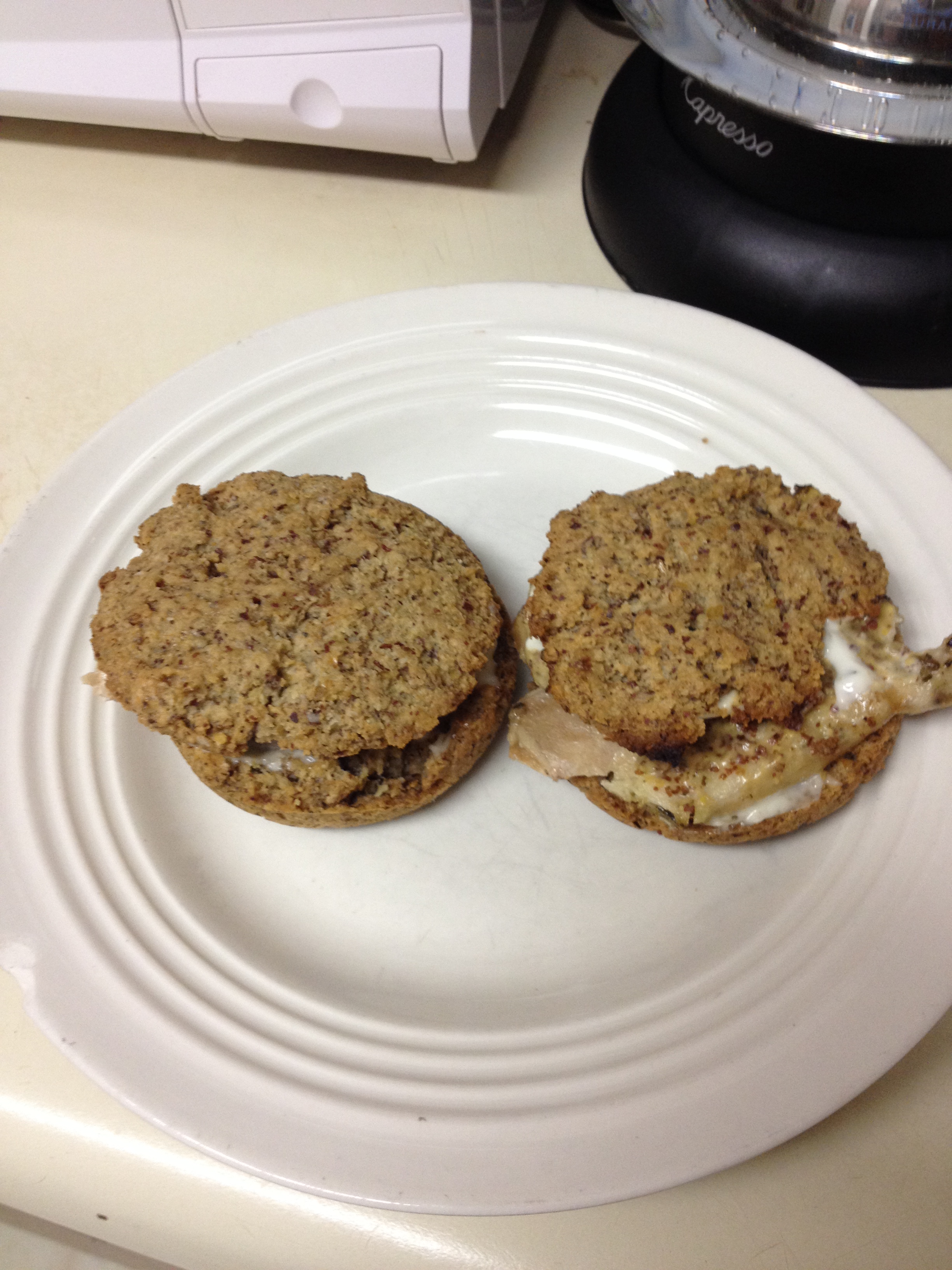 Little Chicken Sandwiches
Good evening, Dear Readers:
Well, Houston's warm spell was broken with a cold front that literally blew through last night. I was in shorts all day yesterday, and later in the evening found my self. ..chilled. I managed to gather a bag of dry leaves for composting before the rain came through, and will try to get more in a little while; cheap rakes are great, aren't they? I made coffee last night AND this morning! Enjoy it while you can. . .because soon enough it'll be HOT again. This is Houston, after all.
All the housework is done, and coupons cut and sorted for whenever I go shopping again. I actually have done some shopping, but not so much for groceries–more spare parts and things, mostly. But not a whole lot. For instance, I had no idea that household cleaning manufacturer Casabella made a tool to scrub your bathtub. No kidding! It's a tub scrubber on a long pole, much like a mop or broom. How did I not know about this? I actually saw a similar tub scrubber by Oxo on Facebook, but Bed, Bath and Beyond does not have OXO's model yet. Armed with coupons, I got one of the Casabella models and a refill pad. My tub and surroundings is clean, and I do not suffer with pain from it.
Soon I will be getting the HeatCageKitchen garden started for this year. Although my rosemary plant keeled over after so much rain, I've sprouted a bit of rosemary I leftover from Christmas. Takes a while, and you just keep the water fresh in the cup. The green onions are shooting up nicely, and I may need to transplant them to a bigger container.
Last night I cooked up some tenderloin medallions. No kidding. Upstairs neighbor J goes deer hunting, and some time ago gave me some delicious deer sausage he'd had made after a trip to West Texas. I was kind of "saving it," and then he gave me a package of these:
I've had venison twice before, and cooked it once, at someone's house. (Never again.) I was not aware that venison can be tough, and because it's so incredibly lean, needs a fair amount of oil to cook properly. I am now, so of course I first hit them with my handy-dandy meat tenderizer:
This is the model I think I have, but I don't believe I paid that much for it–I'm too cheap. However, this is a comparable model for a lot less.
Olive oil in a cast iron pan is the only way to go:
It wasn't long before I was enjoying something delicious.
Yesterday also saw some on-sale chicken breasts and what looks like the last of the "fish unspecified" from the GER cooked up for the week. I also have a little of last week's chicken chili, but I'll have to post that recipe later. I meant to do it already, it's for the slow cooker.
Now, the next one I sort of stumbled upon. . .well, let me start it this way. Remember a while back I had a fascination with the Hamilton Beach breakfast sandwich maker? I still think it's neat, but. . .well, I gave it another try, minus the sandwich maker.
In the Wheat Belly 30-Minute (Or Less) Cookbook, there is, on page 19, a recipe for an "All Purpose Baking Mix." With this mix, you can make a number of baked-goods recipes in the book. In fact, this book has a number of different mixes for a number of different applications. (On Page 25, there is a mix for the wonderful flaxseed wraps, and on page 28, one for tortillia baking mix, which I haven't tried yet.)
When it got cold enough to bake a couple of weeks ago, I decided to cook up some chicken thighs, just stick them in the toaster oven on 350 with some olive oil and spices until they were done. Didn't think more about it, just something to eat. (I got a bunch on sale again.) Separately, I decided to make some of the Basic Sandwich Muffins on page 24, using the All Purpose Baking Mix. First, I had to whip some up:
To make these little sandwich muffins, you'll need a whoopie pie pan. These muffins are small but quite filling. Once you make enough of the baking mix, you mix up the muffin dough and bake them. They're not very big, honest:
They're only about a half inch thick, really:
The recipe makes 4 of these little muffin halves, and the recipe says that each one is a half. Two of these are quite filling. Well, I decided to cut them in half to see what happened, and at some point, I realized that the chicken thighs were the perfect accompaniment. I mean, the chicken isn't that big, either, once it's cooked:

The muffins are great toasted:
And you slice up the chicken thighs lengthwise like turkey breasts to make them fit. With some Just Mayo on the muffin halves, and a dot of Zatarain's Creole Mustard on top of the chicken:
Voila!
I had them every day for breakfast, just because I could. Admittedly, I didn't make any more, I want to try something else next.
Now, of course, I'm down a couple of bags of almond flour. Next trip to Trader Joe's, I'll be stocking up again. But between these little babies and the recent Meyer Lemon Cake, oh, is it so worth it.
If you're looking for a little treat, give these a try, because they're quite good. The recipes are below.
Please note that one recipe for the muffins makes four, but if you have a 12-cup whoopie pie pan like I do, you can triple the recipe to fill it and bake 12 at once. Nothing wrong with that, right?
Oh, and Valentine's Day is next week! Are you ready? There are some chocolate recipes here on HeatCageKitchen, just do a search (or start here). But there's one more thing you can make with that baking mix, and fast–a Coconut-Chocolate Quick Muffin, on page 87 of the same book the muffins are in.
They're actually listed under breakfast, but they're pretty good about anytime. In fact, I might make one tomorrow. Let me tell you, though, all these quick muffins are microwavable in a cup. How cool is that?
So get ready for Valentine's Day the HeatCageKitchen way! Or at least an easy way. . .recipes are below.
Happy Dining!
~~~~~~~~~~~~~~~~
Wheat Belly Recipes
All-Purpose Baking Mix
4 cups alond meal/flour
1 cup ground golden flaxseeds
1/4 cup coconut flour
2 teaspoons baking soda
1teaspoon ground psyllium seed (optional)
In a large bowl, whisk together the almond meal/flour, flaxseeds, coconut flour, baking soda and psyllium seed (if desired.) Store in an airtight container, preferably in the refrigerator.
Basic sandwich muffins (makes 4)
1 cup All-Purpose Baking Mix
1/2 teaspoon aluminum-free baking powder
1/2 teaspoon salt
2 tablespoons extra-virgin olive oil
1 egg
1 tablespoon water, plus additional water if needed
Preheat the oven to 350F. Grease 4 cups of a whoopie pie baking pan (or all, if tripling recipe for 12.)
In a bowl, combine the baking mix, baking powder, and salt. Stir in the oil thoroughly. Add the the egg and stir until mixed. If the dough is too stiff, add water 1 tablespoon at a time.
Divide the dough among the 4 whoopie pie cups (or 12 if tripling recipe). Using a spoon, flatten the mounds until approximately 1/2″ thick, leaving a shallow well in the center. Bake for 12 minutes, or until the edges begin to brown. Allow to cool for 3 minutes before carefully removing from the pan.
Coconut-Chocolate Quick Muffin
1/2 cup All Purpose Baking mix
2 tsp unsweetened cocoa powder
1 tablespoon unsweetened shredded coconut
1/2 tsp ground cinnamon
Sweetener equivalent to 2 tablespoons sugar (3 is better; I use SomerSweet)
Pinch of sea salt
1 egg
2 tablespoons milk (almond milk works too)
1 tablespoon butter, melted (use coconut oil if doing yeast-free diet)
In a medium bowl, combine the baking mix, cocoa, coconut, cinnamon, sweetener and salt. Whisk in the egg. Add the milk and butter (or coconut oil) and whisk thoroughly. Use a rubber spatula to scrape the mixture into a large mug or 10-ounce ramekin.
Microwave on hgh power for 2 minutes, or until a wooden pick inserted in the center comes out clean. let cool for 5 minutes.