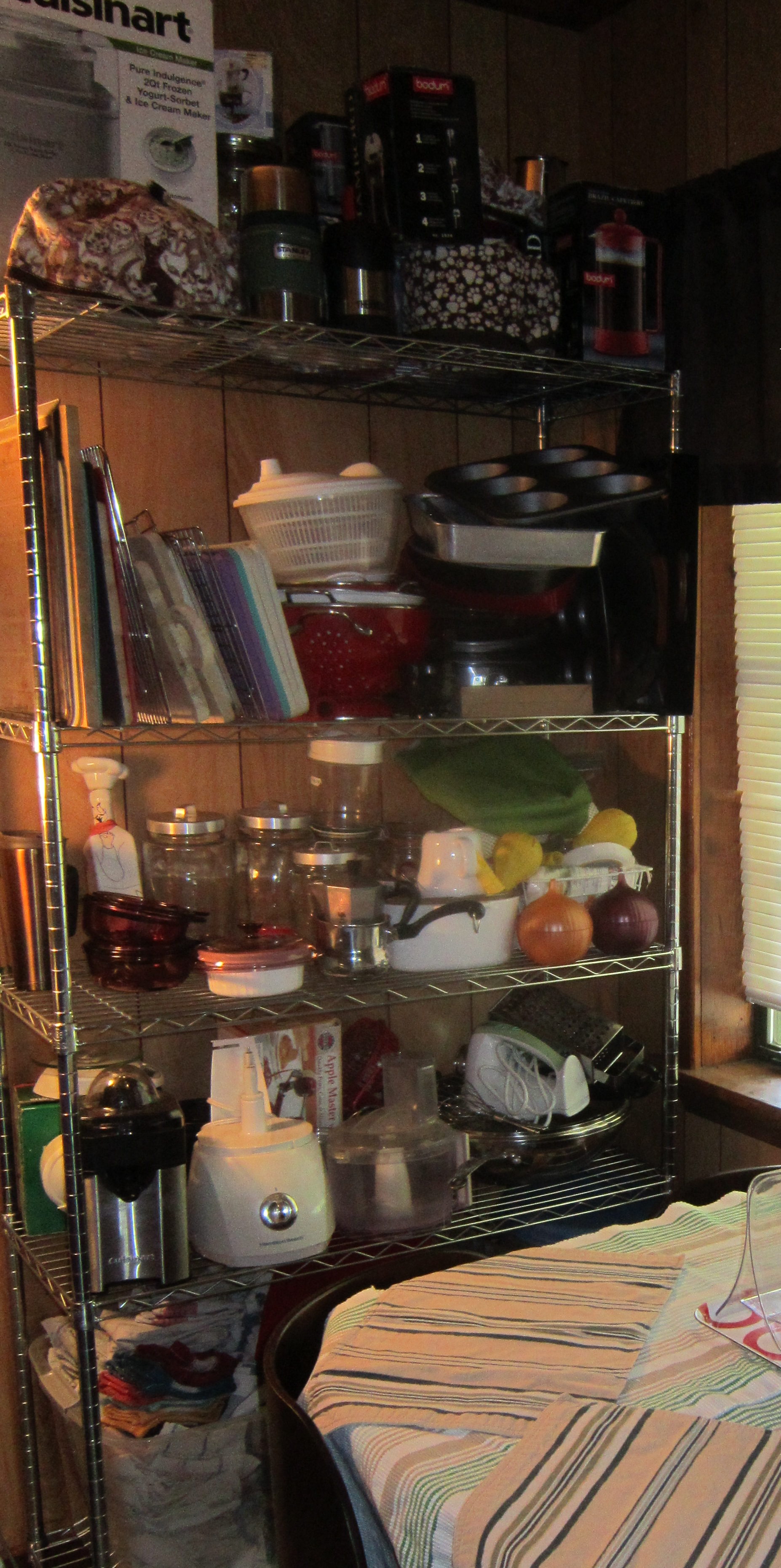 Short post: Amy's Kitchen Rack
The Kitchen Rack returns to the HeatCageKitchen!
Hello, again, Dear Readers!
Welcome to another edition of "What's she up to this time?" I've been busy! Boy, have I ever. . . .
Another article published!
Today another one of my articles is published on OffTheGridNews, on a food, or supplement, called Maca. It's a plant that grows high in the Andes Mountains, similar to a potato or turnip. I've heard about Maca for many years, but never got around to trying it. It's great for hot-flashin' women, so I read, but there's more to it than that. Like potatoes to the Irish, Maca root has been a food staple for the folks in that part of the world for thousands of years. Someone (probably a Gringo) figured out that it was a pretty powerful thing, and now you can buy it raw or gelatinized and take it as a supplement.
I bought some, too
Admittedly, after I wrote this article, I bought some from Vitacost. Buddhist friend NM told me about Vitacost recently, and I have not been near a Vitamin Shoppe since. I started buying OTC thyroid from Vitacost after discovering they sold it for $10 less than Vitamin Shoppe—and they ship it right to your door! No more long drives to NOLA or Baton Rouge to get one bottle at nearly twice the price. I also use Vitacost's website for basic research for these articles. I started taking Maca last Friday, when the latest bottle of Raw Thyroid arrived. Vitacost's house brand is gelatinized, but I'll try the raw version one day too and see which one works better. (I'm applying the principle of "try the least expensive option first.") So far, so good.
There was a time when I would spend about $200 a pop at Vitamin Shoppe when I stocked up on stuff. No more—I have been building a list of things I'll be taking again one day, and I order one or two products at a time, as I can. I'm still writing, but no "big paydays" yet.
No Coffee for Aussies?
This article on The Kitchn this morning says that Aussie kitchens don't have. . .what? Like me, they do have a kettle to boil water in their kitchens, but not a coffee maker. (The pictured SMEG kettle is gorgeous—I want one of those in red, please!) The kettle makes hot water for tea, instant soups and—instant coffee. I actually have some instant coffee, but it's primarily for recipes like Yeast Free Brownies. Drinking instant coffee? No, that's OK. Not unless I absolutely have to. Even in decaf.
Hot mess: Slow Cooker Edition
Last week saw me make two more recipes from slow cooking expert Stephanie O'Dea's emails: Hearty Lima Bean Soup and Maple Barbecue Beef. BF keeps packets of lima beans around, so I figured he'd like that. NOPE—too much tomato, and he didn't even finish his. He ate a bowl of cereal, no kidding. Maple Barbecue Beef went over. . .OK. . .we can have it again sometime, but not anytime soon, he says. Yesterday I threw a few things in the slow cooker, including some black beans for a change, and I'll post that recipe soon. Working Title: Amy's Slow Cooker Southwestern Black Beans. Along with a bit of roast beef, BF was pretty happy with Sunday dinner after working all day.
Now, this week's update
You remember the microwave saga? That saga has finally come to an end—I no longer own one! We have one at the Casa de Rurale, of course, but it's BF's. More than six months after I bought it at the League City Walmart, I brought the perfectly working but dusty microwave to the local Walmart and traded it in for. . .a new kitchen rack!
No kidding, I finally did it. A new kitchen rack And BF begrudgingly admits the kitchen rack was a pretty good idea. Because, after all, I did unpack a fair amount of boxes:
We had a roaring fire outside after dark with these going up in flames!
Mind, you, that's not everything on the kitchen rack–but it's most of it. There's some more organization that has to happen in the Casa before all my stuff is unpacked. Working on making more money so I can get the rest of the things I need, like bookshelves, a covered clothing rack, and a couple of DVD racks for us. Oh, and a digital converter box for my non-digital TV. . .one thing at a time, right? In between laundry, dish washing, cooking and Buddhist meetings. . . .
Enter the Breakfast Area
Next to the kitchen rack is my IKEA Fusion table and chairs, which they don't make anymore, creating a nice little breakfast area by the front window:
The placemats are from the old Martha Stewart collection at K-Mart. I mentioned this to BF this morning, and he said, "I'm sensing a pattern here." Because a fair number of things I own are "from the Martha Stewart Collection," somewhere.
After I did all that, I also stopped at Walmart for a few things one night and decided to get something else "for the house."
Although I no longer have cable TV, I do still follow my favorite celebrity chefs on Facebook and get their emails. I bought a set of salt and pepper shakers from the new spring line of The Pioneer Woman collection. At Walmart.
These are called "Vintage Bloom," and there's a whole collection of dishes that go with it. It's just a nice little bit of color, and I particularly like that color of blue. I almost bought one of the coffee cups, but if you've seen my coffee cup collection—I'm talking about you, Captain Ron—you'll know that I really, REALLY don't need another coffee cup, no matter how cute and original.
Kitchen rack is just the beginning
I'm trying to get BF to build me a rustic pallet rack for my coffee cup collection, but so far, he's not interested. Pegboard, maybe? But he's working on a couple of other things right now, so I give him a pass, and I wonder if I can do it myself without seriously injuring myself. (I have O- blood, if you're donating.)
No toaster oven yet, but I have used the little oven on the stove many times. Just need an oven thermometer to check the temperature.
Improvements continue
I continue to improve things in this former man cave (with emphasis on "cave") as time permits We've burned many boxes, piles of old receipts and bills, and other things that make me ask BF, "why do you still have this?" Eventually, some of my stuff will also burn as I unpack more and figure out what I don't need anymore. Winter is gone now, so I'll be organizing magazines as well as cycle out and move around clothes. Plant the garden stuff I haven't even planted yet,too. I want my Hatch chiles!
I'm writing another article for OffTheGridNews, and it's due Friday. I won't reveal the subject yet, but there will be an accompanying article here, soon as I do some taste-testing with BF and one or two of his friends. BF is chomping at the bit. . .to get it over with. Because, he says, "I'm just humoring you." (And he doesn't understand why I go to Whole Foods whenever I can, but that's another blog post.) But there's work to be done before then, and I'll bring it to you with pictures soon.
Enjoy!