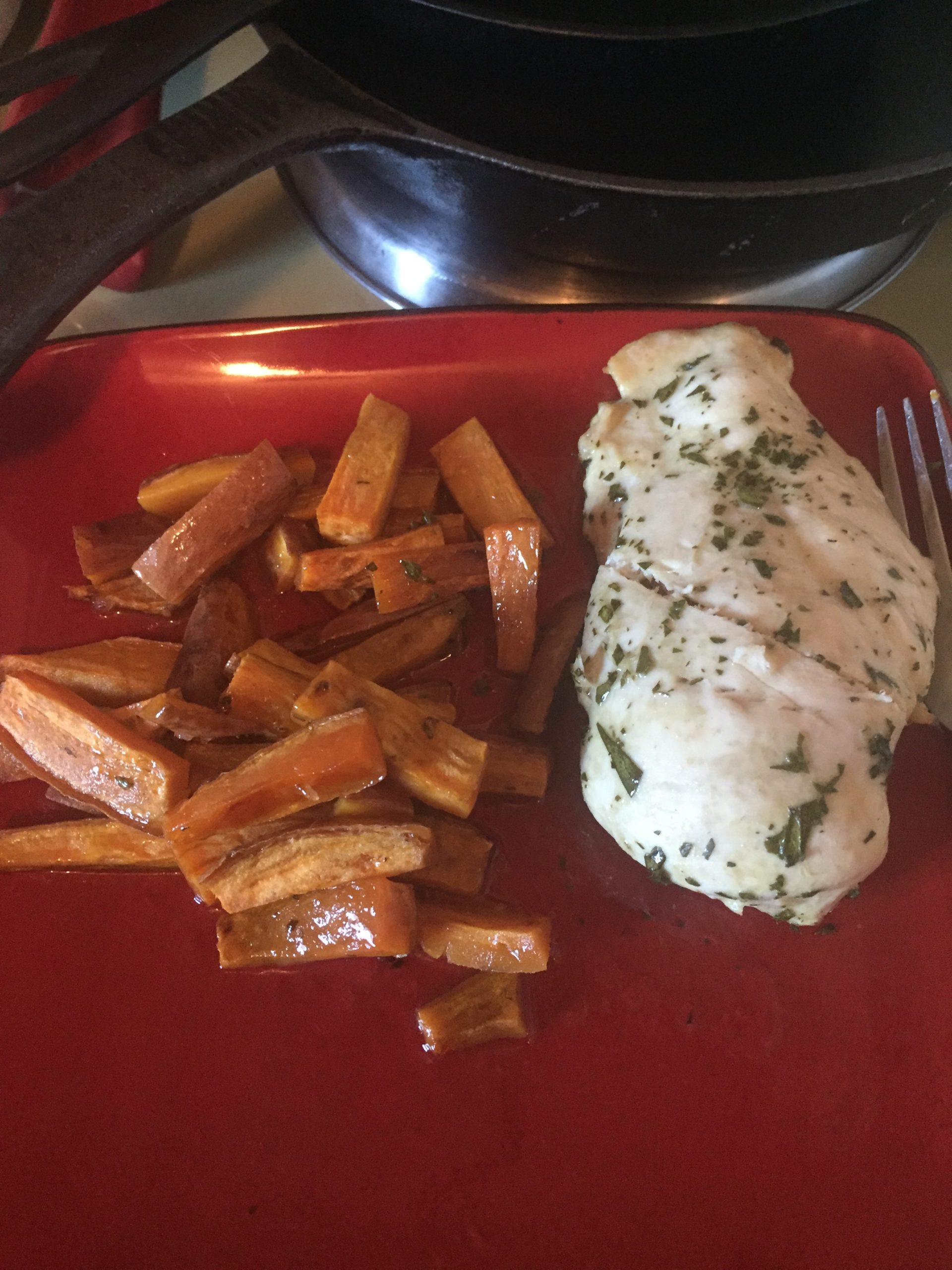 Last Night's Dinner With Tarragon
What to do with that tarragon plant in the garden? I found something to start with.
Hi, Again, Dear Readers:
After I published my June Updates post, it dawned on me that I could do something right then with some of the tarragon: a compound butter. Then it became digging out that lone chicken breast from the freezer and cooking it with the compound butter, and adding some cut sweet potato fries.
Hungry yet? Let me tell you how I did it.
The Realization
I was actually walking the dogs when I realized that I could do this. Compound butter!
If you're not familiar with compound butter, it's simply a stick of softened butter with some herbs, spices or other flavorings mixed in. They can be savory or sweet, depending on what you want to use it for. There's a longer explanation here on The Pioneer Woman's website with some recipes. You can always make a recipe on your own.
But I didn't have a recipe, it was mostly for using some of the tarragon. And it was easy!
I let the butter soften up for a while, and just dropped it into a bowl. You don't want to melt the butter, because then you have to chill it and let it get malleable again.
I simply cut two stalks of the tarragon, washed them, and began chopping it with a big, sharp knife, until it was very fine. Dumped it into the butter, mixed it up well, and, voila:
I added a small amount of salt for taste–like maybe 1/8 teaspoon of that salt. Just taste it to make sure it has enough, but not too much, to your taste. And mix it VERY well, of course.
Making Dinner
At the same time I took out the butter, I took out the bag with the lone chicken breast in it and let it thaw as well. It was just a plain, boring, flavorless chicken breast on its own.
Because it was damp, I dried it off:
Using two small spatulas, I dug some of the butter out and dropped it on to the chicken and rubbed it on each side:
Then I added it to a baking sheet with some cut sweet potatoes coated in a bit of olive oil and salt:
Once I got the sweet potatoes in one layer, it was ready to bake:
And because I wanted to eat soon, I heated the little oven to 425F. It was ready in about 25 minutes.
Freezing The Remainder
Now, this "recipe" didn't use the entire stick of butter. If I were cooking for me and BF, or more people, I probably would have used the whole thing. But this time, it was just me, and I froze the rest. You could also do this if you were making several types in advance.
Get some waxed paper, parchment paper, or butchers paper, and plop it down on the paper:
Because it's soft but not melted, you can turn it into a roll, just like on the Pioneer Woman's website:
Now roll it all the way up and twist up the edges like a Christmas cracker:
I stashed mine in a freezer bag to hopefully prevent freezer burn.
If you wanted to store multiples, just use a felt-tip pen to write the type on the waxed paper. You don't want to mix up tarragon compound butter with orange honey butter, right?
When you're ready to use it, just slice off what you need to add delicious taste to anything you're cooking.
Dinner Smells Good
About the time I finished this up, dinner was ready. I plated it and it was perfect:
The chicken was perfectly cooked, tender and moist, and the butter also made it over to the sweet potatoes. Maybe I should have left off the small bit of olive oil, but it tasted fantastic.
Where was BF, you ask, when I was making this deliciousness? He was at work, and got a pizza for his "pit crew." He came home with three slices left of it for lunch.
Tarragon Gifting?
Ok, not everyone is going to appreciate a couple of branches of the plant–that's OK. But I did do some checking on Pinterest for some more ideas.
I also discovered that the tarragon I'm growing is called Texas/Mexican tarragon. (Being a naturalized Texan, I bought it.) It's not the French tarragon we're used to buying. I found the plant. . .somewhere, and stashed it in the ground when it was time to plant. No complaints.
Tarragon vinegar is a longtime favorite, and I may check into making some of that. I did that once, a long time ago, so maybe it's time to do that again.
Tarragon oil may not be a good idea for long-term storage because of the possibility of bacteria. I learned that back in the 90's when I made seasoned bottles of vinegar one year for Christmas. I had fun collecting wine bottles from one lady I used to know in New Orleans–she drank a lot of wine and kept me supplied with empty bottles for months.
I also saw a reference to adding tarragon into pesto, so next batch, I'll be trying it out. I have plenty of basil to work with, trust me.
Maybe compound butter as gifts? It's an idea, and it's quick. Just have to make sure it stays frozen until use.
That was just a quick glance at Pinterest, I'll do a more in-depth look soon. If I have to start making gifts now, it's a great time to do so and have them ready for the holidays.
Which will be showing up sooner than you think.
Need a dinner idea tonight? Here you go–try some tarragon compound butter on your next chicken, turkey or other poultry dish for a delicious herb taste.
Enjoy!