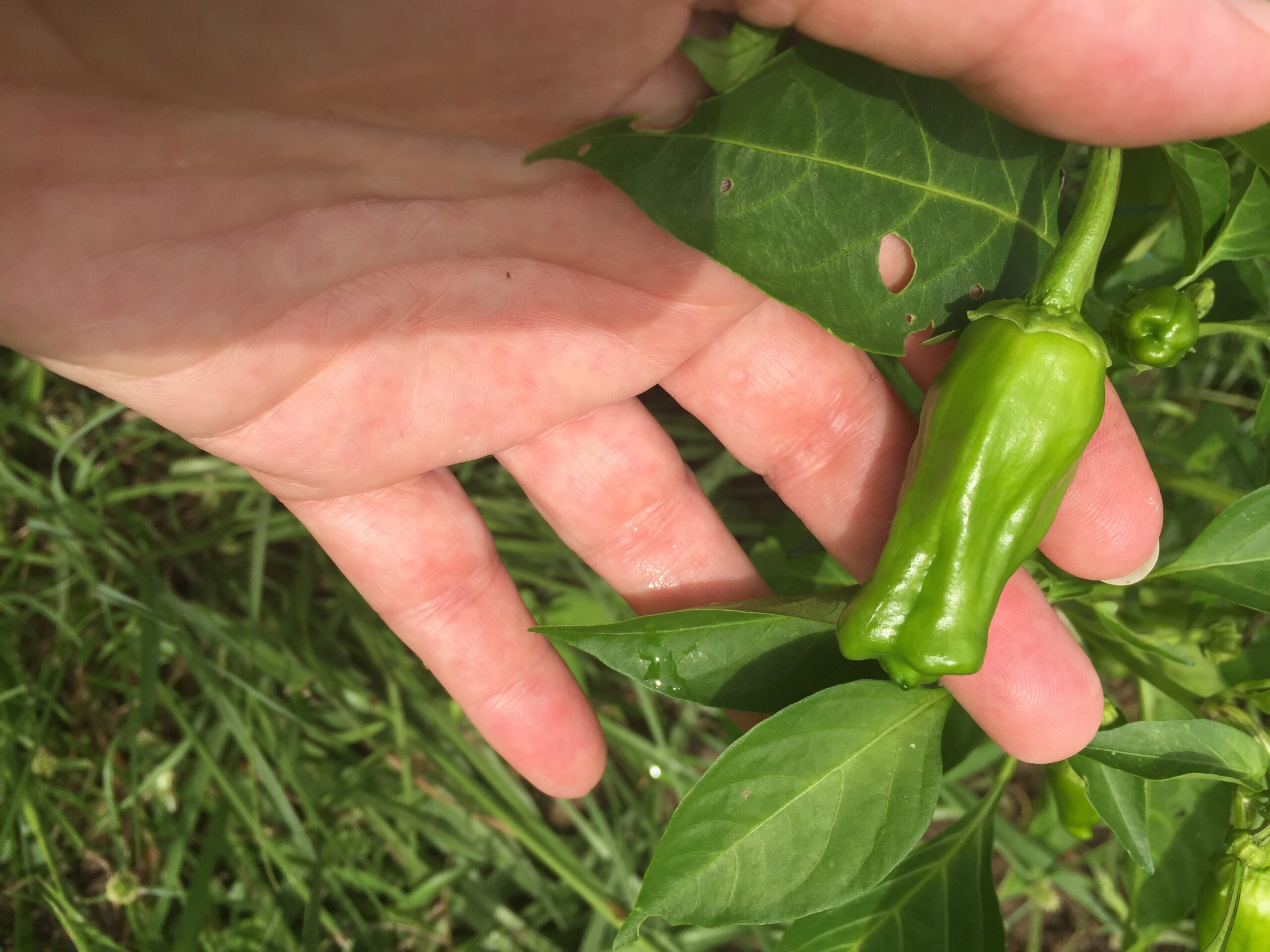 Have You Tried Shishito Peppers?
Shishito peppers really are a thing, and I'm not swearing. They're delicious, and generally not hot. 

Find me on Bloglovin'
Hi, again, Dear Readers:
Just popped in for another blog post, this time on something new I can't believe I discovered. Thank heavens for streaming and Philo TV.  Shishito peppers are a new item in the US produce market, and of course, I'm one of the last people to know.
Let me tell you what's been happening.
A Zucchini Recipe
If you're seeing lots of zucchini, I have a simple recipe for you. The inspiration is out of the book from which my favorite cheesecake comes, The 30-Minute Low-Carb Cookbook by Pamela Ellgen.
I had some leftover roast chicken and zucchini. I flip open this book and there is this recipe using pesto, chicken, and zucchini.
You have my attention. 
So I read it and realize that I have the ingredients, including the basil and other ingredients for pesto. I probably have 25 containers of pesto in the freezer dating back to 2018 (or maybe 2017.) Why should I make more? (I will, because I need to cut the basil soon.)
The recipe calls for spiralized zucchini, but I don't have a spiralizer. What I do have is a Norpro Apple Master, which does much the same thing.  Sort of. I'll get a spiralizer one day, OK? For now this is what I have to work with.
Two cups of cooked chicken are called for, and so I managed to pick and chop exactly two cups from the chicken carcass in the fridge. I used some of the recently made tarragon butter. BF really enjoyed the chicken, and it was really tasty, but he didn't want to know what was in it.
Once I finished with the zucchini (cutting the cores into matchsticks and cleaning the machine), I sauteed it in a tablespoon or so of olive oil for two minutes. Then, I added in the chopped chicken, sauteed for another couple of minutes. Then I added in an entire container of my home-made pesto from 2019, which was I presume to be a cup, but I think was more. It was the first one I grabbed when I opened the freezer. It was probably too much. Next time I'll just use measure out one cup.
Well, when I finished it, this is what I ended up with:
The recipe also suggests serving it with additional Parmesean cheese (because you would have put some in the pesto) but I forgot to add some.  It was delicious as-is, and if you're a fan of zucchini and pesto, this is highly recommended for a quick dinner.
If you don't have chicken already cooked, you could also pick up a rotisserie chicken (or chicken parts, if HEB still sells them that way) or cook a couple of thighs in the toaster/convection oven, air fryer, or heck, even poach it if you're really in a hurry.
It's low-carb, gluten-free, and without cheese, it can be dairy-free, too.
BF's reaction to this delicious dish was to exhibit another of his retching noises.
Speaking Of Him
We've had another flora and fauna fiasco.
It seems that although BF remembers his Dad having a garden and a bounty of fresh produce every year, he doesn't remember everything. I should have seen this early on and paid closer attention to what he was doing.
BF wanted some green beans, and he planted them. These beans grow on vines, and so at some point, he asked for a stake to let them grow up onto. The corn, watermelon, beans, and potatoes were pretty much BF's domain, so I didn't ask questions.
Last week after our garden massacre, I was out there looking for the cucumbers, zucchini, and any peppers ready to pick. Pulling up more dead cornstalks, I thought to myself, "we should have been picking those beans by now." I look over at one stake, where I saw one bean before, and realize that it's about dead. Not only are there no beans, but there are also no leaves.
On the other stake, there were plenty of leaves and little purple flowers. No beans, just flowers, and leaves. That's when I realized it.
He Staked Weeds
The next day I brought him outside to ask him about it, and said, "Show me the beans." He turned around and walked inside without a word!
I pulled out as much of the weed as I could find, and there was a considerable amount. Even off the stake, there was so much that it was like pulling a heavy quilt off a bed.
When I got inside, he said, "you don't have to be so judgmental." I wasn't trying to be, but if it was indeed, planted beans, I want to harvest some.
I'm not mad at him–it's actually funny. So now I ask him, "where's the beans?" It's along the same lines as asking, "didn't you pay the light bill?" when we have a power outage like we did this past weekend. (Yes, we paid it early and everyone else was out of power, too.)
Well, anyway, we're nursing some tomato plants. The Chocolate Cherry plants have flowers and are looking good so far.
We really need to get an earlier start next year.
On another note, the wife of one of his car-guy friends posted a picture of something they cooked out of their garden. BF mentioned that this friend keeps his garden free of Mother Nature's creatures with the use of an electric fence. I like it.
The Shishito Discovery
As always, I'm watching Ina Garten while sewing, and it's a show I've never seen before.
She starts talking about this tasty appetizer and these little peppers that you just saute up and eat, seeds and all (skip the stems.) They're not big, about the size of a lipstick. Picked green, they're sweet, but if left to turn red, they're hotter.
Ina also says that there is always an occasional hot one, and she seems to get that one.
So I did a little reading on the subject. Although Ina says they are from Japan, they're actually grown all over Asia. They're small, with thin walls, and cook quickly.
Of course, nobody has them here, but I remembered them when I saw the plants at Tractor Supply. 
Growing Shishito
If you're in Houston, you may be lucky enough to see these small, spark-plug sized peppers in Central Market, select HEB stores, Rice Epicurean Market, Whole Foods and maybe Trader Joe's. This being Louisiana, I can't imagine where you'd find any unless you were in a bigger Rouse's, or maybe Whole Foods, since they sell Hatch chiles in late summer. And of course, they would be in Baton Rouge or New Orleans–IF you found them at all.
But in our case, the local Tractor Supply store had some, and I grabbed two of the plants. I was on my fruitless search for more Anaheim chile plants, but I really wanted to try these.
Oh, am I glad I did!
They took a while to start producing. But once they did:
I just let them grow for a while, but one Friday night, I realized I had to pick them. The larger of the two plants had so many peppers that it was tipping over. I picked them and came inside to find the recipe.
Turns out the recipe is in Ina's last book, Cook Like A Pro. I've used this book for several recipes, but this recipe passed me by. It's my first introduction to these delicious peppers.
Fast And Easy Saute
Of course, I didn't take pictures, but it's a quick one. You can find the recipe here on The Food Network's website.
But it really was simple, you saute them on a fairly high heat with olive oil. While they cook, add salt and pepper. Remove them from the heat, squeeze over some lime juice, sprinkle on some flaked sea salt, then toss. (Yes, I have Maldon's Sea Salt as well as a few other types.)
I had to do them in two batches because I didn't have a really big skillet. No matter.
One of BF's car-guy friends was over, and we were also having some Texas Tamales. BF offered him some tamales, and I asked him to try one of the peppers. He had one of each, and loved both.
No, BF didn't want any, but I did:
My little surprise was that there were no hot peppers in the bunch. I ate some of them that Friday night, and the rest I ate with dinner a couple nights later. NO HOT ONES. Woo hoo!
Ina's Next Book
The next Barefoot Contessa cookbook comes out in early October, titled Modern Comfort Food. She announced it on social media a few months ago, and Clarkson Potter moved up the publication date by a couple of weeks because of the current events. We all need comfort food, yes? 
Has the fair Ms. Garten discovered alternate waffle maker recipes? It seems so–in the description, it says:
In Modern Comfort Food, Ina Garten shares 85 new recipes that will feed your deepest cravings. Many of these dishes are inspired by childhood favorites–but with the volume turned way up, such as Cheddar and Chutney Grilled Cheese sandwiches (the perfect match for Ina's Creamy Tomato Bisque), Smashed Hamburgers with Caramelized Onions, and the crispiest hash browns that are actually made in a waffle iron!
It's gonna be great. All of Ina Garten's books have delicious food with great directions, so this will also be a good one.
If You See Some, Get Some
When I went looking, I noticed that Giada de Laurentiis also has a recipe for these, but she makes a "baked salt" with olives to go with it. I haven't tried that one yet. Like Ree Drummond, Giada is doing her show at home. I'm catching up with all my favorite shows as I can, hence Philo TV.
A Google search will turn up more results for you, like this blog from Paleo Scaleo. Jessica is in South Carolina, and also grows them herself. I will be saving more of the seeds before the season is over so I can grow them again next year.
Don't forget that if you buy them, you can save the seeds in a Ziploc bag and start them next year. Ditto for Hatch chiles. That's always my plan.
Shishito peppers are a delicious thing to have, whether you're snacking on them in front of the TV, or serving them at your next cookout or dinner party (whenever that is, right?) They're healthy, gluten-free, low-carb and keto, so why wouldn't you? Just make sure you have some dairy milk around, even skim, for the possibility of a hot one.
Don't worry about BF. He'll either come around one day, or he'll keep eating ravioli from the can. He likes that stuff.
Enjoy!