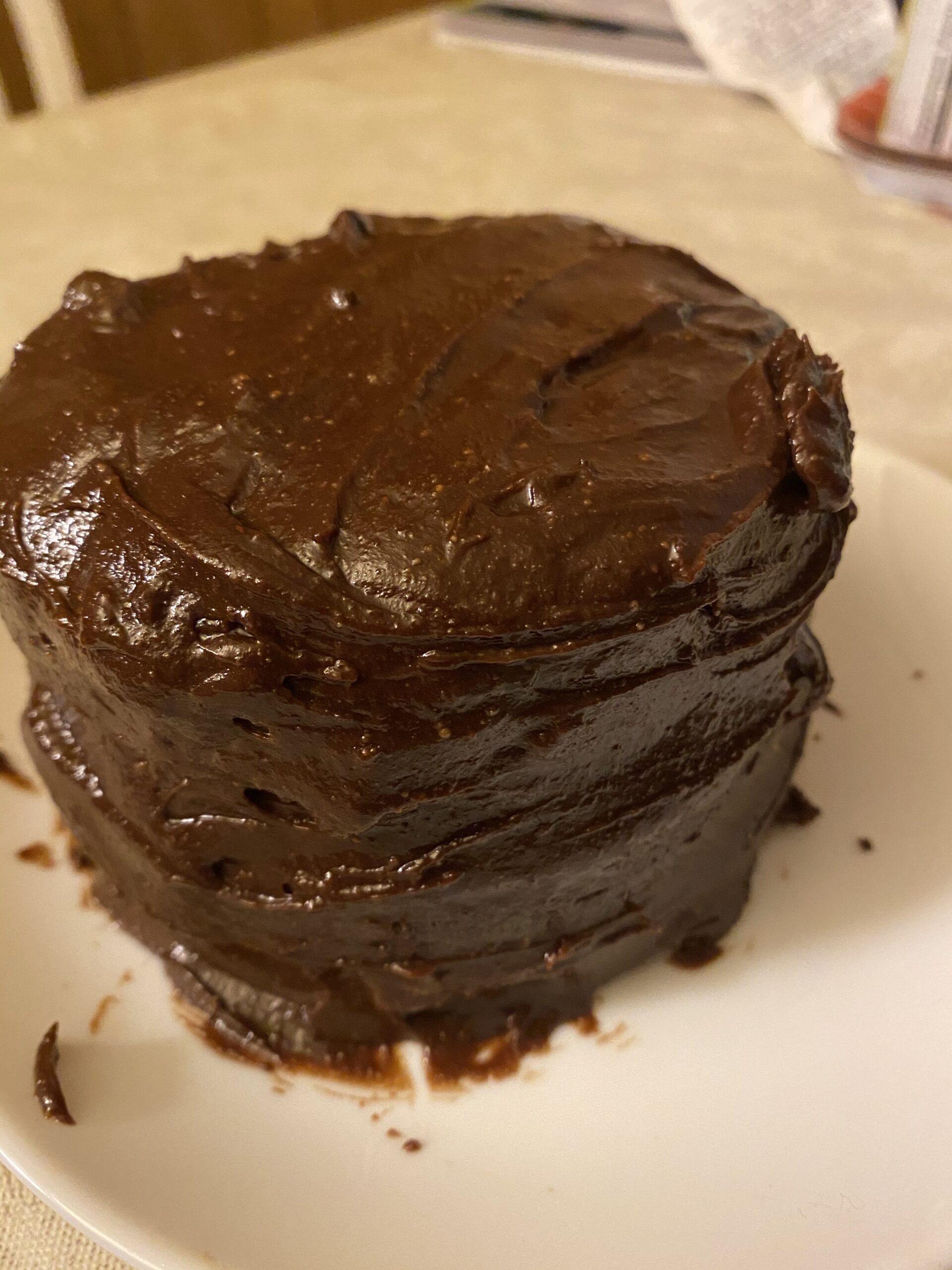 Hiatus. I didn't intend to, but I took one.
Hi, Again, Dear Readers:
It's time for another "oops, I haven't blogged in a while" post. It was an accidental hiatus.
The Quiet Holidays
During the hiatus, The Holidays arrived and left quickly. It's cold here, frequently below 30F in the mornings, but look who showed up:
Last year brought some changes in dynamics for us, and Thanksgiving was, indeed, us with his friend TT up the road. The Boy spent his holiday with his grandmother, which was good, and everyone else was elsewhere. We heard absolutely nothing from any family members, including BF's brother, who lives on the other side of town. That's OK.
We also attended the holiday party for BF's work, and it was nice to see everyone again. I brought a batch of Joan's Broccoli Madness, which went over well. Nobody had ever heard of Sweet Tomatoes, so I had to explain it.

Didn't know you could make "fudge" with frosting from a can, some kind of nuts, and peanut butter all mixed together. That was interesting.
Joan's Broccoli Madness returned when BF's sister and brother-in-law drove in from Atlanta. They came for Christmas and left the day after New Year's. For dinner with them, I also made some chocolate shortbread fingers from Martha Stewart's Baking Handbook. I certainly made friends with those, and BF thought they were great.
His sister and brother-in-law should be making a trip back this way in the next month or so. Maybe I'll make more Joan's Broccoli Madness again. It's SO good.
Christmas Presents
Ok, BF and I give each other little presents all the time, so getting a "big Christmas present" is kind of silly. He took care of several things in the house for us in 2020, so expecting a big, expensive anything would be a bit ridiculous.
That doesn't mean we didn't actually buy anything. From 9DollarShirts on Etsy, I bought him this:
Because he's a big fan of BigFoot. I catch him watching BigFoot videos on YouTube all the time. He even upgraded his phone so he could see them better. (Well, that and he needed to upgrade anyway, the apps were failing.) It did arrive on time for Christmas, and he didn't know until I gave it to him.

But for me, BF got something a little different:


Yes, that's a sherpa blanket with the words Snap-On imprinted into the top fabric. Very soft and fuzzy.
Seems he was buying some of their cool car-guy gifts for his brother and brother-in-law when this caught his eye. But I know what really happened–it was on the truck and he said to the company rep, "I'll take one of these for the little woman." No real thought went into "what to get Amy for Christmas." It was an opportunity that presented itself and he took advantage.

I think it's funny.
After washing, I took a nap with it–and slept like a big cat. I couldn't wake up! Since then BF has tried it and had the same experience. Later he told me that the Snap-On representative who sold it to him said that when you take that nap, plan on spending all day on the couch. No kidding.

Let's see what he finds next year.
2020 Isn't Really Over
Well, it's February, and the last time I blogged was November. Sorry about the hiatus.
You remember 2020, yes? We haven't indulged in the Jack Daniels Tennessee Apple, and we never bought any, either. But that doesn't mean 2021 is going any better.
We all had hopes that 2021 would bring improvements, but that hasn't really happened. The pandemic is still going on, and lots of people are getting the vaccine. But so far, it's a continuation of 2020–on steroids.
Six days into the new year, Mike Rowe posted this picture on his social media with the caption, "well, here's to 2022."
And it's been that way ever since. Ready for another hiatus? At least I'm still writing for lawyers and other clients.
Hiatus And Website Woes
If you tried to access this blog back in December, you may have noticed that it was down for a couple of weeks. There's a reason for that. The security certificate expired, and I didn't realize it.
Sure, I got those notices, but at one point, there were two certificates on this site. Thinking I still had one that expired in February, I didn't bother with it.
Then the site went down, causing my accidental blogging hiatus.
So I paid for everything, (it wasn't expensive) both this site and the one I bought last year for copywriting, got some help from my hosting company, and the site came back up. With one problem. 
It seems that I get the message that parts of the site are not secure. Now, I think there's something horribly wrong with it. And getting into a live chat with the support people–in Russia–will take pretty much all day. So I procrastinate and do other things instead.
Then one day I get a message from a friend of the blog RR, aka "Banana Rat." He's a web guy from a long time ago, and a longtime "Boeing brother" that I've kept in touch with all these years. I recently told his girlfriend that "we never dated, but we joked about it."
He's re-starting his little "side hustle" company that he's had long before I knew him after a six-month gig that just wasn't working for him. Like me, he'll be working for himself. So I'm advising him on copy for his website as well as his LinkedIn presence, along with my own. More as we get it going.
The Help I Needed
So the hiatus, I hope, is over for now.
Banana Rat (RR) got into my host account and spent the afternoon chatting with the Russian folks to get my websites taken care of. They thought they were talking to me, which I think is funny. But the certificate for this blog wasn't installed as it should have been and now it's done.
The certificate and other issues on HeatCageKitchen are, for the most part, repaired, and are fine going forward. Just one or two things to be fixed, either manually or with the help of a paid tool. (I'll decide on that later.)
The WordPress app on my phone told me yesterday that this site was suddenly getting more traffic, too. That's funny, too, because it was Banana Rat doing all the work.
The copywriting website that has been sitting for a year unfinished is now up and running with WordPress in it. However, it's just a blank website, and he put a new WordPress template in it for me. Now, I can begin adding content. I created a free report this time last year to upload, but that's as far as it went. Because I was in a training class, the report on SEO was critiqued with very positive feedback.
So after sitting in limbo for all of 2020, my second website is finally coming around. And then I can start moving forward with things on the copywriting side.
Why He's Called "Banana Rat"
I have a habit of name-calling that generally involves the word "rodent." Instead of actually swearing at someone and calling them a very impolite name, I call them a "rodent." I don't have any particular love for rodents, but squirrels are cute. And it's much less offensive than calling someone a "@#$%&* *&#(!."
While at Boeing, I called RR a "rodent" one day on the phone during a work-related call. He proceeded to enlighten me with descriptions of banana rats. These big dog-like critters are found all over Cuba, and they hunt in packs. He mentioned that he'd played golf around Guantanamo Bay once, and saw them walking around and doing whatever they do. But they're more than rats–they're BIG rats, like dogs, weighing as much as 20 pounds! Can you imagine a bunch of those coming at you with sharp, nasty teeth?
They cause problems at Guantanamo Bay and are also an invasive species. So much so that the US Department of Defense is paying attention to them.
But because RR had to tell me about these beasts, and he's a big dude himself, he has forever been nicknamed "The Banana Rat."
Mainstream Keto
Have you taken a hiatus from your resolutions yet?
We're now deep into New Years' Resolutions, except for folks who have already abandoned theirs. I'm still trying to eat keto, despite the stuff BF wants to make for dinner. Jambalaya is primarily rice, and I quit eating it years ago. But. . .sometimes I eat rice. That's why I say "mostly keto."
For some time, longtime diet product company SlimFast has been offering keto-friendly products. I see them at my local Walmart and Target. Recently I discovered that they have been keeping up with what dieters want, and they've got their own brand of "fat bombs."
If you're not familiar with this term, it's a small snack that you create with a healthy fat like coconut oil, cream cheese, heavy whipping cream, or something similar. It contains enough fat to keep you satisfied until your next meal, and also offers additional nutrients. You can find a myriad of these recipes on Pinterest and other sites like Jen Fisch's Keto In The City.
Not to be outdone, SlimFast has a line of ketogenic products to help you along. I found the peanut butter cups first, and then last week decided to try the Strawberry Topped Cheesecake.
Well, remind me not to get these anymore and start making my own again. They're OK, not great. They're not bad, but not like the homemade stuff. I guess if you were out and needed something to snack on immediately they're a fair option. But I kept nibbling on these, and they're just OK. Walmart here charges $10 for this box, and on their website, it's $13. I'm not buying them anymore.
Honestly, it may work for some folks, and that's great. But keto–and weight loss in general–is more than just eating little chocolate nibbles and magically turning into a clone of still-gorgeous fifty-something Cindy Crawford. It just doesn't work that way.
But Slimfast still has all the shakes and drinks and things that are purported to help lose weight. Again, it may work for some folks. I'm not recommending or criticizing Slimfast. If it works for you, and you like it, go for it.
Nestle used to have one that was a shake thing, chocolate raspberry. I used to drink one with their "nutrition" (candy) bar. Delicious! But all that sugar isn't good. I quit the Nestle concoctions after I couldn't stomach it anymore.
Of course, in the badly disorganized pantry (the next hiatus) is the stuff that BF likes, too:
It does have whole wheat flour, but BF doesn't care. Why? Because he thinks this is a healthy breakfast:
He also brought home a box of Banana Moon Pies and some Hostess Ding Dongs, the chocolate rounds with "cream" in the middle.

If ever the police come with a warrant to search the house, they'll just know they've hit paydirt the minute they get to the kitchen. Once they open the pantry door and see gluten-free and organic things next to the Pop-Tarts and mac and cheese in a box, they'll just "know" they've found "the perps." 
The thing is, I'm pretty sure about what's in our pantry. There's nothing in there that can't be purchased in any US grocery store, including dog food. But if a cop or two wants to help me reorganize the pantry, they're welcome to come by. 
Be aware that there have been many cases of cops who know little of botany arresting people for their garden plants. There are millennial cops who don't know the difference between okra, tomatoes, and other common garden plants and Snoop Dogg's favorite green.
Breathing & IF
Thankfully, during this hiatus, I've not had any more allergy problems since my visit to Dr. Hall in Baton Rouge. I'm following his advice, and so far, so good. He's highly recommended if you need an allergy doc, as well as his partner.
I'm still doing intermittent fasting as well, but I can't say that I've lost any weight yet. But it's a good thing to do anyway, because I'm not eating late at night, and we try not to eat late anyway. The next step is getting back to exercise, which is proving easier said than done.

The years I went walking on city streets are over, because walking or riding a bicycle in a rural area is a challenge as well as dangerous. There are no sidewalks. In either case, you'll face:
Speeding drivers
Untethered (and intact) dogs who go on the attack
Snakes and other native species
Holes in the ground
Potholes in the asphalt
Cracked roads
Uneven and rocky roads
Other nonexistent road amenities
So I'm stuck with inside workouts, but with lots of other things to do. I did buy a bike trainer a couple of years ago from eBay for a good price. So. . .soon, it needs to happen daily, and end the exercise hiatus I've had to take for a while. Thank heavens for the Roku.
Valentine's Day And The Hiatus Cake
So we're coming up on our annual date night (we have others) and we're having discussions about the dinner and dessert as well as the movie.
As another hiatus project, I made a small chocolate cake recently, taken from the January/February issue of Mary Jane's Farm magazine. It was first posted on the affiliated Ranch Farmgirl blog.


Gluten-free, made from scratch, and is sweetened only with maple syrup. I bought that especially to make this cake for us. I tried it out last month after getting a preview email from one of the magazine's bloggers. The recipe uses two very small pans, known as a "cocotte."
Actually, any pan like this with a lid is a "cocotte." For this recipe, the top is not used.
But I have to warn you that "cocotte" is also a French word that means. . .the same thing as the Italian term "Puttanesca." That is, a female with a specific profession. . .the world's oldest.  Aside from that, I bought two of these little covered cast-iron Dutch ovens at Bed Bath & Beyond, along with two tiny skillets for "just for us" cooking. Sometime.
The cake is made with almond flour and a few other ingredients. The frosting is also rich and delicious.
The article lists variations too:
It's a small cake just big enough for two to four pieces, and no leftovers. I like that part, because BF eats something twice and he's done with it.
These cute little pots are available here on Amazon, if you're interested. (Yes, that's my affiliate link.)
I convinced BF to try it. He liked it, but not as much as "the one you make with regular flour." The maple syrup makes it taste a bit different than a standard cake.
In other words, he prefers the cake from a box or one I made him a couple of years ago from a book that was from scratch and just six inches around. A yellow cake with chocolate frosting, from a box, and the frosting in the paper can. That's what he likes best.
I also considered making some heart-shaped chocolate waffles for him. But he didn't understand that they weren't keto and nixed the idea.
There is a solution for us: mug cakes. You know, a single serving of cake mixed in a coffee cup and is whatever and whenever you want. One for him, one (keto version) for me. Two chocolate cakes, two ways. They're all over Pinterest and other recipe sites, just do a search.
I also tossed out the suggestion of fondue, which got me a funny look. What's wrong with hot, melty cheese that you can dip nibbles into and eat?
More and more, it's looking like frozen pizza or another pack of tamales for dinner again. Don't yet know what movie to rent, but there are more animated films at RedBox to consider.
Some days, I think about the days when Miss Alice used to come for dinner sometimes. She always says that she misses my cooking. Then I think I'm ready for a hiatus from cooking dinner for BF.
Well, if Miss Alice does come for a visit, I've got plenty of vegetarian recipes to make. BF will probably eat a bowl of cereal or a ham & cheese sandwich like he always does when I make something he's afraid of.
Until Next Time
I hope not to have another hiatus for a while. I am getting more comfortable with the infernal Instant Pot, and have not yet hit it with a sledgehammer. That being said, I can't say that it's "revolutionized" my cooking, either. I use it for some things and will experiment with others. So one of these days. . .there will be a blog post.
Please stay warm, and stay safe–it's not over yet, and we do know a few folks who have had the bug. I met a man in Rouse's one day who had it, along with his wife. Agreeing that the media likes to talk about it at high volume, he did say to take it seriously. The man said that he was in the hospital for five days, and the biggest thing is the fatigue that hangs on long after it's over. Fingers crossed that it's resolved soon and we can get back to normal and visiting again.
I'll be back again soon.
Happy Dining!