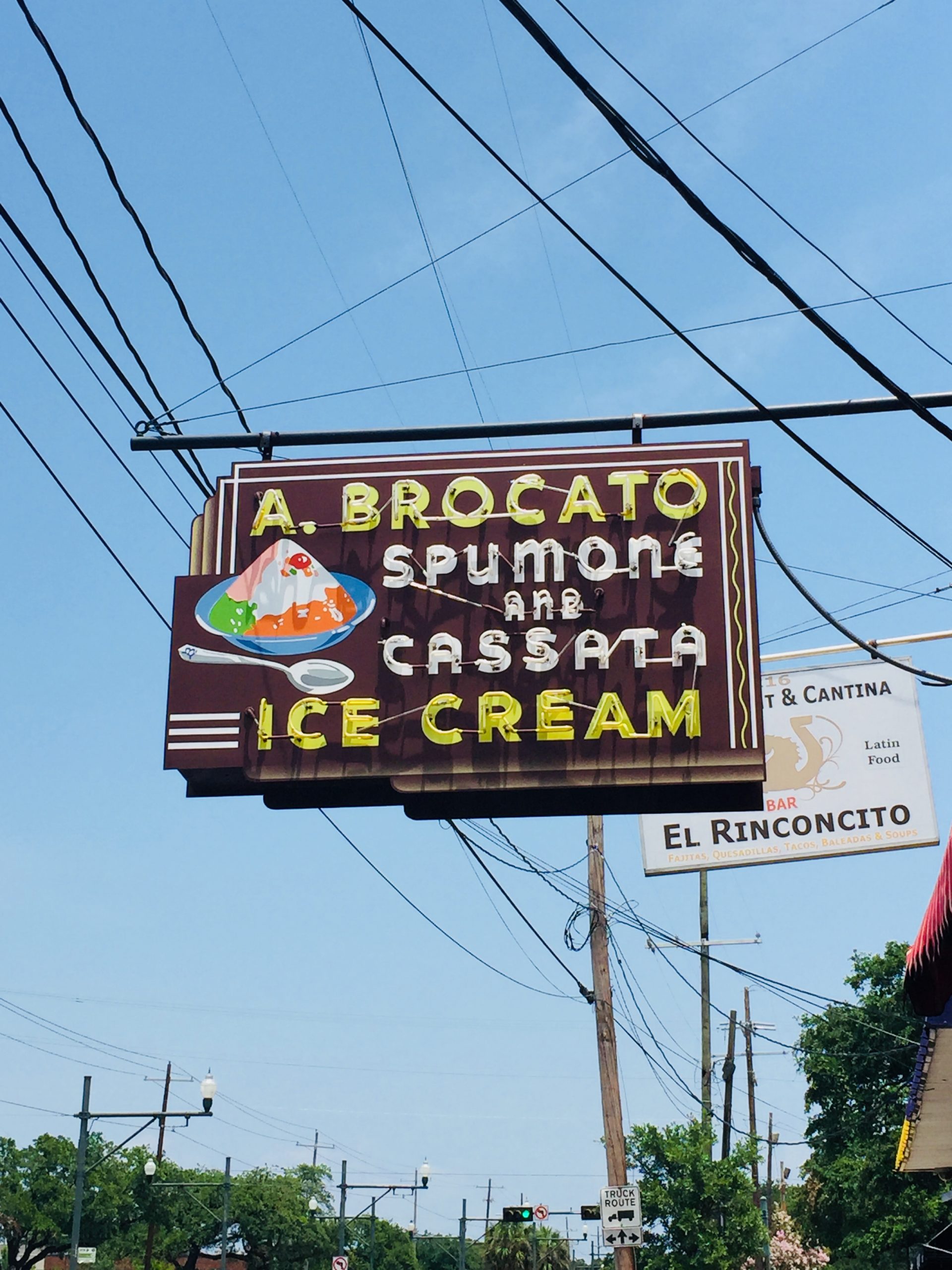 For coffee and dessert, you have a lot of choices. In New Orleans, you have Angelo Brocato's in the Mid-City area. Come along with me and The E-Man for a quick visit.
Hi, Again, Dear Readers:

Well, unfortunately, I broke my "streak" again. There's a reason for it, as I'll explain. But because it's been a while, I'm taking another one out of the "draft" file for you. It's about time.
Let's get started.
Aunt Nancy
Before I moved to BF's house, I was introduced to a very nice lady who lived in Folsom, LA, about 45 minutes from here. The occasion was a video sent to districts around the US of Buddhists with experiences to tell. I didn't know who she was, but I knew her partner, PB.
Surprise! A year later, I found myself in BF's house, and they came to visit in short order. I didn't want them to visit, because everything was such a mess. PB is a nice man, but he insisted they needed to do a home visit. Over time, it's gotten better, but it's still, shall we say, "disorganized." Not for lack of trying.
Her actual name is Nancy Mallory, and she moved down here in 2013 from Pennsylvania to spend her life with PB. He drove up to Pennsylvania to get this woman. BF only had to drive five hours to Houston to get me.  They lived on his acreage in Folsom, and very happy together.
The Fight
Somewhere, Nancy was diagnosed with cancer. Over time, she fought it hard, and along the way was a great friend to everyone, including me and BF. She asked about him one day, and I said, "he's still going around telling people I'm trying to kill him." Nancy's reply: "you mean because of healthier food?" Yes. "Oh, so everything's OK then." Aunt Nancy got it.
I still don't want to have company because I just don't feel like the house is yet "company ready." Mind you, we were ready to host the GER, Miss Alice and her daughter, as well as Neighbor E during the February freeze if they needed it. But they would have been warned about the disorganization.
Aunt Nancy wanted to do a "home visit" a couple of years ago, but I just didn't want it here. She said, "so meet me somewhere!" We decided on the local PJ's, and she drove up. I took this picture, and now I'm very glad I did.
I called her "Aunt Nancy" for the same reason I call two of the blog's readers Aunt Kathy and Aunt Ruth. They're like aunts to everyone. At least, that's the way I see it, and I use it as a term of endearment. We're not actually related, and nobody has complained.
One More Home Visit
Unfortunately, Aunt Nancy lost the fight on Friday, June 18th, in the evening. I went to visit her about a week before, and, let's just say she didn't look like this picture. The strong, vibrant woman was now someone who was "all beat up" from fighting. Her daughter and grandson were around, as well as her longtime friend from New Jersey. I didn't know what to do, so her daughter said, "just talk to her." That's what I did, knowing it would likely be the last chance I had.
I gave Aunt Nancy updates about me and BF, how we were doing, and about some of our benefits. I sent her an email in January about one benefit we had but didn't get a response. That's OK–some people read them and don't respond. But for Aunt Nancy, she gets a pass. Mostly, I wanted her to know what we've been up to, and that we're doing OK. I didn't want her to worry about us. She chanted for us more than once, and I believe that because of it , BF and I will be fine.
PB is carrying on, as he has a business to run and bills to pay. But we all miss her already.
More Website Issues
So, if you've come to the website a few times, you may have found that ridiculous spam redirect–again. Banana Rat and I have removed more of these nasty plugins, and we think we got it this time. Feel free to notify me if it returns and you get it.
On June 15th, I received an email from JetPack (one of my security add-ins) that stated:
Our security systems identified unusual behavior on your account. This usually happens when the password used for your WordPress.com account is also used on another service that had a data breach, or the password is weak, insecure, or easily guessable. Because the account behavior indicated that someone else might have access to your account, we reset the password and revoked any app tokens associated with the account.
Great! So I didn't go back to the website until today. But since I had already changed the password, it was fine. Frequently, solving tech problems on the blog takes a LOT of time. Banana Rat is skilled in these things and has taken care of several on my behalf. Please give him your thanks. We think it's OK now, and we hope so. That was highly annoying.
Iced Coffee, Anyone?
Well, now that it's officially summer in the US, it's iced coffee "season." I get that iced coffee is an acquired taste–I didn't actually like it until about 2008 when I got a coupon in my morning Houston Chronicle for a free one. I started actively drinking it in 2011, when we had a hot summer with drought in Houston, and later learned to make it at home.  A couple of years ago, it got easier when I bought Kitchenaid's cold brew iced coffee maker.
Nick Usborne of Coffee Detective has again published a blog on making iced coffee at home, with some updated equipment. The blog includes links to some other recipes, plus a review of the Hario Mizudashi Cold Brew Coffee Pot and the Asobu cold-brew coffee maker. As I said the last time, there are many ways to make iced coffee, I just chose the one from Kitchenaid.
Coffee On The Way Home
So, as I mentioned in the post on Katie's of Mid-City, I am frequently in need of a coffee for the 90-minute ride home from New Orleans. I usually stop at either Starbucks, Dunkin' Donuts, or PJ's Coffee. All three are along the stretch of Veterans Memorial Boulevard, which is Metairie's "main drag." Whole Foods, Trader Joe's, and very large Rouse's are also on Veterans in different places. After shopping, I get my coffee, and head back to the I-10, or occasionally, north on the Lake Ponchartrain Causeway, for the 90-minute drive.
There are two PJ's on either side of Veterans, and, to my knowledge, two Starbucks. Dunkin sits next door to one of the Starbucks, and I like Dunkin's iced coffees. But then, the 'rona struck. We haven't had any in-town meetings in 18 months. The only trip to New Orleans was for last year's socially-distanced wedding at Southern Oaks.
Why Starbucks? Two reasons: one, until recently, I saved up my "stars" in the Starbucks Rewards program just to get a "free thing" for the trip home. Two: Since Starbucks in Louisiana doesn't have as many stores as Starbucks in Houston, there are no salads. That means I'm having either their Egg Bites or some form of a coffee on the way out. I've exhausted my "stars," because I haven't been collecting them like I used to, and the last 50 were about to expire. The Hammond store has been fully opened since April, but I just don't drop in as often.
Angelo Brocato's
So one day, The E-Man says to me, "forget Starbucks–you should get coffee at a local place." Got anyplace in mind, Dude? "Angelo Brocato's."
Now, I grew up in the New Orleans area, but there are many places that I was never familiar with. This is one of them. I've seen the name here and there, but not in a long time.
So we park a couple of blocks away, as you do in Mid-City, and walked here:
It's a lovely place where you can have a coffee, as we did, as well as all manner of delicious Italian pastries, cookies, gelatos, and more.
My first question: "Are we fancy enough for this place?" I guess we were, they served us.
Gelato
If you're not familiar with the term, "gelato" is the richer and more Italian form of ice cream. There are many brands available around the US, and Giada de Laurentiis has a recipe for it here.
Angelo Brocato's serves it in the cafe as well as sells it in different retail locations. For me, they're all an hour's drive, but that's OK.
In-store, you have a choice of them:
I'm sure I had that chocolate at the top right. The E-Man had a slice of this delicious spumoni.
They can pack up a quart of their gelato in the store for you to take home. They also sell the gelato and other treats at many local retailers.
Cookies And Bakery Goods
Because this visit was in July, there was no way I could get a pint of ice cream back to the Casa de Rurale intact without an ice chest and a pound of dry ice. Not knowing where to procure such a thing, I chose to bring BF a little white paper bag of tasty cookie treats.
But wait! There's more!
You can buy these one at a time:
I brought home to BF a small selection of the things I knew would survive the trip, including a couple of these little amaretti cookies. He ate them happily, one at a time.
Visit With The E-Man
I asked for some cappuccino, which the nice lady expertly made for me:
The E-Man preferred to stick with coffee:
He bought some of their bagged "day-old" baked goods (biscotti, I think) and we talked with some nice folks while we were there. Then it was time for me to head home to the Casa de Rurale.
Naturally, I let BF know what we were doing. He knew I was bringing back some tasty things for him. Because I always do.
The Pandemic Takeout Window
Angelo Brocato's is a very busy place most days, and on Friday and Saturday nights, there's a line outside. Just about every week, I'm told. 
But a pandemic couldn't keep them down. They've been around for over 100 years! Hurricane Katrina took them out for about a year, and they came back strong.
When the world closed up last year, Angelo Brocato's decided to do what most restaurants did–open for takeout, including an exclusive take-out window.
I'm guessing those lines are back on Friday and Saturday nights now that the state has re-opened.
A Great Place To Visit
I've said this before: if you're visiting New Orleans, skip Starbucks and find someplace local. Angelo Brocato's fits that bill, even if it's just for a morning coffee. It's a delicious and elegant "old world" cafe that will make you glad you did.  You can also order online for shipment anywhere in the continental US.
They're located at 214 N. Carrollton Avenue in New Orleans' Mid-City area. They are closed on Mondays like many New Orleans businesses. It's a thing there. They're open 10 am to 10 pm, Tuesday through Saturday, and 10 am to 9 pm on Sunday.
Happy Dining!