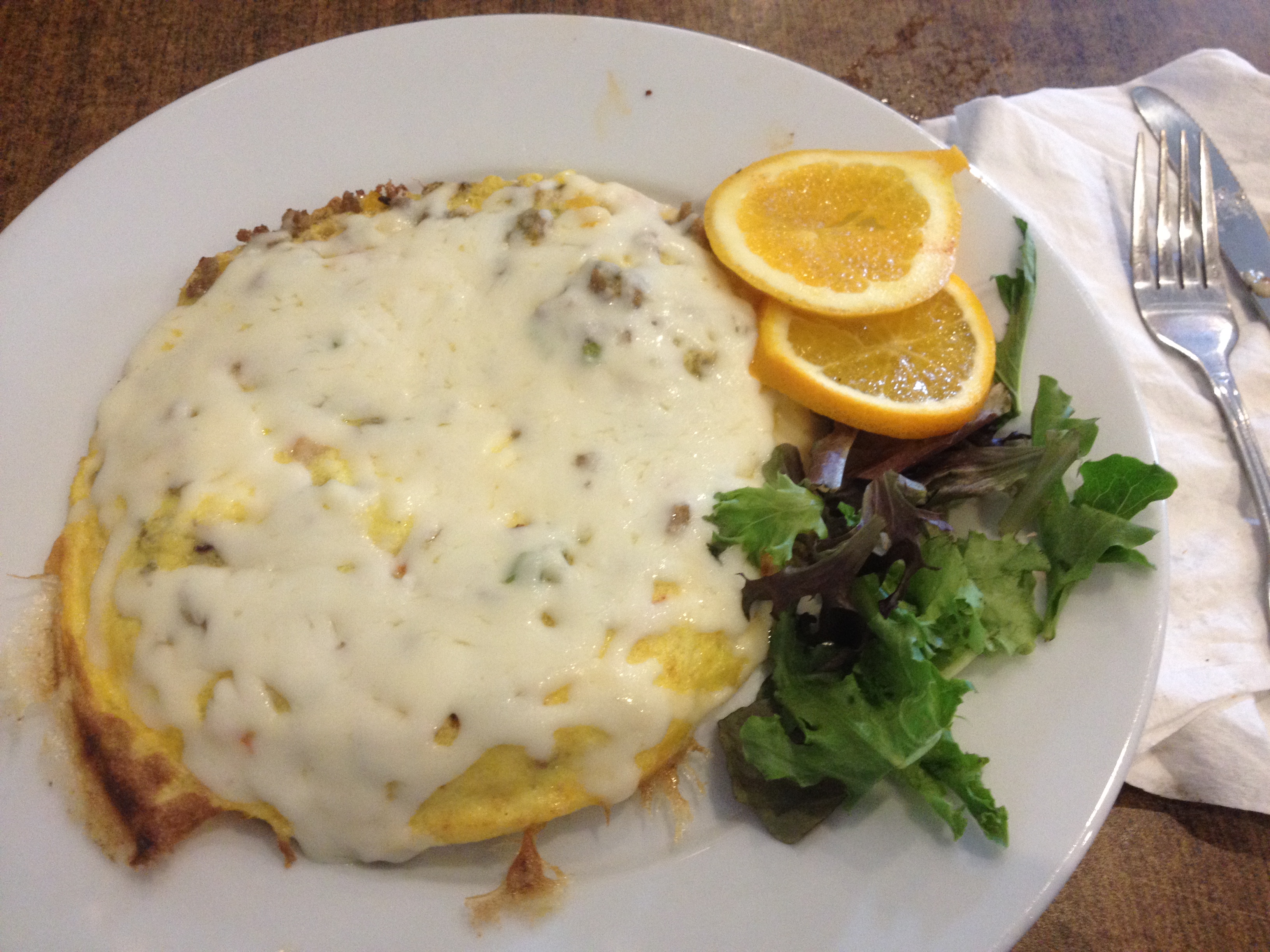 Restaurant Review: Katie's of Mid-City
Katie's of Mid-City is a great neighborhood restaurant to visit if you're looking for a real New Orleans place. Or, if you're not interested in going near the French Quarter.
Hi, Again, Dear Readers:
As we begin the process of getting back to normal, I realized it's been a while since I did a restaurant review. It's been some  time since I've been in this particular restaurant, too, but I never forgot it. Maybe BF and I should take a ride there and have lunch one day, and drag The E-Man with us.
Before I tell you about Katie's of Mid-City, I've got a few other things to tell you about first.
Instant Pot: Venison Roast
So, back in December, one of the neighbors brought over what BF said was "deer roast." I have no idea what part of the deer. I asked BF how to cook this. His response: "just like a regular roast." Oh, that's helpful. So I bagged them up and put them into a bag with other meats in the big freezer.
While researching the Instant Pot post, I came across this recipe for Instant Pot Venison Roast. Dinner is always a challenge to figure out no matter how far in advance I try to plan it. So I asked BF if we could try this out.
Meat and Potatoes. How bad can that be?
I'm happy to report that I made this for us over the weekend and it was a success. I only had dried thyme on hand, and I used about two teaspoons of it. The venison came out tender and juicy, and the vegetables perfectly cooked.
Yes, I know it's not "keto," but as I always say, I eat "keto, mostly." And I didn't take pictures, sorry. If you're in possession of venison but have no idea what to do with it, I highly recommend this recipe. Just understand the irony that it will take a good three hours using the. . .Instant Pot.
Freezer Organization
A quick note–if you have a large freezer as we do now, things can get very disorganized quickly.
The solution: reusable grocery bags. No kidding. Wash them first.
I could have sworn I saw this tip on One Good Thing By Jillee, but now I can't find it there. But I did find it on LifeHacker's website, albeit shorter.
Dionne at Home Made Our Way has a more detailed blog post on organizing your chest freezer. Because I'm telling you, I speak from experience–you'll be getting frostbite trying to find that one thing you need somewhere. (I have a pair of gloves for the day I have to do that.)
BF is of the habit of opening the lid of the big freezer and chucking things in without looking. I've shown him the "system," but he's not concerned. I'm guessing he thinks the solution is to make sure I have additional housework and chores. I'll fix that one day.
Lunch After The Activity at Katie's
Because going to the New Orleans Buddhist Center (which has not yet reopened) is an all-day thing for me, frequently I go have lunch or coffee with The E-Man, and sometimes other members too. Most often, I need a little "leaded" coffee for the long trip home.
The E-Man was not born in New Orleans, but he's certainly made it home after many years of living there. He knows every street, every avenue, and every place to go as well as avoid.
One particular day he said something about "Katie's." I had no idea what he was talking about. After all, I haven't lived there in more than 20 years. But one thing about The E-Man, he's been around.
Because I had no idea where I was going, I had to follow him. In a pickup truck, no less, in a part of town I was never completely familiar with–Mid-City. But off we went to a little place that wasn't touristy, and a little off the beaten path.
Katie's, The Place
Katie's is one of those restaurants that if nobody told you about it, you might not even know it was there. One block off the Canal Street streetcar line, it's at 3701 Iberville Street. But we drove and had to park over a block away–that's where parking was available.
The restaurant is one that's nearly always busy and crowded, and like everyone else, we had to wait outside before getting in. What does that tell you? Everybody wants to go there!
The place has also been featured on two Food Network programs, "Food On The Road," and this one.
And in 2013, it was voted a Best Of New Orleans by local publication Gambit. So that wait for a table tells you that the place has a loyal following. Waiting at Cafe Express or The Olive Garden is just not the same thing as waiting to get into Katie's, because Katie's is a different experience completely.
Casual Interior
It's a casual place, like a lot of places are now. And that's OK, too:
When Hurricane Katrina devastated New Orleans, Katie's wasn't spared.
But they rebuilt and came back. With decor like this:
Or This:
You can't help but have a good time.
More Views
From the upstairs, I saw this outside, just someone's house:
And there are more awards!
These were in the upstairs area, where there is both food prep and additional seating. (And the ladies' room.)
Downstairs the casual, fun vibe was the same:
I liked this too:
Since our last trip, Katie's has stayed relatively the same, I'm told. That means you'll see much the same thing, but I can't answer for the menu.
The place is great but not terribly big. Although it's on a corner, it's in one of those older neighborhoods with small buildings and "shotgun" houses. In fact, that's probably what the blue house next door is. That being said, expect a wait, especially on popular days like Sundays.  They're only open from 9-3 on Sunday, and everybody goes there after church.
Our Brunch At Katie's
Let's talk about food. It's casual, it's good, and just what you'd expect from a place like this.
The E-Man knows what he likes, and ordered something called Oysters Slessinger.
This appetizer consists of a half-dozen oysters (I think I tried one or two, and you can also order a dozen) along with "creamy provel, shrimp, spinach and bacon served with french bread." I have no idea what "provel" is and didn't ask, nor did I handle the French bread. I left that to The E-Man.
For lunch, he ordered:
I asked for something that was gluten-free and was offered a frittata. Yes, please. Thank you.
All cheesy, with sausage on the inside. Italian, if I remember correctly:
No complaint from me!
Of course, when I picked up BF from work that afternoon, I told him all about it. His response: "that's a lot different  than the ham and cheese sandwich I had." Touche. I did make sure he had a good dinner.
Rack Of Tabasco
If you like Tabasco, so do they:
Some of Katie's online menu items aren't the same as what we had that day, because we went for Sunday brunch. But like many neighborhood restaurants, they may also change their menu periodically.
Have A Good Time At Katie's!
No, this isn't a sponsored post. I've been wanting to write this for a while, and finally got to it. Besides, one of my astute readers may be planning a trip to New Orleans soon and wants to find a good place to eat. I don't think you'll go wrong by including a visit to Katie's in the itinerary.
Katie's is at 3701 Iberville Street in New Orleans (70119), and their number is (504) 488-6582. You can find a map at the bottom of their home page. They open daily at 11 am, and close at 9 pm during the week, 9:30 pm on Friday and Saturday. Visit them for brunch from 9 am to 3 pm on Sundays. Call or email for reservations, or for larger parties. They're still doing curbside and takeout if you prefer.
I'm planning another review of a Mid-City place soon–and they have coffee plus sweets. No, it's not a Starbucks, either.
Enjoy!