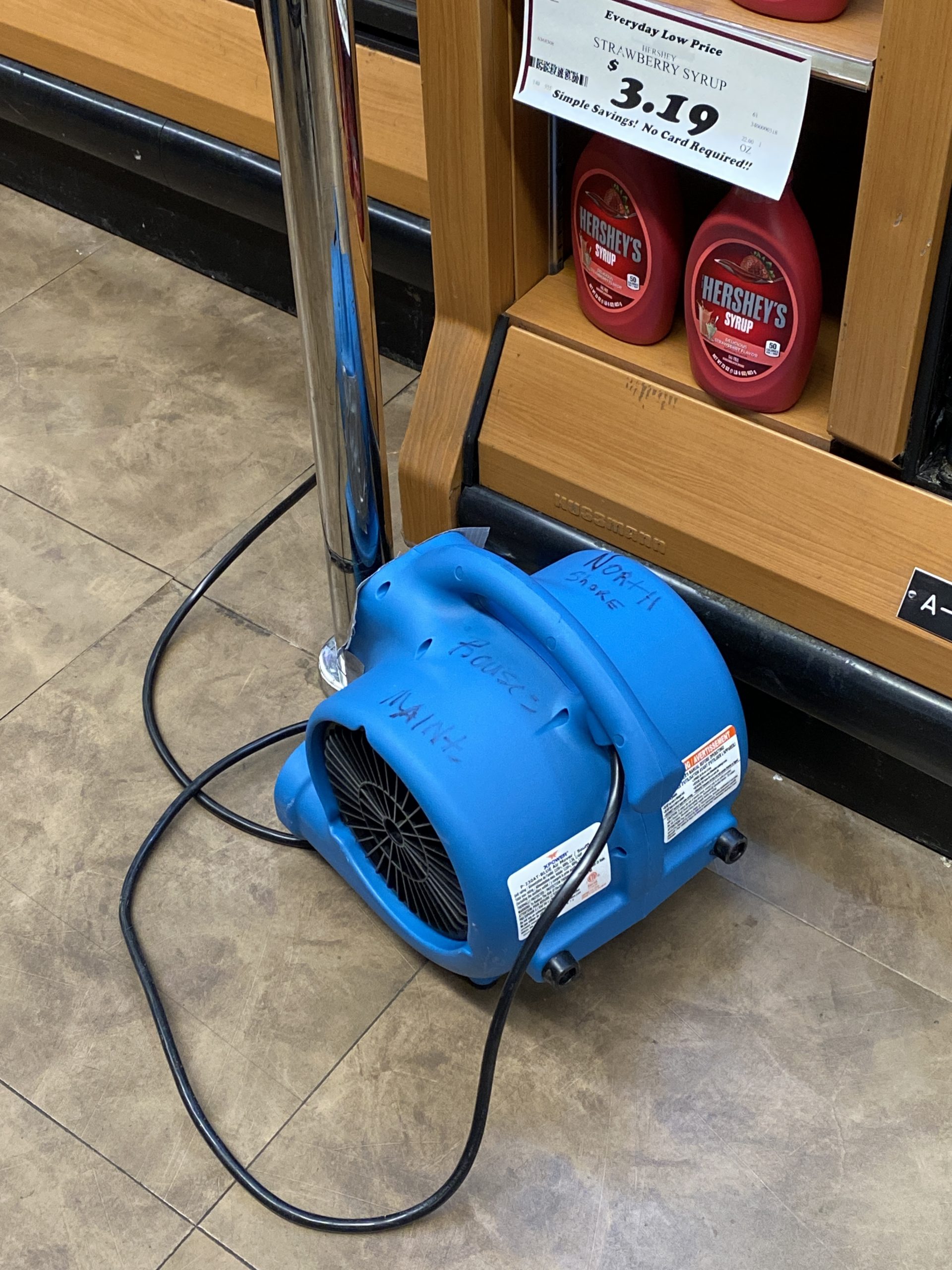 Follow-Up From Hurricane Ida
Hurricane Ida is over, but the work is ongoing.
Hi, again, Dear Readers:

I realized it's been a month since my last post, and thought I should give an update. Hurricane Ida is a 2021 memory, but she left a trail of destruction from Grand Isle all the way up through the New York State area. Places like La Place, which are closer to the coast, had considerable damage and are still trying to recover. La Place is still without power, last I heard.
Let's procrastinate a little with an afternoon cuppa and I'll fill you in on everything. BTW, BF knows this to be true:


That's why he taught me how to use the camping stove.
The Return Of Electricity
Funny how you don't think about it until you don't have it. That's true of most things, right?
Our power went down at 8:30 pm Sunday, August 29th, and returned on Tuesday, September 14th about 2:30 pm. And we were the lucky ones.
BF had an older generator already, and we were gifted a new one–no kidding. It's a long story, but it's a smaller model that uses less fuel than the bigger one, which now needs a new carburetor. BF plans to fix that in the near future, preferably before the next winter storm.
Others didn't get their power back until after we did, depending on where they are located. St. Tammany Parish doesn't have Entergy, but their power company is smaller, so they were back a week later. But nearby Albany, where two of our Buddhist friends live, have something else called DEMCO, and I don't know if they have power back yet or not. I'm guessing they do, but I forgot to ask.
Ida left flooding nearly everywhere, although we didn't have that problem. We ventured out to Hammond once or twice and visited the Rouses, which we knew was open.
Either the frozen food thawed without power and the floor was wet, or the store took on water–we didn't ask, and we were happy Rouse's was OPEN. Then we saw more keto foods:
I haven't tried that yet, nor this:
Plantain pasta. What will they think of next?
Getting Generator Fuel
We were fortunate that we had the money to keep that generator filled–and even more fortunate for the new and more efficient generator. BF had a tangle of electrical cords everywhere, and I was afraid to touch it. However, he had nearly everything running except the HVAC, which is a central unit. What we did have running was: 
Kitchen refrigerator
Big chest freezer
TV (as needed)
Fans of all types
Portable air conditioner unit
Internet router and my work laptop (on a surge protector, of course)
Lamps
Other small things as needed–microwave, toaster oven, etc.
But being out of power for two weeks was. . .expensive. BF had some help with that at work, for which we are also thankful, and other than the cold showers, it was almost normal.  He was also working overtime, which helped. In addition to the extra money, I reminded him that his customers needed him and were counting on him. They were very glad to see him after the storm.
We drove once more north to Mississippi to get more fuel and took neighbor TT with us for a supply run. He doesn't have a generator, but he does have a stove that runs on natural gas, so he can cook food and boil water for coffee. We only went to McComb this time, and there were no lines. But that Walmart had a lot of empty shelves around. The employees said that they were meeting plenty of people from "south of the border" like us.
Trees And Other Damage
Ida downed trees that are still everywhere, and people who want it are getting free firewood. But there are also contracted arborists coming through cutting and trimming as well. Translation: these are guys in bucket trucks, just like the utility folks, but they have chainsaws and things.
I forgot that I'd let the pit bull out when I approached the crew asking about their work. He came tearing out into the street and ran up to one guy who just looked down and stared at him. The man had no fear. I'm guessing he's a "dog whisperer" like BF is. Of course, after sniffing the man, the pit bull was upset that he just walked off without playing with him.
They were very nice despite the pit bull puppy and cut down one large hanging branch for us. It broke off and fell only a few feet before catching on another branch. It was quickly cut and fell to the ground and won't be touching power lines anymore. That guy was swinging the chainsaw like a sword!
House Damage
We know multiple people who have had various degrees of damage to their property, from a few shingles to full-blown destruction. BF is a big fan of the metal roof on the house.
"Car Guy" friend JJ also had a tree fall on her garage, but her place is otherwise livable if I understand her social media posts.
BF has started to cut some of the wood that Ida knocked over in front of the property but hasn't finished. There's one uprooted tree across the street that we need to borrow a tractor to drag over so he can cut it, eventually. He wants to put a wood stove in the living room in anticipation of winter. As so soon as he can get to cutting all that wood and making a place for it behind the house, we'll have firewood.
How We Stayed Cool
BF's Dad's house, until last year, had one window air conditioner unit downstairs until his sister and brother-in-law added a second on the first floor. No AC in the upstairs bedrooms, but they had one of these window fans:
I remembered it a few days after the storm. We went over and borrowed it and put it in the bedroom–ahhhhh. It's not "air conditioner cool," but we could sleep a little. We also hit Target and got the last one available. One sat in the living room window with a box fan for the dogs. The other sat in the bedroom window. Both ran as long as the generator did. Ours will also be deployed occasionally as an exhaust fan for the kitchen.
I'd never seen one of these before until I saw it at their Dad's place upstairs when we were taking care of the cat. Highly recommended to keep around for such emergencies, and kitchens without exhausts.
We were also loaned a Hisense 6500 BTU standing portable air conditioner and dehumidifier, but BF didn't want to put it in the bedroom. So it stayed by my desk and cooled me and the dogs during the day. (This is the closest I can find to it on Amazon.) I returned it to the owner a week later. We do plan to purchase a window unit AC sometime between now and next spring.
An Organized Home (I Wish)
If you've never heard of Marie Kondo, she's a Japanese "organizing consultant," according to Wikipedia. She has a strong following worldwide. Kondo's "thing" is to embrace minimalism, or getting rid of most of your things. One of her catchphrases is something about "only keep things that spark joy." Her website also sells pricey things designed to "spark joy," like this linen robe for $195 or this $45 bamboo silk sleep mask.
Obviously, this lady hasn't been around the US much. A generator doesn't "spark joy" for me, but the power it makes certainly does. Generator's a keeper, thanks. That other rubbish, not so much.
I'm still trying to catch up on the house stuff. I haven't been able to get back to the usual dance with the mop on Saturday. No sewing in over a month, either–not so much as a repair. We didn't open the box of "rations," and will likely store that for another day. They are made to last forever.
Getting Back To Normal After Ida
Or, well, whatever passes for normal, right? The mail re-started about 10 days or so after they'd stopped delivering. Very glad I signed up for the Post Office's Informed Delivery service, where you can see greyscale images of your stuff in an email before it arrives, as well as track packages. I paid the water bill long before I got the physical card in the mail by going into my online bank account and requesting a "courtesy check." Many banks offer that service now–they print the check and mail it for you, and you can forget about it.
I mentioned in the last post that I needed to review the new vegetarian keto cookbook by Emilie Bailey. Well, there's a story to tell on that.
Because I agreed to be a reviewer, I received a digital copy first, and then the publisher sent a paperback copy. Well. . .that was the Friday before Ida landed. I looked over the digital copy before my last post, which is how I can tell you about it. I was also asked to provide an editorial review for Amazon–no kidding.


Emilie asked, and I was happy to do that for her.
Where's The Book?
For a week, I kept seeing a note from UPS about trying to deliver a package to me, and it was from some company with the name "transportation" in the name, from Memphis. The original delivery date was the Tuesday after the storm hit–when trucks of all kinds were having difficulty getting supplies into these areas. What the heck is it?
I asked BF if he ordered any car parts to be shipped here. He does that sometimes, and I have UPS My Choice set up to tell me when to expect something to our address. His response: "No, those packages are your thing." That's no help.

I emailed the lady at Callisto, and she said she did send it UPS. Mystery solved, I know what it is. Finally, a week after it the originally scheduled delivery, UPS finally made it here and dropped it off.
I've made three recipes so far and have *not* been disappointed. I want to make more of them and try them out on BF. We're not going vegetarian, but if it's tasty, there's nothing wrong with having it with meat or something. The first thing I made was the dairy-free "Frozen Hot Chocolate" recipe from the book and cornered BF to try a sip. Well, I like it, and I'll tell you more about it in the blog for review.
Keto Ingredients
We did find some new keto-friendly ingredients in Rouses:
And this product, which I've only seen in Emilie's books:
Make no mistake–BF will not be trying this, ever. It's one of those things I make for myself when he's working late. If he's home, I'll make the regular spaghetti that he's used to having.
Hoping everyone is well and getting back to life after Hurricane Ida came here and Hurricane Nicholas visited Galveston, Houston, and the GER's home in Texas.
Happy Dining!