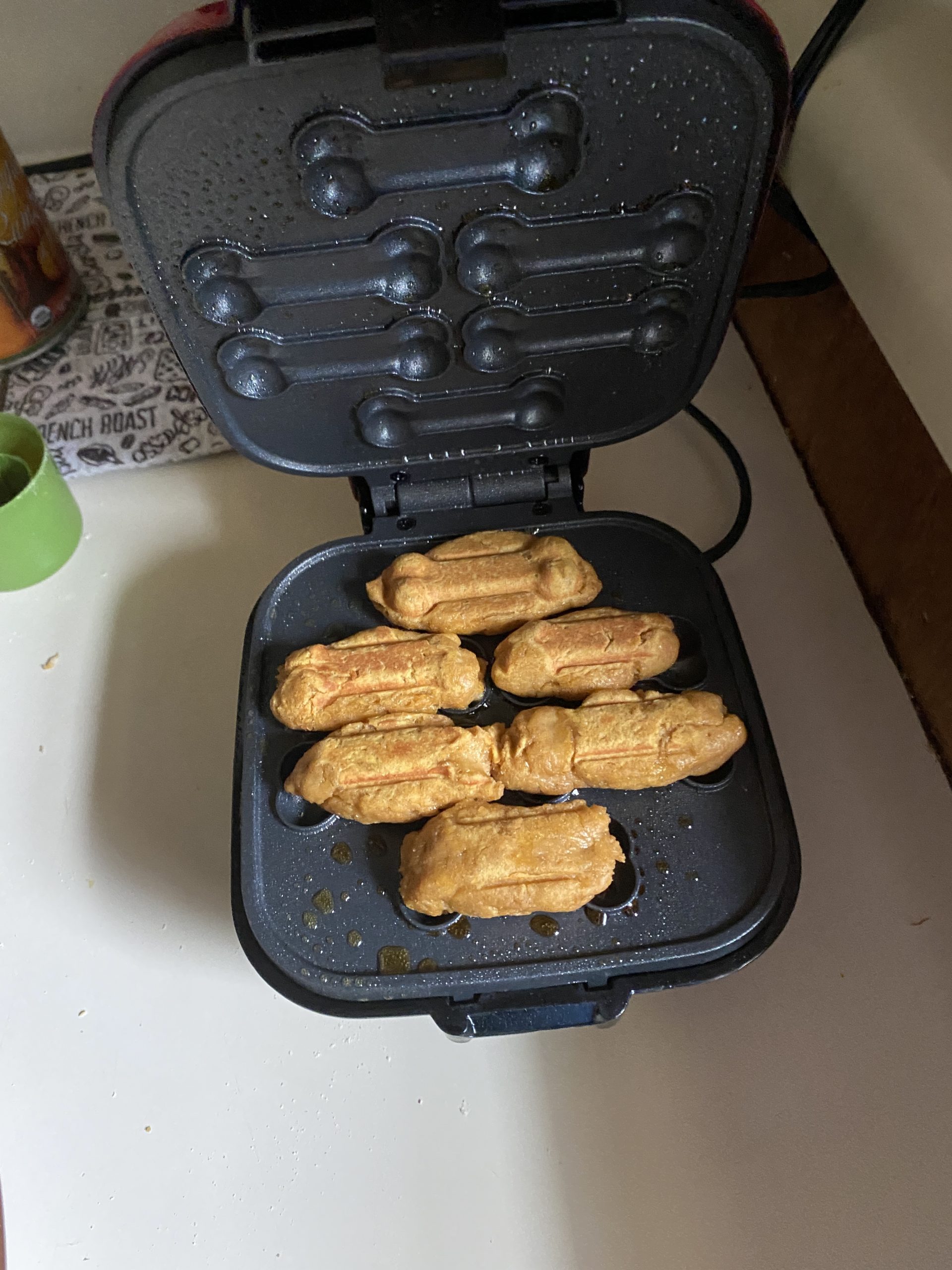 Post Holiday Catch-up For 2022
In This Edition of HeatCageKitchen
The holidays are done, and we've been quite busy since my last dispatch. Time for a New Year's catchup, including our little dog Spencer.
Hello, again, Dear Readers:
I'm sorry that it's been three months since my last update. A lot has happened, some of which I won't mention here. But since the hurricane, we have had much happening at the Casa de Rurale, and I'm just going to jump in and start somewhere.
Grab your cuppa, this is a long one. Here's hoping your Holidays went well, wherever you are and whatever the weather.
The Tradition of Black-Eyed Peas
For the record, I did make black-eyed peas on New Year's, using this delicious recipe from Stephanie O'Dea, that I've made before. I made it the first New Year's I was here, and we really liked it. I made the full recipe, so we had it twice and I froze the rest for a fallback dinner for another night.
BF has an injured shoulder and might be having surgery to remove two bone chips. Ouch! This is in addition to my foot injury, which I'll explain later. So, I'll be playing Florence Nightingale soon. Told him he'll need to eat healthier food so he can heal, but he doesn't believe me. I also told him to admit the truth, and that he injured himself wrestling with BigFoot.
I still owe you a review of the Vegetarian Keto Cookbook by the Texas Granola Girl. It's started, but I put the book down next to my desk, and I have not been able to finish that blog post. That's hopefully going to be next.
Winter Vs. Summer
A popular meme on Facebook says that "Winter and Summer are fighting for custody of Texas." Boy is that ever true, and we're involved in it!
If you remember the freeze from last February, it looks like we had a break from winter this season. We had an 80-degree Christmas, and the next cold front came after New Year's Day. My paint bucket garden has peppers, lettuce, a small amount of basil, green onions, sage, parsley, the recovered Meyer lemon tree, three or four sprouted avocado seeds that need planting elsewhere, and a little green tomato plant with flowers on it. In December! But that won't be for much longer, some likely won't make it to spring. The basil already took a hit with the sub-freezing temps last night.
This past weekend, West Texas saw sub-freezing temps and so did we. Hopefully, Texas is in better shape this time and ready to handle whatever comes its way. We're warm, and have plenty of blankets, sweaters, hoodies, and socks. I miss the fireplace that I had in Houston, and I have to make up for it with the one I stream on TV from PlutoTV's Crackling Yule Log Fireplace Channel. BF doesn't understand.
The Post-Hurricane Cleanup Continues
We got some great firewood, and one day we'll have it behind the house to use later. We know many people who are going to be out of their homes for quite a while.
A few weeks after power restoration, huge trucks with crew began appearing on our little back road, picking up more downed trees and branches. There are still multiple uprooted trees everywhere. Removal of these gigantic tree stumps will be quite a long time. Scenes like this are still common:
BF was able to get one backhoe operator (using a $20 bill) to give us a nice big log for the eventual wood stove he's planning to install in the living room. After the February freeze, he decided that it would be the next phase of the "beautification project" for the Casa de Rurale. He even has one picked out.
In mid-November, more trucks began appearing with bigger equipment. This was a different company but doing the same thing.
This company didn't observe property lines or boundaries, either.
While I was working in the back of the house, they rolled onto the property with a backhoe and attempted to take our firewood. It wasn't on the side of the road—it was pushed far enough back to where they had to trespass on the property to get it, leaving huge marks in the grass. I caught them just in time, shooed them away, and threatened to call the cops.
Later that evening, BF was in the shop, and they came back attempting to do the same thing. He shooed them away too.
A couple of days later a nice lady came to the door from a different company that was "observing" the tree removal company. She said they were a "nightmare," breaking the rules (and a few laws), and were terrible to deal with. They came in from Florida after winning the contract because they had the most experience. This lady said that she would mark our address as a "no go" or something. They never came back.
Rouses Recovery
Longtime readers understand my affinity for HEB, Texas' homegrown chain that's one of the oldest and most respected grocery companies in the US. But in Louisiana, one of the many homegrown grocers is Rouses. They carry many items that are more difficult to find where I am, including my favorite chocolate almond milk for hot chocolate. In the late summer, they've had Hatch chiles. Understandably, they didn't do the in-store roasting this year, but they do have some in jars.
Never had them pickled before.
Rouses has a bi-monthly magazine that they have on racks by the doors. I pick them up when I see them, and I have been meaning to send one to Miss Alice. The November/December issue has recipes for some of their delicious cakes featured in the bakery, including our Hammond store.
This issue also has a fair amount of information about what they did for hurricane recovery after Ida's landfall. This included how fast they could reopen their stores after the storm ended and recovery began. So many of their employees also suffered losses, many stores were heavily damaged, and everyone worked hard to get food and supplies into the stores for everyone who needed things. I, for one, was very glad to see our Hammond Rouse's open, even if they did have floor fans drying up everything. That's to be expected after rains and flooding and all that. (The Hobby Lobby next door also had roof damage and was closed for a couple of weeks.)
No, it isn't HEB, and they don't have a disaster recovery vehicle like HEB. But they do have a DR team that swung into action immediately. Now, I like Rouses a lot more than I already did. Many thanks to them for getting our Hammond store open again and making sure that people could get what they needed when it really counted.
The Karma Of Spare Parts: The Dishwasher Returns
After two months of hearing about the "worldwide supply chain disruptions," I was really in a bad mood because I had to start hand-washing everything again.
Then I found myself with a stomach bug of some kind on Halloween. Mind you, I'd begun walking again in October, and made three miles on Saturday the 30th, no kidding. But the next morning, something got ahold of me, and I was horribly sick. I won't describe it, but I was very "wrung out" for a week. That ended the walking, and I had a hard time standing up for too long.
I'd been washing all the dishes and kitchen things by hand since the day before Ida made landfall when the leaking began. Annoyed as I was, I donated the red dishes to a local thrift store and bought paper plates and bowls. That helped. BF didn't. Nor was he happy about me giving away *his* dishes that used to be called "ours."
But when I was ill, BF swung into action and took care of me best he could. He went to Walmart and got a heating pad and some Nut-Thins crackers so I could eat. I was hungry but my stomach was in very bad shape for three days. I was afraid of more stomach troubles than I already had.
On the third day, I went into the kitchen (he was back at work) and saw that three days of dishes were untouched. Piled in and around the sink and on the stove, the one thing he didn't bother doing was dishes. I did ask, and he promised. It took an hour and a half to slog through the dishes before I could get anything to eat after three days of nut crackers.
I was REALLY unhappy at this point, as well as being unsteady on my feet.
Finding One
After finally getting some Pea & Pesto Soup, I pulled out the offending gasket and went looking online for something to replace it. I contacted a few online vendors that dealt in appliance parts, but none carried the replacement gasket for mine.
Then I thought: what about Amazon? It's always a great place to start research, even if you don't buy there. I've bought replacement gaskets for my Starbucks tumblers that I use daily. The original gaskets had long ago become moldy, and I knew it was a matter of time before they would break. I asked for suggestions on Facebook, and someone suggested I look there. It took a few tries, but I got bigger and heavier ones that work better for both cups. Could I have the same luck with the dishwasher?
It took a little while, but after a search on Amazon, I found just the thing. Took measurements, looked really closely at the pictures, and found one that I was sure would work. I simply needed to trim the gasket down to fit in the smaller space. I ordered one and immediately installed it when it arrived a week later, snipping it to fit. Ran the dishwasher, no leaking at all. I ordered a second as a spare and put everything in a Ziploc bag for later. Finally, the Heatcagekitchen Countertop Dishwasher is back in operation!
The first lesson learned: Amazon has a huge range of little parts and things like gaskets you can order when you can't find them anywhere else. Just takes some careful looking around and searching.
The second lesson is that BF will get out of doing dishes anytime he can, which is all the time. This includes loading, running, and unloading the dishwasher.
Inflation
Chances are, you've noticed the sharp rise in the price of just about everything. It started about this time last year when the price of petrol started increasing. Shortly thereafter, the prices of everything else followed suit since shipping and transporting goods (especially food) increases with the price of fuel.
We've been trying to buy a little extra here and there because we know it's going to get worse. I've also been looking for sales on coffee and stocking up. Mostly, It's Community Coffee since that's locally produced in Baton Rouge. Last week I found big packages of both pork roast and chicken at Winn-Dixie on sale to freeze in smaller bags for meals.
But BF is also buying extra things like rice, dried beans, and other things for long-term storage, as well as stashing extras in the freezer. He's even talking about getting a bigger freezer to store more stuff. I'm sure there will be more deer sausage involved as well.
I have organized the big chest freezer with shopping bags, but I have to stop him from putting anything in there. He literally tosses things into the freezer without regard to the bags. How do you find anything like that?
We're conscious of this, and yet we still haven't cleaned up the pantry. I've asked for help, including some additional shelving to eliminate wasted space, but I'm on my own. So I have to find a time when I'm not doing anything else to clear everything out, clean it well, then replace and re-organize everything.
More Dash Appliances For The Holiday
Right before Christmas, I was in Target and discovered that they had a sale on some of Dash's little appliances. I got two of them: the waffle stick maker, and the doggie treat maker. (This is a similar model on Amazon.)  I've been wanting to get the doggie treat maker for some time. I also got the waffle stick maker because I was making waffled falafel to take to this year's Christmas party at BF's workplace.
BF, of course, continues to go around telling people that I'm trying to kill him with the quinoa and the "awful falafel.". (Not yet, I haven't.) I thought it might be nice to make the falafel as waffle sticks, and it worked well. I, Miss Grace, and Miss Ruth (not to be confused with Aunt Ruth in Texas) enjoyed them.
Both the doggie treat and the waffle stick makers are slightly larger than the smaller round Dash mini waffle makers. Dash now makes a full-size waffle maker, as well as a full-sized waffle maker that makes 4 mini waffles at once.
Veggie Mash Waffle Sticks
If you follow Dash on Instagram, you'll see there are frequent videos by a redhead who calls herself Ms. Dash, and she's usually with young children. I don't know if they're her children or not, but she's always making delicious recipes featuring a specific Dash product, many of them vegan.
One day Ms. Dash demonstrated a recipe for using leftover vegetables and turning them into a mash that you cook in the waffle stick maker. This gave me the idea to get one for the holiday party waffled falafel. I cooked some cauliflower in the CrockPot, and I added a little too much liquid.
It made a mash alright, but a very soupy one. The addition of coconut and almond flour didn't help. Therefore, making them into waffle sticks was less than stellar. But the waffled falafel turned out great and even easier to eat.
Treats For The Pup
Now, in the case of the doggie treat maker, I had to buy some peanut butter and whole wheat flour (I know, I know), but I had canned pumpkin already.
It took a little while, and I decided to make a double batch. That wasn't the wisest idea, unfortunately.
The pit bull gladly ate all we gave him. But because I didn't let them completely cool, they went into the plastic zipper bag and became a bit damp. A week or so later, they had MOLD on them. They became possum food.
Banana-Flax Treats
Next up, some banana-based treats with flax and a few other ingredients. I didn't make so many at once and let them cool completely then dry out a little to prevent them from going bad. I keep making them so the 85-pound "puppy" doesn't get upset.
I might have bought the donut maker and the mini-Bundt cake maker since they were also on sale at Target until Christmas. But BF couldn't give me a straight answer. If I do get them, I'll probably have to order them online. I showed him the mini pie maker too, but he's still indecisive. He can have frozen pies for a little bit longer.
But our other hungry little pup didn't get to enjoy these homemade treats.
Sewing
While it was hot for Christmas, it was very cold in the days preceding.
Some months ago, BF saw a video on Facebook for a pullover jacket made from a military wool blanket. Unfortunately, the company doesn't exist—no website, and complaints from viewers in the comments. Still, asked me to make this jacket for him. I had to go back and look for the hard-to-find video so that I could understand what he was asking me to create.
Simplicity had just published a suitable pattern. Because it's not exactly the same, and no stretch in the fabric, I needed to make it larger. He also requested a quilted lining similar to his work jackets. I ordered some quilted lining from a company called Wawak.
Once I got everything assembled, I started cutting. Then it was a matter of putting pieces together. As I sewed, things became more difficult, heavier, and harder to handle. I used an ultra-heavy-duty 1975 Kenmore sewing machine that was gifted to me last year. But I took my time, and late on a cold Sunday night, I finished it, a week before Christmas.
BF was thrilled and wore it to work the next day. He received many compliments, including from two women who also sew. In fact, he wore it for two days, because it was so cold before it warmed up. When it became warm and he isn't wearing it, the cat nestles comfortably in the hood or on top of the scratchy wool.
Later I posted pictures in the Facebook group for The McCall's Pattern Company. BF was delighted to see that his post garnered more than 600 likes. There were also more than 100 nice comments from fellow sewing enthusiasts.
Now that I've finished it, I can return to cutting and sewing my own things. I have two big blue IKEA bags full of projects to cut, plus two more full of cut and ready-to-make projects. There is also a bag or two of projects I'm either going to cut later or I need something else to finish, such as outer fabric for a purse.
I also want to finish a queen-sized quilt I started in Houston. I'm not a quilter, so it's a big deal. I pinned it up in Neighbor E's living room because he has a non-carpeted floor and a bigger living room space than I had.
RIP Spencer, The Garbage Gobbler
One of the unhappy things that happened since my last dispatch was the loss of BF's little dog, Spencer. He was a 14-year-old rust-colored mutt, about 25 pounds. He was as friendly as all get-out, no matter how fiercely he barked when someone knocked on the door.
The dog previously belonged to someone else, and BF acquired him not long after moving into the Casa de Rurale in 2010. BF had another dog at the time, and not long after that one passed, the beloved pit bull came along. Through it all, Spencer just wanted to be friends, because friends share their snacks, right?
Even when the cat took a few swipes at him or jumped him like the mighty African lion taking down a gazelle on the savannah, he didn't mind a bit. Because, after all, the cat was playing with him. The cat lost, but Spencer was always ready to play or try what you're eating.
The Appetite
Spencer was always hungry, or so it seemed. Anytime you were in the kitchen doing something, we'd be right there with his metronome of a tail. It doesn't matter if you were getting a cup of coffee, cutting onions, or washing dishes, he was ready for you to share it with him. I thought I was going to break my neck when I fell over him a few times when he was looking for food. But he just knew I had something tasty he would enjoy. He just didn't know what it was.
I also had to watch out for him–the cat litter box held amazing mysteries he couldn't believe. I finally turned the darn thing around so Tab E. Cat has to go under a chair to get in it and keep Spencer out.
I considered buying the Dash doggie treat maker many months ago but only got it because it was on sale before Christmas. Spencer would have been all over me if I'd made treats for him, and he'd know immediately what it was. At least the pit bull is polite about asking for one.
Spencer also scarfed his share of cat food when Tab E. Cat wasn't looking.
Where have we seen this before? Oh, yes—Jezebel the Step Kitty, may she rest in peace.
Walking Spencer
I started taking Spencer out for walks earlier this year. It was spring, after the changeover to Daylight Savings Time. The pit bull weighs 85 pounds, but I just can't handle the lovable lap dog. Because if he sees a bunny crossing the road and wants to follow, you too are going follow the little bunny. So, I had to stick with just walking the little guy.
Spencer and I enjoyed going out for those walks, sometimes as long as two miles. But I had to quit when I developed a painful heel condition. Called Achilles tendinitis, it's one of those things that I have to let heal on its own (and it still hurts). There are some at-home treatments I need to try soon because I'm still limping a little.
Unfortunately, the daily walk with Spencer ended in pain until my heel would get better, so I thought. He wasn't going to let that stop him. One evening I let the dogs out to go see BF upon his return from work. Spencer decided to take himself out for a walk, trotting off like it was no big deal. BF had to chase him down the street to catch him because he was fast.
The Free Spirit
There have been a few times where Spencer got loose and went off by himself, casually trotting back home when the spirit moved him. When I first moved here, he went on a jaunt and someone found him, then tied him on a short leash to a tree—no food, water, or shelter. We didn't know where he went, and he was gone for four days. We heard him howling and barking but didn't know how to find him. Fortunately, the weather was good.
I went looking for him one afternoon and found him on someone's property just across the road. Immediately I leashed him, untied him, and brought him back. He drank so much water we thought he was going to sink. I fed him right away because I knew he was hungry. That's when we started keeping a closer eye on our little free spirit.
Later he managed to lose one of his eyes, and somehow broke one of his incisors. He didn't care, as long as you had something tasty for him.
The First Taste Of Gourmet
Longtime readers may remember my discovery of Nigella Lawson's delicious sweet potato supper, cooked in the oven on a sheet pan on top of parchment paper. Well, after BF discovered how much bacon was involved, he liked it, asparagus and all.
So did Spencer.
This dish is cooked at 425F for an hour. The pan is very hot when it comes out of the oven. Even with a potholder, it can burn you. So, it sat out on the counter, on a cork trivet. Unfortunately, it was on the lower counter that Spencer could reach.
While we were enjoying this delicious dinner at the table, BF heard the rustle-crackle-crinkle of the parchment paper and immediately knew what happened. Spencer was in the kitchen investigating the pan with the rest of dinner. "Oh, NO!" BF said, and walked into the kitchen to find Spencer enjoying his own gourmet cuisine.
Pork Chop Heaven
Another day, BF and I came back from the grocery with a large pack of boneless pork chops bought on sale. When we buy something that big, we divide them up into small freezer bags of two for the big freezer. During the process of adding them into the big freezer, I dropped several. I thought I'd picked them all up.
Nope.
Later that night, the dogs found the bags and gorged. We presume it was Spencer who found them because he liked sniffing around the freezer looking for anything we missed. He found them and they had raw pork feast during the night. Fortunately, nothing bad happened, and they were both fine. We did have to pick up shards of plastic freezer bags from the living room. That's when we realized our little sniffer had been busy.
FISH!
BF's favorite Spencer story was a couple of years ago. BF likes to fry fish, and it's how he believes fish should be prepared and eaten. He fried up three large filets of catfish, leaving one piece to take the next day for his lunch. The call came to go down the street to his dad's house, while we were finishing dinner, so we left quickly. The remaining piece of fish was sitting on a big red plate on top of the stove.
We didn't think the dogs could reach up there, but they did. We also believe the pit bull flipped the plate onto the floor and it broke since he's the bigger dog. Both dogs plus the cat had delicious fried catfish for their dinner. BF was so disappointed–they took his lunch! You couldn't deny that they had consumed the fish because they all had crumbs around their whiskers.
When we discovered what happened, they gave us the look that said, "What?"
Something's Wrong
A few weeks after the hurricane, on an ordinary morning, I was thinking I should take Spencer out for a walk that very nice day. That's when Spencer started having trouble walking. Later in the morning, he couldn't stand up at all. He tried to stand and walk, but he just couldn't. The poor pup was shaking as if he were cold, even though I had a blanket over him. Lying sideways flat on the floor, his legs were stuck out straight, shaking, alternating between sleeping and trying to move.
He didn't want to eat his regular food, and I began hand feeding him whatever he would eat and anything he wanted. (The potted meat in a can and the deli-style ham leftover from Labor Day at the fams went over well.) We arranged to take him to a vet we've visited before. This vet had a "wait and see" attitude. He gave Spencer a "feel good" shot for pain, plus a couple of other things, which left the poor pup suffering. He didn't even take an X-Ray.
When we realized he was not getting better, we arranged to go see the local in-town vet but had to wait until the evening.
We didn't find out until later that LSU in Baton Rouge has a 24/7 walk-in veterinary facility. It's an hour away, but we could have gone there instead. However, they may have reached the same conclusion.
The Animal Communicator
I was fortunate to be able to talk to a very nice lady named Ami Pope, a Japanese Lady in California who is a trained animal communicator. It's a long story of how I was introduced to Ami, and her help is greatly appreciated. I was quite upset and just didn't know what else to do. After a phone call and texting some pictures, Ami very kindly talked to Spencer for me.
Spencer told Ami that he knew something was wrong, but he couldn't quite tell her what it was. He was OK, she said, and he understood. There was something in his head, he thought. He did not want us to worry about him, even if it was his "time." She also told him that we were very worried about him, and we didn't want to lose him, but Spencer told Ami that everything was OK.
Saying Goodbye
I took care of Spencer for about a week, cleaning him up, putting him on a cushion, on a towel, or a blanket, hand-feeding him, and doing anything to make him comfortable. BF was working, so it was up to me. He kept trying to move around, but he could only operate his front legs. Movement was possible, but not what he was used to doing. At one point he could sit up and move his front legs, but he pivoted in a circle propped up on his tailbone.
Without any progress, we took him to the other local vet. Realizing how old Spencer was, he kindly recommended that we send him to the Rainbow Bridge.
So, reluctantly, and with many tears, that's what we did. I texted BF from the vet's, picked him up from work, and brought him back to the vet's office. We hugged Spencer and told him we loved him. I told Spencer to go find my cats, Catmandu and Kismet, and let them know I still miss them after all these years. Both of us held him and petted him so he didn't feel alone in his last moments.
We were with Spencer when he passed on to the Rainbow Bridge. He seemed comfortable, but he was always that way.  The folks at the Kent Veterinary Clinic were very nice and understanding. They wrapped him up for us and we took him home for the last time.
Resting In Peace
After we buried him, Ami had one more talk with Spencer. He told Ami appreciated all the treats, the cushions I made for them, and the walks all the way to the church at the intersection. He loved going for those walks, and I didn't even realize how much he enjoyed our walking around.
Spencer also told Ami that he also appreciated that we took care of him at the end of his life, instead of letting him go on his own in the backyard. We couldn't do that to him (or any dog) and we hope we did right by him. BF did the best he could for Spencer and gave him a better life than he might have had otherwise. Spencer appreciated all of it, he said to Ami. I wish we could have done more, but there wasn't much else we could do.
If you are interested in her animal communication services, contact Ami Pope via her website (scroll down to the bottom), by email at info@amipope.com, or by phone at 619-655-9494 to set up an appointment. Ami is a very nice lady who loves animals. I highly recommend her services. She works to put people and pets in touch with each other. I can't say enough about how she talked to Spencer and told us what was happening with him.
Still Making Friends
Spencer was a sweet, likable doggie, and was just friends with everyone. I used to say that my tabby Kismet would purr for the burglars. I think Spencer would have been pretty much the same. He was a free spirit, marching to the beat of his own drum. Not particularly smart, but a lovable dog, who got along with the pit bull, the cat, and nearly anyone who came around, including other dogs.
Spencer is buried under a tree at the back of the property, where he's had some visitors burrowing in the ground. BF has had to re-bury him a few times. We believe it's the misguided armadillos that don't realize they aren't in Texas. They've not pulled him all the way up (he's well-wrapped) but they've come close to going all the way down. But we think Spencer just appreciates the company because he liked everybody.
We miss our little Garbage Gobbler. I wish I could take him out for one more walk.
Until Next Time
Once again, I was chided for something I wrote in this blog, and it happened to be this post. At BF's request, I've edited the passage to appease the offended party.  With that, I offer two points:
HeatCageKitchen is my blog, I pay for it, and I'm constitutionally protected by the First Amendment
Obsidian vs. Cox, 2011, in which the Ninth Circuit ruled that bloggers are considered "citizen journalists" under the First Amendment, and are thereby protected as such
As one of my lawyer clients pointed out, if you don't publish anything untrue, you're good. I did, of course, from three eyewitness accounts. But I suppose recollections vary based on individual perspectives.
A more polite call would have worked much better than what we were subjected to, Girle.
We're amazed at how many alleged adults act like high school kids. On the other hand, maybe if they keep coming back, they'll drive more organic traffic!
Anyway. . . .
So, If you're making resolutions to get healthy, stay tuned for my next blog post.
You've undoubtedly seen the commercials for diets, fitness equipment, and other "get your fat butt back into shape" ads airing since Christmas. I'll tell you about something I bought back in June that's been a "resolution" since the summer–if I could quit getting injured, of course.
In addition to the new Emilie Bailey book, I also have two other cookbooks to tell you about, one of which I'd call "healthy-ish." You see that term here and there, which means that something is healthier than it could be, but maybe not perfectly healthy. In other words, less sugar, less flour, or those ingredients are replaced with something else that is healthy.
I'll be back as soon as I can with another blog post for you, and more posts in 2022.
Happy New Year!