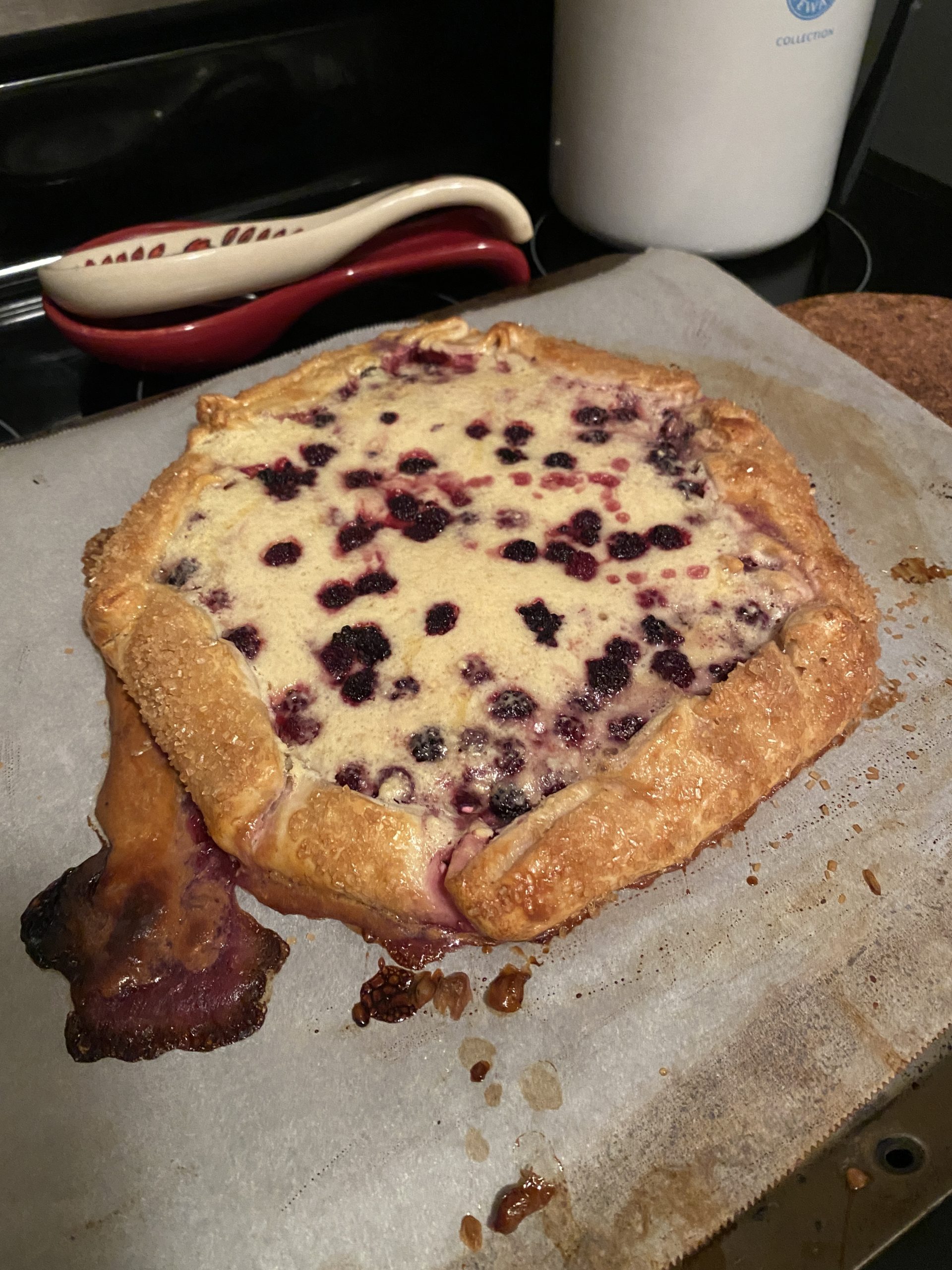 Blackberry Cheesecake Galette
Are you a blackberry fan? I've got a great dessert recipe for your upcoming Labor Day outing, or just anytime you want something easy, sweet, and tasty.
Hello again, Dear Readers:
How did it happen that it's the end of August? Well, while were busy with other things, Father Time kept moving. Labor Day is Monday, and that kicks off the fall season in the US. Kids go back to school, fall fashions arrive, regular schedules resume, and the Pumpkin Spice Latte (PSL) returns to Starbucks. Then social media memes about pumpkin spice everything arrive, as well as other products with the flavors and spices of pumpkin pie.
Cooler weather will be coming to the South sometime around late October to mid-November, whereas our neighbors above the Mason-Dixon Line will be reaching for their winter gear in the next few weeks. Until then we can still enjoy some summery things, like today's featured recipe from The Pioneer Woman Magazine. I know, I'm late doing this one. I finally got around to not only buying the ingredients but also baking the thing. BF is happily licking his paws and enjoying it this week.
I'm also late writing this post because for the last two weeks we've experienced a serious "rainy season." No kidding, long periods of heavy rain every day, which takes down the Internet for a while. The rain kept the temperature in the low 80s, so I did turn on the big oven once or twice.
Never fear—I'm told that there's a new Internet company that's installing fiber optic cables in the area, and they're going to be installing them on our little country road soon. After five years of the Internet that's knocked out every time clouds roll in, I'm hoping for better service. Maybe I can finally use my little MagicJack and the (now-discontinued) Plantronics phone instead of just the iPhone app.
Prime Time For Hurricanes
It's been a year since our Hurricane Ida adventure started. We survived that, plus The Big Freeze in February, so maybe we'll survive anything—we'll see.
Others aren't so fortunate and are still not back in their homes nearly a year later. Many don't know when they'll be going home again.
Hurricane season isn't yet over, because it runs to November 1st. But this is the time of the year (August through late September) to keep an eye out for things happening in the Gulf of Mexico. It's the same season where other storms have happened:
Hurricanes Laura and Marco, 2020 (there were more, and the National Weather Service ran out of names)
Hurricanes Gert, Harvey, Maria, and Irma, 2017
The Big Flood in Southern Louisiana, 2016 (not a hurricane but a weather system just as destructive, even this far north of the coast)
Hurricane Ike, 2008 (Houston and Galveston were seriously impacted; I was in New Orleans with The E Man and his wife for nine days)
Hurricanes Katrina and Rita, 2005 (I drove through the Rita evacuation to Austin, it took 11 hours)
Hurricane Ivan, 2004
Just to name a few. We're ready, we think, especially with all the tea light candles I bought last year, but I also think we need to stock up on batteries soon. As one of my Boeing Brothers posted on Facebook over the weekend, there are things that happen, and you don't think about those possibilities ahead of time. He shared it on the date they were devastated by Hurricane Harvey in 2017. He and his family had to quickly evacuate their home with what they could carry, including three cats and two dogs, one of which didn't make it out.
If you're thinking about hurricane preparation (better late than never), here are some checklists:
If it sounds like I'm becoming a "doomsday prepper," then I'll take it after two power-out periods last year. Better ready than being caught unaware, right? Ask anyone who went through Hurricane/Superstorm Sandy in 2012.
I've got a post coming up that can help with those possibilities, too.
Hatch Chiles
Recently I headed to our local Winn-Dixie for a few things and bought a couple of Hatch Chiles. I was so happy to see the display:
However, I went back last Friday and planned to buy more, but they were gone. One of the very nice employees said that they were all spoiled and had to be thrown out. I said, "because nobody knows what they are and I'm the only one who bought them?" She nodded.
What do I need to do—start a PR campaign?
Albertson's and Rouses will have some, and maybe the Winn-Dixie in Hammond, too. Walmart hasn't carried them locally, but they do have Anaheim chili peppers from Mexico all year around.
Another Year Of Blackberries
As I've done for the last couple of years, I picked the wild (and free) blackberries that grow around here.
I walk out with my colander, suited up with gloves, heavy jeans, and my knee-high black Muck Boots to pick them. (The vines have sharp thorns on them.) Once inside, I wash them gently, drain them, and put them onto a baking sheet lined with parchment paper. Then I put the tray into the big freezer on top of everything and let them freeze. If you just toss them into a freezer bag, they'll freeze into a huge block, and you can't get them apart to eat or use.
When that's done, I start adding them to a large Ziplock bag, marked with the date I started the bag, and of course, the contents. The berries are frozen until I am ready to use them. This year's harvest was pretty good:
I guess I'd have more of them if I would quit eating them and hand-feeding a few to Buddy (aka "Broccoli Stirfry") when we went outside.
What To Do With The Blackberries
I like the bragging rights that the blackberries are "organic," because we just let them grow on their own, and they're "locally grown," because they're right outside. They're picked for our own consumption, and certainly not for sale.
BF never paid attention to them until I found out that blackberries were growing wild. Then I let him know not to mess with the vines until blackberry season ended. Mother Nature provides you with fresh, free fruit—why wouldn't you pick and enjoy them? Respect the berries, pick them, and freeze them for later. They thaw nicely in the fridge for a day or so, or you can leave them out on the counter for a little while. Don't leave them too long or they'll get mushy.
You may remember in my review of Emilie Bailey's The Southern Keto Book that I made Granny's Blackberry Cobbler. I still make it occasionally, and both BF and I really enjoy it.
But sometimes, BF doesn't want the keto/gluten-free/sugar-free stuff. He wants "the real thing, with real flour and sugar." Lucky for me, Ree Drummond, The Pioneer Woman, came through with a recipe in the Summer 2022 edition of her magazine on page 80: the Blackberry Cheesecake Galette.
Warning: today's recipe isn't keto, low-carb, sugar-free, gluten-free, or in any way "diet" or "healthy." Except for the use of the blackberry.
What's A Galette?
Well, it's like a pie but a bit simpler. Made free-form, it's a French-style dessert that just has crust with an open top. You can see a short explanation on Delighted Cooking. If you want something more thorough, Wikipedia has a detailed explanation.
Ina Garten, The Barefoot Contessa, has a recipe that's similar, called Apple Crostata, which is also very good.
In Ree Drummond's case, her galettes use an ingenious shortcut: store-bought pre-made pie crusts. So that's what I did. BF is enjoying the second one piece by piece as he did with the first one.
The magazine has recipes for three different fruit galettes:
Blackberry Cheesecake, pages 80-81
Blueberry-Raspberry, page 82
Strawberry Basil, page 83
All three use the same basic crust iteration, and different fillings with fruit, sugar, and cornstarch. They also start out by using the bottom of a baking sheet, adding parchment paper, sticking the two crusts together, and rolling them to a 12-inch circumference.
Note that these recipes are not on her website, but there are five other fruit galette recipes there. On the affiliated Tasty Kitchen collaborator website, there are a total of 79 recipes for galettes, both sweet and savory, as well as 276 blackberry recipes.
I haven't tried the other two galettes myself, but I think nearly any sweet (or even savory) filling you tossed together would work well in this crust. Make sure to leave a two-inch border when adding the filling to the crust so you can fold it up easily.
Making The Blackberry Cheesecake Galette
So, let me just say that it does take a bit of prep work to get this going, especially since I prefer to measure things ahead of time. But the smile on BF's face makes it totally worth the trouble. He'll keep me around for this one, even if I didn't do it exactly correctly.
Here's the printable recipe, re-typed from the magazine's instructions.
Blackberry Cheesecake Galette
From the Summer 2022 edition of The Pioneer Woman Magazine, page 80-81
Ingredients
1

14-ounce package of refrigerated pie dough

2

cups

blackberries

2

tablespoons

cornstarch

1/4

teaspoon

kosher salt

1/2

cup

granulated sugar

Grated zest of 1 lemon

2

tablespoons

lemon juice

3

ounces

cream cheese, at room temperature

1

tablespoon

sour cream

1

teaspoon

vanilla extract

1

large egg, beaten

1

egg yolk

1

tablespoon

coarse sugar
Instructions
Place an oven rack in the bottom position and preheat to 400F. Flip over a baking sheet and line with parchment paper. Unroll the pie dough on a work surface, then stack the two rounds, gently pressing to adhere. Roll out into a 12-inch round and transfer to the prepared baking sheet.

Combine the blackberries, cornstarch salt, 1/4 cup granulated sugar, the lemon zest and 1 tablespoon lemon juice in a medium bowl and gently mix until the cornstarch has dissolved

Combine the cream cheese, sour cream, vanilla, egg yolk, remaining 1/4 cup of granulated sugar, and 1 tablespoon of lemon juice into another medium bowl. Beat with a mixer on medium-high speed until combined and smooth, 2 to 3 minutes

Use a slotted spoon to remove six or seven blackberries into a separate bowl. Spoon the remaining blackberry mixture into the center of the pie dough, leaving a 2-inch border. Drizzle the cream cheese mixture on top, leaving the border uncovered. Gently fold in and pleat the dough edge, taking care not to rip it. Scatter the reserved blackberries on top of the filling. Brush the crust with the beaten egg, then sprinkle with the coarse sugar.

Bake the galette until the crust is a deep golden brown, the cheesecake is set and the blackberries are slightly bubbling through the cheesecake in spots, 30 to 35 minutes. Transfer the baking sheet to a rack and let the galette cool completely about 1 hour.
So, gather up your ingredients, including your blackberry bowl:
Preheat your oven to 400F, with the oven rack in the bottom position. Flip over a baking sheet and add a length of parchment paper on top, weighing it down so the paper doesn't fly off.
Unroll your pie crusts and stack them on a work surface—a cutting board, or another flat thing.
Now the second:
Here's where I went wrong: you're supposed to use a rolling pin and roll them out to a 12-inch round and get them to stick together. But because "rolling pin" isn't in the recipe directions, I didn't think about using one. So I just kind of pressed them together by hand to make them stick:
It worked OK. Next time. Now move that base onto your parchment paper, if you're using a flat surface, and go fiddle with the blackberry mixture:
Add the berries, cornstarch salt, ¼ cup of granulated sugar, lemon zest, and a tablespoon of our lemon juice into a bowl.
Carefully mix them so you don't mess up the berries (especially if you use thawed frozen ones as I did.)
Mix until the cornstarch dissolves, set it aside, and move on to the cheesecake part.
Into another bowl, add the 3 ounces of cream cheese, a tablespoon of sour cream, vanilla, the egg yolk, the remaining ¼ cup of granulated sugar, and the rest of the lemon juice. Use a hand mixer on medium-high speed to blend that well, two to three minutes.
Now you're ready to bake.
Galette Assembly
First, remove a few berries from the other bowl and set them aside. These will make the top look pretty.
Then add the rest to the flat piecrust, leaving a two-inch border for the up-folding.
Grab a roll of paper towels, because the blackberry liquid is now running all over the place. (Thank heavens it's pink and not red. Next time I'm using the inside of the baking sheet or buying new ones.) No, I didn't get a picture of that–I was busy trying to catch all that dark pink liquid rolling down the stove.
At this point I transferred the galette and the parchment paper to a flat baking sheet with an air cushion underneath that I've had for many years but ruined on the first use. Parchment paper makes everything all right.
Now carefully drizzle the cream cheese mixture over the berries, keeping it within the confines of the center and away from the two-inch border. Start folding the border inward, creating a nice looking. . .ok, whatever you can do with it, but don't tear or rip the pie crust.
If you haven't done so already, beat the whole egg, and brush it on the crust you just folded up over the side:
And sprinkle some coarse sugar on top of the egg-washed crust area:
The coarse sugar gives the galette a nice, crunchy crust when it's done. Into the oven for 30 to 35 minutes:
Bake until the crust is golden brown, the cheesecake part is set, and the blackberries are bubbling up through the cheesecake part in spots. Alternately, you can just wait until it oozes all over your baking sheet and your oven like I did:
I think I forgot to take more pictures at this point. BF was sniffing around during the commercials during that gory "true crime" show he was watching. But using a large spatula or two, transfer the galette to a baking rack and let it cool completely, which will take an hour or so. If you try to eat it right out of the oven, you know you'll be paying for it with terrible mouth pain for days, right?
Oh, and you've got a bit of a mess to clean up. But it's totally worth the trouble:
Let  cool, then slice it into six or eight slices (or even twelve if you're trying to serve more people.) I found that my large round pizza cutter made the job simple. Packed up pieces in individual containers for BF to take with his work meals and enjoy some then. He's already let one coworker try a bite–thumbs up.
Whether you're having a little get-together or going to a Labor Day celebration, the Blackberry Cheesecake Galette will be a favorite. Ask BF, and he'll tell you.
Until Next Time
I've finally finished testing five recipes for Emilie Bailey's newest (and possibly final) cookbook, Easy Dirty Keto. BF refused to try any of the recipes this time, including dessert. I've had no other willing taste-testers around. So you'll have to go on my comments alone.
Miss Alice in Houston also has her own copy of the book but hasn't yet tried anything. However, she's anxious for her and her daughter N to have some new and easy recipes to enjoy, irrespective of keto. Since she's a teacher, and N is a teenager, school started last week, and it's now "crunch time" for them both. I asked her to let me know what they try and how they like the recipes. Maybe I can talk her into some pictures, too.
Once I finish writing and uploading all the pictures, you'll be able to see what some of these new "dirty keto" recipes are like. Even if BF wouldn't taste any. I'm sure I'll eventually find something that will please his ornery, manly, and non-keto taste buds.
I'll also tell you more about our newly renovated Winn-Dixie soon. It's in the same building and has the same floor space but seems to have doubled in size. Our little store has a wider variety of things than before and may also mean less driving for me to find ingredients that were not previously available locally.
Until then, Happy Dining!