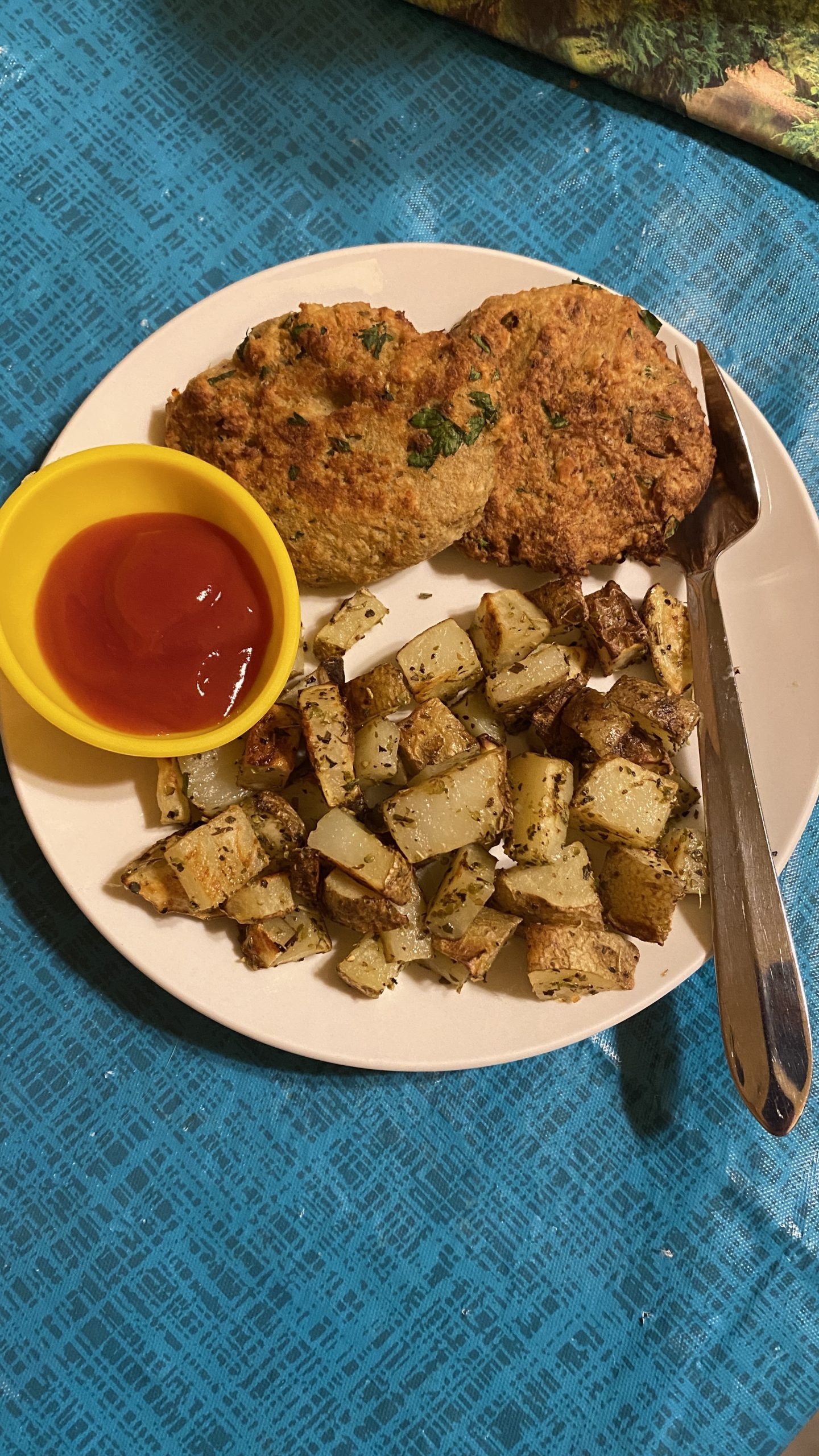 Crab Cakes In The Air Fryer
In This Edition of HeatCageKitchen
Crab cakes in your air fryer? Yes—and they're pretty good. Of all the versions of crab cakes you can find, this one is simple and easy to make. And if you want, it's gluten-free, too. (Note: plenty of live affiliate links included today.)
Hi Again, Dear Readers:
Here's hoping you had a great Labor Day. I sewed for most of the day, but I'd imagine Miss Alice, who is a teacher in HISD, slept in. Can't say that I blame any teacher for that.
With fall in our forward sights, I need to use the basil and make some pesto soon. This year's basil didn't take off like it normally does, so next year it's back to buying new plants or starting seeds inside. I was kind of proud of saving and propagating two cuttings from last year's crop, but it just didn't work well.
I'll use up the basil, more mint, and some leftover parsley from this weekend's recipe to make one or two batches of pesto for the freezer.
I only needed this much:
Thankfully, I've got a big pesto stash in the freezer from the last two or three years to hold me over. I just need to stock up on frozen peas.
Hungry? Let's get started.
Finding A New Recipe
OK, this is part procrastination, and part "you need to know about this."
Friday afternoon, I found a new recipe for crab cakes on Instagram and I just had to make some for us. BF, as always, was skeptical. After all, he can always have a ham sandwich or bowl of cereal if he doesn't like what I made. But not this time.
For this occasion, I pulled out our little air fryer from the back of the cabinet.
If you've not seen my previous blog post on the air fryer, you can read it here. At first, Neighbor E said he wasn't getting an air fryer, but eventually, he decided to get one.
E's air fryer is a 2.5 quart, while ours is 1.9 quart. Most are not terribly expensive, and many are under $100. There's even a Pioneer Woman branded 6.3-quart model. You can find them as big as 8 quarts or even more. Some have two baskets, so you can air fry two things separately at once, like burgers and French fries.
I bought ours for $30 two years ago. It now costs $50 in the store at Walmart but shows up as $40 on their website. If I was going to spend $50 on an air fryer, I'd get a bigger one. We may buy a bigger model one day, but for now, I'll use this little dinky one.
The Crab Cakes Recipe
This comes from a blog called DanniMade Kitchen, and you can read Danni's bio here. The Dash Company featured it on their ByDash Instagram account to show off their air fryer. It's a quick and simple recipe that's tasty, and you can make it anytime.
To make it easy, I'm putting the recipe here so you can print it and take it to the grocery with you. Heck, I need to print one for myself so I can add it to my notebook of recipes I have on the bookshelf.
Air Fryer Crab Cakes
A quick and delicious recipe from DanniMadeKitchen.com
Equipment
1 air fryer

Cooking time will depend on the size of your air fryer; you may need to cook in batches
Ingredients
8

ounces

lump crabmeat

you can also use canned crab meat

1

tsp

Old Bay Seasoning

1/4

cup

Panko bread crumbs

gluten-free Panko also works well

1

tbsp

plain greek yogurt

1 to 2

tbsp

freshly chopped parsley

1

tbsp

Dijon Mustard

1

tsp

Worchestershire sauce

1

tsp

Hot sauce of choice

I used Tabasco Chipotle for the flavor but not heat

1

egg, beaten
Instructions
Mix all ingredients together until evenly combined. if the mixture is too wet, sprinkle more Panko breadcrumbs until they reach the desired texture and are easier to shape into patties.

Form into six even balls, and lightly flatten balls to create patties,

Lightly spray the air fryer basket with oil. Place the patties in an even layer inside the fryer basket. Spray lightly with oil then cook for six to eight minutes at 400F.

Serve patties hot, warm, or at room temperature with tartar sauce, ketchup, or condiment of your choice for dipping.
So here are the ingredients:
I made one change, and that was to use gluten-free panko breadcrumbs. I found them at Rouses, but I've bought them at our local Winn-Dixie before.
Longtime readers know I always like to measure everything out before I get started.
I do this even when I'm not taking pictures for a blog post because it just makes the process easier. Additionally, there's no risk of "oops, I put too much salt" or something else in the mixing bowl, pot, etc. Then it's one-two-three and you're on your way.
Ina Garten, The Barefoot Contessa recommends cracking each egg into a separate bowl before you add it into your recipe. This is in case you get a bad egg, and you don't ruin the entire recipe. I usually do that, too, although I've never found a bad egg.
Once you've got everything taken care of, it's time to get started.
In the original recipe, Danni lists eight ounces of lump crab meat from Whole Foods. On Instagram, Dash lists "eight ounces of lump crab meat." Of course, when Amy was buzzing through our Rouses on a busy Saturday after running errands, she read "eight ounces of canned crabmeat." So that's what I bought.
And it worked just fine.
Drain the Crabmeat
The cans are 6 oz, but once you drain the liquid off, it's about 4½ ounces of crab meat. That's why I bought 2, which comes to just over 8 oz.
Danni says that if the mixture is just a little too wet, add a little more of the panko. I drained the crabmeat as best I could, pressing it with my hands to squeeze out more of the liquid.
I didn't spend too much time on that task, so the resulting mixture was a bit damp. Decided to add one or two more tablespoons of the panko, and that was perfect. The mixture must stick together like ground beef, or it will fall apart in the air fryer basket.
Bottom line is that if you can get fresh crab meat, great, but if not, the canned is available. I also know from another book by keto author Jen Fisch that Trader Joe's has affordable crab meat in their own freezer section.
Mix And Air Fry
Really, once you have all the ingredients measured and the parsley chopped, it comes together quickly.
Mix well, and pat down into the bowl:
Separate the mixture into 6 sections like you would ground beef:
And shape them into little patties.
Spray the inside of your air fryer basket with oil.
My air fryer's instructions say to preheat it for five minutes before cooking. So if yours says that, do so now. Then spray the patties with oil.
Add the crab cakes into the basket and cook at 400F degrees for about ten minutes. With my little air fryer, I had to do this in batches, but that's OK. I put them into the countertop oven to keep them warm until dinnertime.
They really do come out nice and crispy and tasty.
What to serve with it? Well, I made some Triston's potatoes in the big oven:
Of course, if you're making a keto dinner, you'll have something else.  The frequent rain means a not-so-hot summer, so it was OK to turn on the big oven. As always, they were delicious.
Danni suggests serving these with tartar sauce. BF didn't want tartar sauce, so he didn't buy a bottle. I just had some sugar-free ketchup with mine, and BF had his regular ketchup.
We both enjoyed dinner that night, with a thumbs-up to make them again sometime.
About The Oil
One of the more prominent features of air fryers is that they only need a small amount of cooking oil. But you still need some oil for most recipes. The difference is that compared to regular deep frying, you don't need nearly the amount of oil that's required to get the crispy texture.
Additionally, remember the quality of oil you use is also important. We use a lot of olive and coconut oils even when the recipe calls for vegetable oil. That's because vegetable oil, which is toxic hydrogenated soybean oil, is banned at the Casa de Rurale.
You can use cooking spray, or get an oil sprayer, which sprays a fine mist of whatever oil you put in it.
Olive oil, avocado oil, and coconut oil cooking sprays are available now, so it's easy to use them. But oil sprayers easily and inexpensively do the same thing.
That white one in the picture is from the old Martha Stewart Everyday line at Kmart. I used to have two, but I think I threw one out. Only when I went to use the second one did I discover that you're not supposed to fill it more than halfway full. You pump the cap a few times to build up the pressure and that's what propels the oil through the sprayer nozzle. Works perfectly.
I recently washed it to get the old oil out and refilled it with fresh oil. I don't know how long it's been sitting since I moved here. Now that it's clean and refilled, it still works perfectly.
But Amy, I Don't Have An Air Fryer
Well, nobody said you had to use an air fryer. Like the Instant Pot, it's 110v vs. 220v. It's a neat little appliance that offers another way to cook meals. Some folks have reconfigured nearly all their cooking to the air fryer. They are devotees. An air fryer is not a bad thing, but not an absolute necessity.
I'm thinking about Aunt Ruth and Aunt Kathy dismissing the idea of getting an air fryer for this type of thing. Really, though, you don't need one to enjoy these tasty crab cakes.
If you have a toaster/countertop oven or even a regular oven that has a convection setting, you already have an air fryer. But even if you don't, there's no reason why you can't make them either in a 350F degree oven, or even in a frying pan with a small amount of olive oil.
Other Alternatives
Have a countertop grill like the Cuisinart Griddler? You can also fry them this way. There's also the sauté function on your Instant Pot if you're itching to use yours. If you're lucky enough to have one with an air fryer lid, that would likely work too. I can't see pressure cooking as a benefit to this recipe. But if you're on a generator, as we were a year ago, the Instant Pot sauté function and the countertop grill are both good options for frying them.
You'll still need to use a little oil. So don't be afraid to use some however you cook them.
If you decide to make these crab cakes, I do hope you enjoy them as we did. It's another recipe to add to our regular dinner rotation, long as we have some crabmeat and a few other ingredients available. There are two crabmeat recipes we like, so I guess I need to stock up on a few more cans. I don't want to disappoint BF if he decides we should have crab cakes again.
Much as we both enjoyed them, BF says that they should be served alongside fried fish, as you would see in a restaurant. Maybe next time.
Incidentally, I told Neighbor E about this recipe on Saturday when I was making dinner. But because he no longer has a Facebook account, I had to send him two screenshots so he could see the recipe. He says he'll try them one day this week.
Coming Soon
Labor Day is over, and so is "summer," officially. All the fall décor is out at Hobby Lobby, Walmart, and every other retailer in the US. Next month is when retailers begin up-shifting for the holidays. They'll shift into top gear the day after Thanksgiving when the fall frou-frou goes on sale for 50% or more off.
Here in the South, we know that cooler weather won't be coming for a while. We're still going to experience heat, humidity, and of course, mosquitoes for quite some time. But I'll soon be sewing up fall things, including a sweater, this weekend because one day we'll wake up and it's chilly again.
I'm late on the Easy Dirty Keto book review, I know, but it'll be worth the wait. It's already a long blog post, and I just need to finish it up and load it and the pictures into the website. Plus, I have a couple more topics in the draft queue that I need to finish up soon.
Our sixth anniversary is on the 15th of this month, and I'm wondering what kind of nice dinner to make for BF that day. It's not a "wedding anniversary," but our date for getting together. I say we celebrate six years together no matter what. I'll find something. I'll blog it if I do anything spectacular.
As always, if there's a topic you'd like me to research and write about, let me know.
Happy Dining!