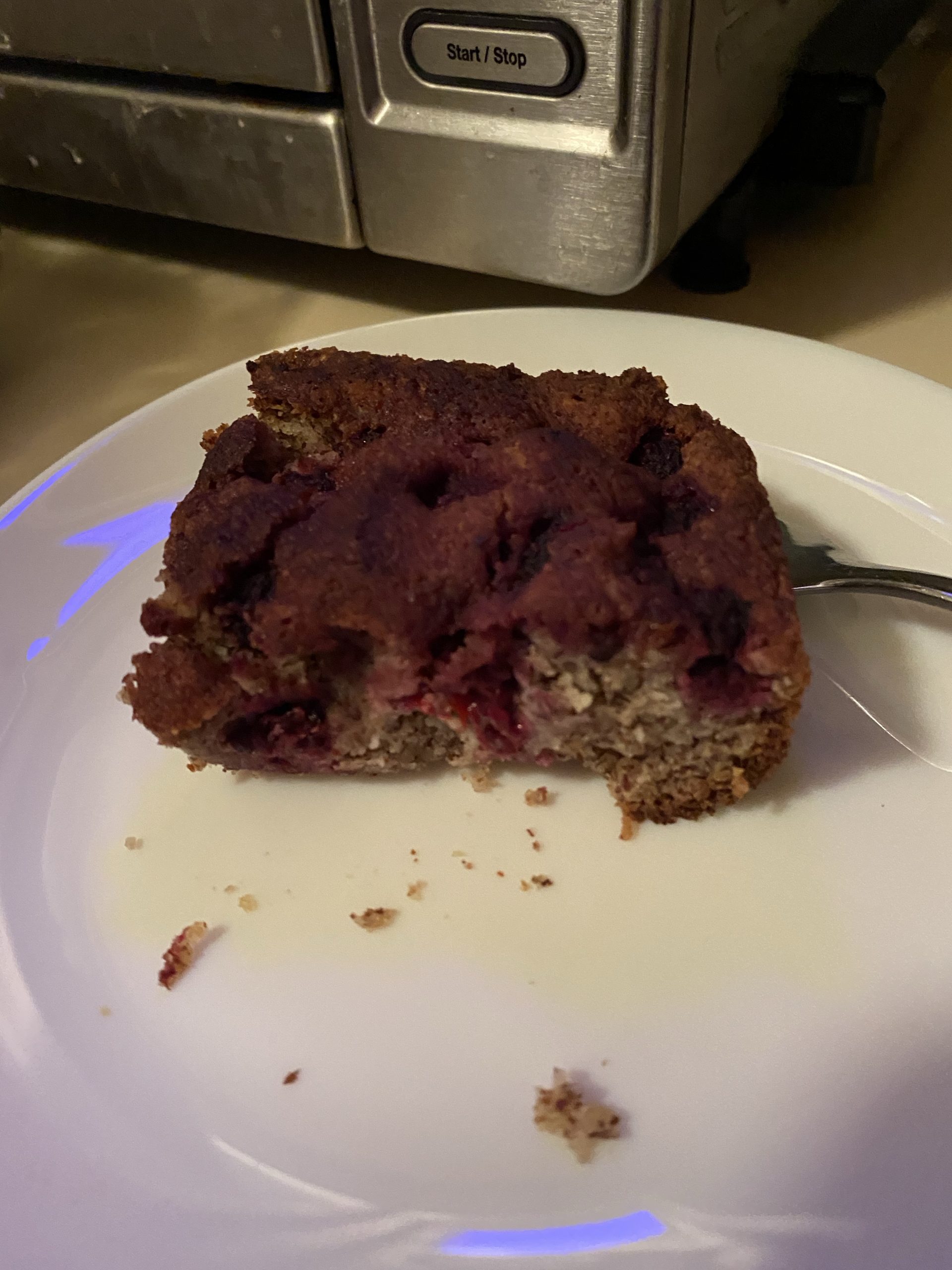 Review: The Southern Keto Cookbook
Keto? Southern Cooking? The two don't normally go together. But if you're The Texas Granola Girl, they certainly do. I'll tell you all about it.
Hi, Again Dear Readers:
It's been a busy week again, and I thought a cookbook review was a good idea, especially for those who are doing keto. And if you're in Texas, you'll enjoy this one.
In response to my last post on the delicious Tex-Mex cauliflower rice dish that BF didn't like, I received two responses. The first, from Aunt Ruth, who was quite complimentary. She might even try it one day. However, the second email came from the GER, who proclaimed, "BARFO! YUCK OH!" I used to cook for the GER. Like BF, if I didn't tell him it was cauliflower, the reaction would have likely been different.
Incidentally, if you ever come to visit and see this on the kitchen counter:
Understand that it's not part of any recipe. It's just sitting there. That's where we leave it when we get home from pet food supply runs at Tractor Supply. Honest.
Lots to tell, so let's get started.
Alvin Calhoun's Funeral
As I mentioned in the last blog, Baton Rouge barbecue master Alvin Calhoun passed away. The funeral was Friday the 14th at Winfield Funeral Home on Plank Street in Baton Rouge.
I was already planning to run some errands in Baton Rouge that Friday. BF was off work, and so the stars were in alignment for us to go.
BF and I went to pay our respects and see him one more time during the visitation period but didn't stay for the service. We met with his son Davin and his wife Kim, nice people just like Alvin. I downloaded the picture of him onto my phone and sent it to her, along with the blog so they could read it. Davin will be continuing the business they started, and BF will be bringing some motor parts to them soon.
We went to the front of the chapel to see Alvin, and I chanted quietly with him for just a minute. He was well-liked, of course, and there were lots of people there. I couldn't sit and chant with him for too long, but I did chant a little.
Alvin was dressed in a tasteful suit, and he looked good. In fact, he looked just like we remember him. Of course, we won't forget him, either.
Friday's Errands
After the funeral, we proceeded with our errands. It was going to be one, but since we were in the Capital City anyway, it ended up being a "day trip."
My five-year-old vacuum cleaner needs a new electrical cord, and I made multiple phone calls to try and get it done. Finally, I found someone who would work on it for me without semantics. No kidding–one guy I talked to whined because I told him I had a higher-end Bissell. I found someone else. Once I figured out where I was headed, Friday was the day.
We did make it to Trader Joe's, and we had to wear masks to go in. They were nice about it, as they always are. They've just dropped that requirement this week, though, nationwide. I saw lots of lovely new things, and they even had little cups of ready-to-eat "overnight oatmeal." More on that later in this blog.
BF has finally set foot in Cost Plus World Market, where I buy his favorite British cookies, Jammie Dodgers. He had no idea what they were until I brought some home one day. They're a favorite now, right behind Oreos.
And for the next time I make pesto, I found this lifesaver with a slightly curved end:
I mean, REALLY–the blades in my blender have left cuts in my other spatulas, but now I don't have to ruin any more of them. It's about the same length as my others:
It wasn't expensive. Kitchenaid has a similar model, but I didn't know that either. Next door is Joann's, where I got some buttons for two projects and two on-sale patterns.
I also replaced my years-old coffee grinder that blew up the other night.
Wish I'd bought this a long time ago–it's much quieter than the older one and doesn't scare the cat. Bed, Bath & Beyond has some very high-end expensive models, and. . .I went to Target for this $20 model.
During a quick FaceTime call to BF, while I was out shopping recently, he told his manager at work that "there's a whole other world that Amy's in that I'm not familiar with." (She waved at me, too.) Now he's been introduced to a couple of those places. After a stop at a local outdoorsman place, the feeling is mutual. But I did pass on those locally-made dog treats they had made with nutria meat. Nutria is a large rodent creature that is an invasive species mistakenly introduced into the US, and thrives in coastal states like Louisiana. I don't think even our dogs would touch those treats. Ever.
New Sprouts Market In Baton Rouge
We were headed home and what did I see? A new Sprouts Market! I had no idea!
I never made it to the Sprouts that, um, sprouted, in Houston before I left. Longtime friend of the blog LK visited the one near Pearland on Old Chocolate Bayou Road when they first opened. I meant to go, but I never made it. Or maybe I was afraid to because of all the great stuff they have and I didn't have money for all that. Oh, well. There are now 49 Sprouts Markets throughout Texas, and Louisiana just got one.
I'll be stopping in next trip and giving a full report, finally.
Low Caffeine Movement?
It seems that drinking high-octane coffee during the pandemic has led to something unintended–caffeine overload. Now one company wants to help with that. 
New startup Buzz Lite recognizes that coffee lovers don't like caffeine overdoses and offers an alternative. It looks like the millennials are leading the way, but lower-dose caffeine can benefit those with high blood pressure and other caffeine-induced issues.
Yeah, OK, I'll just go ahead and admit that I can get downright grouchy if I OD on caffeine. BF just ducks and sneaks out the back door to get to the garage.
What's Amy been drinking with her decaf since she got here? Community Coffee's Half-Caff Ground Coffee. Add about a half tablespoon or so into the decaf and it's just fine. No burning my stomach or anything, and I get enough "boost." It's when I add full-strength coffee or have a cup of very strong tea that I start reaching for the Tums.
Half-caff has been around for a while, and it just takes knowing how much you can tolerate without bad side effects. I'm glad I'm not the only one, though.
Buzz Lite Coffee is currently only available online, but may eventually be as widely available as other brands of coffee.
The Texas Granola Girl
What happens when a Texas ranch girl goes keto and starts a blog? You get The Southern Keto Cookbook.
The cookbook has been available since last year and is one of those wonderful titles I received from my year-long Callisto benefit. I've made a few recipes from this book, and I always want to make something else and get BF to eat it. He just told family members his philosophy of my cooking over the weekend: "Stay ALERT! Stay ALIVE." Not all of it is bad, though.
Emilie Bailey is a rancher's wife in a city north of Dallas. She cooks and works on the ranch with her husband and two daughters. She's a seventh-generation Texan and is also a former restauranteur. After a health diagnosis of inflammation for both her and one daughter, she began creating keto recipes that are just as enjoyable as their non-keto counterparts.
Here are a few that I've made since receiving this book.
Keto Green Chile Cauliflower Rice Bake
Well, on page 64-65, is a recipe I think I tried first, and even BF liked it (mostly because of the Monterey Jack Cheese.) Tasty, cheesy, and a nice touch with the can of green chiles.
Adapted from Emilie's mother's rice dish, it's a creamy, delicious side dish that's easy to make and good anytime. I haven't made it since last year, so I need to make it again.
NOTE: you must cook the cauliflower rice prior to making this dish. I speak from experience. That's why there's a bit of yellow highlighter and a note to make sure I don't forget.
Keto Turnips? NO
Ok, I hate to rain on this parade, but turnips and I do not get along.
Emilie has six recipes for turnips, including one I tried on pages 66-67 for Cheesy "Hash-Brown" Casserole.  Turnips are used here as a substitute for potatoes. One of our neighbors grew turnips in his garden last year and brought over a bunch. Well, this was the first recipe I tried.
Never again.
Don't get me wrong, it wasn't a bad recipe at all. And I know there are people who just love turnips. Not me. BF wouldn't try it, so I ate it all week. Well, until it made me horribly sick.
As I mentioned in the post on cauliflower rice, I've made mac & cheese with cauliflower many times. I need to make that again sometime. But the turnips nauseated me!
Maybe it's because I ate it every day for a few days. I've never eaten turnips that much or that often. Much as I like this book, I have to pass on those six recipes. If you like turnips, you've got six recipes to enjoy with them.
Granny's Blackberry Cobbler, Keto Version
Now here's one sweet treat we can all get into.
Dessert is always essential, and Emilie doesn't disappoint here, either. Allow me to show you a dessert that I like because it's tasty and keto, and BF likes it because it's sweet and tasty. 
We have blackberries growing all around the property. When they start to ripen, I pick and pick and pick until the cycle is over. Right now on the other side of the garage, there is a mass of the little berries I'm anxious to see ripen so I can pick them all. One reason is I want them is for a cup for this delicious blackberry cobbler on page 176. If I pick enough I can freeze them and make this anytime.
Note that the pit bull loves these little berries, and will eat them off the vine if I show them where they are.
The Keto Dessert Time
There is a quart-sized bag of frozen berries from last year that I forgot to use up, so I decided to make one this week. I let the berries thaw for a few hours prior to baking. They were juicy, and they worked just fine.
Of course, I forgot one essential ingredient:
Emilie, like many keto authors, uses a blend of this and monk fruit, but I don't have any right now. So because I didn't think it was sweet enough, I added a bit of my secret weapon "booster."
One of the biggest differences this time is that I decided to use almond MEAL instead of almond FLOUR, as I normally do. This may be why it didn't bake in the recommended time, and I had to put it back for another 20 minutes. But it came out just fine. 
Making Cobbler
There are a few steps, but it's not difficult. First, mix the dry ingredients and whisk them together:
Then start adding in the wet ingredients:
And three eggs, whisked and beaten well:
Finishing
Now add the very thick batter into the baking pan:
Now add the blackberries–sprinkle them over the top:
Next, you press the blackberries into the batter a little, so that they're still visible but "stuck" in the batter.
Mix up a tablespoon of the sweetener (no stevia here) and a quarter-teaspoon of ground cinnamon, and sprinkle that over the top.
And Bake!
At 350F degrees for 25 to 30 minutes, until it's baked, "or until the top is golden brown."
You must let this cool for a good 30 minutes before cutting into 9 squares and serving.
Emilie also suggests serving with fresh whipped cream, but we didn't do that.
I did, however, let our dinner guest TT know that while he was welcome to try some, it's keto, gluten-free, and not what he might be expecting based on the Instant Pot chocolate cake. He said that he was full, and left shortly thereafter. The Boy had also come by to work on a motor, stayed for dinner, and was going to try some but ended up forgetting. 
BF didn't. I might make another one next week.
Oh, and if it's cold from the fridge, warm it in the microwave. You're welcome.
Two Things
This cobbler look longer to bake than I remember from last year's, but there are two factors that likely affected it:
First, I used a pan that was 8″ by 8″, not the 9″ x 9″ suggested in the recipe. That's what I have on hand.
Second, I used almond meal instead of fine almond flour made from skinned almonds. It makes a heavier and denser batter, I think, and that probably was the main reason for the longer time required.
It was still good.
Followup: The Overnight Oats Post
Last week I served BF dinner and said, "I wouldn't feed you anything bad." He responded, "what about quinoa? And the Awful Falafel?"
Remember my post on overnight oatmeal about five years ago? I wrote this when I was living in Houston, and told BF about it on one of our nightly calls. I suggested that he try overnight oatmeal for himself. It would be perfect for a single guy living alone. Breakfast–done! Well, that's what one thinks.

Five months after I moved here, the weather warmed up in February, and I decided to make it one night. The next morning, I went where BF was snoozing with the cat, and I asked, "Honey, would you like to try some overnight oatmeal?" Rolling over and half awake, he says, "hmmm, sure." I gave him a bite and got a reaction I wasn't expecting. He was then wide awake when he said:
"AAAAAHHHH!!! That's disgusting! It tastes like cat vomit! AAAAAHHHH!!!!"
Yeah, OK, I guess you didn't like it. Thanks for the unvarnished opinion, as always. Believe me when I tell you that I still giggle when I think about this pivotal day in our relationship history.
To Anyone Who Will Listen
BF likes to tell HIS side of the story frequently, most often to coworkers. It was at that point that he began telling AK and then everyone, "she's tryin' ta kill me!" I've been offered my own opportunity to tell the story from my side on a few occasions. However, the conflict comes down to one factor: BF never read the original blog post.
So last week, I looked it up and read it to him. Finally, he understands that overnight oatmeal is served cold and that I like it with chocolate, peanut butter, agave syrup, and a few other things. You can make it with a wide variety of ingredients, customized to your own tastes. BF is so used to the packaged "instant" stuff that he doesn't know how to make it for himself. Why would he, when there is such a thing as "instant microwave oatmeal?" Never mind that it has 6,000 grams of sugar and a host of other chemicals that you might not want to eat. 
Well, we keep soldiering on, as two imperfect people who don't give up on each other.
Until Next Time
Whether or not you're doing keto, I highly recommend The Southern Keto Cookbook by Emilie Bailey. The food is good, pretty easy to make, and enjoyable whether or not you're from the South. I want to make so many more, like the Roasted Poblano Cauliflower "Mac" & Cheese on page 78 and the Texas Taco Hash on page 168. But there is. . .well, never mind. It looks tasty, for me, anyway.
Turnip lovers may like this book for the six recipes alone, but the entire book has plenty of great recipes we'll be enjoying for a long time. And it's all healthy, keto-friendly, and uses ingredients that are generally easy to find, even in this part of Louisiana.
Emilie's newest blog post was just posted today. What's she cooking up? Keto Rice Pudding, with, no kidding, cauliflower rice. You'll have to read it to believe it, and I need to find whatever allulose sweetener is, order it, or make it with what I have here. Dairy-free, her newest dessert uses full-fat coconut milk and almond milk. It's just so crazy I have to try it, and BF can have his Jammie Dodgers.
Happy Dining, Y'all!