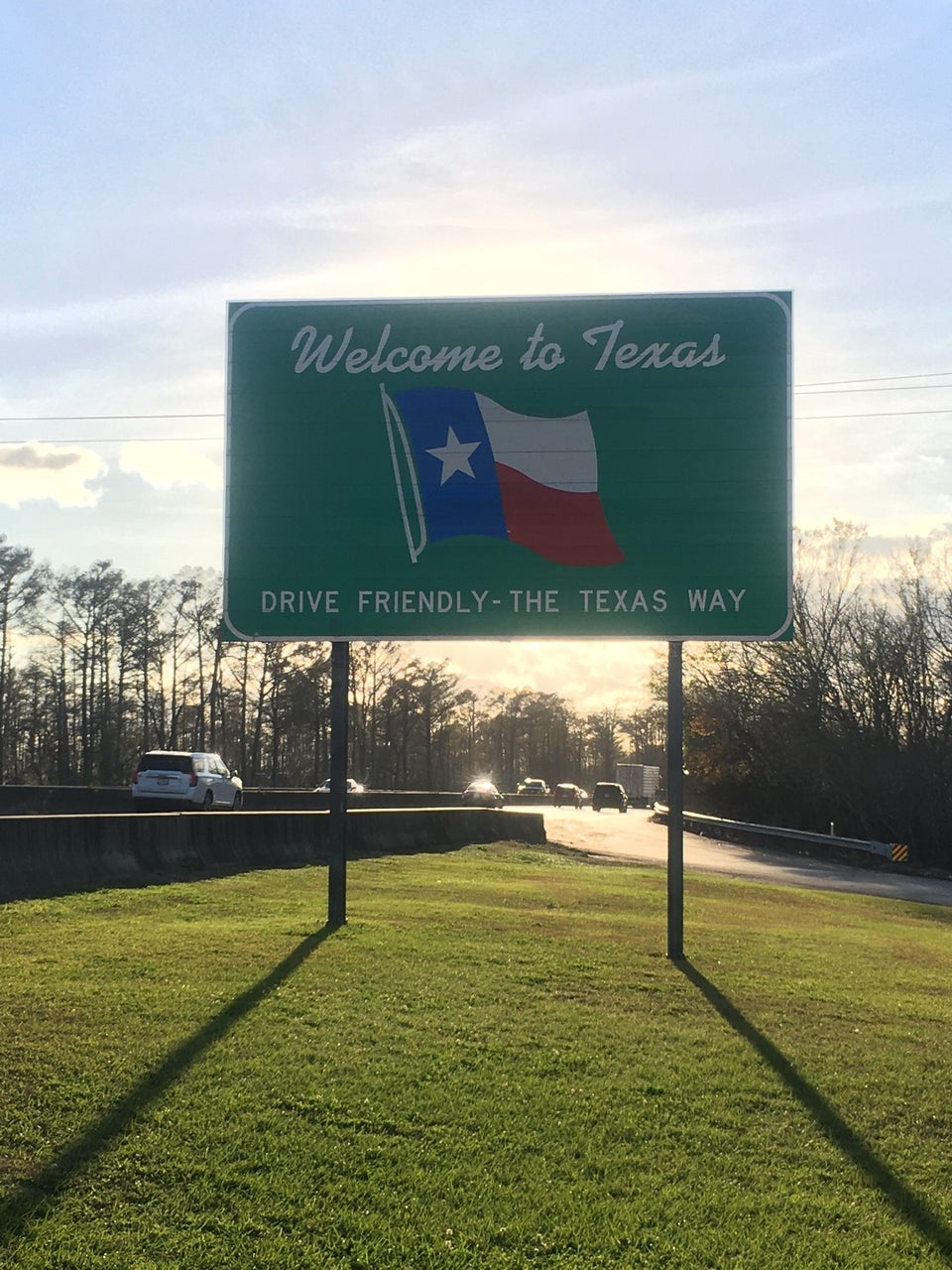 I made a quick trip to Texas this week. Don't worry, I went home to BF with some tasty things.

Hello Again, Dear Readers:
"Texas is calling, and I must go."
It's been a month since my last blog, and a lot has happened. It hasn't escaped anyone's attention that this summer has been incredibly hot and dry, more so than usual, especially in Texas and Louisiana. They weren't kidding in June when they said that the weather in Texas was just "pre-heating." We haven't had rain in at least six or eight weeks, and the grass is now very dry and brown. The plants are watered twice daily.
Although I've spoken to Miss Alice several times, I've not seen her since she was here in July. But that's OK, we hope she comes back, or we hope to have the opportunity to go visit. She and her teenage daughter are now happily living in Kemah, Texas, where they lived before I moved out of Clear Lake. It's a little bohemian place off the beaten path, and really close to the beach. Miss Alice is starting a new job soon but has had a couple of obstacles.  Please send her healing thoughts, she's in pain right now from a broken foot.
The Return Of Tomatoes
A couple of weeks ago, I was telling Miss Alice that my big tomato plant had been decimated by a little green worm, called a Tomato Hornworm. It's virtually invisible unless you're looking for it or it's decimated your plants to the point where it's easily seen. She suggested planting basil in the same place as the tomatoes. So, I dug up two rootlings from the last batch of cut basil and one each near the two tomato plants. Haven't seen a hornworm since, so I hope that did the trick. I knew this tip from the long-ago gardening lectures at the Freeman Library, and totally forgot. Next spring, I'm putting basil with the tomato plants in the same pots for sure, along with an additional basil-only bucket.
I do recall being told that once tomato plants finish their initial tomato harvest, they kind of go dormant and start producing again later in the summer. Well, what do you know? Small flowers have begun to appear in several places on the big plant, and tomatoes are starting to grow again.
Even the yellow teardrop plant is finally getting the beginnings of tiny tomatoes. This plant never produced anything but leaves this summer, some of which were consumed by the hornworms until we removed them.
My peppers and onions are doing fine, as is the sage. After a batch of pesto, the basil "tree" is growing more leaves too. I'm hopeful for one more batch of pesto before chilly weather arrives in late October or early November. I've made only one batch this year. Never mind that I have little square containers of pesto dating back to 2018 in the freezer, with most from 2019 forward. Because I want to make more pesto!
I forgot to take a picture, but Aunt Ruth gave us a clipping from her hummingbird plant when we visited last year. It stayed in the water bottle that we brought it home in, keeping the water topped up while it began to root. Earlier this year I planted it in a pot, and now it's all green leaves. Next question: Where are we going to put it so it can grow bigger? I guess we'll figure that out next spring.
PSL (Pumpkin Spice Latte) Season Returns, Too
One of Starbucks' most beloved and culturally significant offerings is back in its 20th year. Yes, the Pumpkin Spice Latte turns 20 this year, and shows no signs of slowing down.
Of course, there are also pumpkin spice jokes and memes, which are funny too. Devotees can't wait for their fall favorite, even in 100-degree heat. (I still haven't made any more ice cream, despite my intent.)
KC, a copywriting colleague in the Austin, TX area, is an unabashedly devoted fan of this fall favorite and tells everyone on Facebook. No harm in that. She posted the other day that she likes a cold brew version and not the bottled one that's all sugar. So I dropped this on her comment, a DIY version from the blog Gimme Some Oven that's quick and easy without the sugar/chemical syrup Starbucks uses in their version.
I made it this morning, with a tablespoon of real pumpkin, and it really is delicious.
I offered BF a taste and he rudely rejected that suggestion. It actually filled the blender cup and I'd gulped half before I decided to take a picture. Used half-and-half because that's what I had in the fridge. And I added a dropper more of stevia to add a little more sweetness. Perfect for what we call "fall" on the Gulf Coast. 
I've only had the "real" Starbucks PSL once in my life, and that was enough. But this version is tasty so I'll be enjoying this until it gets colder and I find a hot version. I have some organic canned pumpkin in the pantry as well as some in the freezer from the last time I made doggie treats, and the rest of the ingredients I already have. With cold-brew coffee already in the fridge, it was fast. The small smoothie blender handled the job easily. 
Also from Gimme Some Oven, I made this Mango Lentil Salad for dinner tonight since BF is working late. Since it's Friday, I added some shrimp. When I described the salad to BF, he began his retching noises again. Make this salad, it's wonderful, and double the dressing.

Don't like coffee? Here's a recipe for pumpkin spice crème Brule!
The Trip To Orange, Texas
This week I had to go take a ride to take care of some personal business in Texas. The closest place to handle this is Orange, Texas, the first city you come to when you cross the Sabine River.
Of course, I stopped at the Texas Travel Information Center, right past the off-ramp, where I collected some wonderful information about places to visit.
One lady gave me a lovely poster, which I plan to frame soon.
The business? Renewal of my Texas driver's license. Don't ask.
Naturally, I had a bit of anxiety about this trip, and I wished BF would go with me. Unfortunately, he had to work. Everything was by appointment, and, well, he didn't want to go anyway. But everything was fine. The ladies in that office are very nice and very helpful. The DPS system was rather slow, and they had to take a dozen pictures because the system kept tossing them out.
I got a haircut the day before, which was a bit of a mistake. I had hair down to the middle of my back, and asked for it to be cut to mid-shoulderblades. This is what happened:
Last time I had hair this short I worked at Boeing. It'll grow back in a year, I guess. No more Supercuts for me. 
Patience, of course, and they were doing what they could to make it easier. I did ask to use the previous picture, taken in 2011, which wasn't a bad image, but they had to take a new one. I even offered my latest Facebook photo, but they said, no way, they can't. Oh, well. Hopefully, my picture will never be seen by anyone, ever. For the first time, I began to think about getting Botox.
HEB In Orange
It did not escape my attention that HEB has a location in Orange on the same state highway as the DPS office. It's a smaller neighborhood store, and not as big or fancy as the ones in Clear Lake.
But they even had a small selection of sushi! Once I was finished renewing my Texas driver's license, complete with the required god-awful picture, I made my way to HEB. There is a Starbucks a block or two away from HEB, right off I-10, but I didn't stop there.
After the small but stocked produce area, I turn a corner and see this:
Look at all those delicious Hispanic goods! More rows of wonderful things:
Now get this:
Have you ever seen a can of tuna that big? Me either, but HEB in Orange had them. I guess they're for the church ladies making a BIG pile of tuna fish sandwiches for Sunday after church. (No, Aunt Ruth, that wasn't a diss, honest!) Even BF was surprised, and he likes tuna. No, it did not come home with me.
Mostly what I bought was foodstuffs I would buy at Walmart, Rouse's or Winn-Dixie. But because Here, Everything's Better, well, they are. BF enjoyed the Spirals Macaroni & Cheese (it was 88 cents a box when I bought it), and it does taste better than what we get here.
I also bought two beautiful shopping bags at the register:
See this gorgeous detail?
Even though I brought in my own, which included a couple from prior HEB trips, I bought these. BF and I went to Walmart the next night, and I told him we should take those bags in for our shopping to show our Texas pride. He got a look on his face that I don't see too often.
By the time I reached Baton Rouge, about 7 p.m., Trader Joe's was still open. I don't get to Baton Rouge often, so when in Rome. . .I stopped in and picked up a few things. Also got some milk for BF, and some of their TJ's tamales for dinner the next night. The beef tamales were good, but he didn't like the cheese & green chile ones. My fault, because I thought I'd grabbed chicken.
Hatch Chile Season
Anyone in Texas who shops at HEB knows that they are big on Hatch chiles, especially this time of year when they're available fresh from New Mexico. With good reason, because they're wonderful. Rouses not so much, and I haven't been there in a while. Our local Winn-Dixie hasn't had any this year, so I guess they gave it up after last year. I didn't even try this time, although Rouse's has pickled Hatch chiles in a jar.
I was hungry after my DPS appointment, and I did go shopping on an empty stomach. But I wasn't hungry enough to have fish bait, I mean, sushi. What I did find was this:
Yup—Hatch Chile Cheese! It was the only perishable thing I bought, and I enjoyed half the package after filling up the tank for the trip home. I was planning to stop at the Cracker Barrel in Sulfur, Louisiana, which was 30 minutes east, but I really needed something fast. Trust me when I tell you that cheese really hit the spot. I ate about half the package and the rest made it back to the Casa de Rurale. I posted a picture on Facebook, and Boeing brother DK suggested trying the much hotter Carolina Reaper cheese, too. The next trip could be soon, I told myself.
Despite being in a hot vehicle for a little while, the cheese made it home just fine. The rest was enjoyed later in between corn tortillas as part of a quesadilla along with some grated "Taco Blend" cheese we had in the fridge. No, BF wouldn't touch the Hatch Chili cheese, even though it's mild.
I also bought more limes (4 for $1, I bought 16) and a beautiful pineapple:
It was ripe and ready for cutting, and after slicing the whole thing. . .I put it into the dehydrator that night.
Mindy Lu's Pies
I've written about local New Orleans favorite Hubig's Pies many times, and they are now available again, somewhere. I've not seen them myself, but I don't go looking for them, either. BF says he's seen them and had one, and The E Man has had several, which taste exactly as they are remembered. That's good.
Well, I wasn't thinking about Hubig's while in HEB, until I came across this:
Mindy Lu's pies are made in Arlington, TX, up near Dallas. In 18 years of living in Houston, I never noticed these. Maybe they're local to Arlington, and are just branching out to the rest of Texas. Had I any idea, I would have bought a few more for him.
There were several flavors, and I swear I saw a strawberry cheesecake version. But just to be safe, I bought an apple hand pie. (BF has since asked me to get strawberry things instead of apple, and I almost got strawberry. Wish I'd called him first.) They were on an end cap by the frozen section, and I couldn't believe my eyes. I put it in the console of the truck to keep it from getting damaged on the trip home.
BF enjoyed his little dessert just the same, and he gave me the last little bite.
Yup—good stuff, real Texas. Next time, I'll get strawberry and chocolate pies if they have them.
A Little Conversation
While I was looking at absolutely everything HEB, a young woman shopping in the same aisle asked me if I could help her find lemon zest. No kidding, she didn't know what it was. This young African-American lady was about 25 or so and said she was trying to cook healthier for herself. Nothing wrong with that, but she didn't know what lemon zest was.
She said she was getting these recipes from the Tasty app. Tasty has an app? Yup, and one thing she was interested in making was this maple-soy glazed salmon recipe. She got the maple syrup, the soy sauce, and the salmon, but just didn't know what lemon zest was. I was happy to help and explain it to her. She said, "you mean all I have to do is get a lemon?" Yup. We were standing by the small section of kitchen tools, but this HEB didn't have a fine grater. So I pulled up Walmart's app and showed her the fine side of a box grater that she needed to use.
Once I got a look at the recipe, I explained that the maple syrup provided the sweetness, the soy sauce provided the saltiness (and maybe a little "umami" ), and the lemon zest added some freshness. Then it made sense to her.
I'm sure she didn't think it was a big deal, but it was a big deal to me. I was glad she asked me and happy to help. And the reason it's such a big deal is because that kind of casual discourse doesn't really happen here. It's the "culture shock" that I will probably never "get over." She wasn't rude, pushy, or anything, just genuinely curious. I guess I was in the right place at the right time to help. That made my day.

Wish I'd got her name, you know?
When Are You Going Back?
Don't tempt me!
From here to the Orange HEB is about 3 hours and 45 minutes. That's a long way to go for grocery shopping! But as a day trip, well, it's doable, right? BF doesn't mind, and he knows I'm not doing anything bad or illegal, even if he thinks it's a bit bonkers. I'd need to fill the tank once in each direction, which is probably the most expensive part, other than the actual shopping. And we must account for Broccoli Stirfry, the anxiety-ridden "guard" dog.
But it wouldn't be a bad thing to occasionally buzz out there for a day trip and do a big stock-up on pantry staples, just to go out for a while. It would be much the same as heading north to Aldi's in McComb, MS, although a bit farther west. Port Arthur's HEB is a bit past Orange, and Beaumont has an HEB Plus with a wider range of products and services that's just a little farther down I-10 than Orange. If I can do a "big grocery trip," a drive to Texas isn't such a bad idea for a day out. Hopefully, the weather will be cooler when I make that trip.
As soon as we can get the pantry in a better state than it's in now. Four plank shelves only hold so much, and the wasted space is, well, wasted.

Anyway. . .until next time, Enjoy!