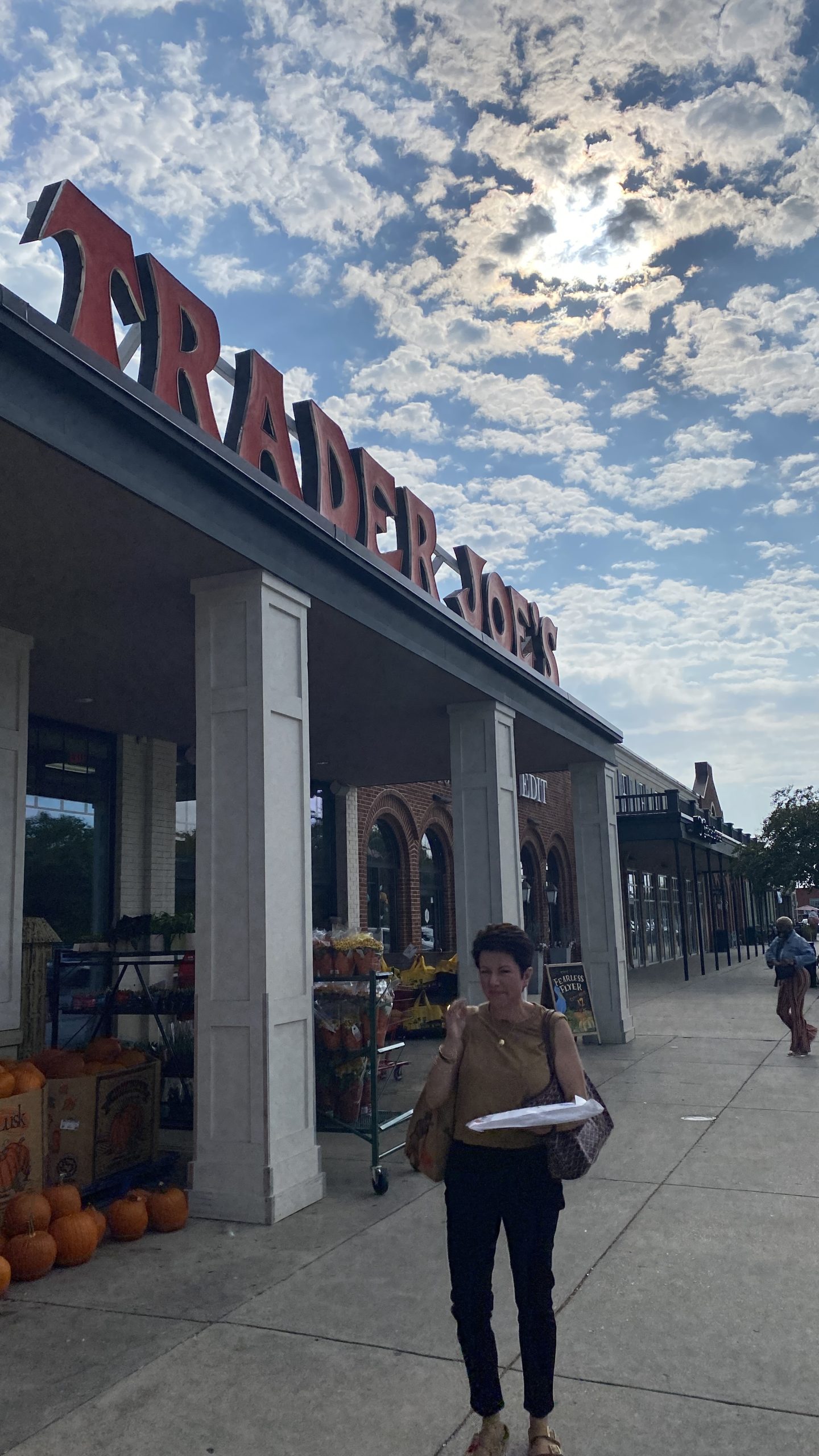 Last week, I made it a Trader Joe's Friday. Take a ride with me.
Hello again, Dear readers:
I know, it's been a minute, but I do have an adventure to tell you about, plus a couple of other news items that have surprised the heck out of me.
Saturday was a Tractor Supply visit for pet supplies. It was also an adoption day, and I almost brought home a new kitty:
There's nothing wrong with the old ones. But I knew what kind of trouble I'd face if I did. Make no mistake—this Catmandu kitty was $22 to adopt. But I just knew it would be bad for that beautiful little furball if I did. The poor thing wouldn't stand a chance around Tab E. Cat and Tiger Cat. I hate leaving this one behind but I did.
Let's get started.
Two News Items
These two news items come from Fast Company, a tech magazine that I follow on LinkedIn.
For a few years now, you've probably seen those commercials for company called Daily Harvest. This company aims its advertising at millennials who want to eat better and easier. From what I've seen, it's frozen vegetarian food as different forms of meals that make it convenient and easy to eat healthier. At least, that's how they're advertising their products. They're not cheap, either—each meal runs between $6 and $10, for one. They also have some coffee pods that come in two to a package.
The Daily Harvest Debacle
Back in June, the magazine reported on a story about Daily Harvest's lentil and leek crumbles that made quite a few people very sick. Although these people were young and healthy, nearly 400 of them became ill from this meat-substitute blend. The problem was an ingredient called "tara flour" added as a plant-based protein. Tara flour is rarely used in the US and was not tested for safety before this product was rolled out.
The FDA has not yet evaluated tara flour to be "generally recognized as safe," or GRAS, but it's not used much here, either. It only became available in the last year or so. Most of the people sickened by this product developed gallbladder and liver problems. Of those, 133 went to the hospital for surgical procedures, with 25 of those being gallbladder removal. The company promises to do better, but lawsuits could bankrupt the company. They're working with the FDA, and the crumbles have been recalled. We'll see how this plays out. Their products are available in some grocery stores, but not in my area.
If you see a food product with "tara flour" in its ingredient list, drop it. There is also something called "tara gum" that's used as a thickener, but apparently it's not the same thing.
Beyond Impossible Meat
The second article is about the imminent demise of the plant-based meat industry–again. These reports have happened a few times, claiming that this fake meat is on its way out, but they're still around and haven't gone yet.
Honestly, who's buying this stuff? I see it in the grocery stores all the time, but I don't see anybody buying any. That may be different in a place like Houston, Dallas, New York, or anywhere in California. But the truth is, much of America is not eating plant-based meat. If they do, it's once and they realize why real meat is better. There's plenty of it available, but nobody's buying it up like ground beef.
Because I even found some in Dirt Cheap this weekend:
The ingredient list:
That's intended to replace meat. Seriously? No. That's a lot of processing to make it look and taste something like meat. I'm sure Spam tastes better.
It's like that picture that emerged during Hurricane Harvey of an HEB refrigerated case, that was emptied of everything but the soy-based vegetarian food products. No self-respecting Texan is going to eat tofu or fake meat, even in an emergency. Looks like there was more anticipation than actual demand for alt-meat, and the industry isn't as strong as the cattle industry.
Do you know why it's called "Impossible?" Because it's impossible to get normal people to eat that stuff. Bonus: alt-meat is not healthier than meat. The article goes on about "planet friendly," "saving the planet," and "climate change," showing its intentional bias. Even though there are some folks who buy the stuff, alt-meat isn't universally wanted. I don't know anyone who wants it, either.
Aldi, Aldi, Everywhere!
I only just discovered that Germany-based grocer Aldi has bought one of the south's stalwart stores, Winn-Dixie. No kidding—they just remodeled ours in the last year, and now they may change it over to Aldi.
Honest—somehow, I did not get this news, our friend MY told us in a phone conversation last week. How did BF know about this but not say anything to me? I thought she was kidding when she told us, but she wasn't.
The modern world comes to rural Louisiana, whether they want it or not. No word on how many stores will stay branded as Winn-Dixie and how many will change to Aldi. But Aldi's stores are much smaller than the average Winn-Dixie, so they'll make those decisions once the merger is complete.
We got a letter just today from our local Winn-Dixie informing us that our local Winn-Dixie pharmacy closed last week. I hadn't heard about that part either. Aldi doesn't do pharmacy, and its core competency is grocery, so the pharmacy component wasn't part of the deal. Now, Winn-Dixie is transferring everything to CVS and Walgreens and closing their pharmacies ahead of the merger. Here, the transfers are to the local Walgreens. The Hammond Winn-Dixie has a CVS nearby.
I did notice some conversation in the pharmacy area when I was shopping there last week but didn't think too much of it. So, in the store that was only renovated a few months ago, there will be an empty space where the pharmacy was. Wonder what they'll do with it once it's all cleared out.
Bankruptcy Relief
Southeastern Grocers is thankful since they've been limping along for many years now and remarkably close to bankruptcy. I haven't seen too much on the topic, although it was just a quick search that yielded articles that said much the same thing.
This may also impact Rouses, Louisiana's "premier" grocery chain. It's the closest thing you'll find to HEB this side of the Sabine. If Aldi does move into Hammond, there will be some VERY serious competition.
Of course, in a text message later, MY responded, "How about you work on getting us an HEB?" Well, I'll see what I can do, but they tried it once in Lake Charles. The gent in the Texas Welcome Center in Orange said, "There was some kind of Louisiana regulation and they had to close." There's always some kind of Louisiana regulation to bungle up anything. That's why there's no Buc-ee's here, and there likely won't be, even though it was announced a few years ago.
Maybe Trader Joe's will make the trip up this way next. New Orleans has one, and so does Memphis, TN, which also has an IKEA. Hammond would be a great place for Trader Joe's, especially with Southeastern Louisiana University around. I sent them an email suggesting Hammond, and the autoresponder message I got back said:
Thank you for your interest in a Trader Joe's store – it matters to us. We've received your request and will share it with our real estate team for consideration.
 If you have other comments or questions you'd like addressed, please submit them through our general feedback form at: https://www.traderjoes.com/home/contact-us
Thank you.
But folks in Mandeville and Covington have been wanting and praying for a Trader Joe's there for years. Not happening, and I know that from the company directly.
My Trader Joe's Friday
Last week, I decided I wanted to go to Trader Joe's in Baton Rouge. See, They've got new fall and pumpkin stuff all over the place, and I was out to get some to bring back.
I found out that they have a new pumpkin body butter that I wanted to try. BF, on the other hand, did not want me to go anywhere near anything that smelled like pumpkin or pumpkin spice, But he was not going to stop me.
Unfortunately, I didn't get any pumpkin body butter, because they sold it all on the first day. Like the Brazil Nut Body Butter that BF really likes, there's plenty of it available on eBay and Amazon—for a premium price. That's what happens when you put a Trader Joe's near LSU. Fortunately, I did score some of the pumpkin body scrub.
It smells nice and warm, and I must hide it, so BF doesn't throw it away.
I put the pumpkin spice gluten-free bagels into the freezer right away, too.
I had one already, toasted with butter, and it was pretty darn good. The canned pumpkin will go into the pantry for Iced Pumpkin Spiced Lattes and homemade dog treats.
Non-pumpkin purchases included two packages of Texas Tamales:
Because they are less than Rouse's. And one of these little totes, with a full-sized nylon grocery bag inside.
Keep it in your bag, car, or pocket, and you'll have a reusable shopping bag handy. The small tote is good for keeping small items corralled like loose change.
The Store Visit

I saw lots of pumpkins:
And these new bags for fall:
This nice lady was sampling:
Plus a wide range of new and familiar delicious things:
And this:
The samosas next to them are probably pretty good, but you know what would happen if I brought a box home? "She's tryin' ta kill me!" Same with this one:
Delicata Squash:
I bought a small one and will put it in the air fryer. I saw DaniMade Kitchen do that the other day on Instagram, and it's really simple. Slice off the ends, then in half lengthwise, don't peel, remove the seeds, slice into half-rounds, toss with olive oil, salt, and pepper (or whatever seasoning you like), and air fry at 400F for 10 minutes, or 20 minutes in the oven. Dani also adds a fresh herb like thyme into the mix. Yeah, that's for me when BF is not home.
BF won't eat anything remotely related to pumpkin, like this:
Or this:
I did pick up a box of this tea last time I was there but haven't opened it yet:
I hope it's as good as HEB's English Breakfast Tea.
The Frozen Foods
In addition to our favorite Texas Tamales, Trader Joe's has some other interesting frozen foods in their cases:
Don't forget the scones and cheesecake:
At least Trader Joe's appreciates Hatch chiles:
Gluten-free pie shells? I almost bought some.
One day I'll try this, too, if it's gluten-free.
Still, BF doesn't mind that I go, and says the same thing: "It's just a grocery store."
Trader Joe's List
If you're not familiar with Instagram, there are several bloggers and brands that hang out there. The main reason I got on Instagram was to follow. Jen Fisher of Keto in the City, Mimi G, and a couple of others I like. I also follow multiple brands on Instagram, and as you know, I've won twice this year from Instagram giveaways.
Another blogger that I discovered is a lady named Natasha Fisher who has a blog and an Instagram channel called Trader Joe's List. She lives in California and has a Trader Joe's nearby. So once a week, and sometimes more, she goes to Trader Joe's, does some grocery shopping, and then does a video about what she bought. She does the videos in her own kitchen.
Natasha and her partner Simon recently went to Phoenix for a few weeks for his job, so she just took her Trader Joe's trip there. They stayed in an Airbnb, she was still cooking like she was at home.
I try to catch Natasha's videos whenever she posts a new one. Sometimes she even does them live, but I don't always catch those. But she talks about a lot of different TJ's things in the videos that I'm interested in trying. Natasha is not affiliated with Trader Joe's, she's simply a happy shopper with a blog.
It was Natasha's video that showed me the Pumpkin Body Butter that I wanted to try. Oh, well. At least I got the Brazil Nut Body Butter before it sold out.
Making My Own Video
On the way back from Baton Rouge, I got the idea to make my own video, just like Natasha's. I'm not trying to compete or "steal her thunder," of course. It was just for fun. I did mine in one take and uploaded it to Instagram. But for those of you not on Instagram, I uploaded it to YouTube so you can see it there.
If you watch it, please do not expect my video to be as good as Natasha's. I'm not a professional and the intent was just to have a little fun on my own. BF is not in the video but does get a few mentions. (If you listen close you can hear the TV blaring in the other room because he couldn't help himself.) But if you like Trader Joe's, I highly suggest checking out her website. If you're on Instagram, follow Natasha so you can see her videos in your feed when she posts them.
Next Up: Aldi
The littlest grocery store has done very well in recent months because of their well-priced basic offerings. So, it's no wonder that they keep expanding, especially in the South.
I'm planning to visit the Aldi in McComb, Mississippi this week to do a little stocking up (and to get out of the house for a while.) BF doesn't mind, since I'm not doing anything wrong, and he likes many of the new things I bring home. Unless, of course, they're pumpkin-spiced. I try to bring back nice things that he wouldn't ordinarily buy or something that wouldn't ordinarily cross his path. He's still a fan of Jammie Dodgers.
I've got one recipe to try out for an upcoming blog post, and hopefully, it will be worth the wait. Until then. . . .
Happy Dining!