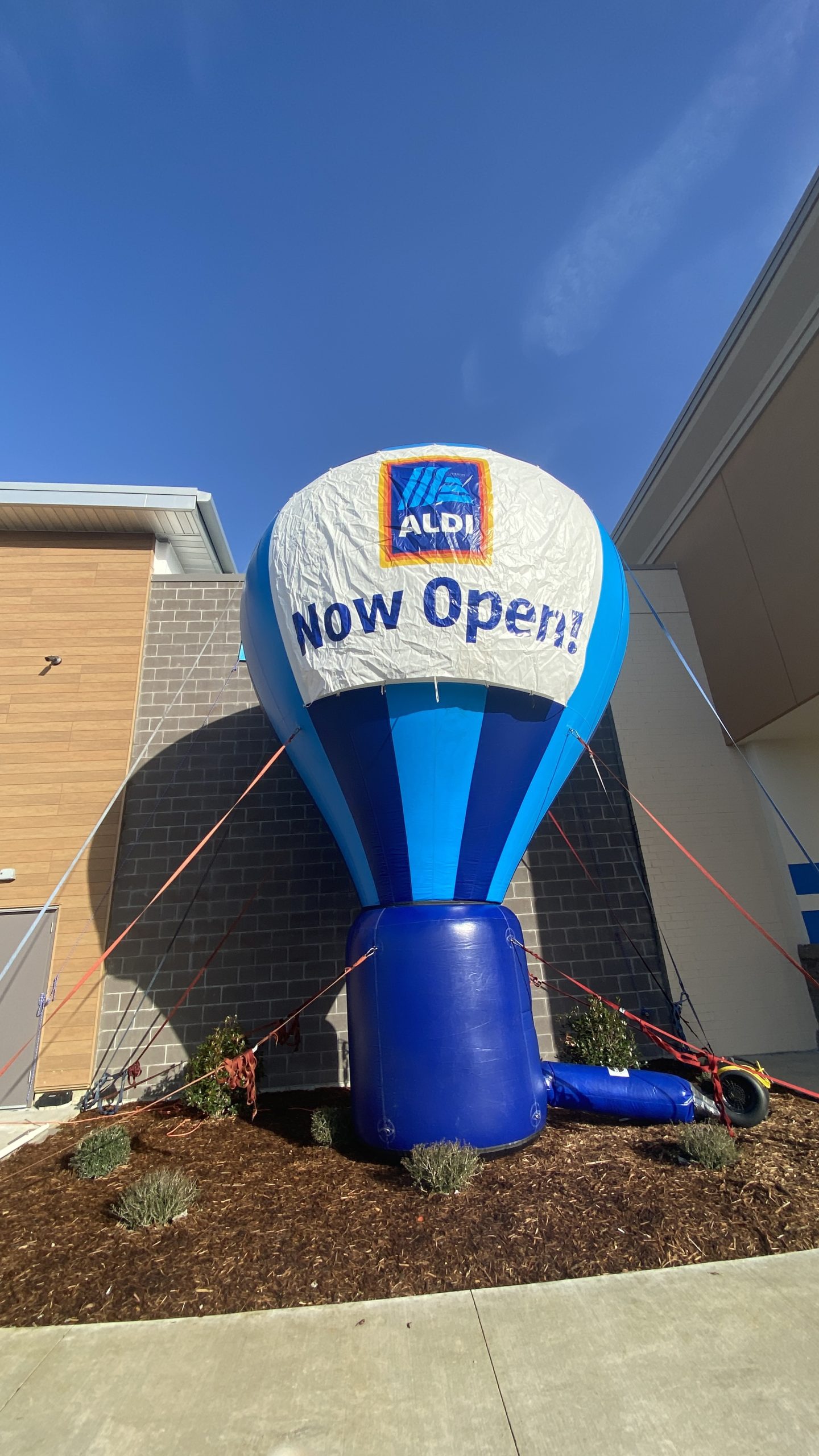 The New Aldi Store In Mississippi
Aldi—it's the newest little grocery store around. Do you have one nearby? (TL:DR version: Aldi's is a great place to grocery shop with great prices.)
Hello, again, Dear Readers:
We're halfway through the first month of 2023. BF corrected me on my earlier statement that he has no resolutions, he does. He's already got one of them checked off, although the process isn't complete yet. Long story there. Two others are a little farther off, but reachable.
I didn't make any "resolutions," but I would like to start getting up early in the morning again. I've been able to do that with BF's work schedule since he returned to work after vacation, but he'll be back on his usual day/night alternate rotation soon.  When he goes back to sleep, so do I. So. . .we'll see how it goes.
The "New" Aldi In Our Area
Sort of.
A few days ago, we received a card in the mail letting us know that there is a new Aldi store that's actually less than an hour from us—just north in Mississippi. No kidding. Because we're so close to the state border, it's closer than Baton Rouge or New Orleans. The announcement included a $5 coupon off a $30 purchase, which I happily accepted. So, I made my plans and drove north.
I know this sounds a bit odd, going to another state to grocery shop, but people in the smaller northeastern states do cross-border trips all the time. Remember that in Houston you can drive 100 miles in a day and never leave the city. You can drive for days and never leave the state. So going to Mississippi to visit the newest and closest Aldi store isn't a big deal. Even if BF thinks it's a bit bonkers. (Bonus: the sales tax is also 3% less than in Louisiana.)
HEB is a long drive from here, but I'd happily go as far as Beaumont to get to one. (I'm not sure about the ones in Vidor and Orange, I've never been.) But because the Mississippi border is just 30 minutes away, McComb isn't the hour-drive to get to the Slidell Aldi location. Might as well go to Baton Rouge if I'm going to drive that far, because Whole Foods, Fresh Market, Joann's, Bed, Bath and Beyond, and Cost Plus World Market are also there, too. (Just not all in the same place.)
Admittedly, I wasn't impressed with Aldi when I went to the one in Friendswood in 2014. It was on the way home from LK's place, but I didn't find it to be a better option. Reminded me of a convenience store, really. Lots of boxed mixes, junk food, and a little fresh food.
A well-known male celebrity from the UK is a big fan of Aldi, too. He lives in Palm Springs with his partner and has many times touted Aldi's food and its greatness. He even did a video in his local Aldi, and it wasn't a paid promotion–he was just a fan. That Aldi was nothing like the one I visited. After my original experience in Friendswood, I just never went back. I'm not naming him here because I later found him to be quite foul. Therefore, I don't want his name in the blog or ranking for his name, either.
However, our friend Beverly loves Aldi and told me that they've upped their offerings in the fresh food area. Beverly and her husband drive to an Aldi about once a month or so to stock up on staples. Aunt Ruth loves her local Aldi as well. So, I decided to revisit Aldi's and see what I might be missing. Beverly was right!
The Trip to McComb
It was a lovely day for a drive. It was cool, and sunny, with no traffic. Until I got there.
I drove myself because BF was working. I guess he was glad because he didn't want to go anyway. He'd rather watch shows about Bigfoot and that weird guy who lived among the bears and became bear food. (I really need to repossess my little Roku.)
Two things to know about going to Aldi: bring a quarter to unlock your cart and bring your own shopping bags. These are two of the ways Aldi keeps costs down and passes along the savings. (New Orleans readers may remember The Real Superstore from back in the late 80's introducing the "quarter for the basket" trend from Europe.) Stores are accepting reusable shopping bags again, so wash them and take them with you when you shop, especially at Aldi.
But because I wanted to make the grand opening (and I did!) they were not requiring shoppers to use a quarter to unlock the carts. I made it in time to see the grand opening but not to get a picture. The local newspaper, the McComb Enterprise Journal, was also on hand to record the opening. You can read the nice article here, and the picture of the ribbon cutting is available here.
And when people returned the baskets, they offered them to other shoppers rather than fuss about the quarter. Remember, I was in Mississippi. Everyone was nice and as crowded as the place was, they were all happy to be there.
The first 100 shoppers—designated by numbered cards—received a "swag bag." That is, an Aldi shopping bag that contained some bagel chips and a quarter holder. They gave me a shopping bag on the way in, but it only had a cute little quarter holder (no complaints from me):
I was going to buy a bag anyway, but it was nice to be gifted one.
On the way out, someone gave me two more, and those will be gifted to others.
And if you lose that quarter holder, you can actually buy them on Amazon, no kidding.
While waiting for the opening, I spoke with a lady who said that not much happens in McComb. Nice place to go if you don't want to be found, am I right? She laughed. We saw the Mayor and a few of his people go in and walk out with a swag bag, but I don't think he did any shopping.
As it turns out, our friend MY went to college in McComb, no kidding. She's going to rustle up her gang and pay them a visit.
Once we got inside, it was a madhouse.
Again, everyone was polite and nice, and no one caused any problems.
Another customer asked me a question about something. Suddenly she began telling me about something she makes in the air fryer, "while you make your chicken and biscuits."  I held back my "keto-mostly" self as I listened to her description. She was also nice, so I just smiled and agreed, then thanked her because I couldn't follow everything. I still don't know what she was telling me to make, honestly. I guess I looked like I needed to know.
It probably won't be crowded like that every day.
Shopping Haul
There's a deli area right when you walk into the place, on the left:
I saw the words "cauliflower pizza" and it was all over:
Lunch! No wheat in the crust or anything, so that was first since BF was working late the next day. Then tortillas, including some marked "keto" for our next Taco Tuesday adventure:
Plus a nice selection of cookies and pastries. Lots of snacks on the right side:
And more snacks!
Against the back wall are bacon and other meats:
I'm going to go ahead and admit that we needed a bag of onions:
Right next to them were little roasty potatoes, aka, Triston's potatoes:
And salsa!
I forgot the tortilla chips, but these didn't last long:
This quinoa meal will absolutely horrify BF if he ever finds it because he wants to know what it's doing in his house:
Aunt Ruth and Aunt Kathy are laughing as they read this because they've met BF and they know I'm right. But it was so weird I was compelled to get one. I haven't tried it just yet.
I'm not going to disclose how much I spent. . .let's just say I got some things we needed, as well as some extra things, plus something for dinner. This definitely won't be my last trip to McComb, that's for sure—especially with a Starbucks, Hobby Lobby and Walmart in the same spot. It's an enclosed mall called Uptown McComb, but I didn't realize that until I was leaving. Next time.
How Was The Pizza?
Regular readers know I'm a fan of Caulipower pizzas, and get them occasionally. So far, nothing beats Caulipower, and I've tried a couple of them that Walmart has available. (I may try the new Walmart brand one day soon.) So this caught my eye, although they only had Veggie available. That's OK, too.
The Aldi's pizza isn't frozen—remember, it came from the deli section as you walk in the front door.  (There's only one way in and out, and that's a thing with Aldi, too.) The crust is rather "floppy," because it's a "grab and go" thing. So you want to be extra careful sliding it onto the oven rack.
At $7.99, it rivals Caulipower and is also larger.
All you do is preheat the oven to 400 degrees and put it directly on the oven rack. I had to use the big oven because it's too big for the countertop oven, but it was chilly so that was fine. In about 16 minutes, you have pizza:
I think I should have left it in the oven a bit longer because the crust wasn't as crispy as I anticipated.
The toppings were all cooked, of course, and it was quite tasty. Just don't want to burn the pizza.
No complaints here, it tastes pretty good, and it's big enough to have a leftover half for the next day.
I like to have both the regular and cauliflower pizzas in the freezer for us, but of course, we tend to go through them quickly. These pizzas from Aldi can be frozen, apparently, because it has directions for cooking from frozen. So, my next Aldi trip may involve getting more of these for the freezer, plus a couple of the non-cauliflower ones for BF.
Sweets For Your Sweet
I did manage to get a few things for BF. He loves chocolate as I do, so:
These were just too cute to pass up:
These cookies from Germany look just like the Krakus cookies from Poland that I used to buy at Phoenicia Foods in Houston in several flavors:
I hope they taste as good, too. If so, BF will love them. And for myself, chocolate and raspberry are together again:
I didn't eat it all at once, honest. And it was only one. I passed on the chocolate truffles, because, well, I can get into trouble with those.
Aldi has an aisle full of sweet treats and other non-food gifts like candles and pajamas for Valentine's Day.
So there's something for nearly everyone, including yourself.
Non-Food Items
Unlike Trader Joe's, Aldi's has an entire center aisle of non-food items:
There you'll find all manner of things, like these cute things for your kitchen or coffee bar:
Coffee pots and cups are also available, as well as their own espresso maker:
Aldi Finds are lots of different things, including rugs and small pieces of furniture. Presumably, you must assemble them just like anything from IKEA. But maybe it was because I was in a hurry that I didn't see any of those, or maybe the store didn't have them. I wanted to look at a storage ottoman from the app, but that may be coming next week. Gives me an excuse to go back, doesn't it?
Well, this was just what I wanted:
And magically, it made its way into the cart. Guess what? It takes a range of vacuum seal bags. Those vacuum freezer bags and replacement gaskets are easily available on Amazon. I'll check our local Walmart for availability too. I sealed up the pork chops and the ground turkey I bought at Aldi, and they're already in the big freezer. More vacuum seal freezing and a blog post on this one soon.
We've been talking about getting a vacuum food sealer for some time, but they are kind of pricey, so we waited. After reading this article by Jill Nystul on One Good Thing By Jillee, I told BF that we should consider getting one to start making our food last a bit longer.
You can find a huge selection of them on Amazon. In fact, Dash has a brand new model of its own. When I brought up the subject, BF just nodded his head "OK" and that was the end of the discussion, although we have talked about it since. Even though this was a rushed trip during a busy time, I saw it and was glad to see it was $30.
Not Just A. . . .
BF's favorite comment about Trader Joe's is, "it's just a grocery store." He just doesn't get excited about that sort of thing. Between TJ's and Whole Foods, there were too many guys wearing man buns and skinny jeans for his military buzz-cut comfort level. He never lets me forget about "ManBun/SkinnyJeans." In this store, there were none of those, as MY tells me that it's mostly country folks. Everyone was happy about the new Aldi, that's for sure.
In all seriousness, Trader Joe's is the grocery store, while Aldi's is groceries and more. Both stores focus primarily on their own private brands with some national brands alongside. Aldi also carries a selection of limited-time goods from small stuff to all manner of things. Most of it is seasonal, and they don't last long before they're replaced with something new.
They Didn't Forget The Furbabies
Aldi also carries pet food and supplies:
Some apparel, kitchen items, and even fitness things:
All in that aisle for Aldi Finds.
Great Stuff In Store
Like Trader Joe's, Aldi also has devout fans. This article from The Kitchn talks about a bag of frozen vegetables that the author says to get at least one more since they're "ready to roast." They have carrot and sweet potato and a Mediterranean blend with yellow and red bell peppers, zucchini, red onion, and cherry tomatoes. Before you ask, no, BF won't eat this because of the zucchini.
Because Aldi was so busy, I didn't really get a good look at the freezer section. But what I did recognize immediately was the Texas Tamales!
And they were $2.50 less than Rouses. The bad news is that they only had pork tamales, no beef.
What Aldi's isn't is a salvage or overstock place like Dirt Cheap (the top retailer of major brand returns, they say) or Ollie's Bargain Center ("Good stuff cheap—up to 70% off the fancy stores!") Aldi sells fresh and first-quality product for less than other grocery stores.
These tea bags are a good example of what that means. Chances are the two different brands are from the same producer with different labeling.
Aldi's was $2.19, and Winn-Dixie's is about $2.69. Sometimes Winn-Dixie puts them on sale, two for $4, or buy two and get one free. Next trip to Aldi's I might buy a couple of extra boxes.
An Aldi Fan Story From Down Under
Although Aldi is growing in the US, this Germany-based company is not just in the States. This blog by Australian copywriter Pauline Longdon describes her and her partner Rae's adventure getting themselves a couple of Stand-Up Paddleboards, or SUP. If you're not familiar with them (and I'm not either), you can get an idea of what they look like from what's available on Amazon. (There's a bit of language and self-deprecating humor involved, too.) Note: I'm friends with Pauline and Rae on Facebook but have not yet met them in person like other copywriters I know who have.
Admittedly, I know little to nothing about stand-up paddleboarding, and Pauline's blog is also written primarily for writers. But the story is interesting enough that I wanted to link to it here, because it involves Aldi, and researching a purchase. If you have a few minutes, click over to Pauline's website, and read the story in her words. Pauline kindly gave me permission to link to her blog, so she knows why you're there.
Why Shop At Aldi?
It's a little like going to Trader Joe's, Whole Foods, or even the Rouses in Hammond—they have what you want or need. They're not as big as a Rouses, Winn-Dixie, or HEB, but they're a good basic grocery store with, well, basics. Eggs are the notable exception since they're currently as expensive as controlled substances. (Yes, that's sarcasm.) But Aldi's prices are good on their store brands, with their store brand offerings being considerably less expensive. So far we've noticed no difference in quality, either.
For example, this jar of Aldi's store brand Tomato & Basil Pasta Sauce was $1.95.
By comparison, the one we usually buy, Classico Tomato & Basil, runs $3.79, and sometimes $3.00 on sale at Winn-Dixie.
Used it for dinner and BF gave a thumbs-up. Unlike Winn-Dixie, Aldi doesn't have a rewards program. Their prices are what they offer, no reward points are needed. So there's that.
I'd like to go back to Aldi occasionally and stock up on canned and jarred foods, frozen things, and other foods to stash and keep on hand. We're planning a pantry reboot soon to utilize the wasted space (thank you, Pinterest!) Once we have that completed and the pantry cleared and sorted, it'll be easier to keep track of what we have and need. Stocking up on basics at Aldi will help keep our pantry full for less.
In a quick chat with Rafael, he says has an Aldi store about two miles away from his home with Carmen. He said they have some nice European products, which he prefers because they "tend to make cleaner stuff." Agreed—and he has access to more of that kind of thing than we do.
I mentioned to the very harried manager in a red shirt that this new Aldi is an option if we need to travel north again for a supply run. During the two weeks our area was running on generators, we traveled north first to Brookshire and then McComb, Mississippi, to get food, fuel, and other supplies. That Aldi is close but probably would have been filled with people like us getting food and things. It's an option, and it's literally right off the freeway. You can see it before you get to the exit because it's on the furthest corner of the mall. (That's one of Aldi's trademarks when they look for real estate.) Even if there was a closer store, it's good to know Aldi's is in McComb if we need it one day.
Besides, it's nice to get away occasionally and do something different, isn't it?
Third Fastest Growing Grocery In the US
That's right, they are. And much as I like HEB and Trader Joe's, Aldi is a nice place to shop, too.
I did write the company to tell them about the fun grand opening and request a store in Hammond. Someone wrote back and said they were always looking for new sites that fit their criteria. Hopefully, Hammond will fit, and they will build one. Southeastern Louisiana University is there, so there's bound to be enough interest. I think that's why Trader Joe's is so close to LSU.
You can find more on Aldi's website, and they even have an app you can download. Look for a store near you at their Store Finder, and sign up for their emails too.
More To Come
In addition to the overdue posts on Rafael & Carmen's wedding and the rest of our Houston trip, I've got a few more topics waiting. The vacuum food sealer is going to get its own post, because now I want to seal up everything. I just need more of the bags.
I still have no idea what we're doing for Valentine's Day, but hopefully, we'll find something on the Roku we can both enjoy.
Of course, I hope to have more tasty recipes to cook up in the New Year. Because feeding BF can be, shall we say, challenging, and requires more effort.
Happy Shopping!