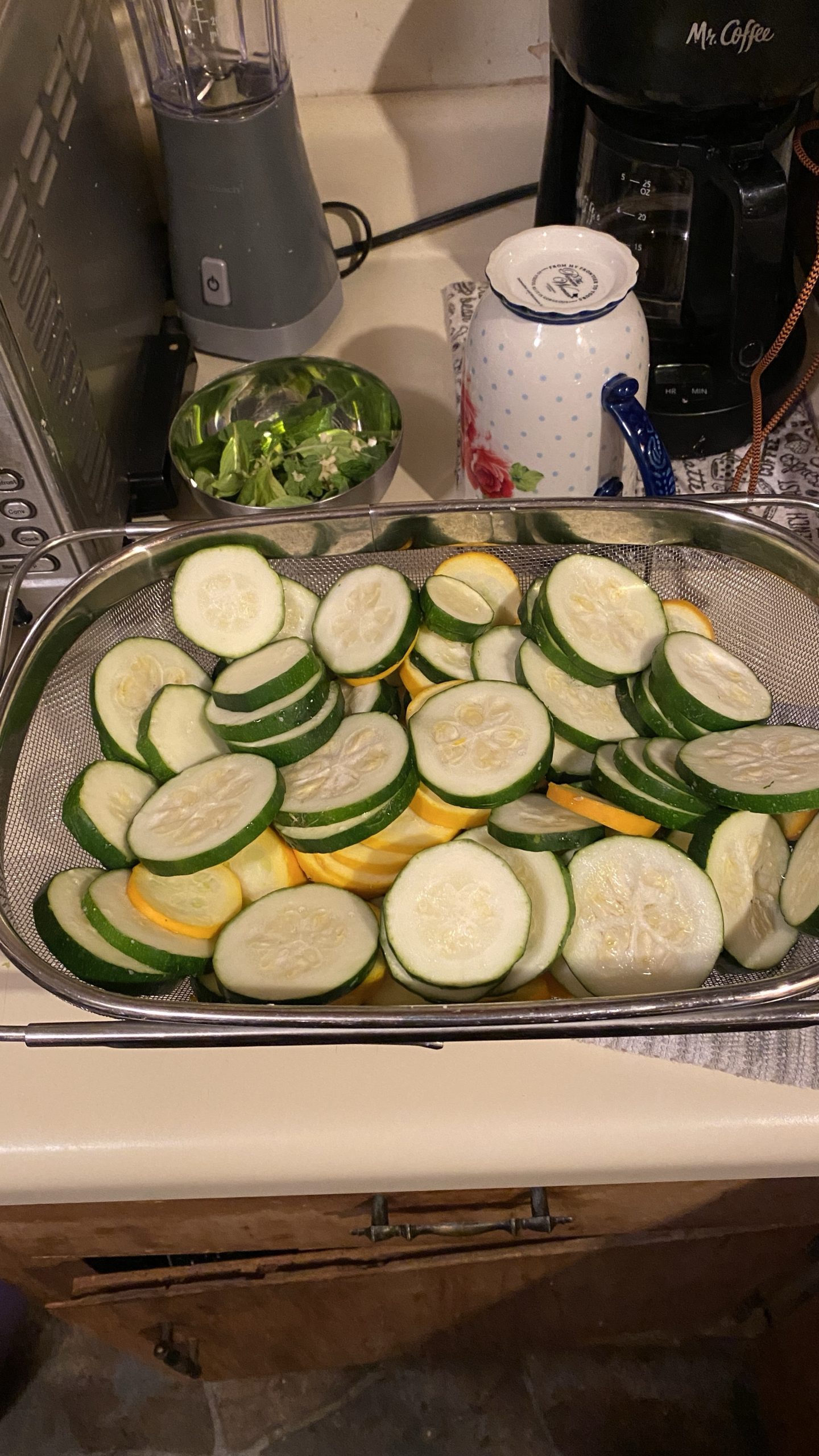 Zucchini and Suzanne Somers
Zucchini is one of those plants that overloads gardens. I was gifted some recently, and didn't make zucchini bread. Plus a tribute to the late Suzanne Somers, RIP.
Hello again, Dear Readers:
It's been a month, and I apologize. I've got several things to tell you, but I'll have to limit that in this blog.
Finally, fall has arrived, and the temperatures have gone below 100 degrees every day. So far, our highs have been in the mid-80s, but we've had some chillier weather than that. It doesn't last too long, but it's enough to make us turn the heater at night sometimes.
Following last month's trip to Trader Joe's, one of my copywriting clients' project managers BN told me that she was able to get some of Trader Joe's coveted pumpkin spice body butter. She lives in coastal Florida, and apparently near a Trader Joe's that's not near LSU or other place with college students. I am so jealous! Well, OK, just a little jealous. I am enjoying the body scrub, though.
Much has happened since my last post.
Come and Knock On Our Door. . . .
By now, you've heard the sad news that Suzanne Somers has passed away from an aggressive form of breast cancer. She was an actress, author, gourmet cook, health advocate, entrepreneur, and businesswoman. I was a huge fan, and I still am, but did not know the lady personally. Long-time readers know that I have and love all her cookbooks, along with several of her other books. I know there are a few of her books that I don't have, but I should probably get and read. We don't have Half Price Books here, so I can't get them cheap anymore.
She passed one day before her 77th birthday, holding her husband's hand. Her family was at the house to celebrate her birthday with her. They had a beautiful heart-shaped purple cake made for her with lots of white piping.
Her husband and business partner of more than 50 years, Alan Hamel, and her son, Bruce, along with family members, lit candles and blew them out in a short video posted to Instagram on her birthday (Monday October 16th. ) Just prior to the birthday cake video, Alan and Bruce did a 14-minute interview with Entertainment Tonight about her passing, her legacy, her love of cake, and how they will move forward and keep her legacy going. If you have a few minutes, give it a watch.
The Legacy
Many people only know Suzanne Somers as an actress, primarily as Chrissy Snow from Three's Company. The show is still in reruns, and there is currently a channel on streaming service Pluto TV that runs the show 24/7. I've watched a few of them this week. If you're interested, you don't have to register, you can start watching either live TV or on-demand on your smartphone, tablet, laptop, desktop, smart TV, or Roku. (You may be able to watch it on an Amazon Fire Stick, but I don't know.)
Note: Pluto has plenty of classic TV shows to watch, including a channel of The Tonight Show With Johnny Carson. Hint: He's still funny, especially if you remember the events he's talking about in his monologue. I haven't seen one yet where Suzanne Somers is on, but there are three on YouTube, plus a number of more recent clips.
Of course, there were more acting roles later, plus stints in Las Vegas, a Broadway show called The Blonde in the Thunderbird, and most recently, a stint on Dancing With The Stars in 2015. Never mind that she was a headliner in Las Vegas, danced and sang on TV and in USO shows, not to mention the legions of her longtime fans like me who repeat-dial voted for her on the show. She was voted off rather quickly, which I thought was, well, not nice. But her performances are all on YouTube, and her partner on the show, Tony Dovolani, also spoke with ET after she passed.
The Business of Suzanne Somers
Beyond her acting, She was also an author of 27 books, many of them best sellers. The last one I have was her book called Two's Company, on her 50-plus year long relationship with her husband, Canadian talk show host Alan Hamel. She discusses a wide range of topics related to their relationship, including the business side of being "Suzanne Somers." It's truly a family business with nearly everyone involved in some fashion.
Over the years Suzanne sold a wide range of products on her website besides the obvious. For several years she had some lovely violet serving dishes named after her granddaughter Violet. She had small kitchen appliances, including a bread maker, a hand mixer (I still have mine and it works great), an ice cream maker, a small countertop convection rotisserie oven, a stovetop pressure cooker (this was before the Instant Pot) a deep fryer, an ice shaver, and several other things I can't remember now. They are well-made, of course, but they still remind me of Suzy Homemaker appliances.
The books, the famous (or infamous) Thighmaster (yes, I have one), the 3Way Poncho (I have a few, and they are still available from some vendors as well as resellers eBay and Mercari) and a wide range of food, supplements and other products on her own website, SuzanneSomers.com. Her products aren't cheap, but they aren't rubbish, either. I was a big fan of SomerSweet, but as I wrote about several years ago, that's gone now, and Swerve can be used in its place.
I'll be making my birthday cake from Suzanne's Desserts book this week. Instead of SomerSweet, of course, I'll be using Swerve. And we'll have a slice to celebrate the lady who did it all with grace, right up to the end.
The Zucchini
So, last week, BF came home with a bag full of great big zucchini and two crookneck squash, and said, "T says hi." That's one of his car guy friends, and apparently knew I would appreciate them. Because BF doesn't eat anything called squash, including zucchini, spaghetti, or acorn, my favorites, and will let me know about it immediately.
I can only wish I had such an abundance of zucchini that I had to give it away. But I'm happy to accept the wonderful gift of excess from those fortunate enough to have such a nice garden surplus. One of these days, I keep telling BF, we're going to have a fantastic garden from which we enjoy a great harvest.
Here's how it ties into the late Suzanne Somers.
Zucchini Ribbons
My first thought was to make some zucchini noodles from Suzanne Somers' Fast & Easy book (the purple one.) I haven't made that in a very long time, and it's simple. Cut the ends off the zucchini, then use a vegetable peeler to make long, thin ribbons. When you get too far in to keep using the peeler, just thinly slice the remainder with a sharp knife on a cutting board until you're done. Cook in a skillet with a little olive oil, salt and pepper until they're just done. Delicious.
You can cook as many zucchinis this way as you like at once. Eat them as is, or add them to any kind of pasta sauce you like. Fast & Easy was published before the veggie noodle makers became popular, and in a later book she uses zucchini "noodles" made from her own Su-Chef appliance. It wasn't available for long, apparently, and it isn't even available on eBay or Mercari, but I did find a picture.
I Thought About Her

As I took the book off the shelf, I wondered how Suzanne was doing. I remembered that she'd been ill again, but I was sure she would be getting better. Is she writing a new book? There probably won't be any more cookbooks, I thought, but an important topic, for sure. But I knew it would be an interesting subject, well-researched and well-written, like Tox-Sick. Admittedly, I didn't get her last book but will source it for my shelves soon.
The next day, BF sent me a message on Facebook Messenger that she'd passed away, one day before her 77th birthday. The breast cancer she'd been fighting for more than 20 years finally overtook her.
The next night, I made a Cappuccino Chocolate Chunk Cheesecake from Get Skinny on Fabulous Food, page 246.
For breakfast one day last week, I made some of Alan's Fried Eggs In Onion Nests on page 115 for us to enjoy with breakfast. Hint: open the windows and turn on your exhaust fan before you get started cooking the onions.
I also want to purchase Served By Caroline Somers, Suzanne's daughter-in-law, chief chef, and right-hand-gal in the business for thirty-plus years. Her stepdaughter, Leslie Hamel, is a fashion designer who designed the 3Way Poncho, as well as hundreds of Suzanne's red-carpet items and many pieces of her clothing lines. I own a few 3Way Ponchos and made some from a Simplicity pattern published shortly after the released. There's some fabric in my stash that will be perfect to make a couple more.
The Rest: Zucchini Sotolio
I only cooked that one zucchini on Saturday night, because I had a plan for the rest of them. I've done this before, but just never quite got around to posting the recipe. This recipe is *not* from Suzanne Somers, but from TV chef Giada de Laurentiis. It's on page 226 of Giada's Italy: My Recipes For La Dolce Vita, called Zucchini Sotolio. It's not difficult, and it's a great way to make those garden extras last a bit longer.
First, you cut the zucchini into 1/3" rounds. Drop them in the colander, sprinkle salt over them, and let them sit for ten minutes.
But because I was sitting with BF, it ended up more like 30 minutes. But the salt seasons them nicely.
While that's going on, boil up 1½ cups of water and 1½ cups of apple cider vinegar in a big pot.
Now, open up a window, (or turn on the exhaust fan) because it's going to smell in your kitchen and your house if you don't. Trust me on this, I speak from experience here. Especially with someone around like BF who can't stand the smell of vinegar at all.
Add in your sliced zucchini and turn the heat down to a simmer:
Cook the slices for about five minutes, until they're cooked but not mushy and overdone.
If you have as much as I was given, you'll need to cook them in batches.
Then take them out:
And put them into a bowl.
You may find they're still kind of watery, so you might want to drain that off too. Add in the mint leaves, basil leaves, chopped garlic:
And a tablespoon more of apple cider vinegar:
Toss the zucchini to mix in the rest of the ingredients. Leave them to cool for a little while.
And here comes the fun part: cover them with olive oil:
The recipe calls for extra-virgin olive oil, but I didn't have enough. So, I just used regular olive oil.
When you have enough oil, pack them in jars or just store them in the fridge in a tightly sealed container:
This is a container I like to use for the freezer, with a rubber gasket in the lid and snapping closure tabs.
This delicious recipe will stay in your fridge for about three weeks. Serve them at room temperature. Giada says that having a jar or two of this around means you'll always have a "quick side." It's also good as a starter or part of an antipasto spread. Got eggplant? It works here too, just grill the eggplant first. (No, I still hate eggplant.)
Here's the recipe if this looks like something you'd like to try soon.
Zucchini Sottolio
From Giada's Italy, page 226. This recipe has bold, tangy flavors that make the zucchini really shine.
Ingredients
1¼

pounds

zucchini

sliced into ⅓ inch rounds (about 3 small zucchini)

1¼

tsp

kosher salt

1½

cups

apple cider vinegar

plus one tablespoon for the end

10

fresh mint leaves

10

fresh basil leaves

2

garlic cloves, smashed and peeled

½

tsp

crushed red pepper flakes

(Amy's note: optional)

2 to 3

cups

extra-virgin olive oil

(Amy's note: I used regular this time)
Instructions
Place the sliced zucchini in a colander that is set over a bowl. Sprinkle with the salt and toss well to combine. Allow the zucchini to sit for 10 minutes.

Meanwhile, in a medium saucepan, combine 1½ cups of water with 1½ cups of apple cider vinegar and bring to a boil over high heat. Add the salted zucchini to the pot and return the mixture to a boil. Reduce the heat to maintain a simmer and cook for 4 to 5 minutes, or until the zucchini is cooked through but still has a little texture. Drain the zucchini and place it in a large bowl.

Add the remaining 1 tablespoon vinegar, the mint, basil, garlic and red pepper flakes to the zucchini, and toss well. Add enough olive oil to cover the zucchini and allow the mixture to cool to room temperature. Pack the zucchini in jars or a storage container with a tight-fitting lid, making sure the zucchini is fully covered with the oil. Store in the refrigerator for up to 3 weeks. Serve at room temperature.
Fancy another cuppa?

I've got another tea blog coming, but I'm not saying anything just yet. But it will be interesting—and very strong.
Enjoy!