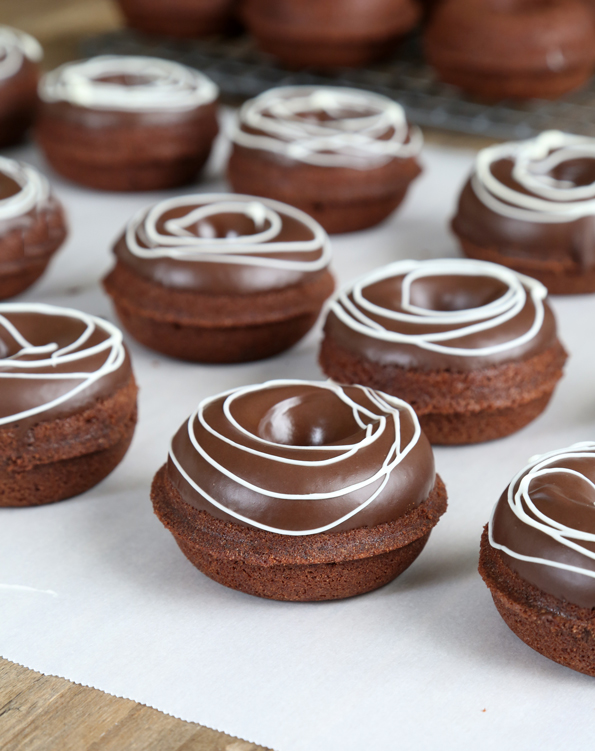 Gluten Free Donuts? (Another Re-blog)
Happy Wednesday, Dear Readers:
As I mentioned previously, I get emails from other bloggers, many of them food bloggers, a number of them devoted to the gluten-free lifestyle. One, Nicole Hunn, writes a blog called Gluten Free on a Shoestring, and has even published three books devoted to it (I don't have those yet, but I will, soon.)
Today, Nicole has out-done herself with a recipe for chocolate gluten free donuts made with a CAKE MIX:
Picture from Gluten Free on a Shoestring website (they're not mine!)
No kidding, she has a little plug-it-in-the-wall doughnut maker, one of those newer specialty appliances similar to a waffle iron or countertop grill. I don't have one of those, and I probably never will unless I find myself married to a man with children. (Don't hold your breath on that one.)
She also has a simple frosting for these donuts, which makes me start to want some today.
Oh, I've got pictures of the breakfast sandwich maker to show you, but I won't be buying one. They're really neat, especially if you like breakfast sandwiches. Unfortunately, that thing makes me wish I'd never read Wheat Belly. Don't worry, I'm not fallin' off any wagon over a machine. I'll keep looking for a suitable English muffin recipe–probably in one of Nicole's books.
Arrowhead Mills, a great purveyor of gluten free stuff, makes the gluten free chocolate cake mix Nicole uses, which I may have passed last week during my info trip to Fresh Market. If I get some, I'll be sure to report on it.
This is the cake mix Nicole used, and although I haven't tried it yet myself. . .now I'm tempted. And who wouldn't want chocolate cake? (Maybe when I get ready to start working again. That will be a good reason to make chocolate cake, won't it?)
Nicole also points out that Arrowhead Mills gluten free mixes are lower in sugar than their regular mixes–a good thing indeed, especially if you have children or want to cut down on it. Yes, it's some sugar, but not as much as you might normally get.
Anyway, I've had two interviews this week, and two more scheduled for next week, so I'm racking them up. Cross your fingers that I'm not driving 100 miles a day–but that would put me around The Woodlands, where Frost Bake Shoppe is! Then I could buy one of their delicious gluten-free cupcakes every day! I'd have it on the way home every day, because I won't get home until 8:00 pm, and need the sugar in order to survive the traffic. Nah. . .don't think so.
Just thought you might be interested in seeing this one on a lovely Wednesday morning.
Enjoy!