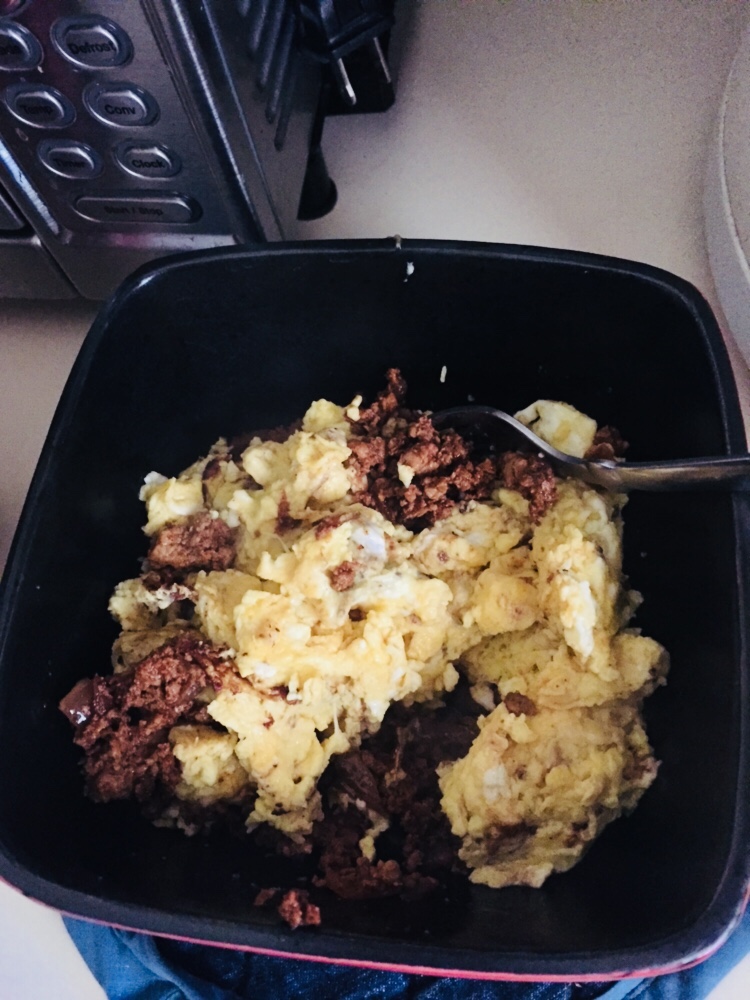 Chorizo–a delicious, flavorful form of sausage from the Mexican and Tex-Mex culture. I love it.

Follow me on BlogLovin'
Hello, again, Dear Readers:

No, BF and I have not fallen off the face of the earth, but I'm busy and he doesn't write. So, apologies again.
If you went out and got one of the wonderful Kitchenaid Cold Brew Coffee Makers this summer, I do hope you are enjoying it as much as I do. BF's car-guy friend Jenny came by a couple of months ago and was thrilled to find out about it. She took her kids to the local PJ's and spent $30 on iced coffee for the three of them, that's a bit pricey for this young widow. She's probably going to be getting one if she hasn't already. But for me, I love my iced coffee in the morning, even though I'm not drinking much of it now that it's getting chilly!  But it's so easy, even BF could make it.
The Work Of Copywriting
I'm doing a fair bit of SEO writing for law offices and attorneys, with a little of this and that thrown in to keep it interesting. A few weeks ago, a regular client asked me to write a blog post about the things that can affect a paternity test. That's the "who's your daddy" DNA test. Well. . .a lot, actually. Besides lab errors and tampering, multiple genetic mutations and anomalies mean two siblings–even twins–test unrelated. Never mind what a "chimera" is. How's *that* for dinner party conversation?
The Parts Catalog
One client had me writing descriptions for parts. That's right, hardware, primarily air conditioner parts. Really exciting, yes? I didn't mind–it pays, and it gives me a break from the occasionally heavy legal subject matter I normally write.
I don't know what all these parts are for, so I have to look them up. If I don't know what a capacitor is, I can't tell you, now can I? (It puts jolts of power into things like fan motors, similar to a battery.) So now I know what that is, and I can create a short description. I also learned a new term: PTAC, or Packaged Terminal Air Conditioner. The kind they use in hotels.
One description I wrote was for a metal clip that holds the plastic front onto the air conditioner. This was one I had to use the parts diagram for. Once I realized what it was, I came up with an interesting description, using the phrase "never again will you have to stare at the grisly innards of your air conditioner." It went over well, and I even posted that one on Facebook. AK says I have "the writing chops." That made me feel good.
I created content for him for about 3 weeks, and the project ended with five stars from the client.
The Unconventional Garden
I haven't written about gardening in a while, but I did manage to do some this year. The cool spring meant I was hesitant to put plants out, and I got a late start. We're now getting bell peppers, and while I've picked three or four red ones, I've got three more that are still growing, and one is turning red. They could be at our Thanksgiving dinner. (More on that later.)
The Meyer Lemon and Lime trees are still in pots, along with rosemary, scallions, mint, and a lone tomato plant with one tomato growing. They're at the front of the house.
We dug up a little patch over by the garage, about 5′ by 5′. Mostly basil, a couple of bell pepper plants, some sage, and parsley. I've made five or six recipes of pesto while BF complained about the "smell."
I'm hoping for at least one more container for the winter before it all goes away, but we'll see. All those little rooted pieces of basil worked and most of them survived.
BF planned to dig more grass up for the rest of the plants, but he's up to his elbows in car parts and motors. He's been busily building motors for people and doing some repair work for a few folks, too.
Additionally, we've done some updates to the Casa de Rurale. Specifically, replacement ceiling fans (including a new one with a big light and remote control in my office), two new exterior doors with new frames, a new kitchen and bathroom faucet, both Moen (I'll tell you why Moen in a minute) and. . .a new septic tank.
Not the most interesting stuff, but the septic tank was very important. I'll spare you the details.
The garden plot had a few tomato plants, but I only got one or two little tomatoes. Must find a better place next year, but they were delicious. One was a teardrop tomato, and the other was a little round one. But we're getting some tomatoes, finally, in a most unusual fashion.
Surprise Tomatoes
Because the original builders of this house were able to get away with it, the only septic tank was a single 55-gallon drum. The house was built for a mother-in-law, so it was all the local zoning required. (Yes, they really do stuff like this in Louisiana.)
BF knew that at some point a new, modern tank would be needed. We were having some issues, but nothing too severe. He previously did some digging, but the only way to solve everything was the new septic tank. With all the work he's been doing in the shop, he was able to get a new 500-gallon cement tank installed in early July.
After the tank business was all over (it really didn't take long), BF put some dirt over it, and hopefully next year we will have lots of lovely green grass growing over it.

While BF's car guy friend was visiting, he looked over by the tank, pointed and said, "That's a tomato plant." Where? "Over there, under the tree." At first, I told him he was crazy, but upon closer inspection, he was correct, it was a tomato plant. "If you stake it, you might get some tomatoes off of it."
Well, I did stake the plants, and this one has given several "racks" of tomatoes in various stages of growth. (This is the first one, near the bottom of the plant.) They're obviously yellow grape tomatoes, and I have picked a number and eaten a few when ripened. I watered them regularly.
The End
A month or two ago, the wind knocked them over, so I did a little digging to put the stake farther down. Unfortunately, I must have hit the root system, because they started turning brown. There is one tomato that's thriving on what's left of the green part and a few more flowers. But the rest were picked and will be seeded before I eat them.
I'll spare you the details of how these tomato plants came to be, but I'm sure you can figure it out.
BO, a gentleman I used to work with at Boeing, lives in the Clear Lake Area and posted a pic of a tomato plant growing out of the gutter on his house last year. Apparently, the seeds got up there in much the same fashion, but with birds. He posted a picture with a comment about maybe it was time to clean out the gutters.  He actually got a half dozen or so tomatoes off that plant. I guess he cleared the gutters later.

So tomatoes are pretty easy to grow, yes?
Fingers crossed for a bigger, better planting and harvest next year, and not by the septic system.
Why Moen?
Well. . .remember when I bought the dishwasher? BF changed out the kitchen sink faucet for me right after I got it. He sent me to the local hardware store and I bought what we could afford at the time. Unfortunately, it wasn't a top-of-the-line model. (The dishwasher is still running great–we're both happy with it.)
The dishwasher's "delay" function is great–you set it and forget it, and I was setting it to go off at 3:00 or 4:00 am. That way we could take a shower, and we'd have plenty of hot water. (OK, it only uses 3.5 gallons for a cycle, but BF is persnickety about it.) Unfortunately, well, the faucet. . . .
I bet you see where this is going–the water pressure eventually led to the faucet leaking, and one Saturday, the kitchen was flooded. So no more overnight dishwashing, and lots of old towels around when I did use it.

BF sent me to Lowe's, and I got a very elegant Moen faucet that doesn't leak (but is not that expensive.)  Unfortunately, he's had to tear out the cabinetry, and we discovered that the leaks attracted. . .termites. There was no structural damage, but some of the wood has been replaced.  The termite problem has been taken care of by his gracious uncle. The kitchen cabinet has been put back together, along with some additional shelving under the sink. At some point, there will be new vinyl flooring (it was already planned.)
I was glad that we were making progress in the house, but. . .well, that's the karma, isn't it? More plumbing issues. . .I hope they're solved now. The Crock Pots were used regularly until we could get back in there. 
Making Chorizo
Let's talk about something tasty.
One of the many things that I've bemoaned the loss of outside of Texas is the availability of chorizo. If you're not familiar with chorizo, you're probably not reading this from Texas, or you've never been to Texas. If you've never had chorizo, you're missing out.
Most shoppers know about the ubiquitous Italian sausage that's available just about anywhere in the United States. Different areas have different ways of making it. For instance, the Italian sausage I used to get H-E-B was wonderful. It tasted better than Johnsonville's version, and I would always keep a couple of packets in the freezer.
Unfortunately, the Italian sausage that I found in Winn-Dixie left a great deal to be desired. (Read: it was awful.)
What It Is (For The Unfamiliar)
Chorizo is a similar thing, except it's Hispanic. I say "Hispanic" because there are two different types. One is a cured sausage, similar to hard salami, which is Spanish chorizo. I've found it in Cost Plus World Market a few times, and it may also be available in gourmet grocery stores.
The second type, which is more common to the southwest, is Mexican chorizo. It's a raw sausage from pork, like Italian sausage, but made with a different series of spices.
Chorizo may be served with anything from tacos to burritos to a breakfast plate with eggs in place of bacon or regular sausage. It may be in links, like the Johnsonville type, or it may be un-contained like I'll show you here.
Finding Chorizo
One day I was in Rouses in Mandeville, and I found out that Johnsonville now makes chorizo. I was ecstatic! So I bought some and check at home.
BF was not happy to see this, and I refuse to let him try it. But that's OK, he didn't want to anyway.
Result: it's passable. It's certainly not as good as anything you get in Texas, but it's better than nothing. And it doesn't have the usual amounts of fillers and other things like cereal that you find in some local brands in Houston.
Then my district leader sent me a picture of some chorizo she found in Sam's Club in Mandeville. That's an hour away, and I don't belong to Sam's. But, it's a Texas brand and it's fresh chorizo. I looked up the brand online and it's pretty good it's well-made and all that.
Now, Make It
About a week later, I was reading one of the many many food-related emails that I get every day. On this particular day, it was all about tacos. So, I had to open it up and look at it.
One of the recipes in the email was called Amaya's Tacos. So I looked it up because it was from a cookbook I have. I found it, but on the next page was the recipe for El Chico's Chorizo. According to the author, it was from a previous cookbook from El Chico restaurant chain many years ago.
This recipe is from a book I've talked about before, Rob Walsh's Tex-Mex cookbook. You've seen the picture of me with Mr. Walsh a couple of times from 2011 when I met him at the Houston food show.
That was a good picture–I had recently lost weight, and that new top was suddenly too big. He autographed my book. I was happy. . .anyway. . . .
Say what?
I had no idea that all this time, I had a recipe for chorizo, and it's pretty easy.
I had to make it. Went to Winn-Dixie and bought the ingredients. Pork chops. The recipe calls for the use of ground pork, which makes it a little bit easier, but the author prefers to grind up pork chops. The recipe makes a half pound, so for my weekly breakfast quiche, I double the recipe. What I used to do in Houston was to buy HEB's sage breakfast sausage, and vary it with chorizo occasionally. Not anymore! (I still miss my H-E-B.)
So, if you're going to use pork chops or other pieces of pork, you put everything in the food processor, and mix in the spices.
Then you turn to the stove, sauté up an onion, then put the pork mixture into the pot, and brown it like you would ground beef.
And this is what you end up with:
Here's the printable recipe if you want to make your own.
El Chico's Chorizo
From The Tex-Mex Cookbook by Robb Walsh. page 31 (c. 2004)
Ingredients
½

pound

boneless pork chops, cut into 4 or 5 pieces

You can also use ground pork or grind other boneless pork

1

tsp

chili powder

2

tsp

paprika

1

tsp

salt

¼

tsp

garlic powder

¼

tsp

ground cumin

Also called "Comino"

2

tbsp

red wine vinegar

1

tbsp

olive or other oil

Book uses vegetable oil

2

tbsp

chopped onion
Instructions
Combine all ingredients except the oil and onion into a food processor Process until coarsely ground, about 20 seconds. (NOTE: if using a different recipe, stop here and proceed.)

Heat the oil in a skillet or saute pan over medium-high heat. Stir in the chopped onion. Add the chorizo mixture and brown for 5 minutes or so to the desired doneness.
Eating Chorizo
This is SO good. . .and no, it's not pepper-hot. If you want spicy hot, add some crushed red pepper flakes or cayenne pepper. I've used pork chops, ground pork, and even pork stew meat. I've just gone with the ground pork since it's readily available and usually pretty cheap.

I also figured out by accident that I can buy multiple pounds of ground pork, mix the appropriate amount of spices in, and then freeze it in quart-sized freezer bags in one-pound increments. That makes life easy, too.
After all the chorizo I've ever had in my life, I have to say this is really darn good. It was a happy accident that I happened to find such a thing, and wish I had found it before. Well, I have it now. And BF won't touch it with a ten-foot pole.
Rob Walsh has a series of cookbooks out, and I may investigate buying more of them. His chili cookbook may be next. After all, it's better to have recipes if you're going to go attempt to make some Tex-Mex food, isn't it?
Bonus: Hatch Chile Time!
I managed to get some Hatch chiles this year and put them into my breakfast quiche again. YUM. I bought a lot of them and roasted them all at once in the oven. With the windows open. When BF was not around.
I've got a jar full of seeds, in addition to seeds I saved previously. (Bell pepper seeds, too.) I've planted a few in the little garden spot, but nothing grew. There's always next year and that big area behind the garage.
Rouse's has started to pick up the banner for Hatch chiles, although last year, I got them at Whole Foods. Winn-Dixie had the last of the crop because October is way too late. Many of them were red, which means they were hotter.
This year, a customer in Rouse's produce department asked me to explain the Hatch–and I did. Extensively. Turns out the lady and her husband were headed to Carlsbad Caverns. I told her about my and Aunt Ruth's trip to Albuquerque in 2012, and the warning from a fellow flier about "red, or green?"
Hatch Infused Foods
While Rouse's will never be HEB, they had some Hatch-infused meats available, as well as Hatch roasted rotisserie chicken.
Of course, we can get canned Hatch chiles here all year long, and you can always order all things Hatch from HEB on their website.
Because we're in Louisiana, this sits right next to that meat case:
Many Louisiana recipes start out with celery, onion, and bell pepper. With a nod to the state's Catholic roots, people started calling that combination the "Trinity." Naturally, someone came up with the idea to market it in dried form, and, well, there it is. I haven't bought any, but I have bought some dried bell peppers; I needed them for a Stephanie O'Dea recipe recently.
Ready To Make Chorizo?
I know, I know, you can buy it all over the Lone Star State. Heck, I even found some in Rouse's, one of the brands you can get in Texas–had no idea:
Oh, and look what else I found nearby:
I usually get this brand of Queso Fresco, but soon I'll be trying that Manchego to see what it's like. Fortunately, BF has no interest.

And I'm doing yeast-free for a while. Almond milk and Yeast Free Brownies. No dairy. All that.
Here Come The Holidays
Whether you want them to or not.
BF notified me that the kids would like me to brine a turkey and do a Thanksgiving dinner. Can't imagine why–other than turkey, gravy, and mashed potatoes, they turned their noses up at everything else the last time. I'll take care of it, and the rest can be out of a box or frozen. They love the instant stuffing mix. There may be a pie from The Pioneer Woman's latest magazine.

Longtime Buddhist friend KJ posted this on Facebook recently:
If anyone complains about Thanksgiving, I'll source these for Christmas dinner. If I can find a countertop dishwasher, I can find this online, darn it. And why not? Can't be any worse than Feetloaf:


Yes, I'm a smart-aleck.

I'll try very hard to get some of the other drafts out and published; I've just been very busy. Sorry about that.

Go make some easy chorizo, and have a delicious meal tonight or Taco Tuesday tomorrow.

Enjoy!