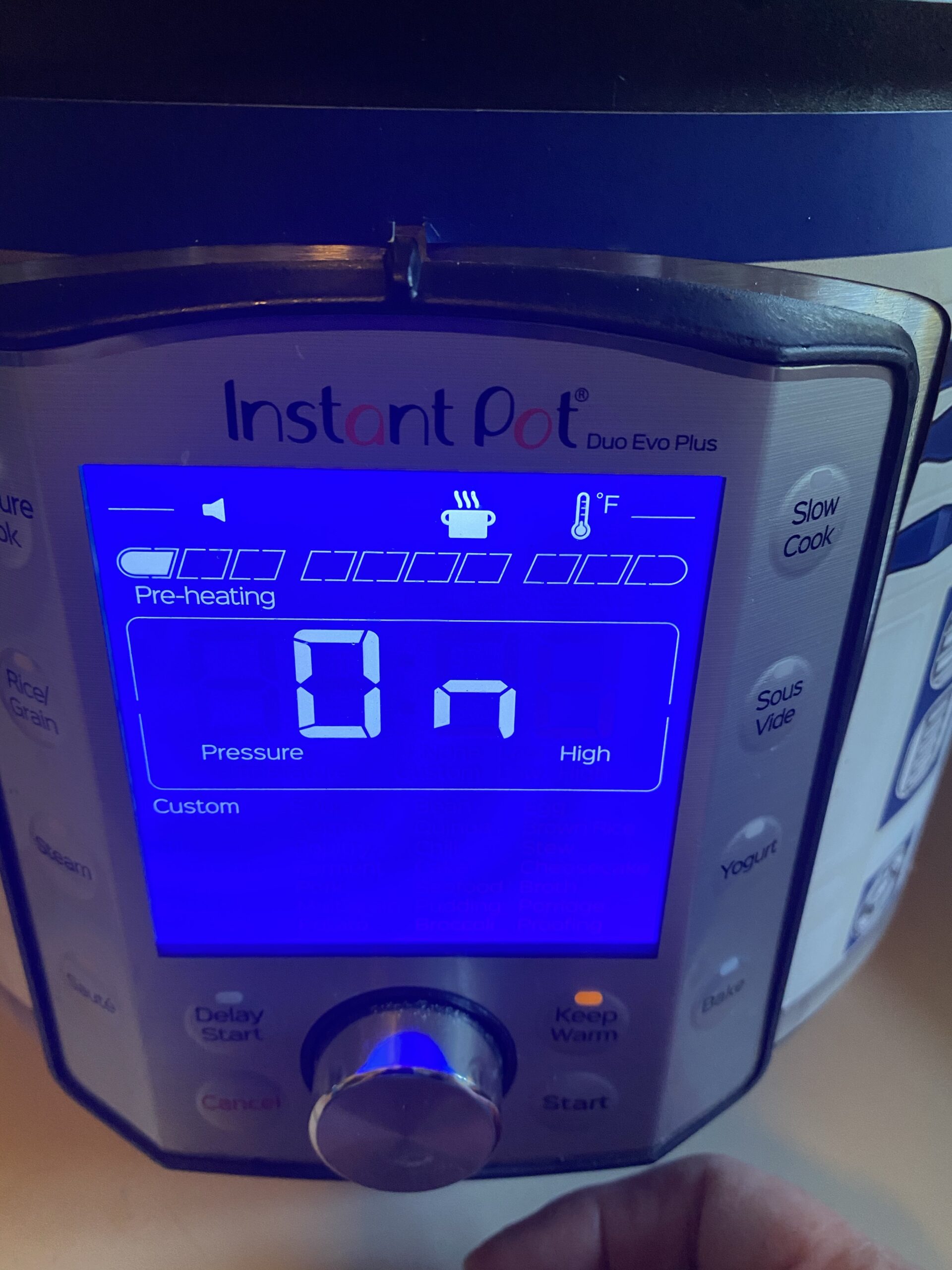 Amy's Instant Pot Adventure
The Instant Pot–the newest obsession in cooking. Is it worth the hype? It depends on who you ask. Get ready for a long post.
Hello, again, Dear Readers:
Once again, I got behind in blogging. As we said in Boeing, I was "OBE," or Overcome By Events. How many times has that happened? It's been a month.
So, what's going on? Well. . . .
Air Fryer Update
Have you decided on an air fryer, or decided against it? Neighbor E in Houston figured he'd pass on it after reading my report. I'm glad I could help.
Neighbor E also tells me that after the fanfare we experienced over the expansion of Baybrook Mall a few years ago, many of the stores have closed up and there is considerable empty real estate there. This includes my favorite Sur la Table. The company filed for Chapter 11 bankruptcy, which is a reorganization, not a complete shutdown with liquidation. The company was hit hard by the pandemic closures, and they've closed half of their stores, including the new one in Baybrook that I was so happy to have (albeit briefly.) The stores in River Oaks, the City Centre on the west side, and The Woodlands are still open, as are a few others in Texas.
The Baton Rouge store in the Perkins Rowe area was also closed in the reorg. It was the only store in Louisiana, and I don't know if many people ever visited it. But Sur la Table still has online shopping, which is my preferred method anyway. They introduced virtual cooking classes last year for $29, but the remaining stores are also offering in-person classes again. You can even learn from Martha Stewart!
The IKEA Order
It took two weeks, but my order from IKEA did arrive, two days later than the originally predicted delivery date.
I got everything I ordered, and we have used the tealight lanterns a few times.
I've loved the Rotera since I bought the first one, and thankfully, they're the same as I remember.
Because I was very annoyed with the candles I bought locally, I made sure to get some of IKEA's as well.
Of course, I had to test them out for the next time we needed them. We actually have had one power outage since February, during a hard rainstorm two weeks ago.
Yes, they work great, and they keep the candles enclosed and safe. The Glimmas work exactly as they did last time I had some, too.
I've also finally begun to replace some of my incredibly worn-out dishtowels. It's a start.
I tossed out the ones with big holes in them. I really liked the waffle type from IKEA, but they don't make them anymore. So over time I'll be looking for more, and tossing out the incredibly old stuff. I'll be ordering more lanterns, candles and dishtowels, as well as some other small stuff we need. Hurricane season is coming soon.
Now onto the main feature.
Introducing The Instant Pot
Many years ago friend of the blog AK asked me what I thought about this thing. I had no idea, I didn't pay attention to it. At the time, I was looking for a job in Houston. I just didn't want to think about something new I had to learn that wasn't related to an occupation. But over time, these electric multicookers started showing up in more and more places, and so did the recipes.
If you don't know what they are, they are electric pressure cookers that also have multiple cooking functions built into the unit, including slow cooking. You can start a dish on saute, and then finish it with slow cooking or pressure cooking.
They're also called "multicookers," depending on the type of unit you buy. Some do the pressure cooking, some do not. And the funny thing is that they nearly all look just about the same as the Instant Pot brand. I once bought what I thought was a small IP, but it turned out to be a small Hamilton Beach rice cooker that was on clearance at Bed, Bath & Beyond for $12. I returned it.
Let me say that although the name indicates "instant," it really isn't always as fast as that. But that's part of the learning process.
Amy, Why Did You Buy One?
Because my 15-year old CrockPot was deteriorating. I bought it when I lived with the GER. Here's what I mean by that:
Long before I began communicating with BF, I used the heck out of this.  When I got here, I put all kinds of food into each one of them. A couple of years ago, I even bought a pair of two-quart ones later, nicknamed "The Twins." (One red, one black, from Target.) I replaced the lid and the dial on this one, but some parts weren't available:
But the biggest concern, which I noticed right before I bought the Instant Pot, was this:
When I showed it to BF, he said, "that's a fire." The GER, bless him, would have said the same thing. I didn't realize it was that serious until I was getting ready to buy the Instant Pot. The trash men took it, so it's gone. The four-quart cookers seem to be fine for now, but eventually, those will probably be replaced. One is mine, and in a similar condition, the other is BF's, which he only rarely used. Both work fine.
How Many Instant Pots Are There?
Two words: MUCHO GRANDE.
When you start looking at these things, you realize that there are half a million appliances under the name "Instant Pot." There are even more brands of "electric pressure cookers" and "multicookers," so you have to know what you're buying or you'll come home with the new egg-boiling rice cooker that you didn't actually want.
Many of these pots are branded, like The Pioneer Woman's line at Walmart and the Star Wars line that Williams Sonoma had. I think BF would have died happy if I bought the one that was made to look like R2D2, but I didn't. I'll tell you why.
An Instant Pot is an expensive purchase, and I'm probably only going to buy it once. Although I did buy the newest model with coupons at BBB, I also did a little investigating before I decided on it. If you're going to spend the money anyway, it makes sense to know what you're getting. And, if I'm going to buy it, I might as well get the newest and the best model available with all the functions. That's the kicker–those Pioneer Woman and Star Wars models have limited functions on them, but you might not know this until you go and use R2D2 or BB-8 to cook something.
Sure, I could have just bought another 6-quart CrockPot. But again, if you're going to spend the money, get a good one, and get the best one available and/or the best one you can afford. So I did.
How It Works
Just like the pressure cookers from years gone by, the principle is simple: water heats up at a higher temperature under pressure and cooks food faster. Some food, not all. Things like roasts take less time than they would normally.
The old type like this one has been around forever. Nobody I knew ever used one, and of course, there was always the fear of damage.
Modern pressure cookers are electronic appliances with a range of features built-in. You'll still have a pressure gauge, but the lid locks on and prevents you from opening it too early. They also require a sealing ring inside the lid to prevent leaks.
The key is the float valve, which lets you know that there is still pressure inside, or that it's all gone.
What It Can Do
Dried beans cook in an hour. However, I haven't had such good luck with cannellini beans. Either they're hard or they're mushy–nothing in between. I'll keep trying since beans are cheap. Even the cannellini, which is locally produced.
Frozen chicken breasts or roasts cook in an hour or so. Not what you'd call "instant," but infinitely faster when you don't have all day for it.
Put the food in, click the lid on, seal the lid (if you have a different model than mine), and start your engines. If you're slow cooking with it, just leave it alone until dinnertime. Note that if you're using the slow cooker function, there won't be any pressure buildup. That's only for pressure cooking.
Understand that even after seeing these things for years and hearing folks bleat on about how incredible they are, I don't have any experience with them. This is my first.
Slow cooking blogger Stephanie O'Dea emphasizes that she does not have an IP and doesn't want one. Well, maybe one day she will.
The Duo Evo Plus
What I finally purchased was the six-quart Duo Evo Plus, a ten-in-one cooker that's the latest and greatest but does not connect to the WiFi. This model automatically seals when you click the lid in place, which is a first. It has a wide range of functions, most of which I haven't used yet. The included instruction book is simply an overview and isn't terribly detailed. I found out later that there is a larger "full" manual that you download and print yourself. I have it but need to have a hard copy in the kitchen where I use it.
The lid on this model comes completely off with a circular motion. Previous models have a lid that flips up but sits on the base.
There are sealing rings and a small cup that clips on the back to collect condensation. Looks like it's standard on all the models.
Instead of the cup of water that the other models use, the Duo Evo Plus requires a cup and a half, or 12 ounces. You don't get that from the "quick setup" manual that comes with it.
The Purchase
I bought mine at BBB (with multiple coupons) right after its release 18 months ago. At the same time, I also bought a cake pan, a glass lid for slow cooking, and two egg bite molds to make breakfast just like Starbucks.
I love the bacon type. Turns out those egg bites are quite popular with the low-carb and keto crowd, and for good reason. I've since bought the silicone cake trivet because it keeps things from sliding around when you remove them, and not just cakes. There are a few other accessories I'd like to get later, but I'm not in a hurry for them.
I'll be honest and say that I have not used all of the functions on this new and improved Instant Pot. I wanted an all-in-one model.  Mostly, I've used Saute, Slow Cook, and Pressure Cook. There is even a baking function, and I may play with it one day. I also wanted this one for the yogurt-maker function, but I haven't tried that one out, either.
A Removable Pot
While all of the Instant Pots have removable inner pots, they are simply for use inside the unit. They aren't designed for use anywhere else. However, you can buy replacements.
The Duo Evo Plus has one with silicone-covered handles on the side. (I think that's the correct one for mine.) Add the glass cover, and you can use that inside pot on top of the stove, too. You can also take the pot out of the unit, cover it with the glass lid, and bring it directly to the table for serving. Just put a trivet or something underneath to protect your tabletop.
Of course, the IP has a big range of functions, like saute, so you probably won't have to use the stove. But you never know, it could come in handy when you need an extra pot for something, right?
Quick Cooling
One of the newer features of the Duo Evo Plus is this little spot on top:
Sometimes you'll make a recipe that requires "natural pressure release" (like the cake below.) In other words, you leave it alone until the float valve drops. Otherwise, the recipe won't work right.
In the new model, this little tray makes that easier. Remove the grate and put the accessory ice pack right there to cool the machine faster and therefore release the pressure. But when I went looking for one of these ice packs, they weren't available. They are now, so I'll get one eventually.
Instant Pot Chocolate Cake
The first thing I made was a little chocolate cake with a recipe from Corrie Cooks via Pinterest:
I decided to make it again this past weekend and add some rich, homemade frosting to it:
Yes, Corrie is a guy. I've made this a few times to BF's delight.
When I told BF I would make one for him last weekend, he said, "oh, no, I want that cake with the regular flour." Well, that was the plan, but he wouldn't let me finish. I made the cake, two keto chocolate cakes for me (from Jen Fisch's book), and our dinner for that day, all in the Instant Pot. (The frosting was made with a mixer, no cooking required.) The dinner was keto, but this cake was not. But I just really, really wanted to use it, too.
No, I did not eat this cake, but enjoyed the keto cake. I did taste-test this cake's icing. It was so rich it made my teeth wiggle.
Our occasional dinner guest TT had a piece of it and told BF that it was "too perfect." He insisted that it came from a store because it didn't "taste homemade." That's because TT, like most people here, is used to boxed cake mixes. BF says it's very rich. With a stick of butter in the cake and two in the frosting, plus a lot of sugar, you bet! It was indeed homemade in the IP, with the icing whipped up in a bowl, so I guess I did well with it.
Note that while my IP has a "bake" function, Corrie's recipe uses the "manual" function. Not every IP has "bake," but they all have a manual button.
Egg Bites In The Instant Pot
This is one of the main reasons I bought this thing. I love egg bites. Well, let me say that they are a bit more trouble than, say, hard-boiled eggs. They take longer, and involve more prep work, depending on what you put in them.
After futzing around with Ree Drummond's recipe for a while and then one or two from Jen Fisch, I more or less created my own with:
8 eggs
Cooked bacon, chopped up after cooking (it's easier that way)
Alternate: breakfast sausage, browned and drained (hence the saute function, although I forgot on the first try)
Alternate: chorizo, browned and drained, which you can either make yourself easily or buy in the grocery (even here!)
Heavy Whipping Cream (a cup, I think)
A half-cup of sour cream (optional, adds body)
Cheese of some kind, about a half-cup to a cup (the leftover shredded Mexican blend from Taco Tuesday works just fine)
A splash or two of Chipotle Tabasco
Salt
Pepper
A can of chopped green chiles (optional)
Anything else I feel like chopping and tossing in
You mix the eggs with the cream and sour cream (if using). I like to use the immersion blender here, and then switch to a whisk or spatula for the rest of it.
Ree Drummond recommends adding the cheese and cooked chopped bacon into the molds first. Jen Fisch doesn't. Your choice.
Make sure to drain off the grease from bacon, sausage, or chorizo before you proceed.
Spray the egg bite molds, then add your ingredients:
You can do it this way or just dump them all in together. I've done it both ways.
Cooking Egg Bites
Trust me on this–spray your egg bite molds.
Also, don't fill them to the top. You'll be covering them with foil before putting them into the IP, and they will expand like popovers if you overdo it. Ask me how I know this. <grin>
Add a cup (to 1.5 cups) of water in the bottom, put foil on top of the egg bite molds (not the lids that came with them, I dunno why), and put them on top of the metal trivet (or the silicone one if you'd rather.) Seal it up, and pressure cook for 18 minutes.
For these, I went ahead and used the "quick release." That is, I flipped the switch on the top of the lid and it depressurized quickly. Remember to stand back from the steam, because it will burn you.
I make two batches at once (that's why I bought two molds) and then scoop them out with a big spoon.
It was a trial-and-error situation because if I cooked them for 15 minutes it wasn't long enough. Into the trusty microwave they went to finish:
Then I just put them into food storage in the fridge. But lately. . .well, maybe again soon.
These molds can also be used to make other things like cake pops. I haven't tried that yet.
Other Notes
I wasn't kidding when I said to use the cooking spray:
They will slide right out with the aid of a big spoon IF you have them sprayed well. Do that right before you fill them or the oil will roll down into the bottom. Again, never mind how I know this.
Make batches for the week and freeze them whenever you want, or just refrigerate them for tomorrow's breakfast. I'll admit that it is more trouble than just hard-boiled eggs. But if you really like them, go for it. You can find thousands upon thousands of recipes on Pinterest or with a simple search.
No, BF won't eat them either. It's not that there is anything offensive IN the egg bites, even if it's bacon and eggs and cheese. He just doesn't like that the idea came from Starbucks.
The IP Cheesecake
Yes, you've seen this before in my cheesecake post. After being ill last year I kind of fell out of love with the cheesecake, but that's OK. Both are still delicious anytime.
When Jen Fisch's last book, Keto In An Instant, arrived, I knew I had to try her recipe in the Instant Pot.
Now, I already had the six-inch springform pan from about 1996. . .used once or twice, and I think for BF's IP chocolate cake, too. But this is a real cheesecake with a nut crust that's baked in the Instant Pot. Yes, it's very good, and it's pretty easy to make.  The crust is also not damp like you'd think due to aluminum foil on the bottom. Jen's recipes are delicious, I don't care what BF says. I need to get her book that I don't have soon.
If you get just one book for the Instant Pot, I highly recommend Jen's. Her recipes are easy, delicious, and, honestly, the ones that BF will eat and likes the best. I've told her that on Instagram, and she said it made her happy to hear it.
After writing four cookbooks in two years, it's going to be a while before Jen writes another cookbook. (I asked.)
More Than Cheesecake
Jen has some of her delicious Instant Pot recipes here on her website. Unfortunately, these aren't the ones I've made for us! From the same book, I've made some creamy Brussels sprouts with bacon, a quick IP Gumbo (minus okra–sorry, we hate it in gumbo), an incredible crab bisque for two, and a tasty chicken with pancetta and broccoli recipe. (Gotta keep pancetta stocked in the freezer, of course.) Jen's Chicken and Green Chile Soup on page 80 is also delicious, but BF won't touch it because of the poblano and jalapeno peppers. But guess what? It's not "hot" because you take out all the seeds and ribs. His sister and brother-in-law did like it.
While BF loves the non-keto chocolate cake you see here, he also enjoyed Jen's keto chocolate-espresso lava cakes on page 193. So there's good food to be had in all of her books, especially this one, even if you aren't eating keto. There are plenty more recipes we haven't tried but will over time.
The Instant Pot Brand
Although the company started out with one product, you have probably seen a range of branded IP products that are not cooking pots. There's a blender now, an air-fryer oven, and other stuff. There are also other "pressure cookers" that aren't from Instant Pot. I didn't want any confusion when I started so I just bought the IP brand.
For starters, there are lots of accessories you can buy, including those that are IP branded. Oxo has a range of products for the pressure cooker as well, and you can find a range of them on Amazon and in stores like Walmart, Target, and Bed, Bath, and Beyond.
Recipes are everywhere, on Pinterest and other places on the web. Newer cookbooks bring new recipes made for pressure cooking. There are multiple books on the subject that you can find pretty much wherever you look.
Instant Pot Accessories
There is no end to the accessories you can get for the Instant Pot, including this air fryer lid that fits every model except mine. In fact, a search for "Instant Pot Accessories" on Amazon brings over 3,000 things you can get for your IP, like this set of over 100 pieces. Whatever you buy, always check to make sure that whatever you buy will work with yours. (Yes, they're my affiliate links.)
For fun, I also bought a wrap to make my IP look like R2D2. The maker, Becky of InstantWrapsUSA on Etsy, creates a range of colorful wraps to have a little fun with your machine. I had to wait a while because, at the time, she wasn't doing Duo Evo Plus, but has since added them to her lineup. I asked about a Doctor Who version, and she said she'd do that on request. They wrap around the front with a cutout for the control board and attach with magnets at the back. If you should spill something, just carefully wipe it clean.
And for fun, I also found this very nice accessory for the stand mixer. Yes, I will get a decal to turn my black Kitchenaid stand mixer into a Suzy Homemaker model.
Resources
If you're wondering where to learn more about this abominable beast, I've collected some Instant Pot resources that I use regularly.
Pinterest, of course. Type "Instant Pot" into the search area with anything you want to cook in it and you will be bombarded by sixty billion recipes. Add more search terms and be specific, like "keto turkey meatloaf with sun-dried tomatoes" or "sugar-free strawberry peach jam" or "paleo chocolate raspberry crustless cheesecake." This narrows down the search results to something more manageable so you can actually find something you want.
Corrie Cooks, the website where I got the cake recipe for BF. The website boasts 1,001 Instant Pot Recipes, so there's a wide range of recipes available, something for everyone.
One Good Thing By Jillee–a modern-day home economist, author Jill Nystul loves her Instant Pot! You may remember her microwave popcorn recipe I found years ago. She has this article on everything you need to know about an IP, as well as a listing of her favorite IP recipes. They're not all keto or low-carb, but neither is everyone who reads this blog. I've made slow-cooker breakfast quiches, but not Jill's. I did want to make her chili recipe, but BF resists at every turn. He wants *his* chili made with that stuff in the packet. I win occasionally.
Pressure Cooking Today, a blog by mother-daughter duo Barbara and Jennifer. You can read their review of the Duo Evo Plus here. This is how I found out about the online-only manual and the now-available ice pack. They've also written IP cookbooks. You can also check them out on their Facebook page where they hold live events.
Piping Hot Curry also has a primer on Instant Pot lingo and information.
Paint The Kitchen Red has a post on burn notices, or burn error messages.  It's happened to me once, and that's when I wanted to apply a sledgehammer. This usually comes from an inadequate amount of water, but can occur for many reasons.
AllRecipes, the Internet's bastion database of recipes, has an entire section of Instant Pot recipes.
InstantPot's own website, where you can learn about their products, find recipes, get support, and sign up for their newsletter. You can also find out how to use an Instant Pot for sterilization, or autoclaving.
Books
In addition to Jen Fisch's book with IP recipes, I also have:
If you visit a bookstore or any online bookseller, you'll find fifty million plus books on Instant Pot for nearly every taste and style. No kidding. Amazon has a wide range of free Kindle books you can get, too, if you just want to find a few recipes to start with.
Ready To Instant Pot?
I know this is a long post. But you know me, I'm thorough.
As with anything, you should consider whether this would be a good idea for you and your kitchen. It's a big beast, so you'll need space for it. Mine is in a cabinet until I'm ready to use it. A few months ago I used it daily for a week.
Neighbor E may not find it useful, but maybe Miss Alice will. But I'm not sure what the GER would do with one, even though he does cook well. At least he could cook in his outside electronics laboratory.
I first considered getting a smaller IP just for us. Then I read in the Janet Zimmerman book that you'd be forever confined with cooking smaller amounts. If you have the need to cook more, it wouldn't be possible. So, I went with the six-quart.
I'm in a couple of Instant Pot Facebook groups, and many people have multiple models. Later, I could go with a 3-quart model if I wanted one.
Like the slow cooker, you can cook anywhere you have an outlet. During our February Big Freeze, that was a possibility, especially if we had a longer power outage.
What The IP Can Do For You
I keep hearing from folks who are just devoted to IP that it revolutionizes cooking. Yes, it will cook things like roasts, ribs, and frozen chicken in an hour. There are many recipes that are easier with it. But there is the learning curve to get over the fear of the thing going off and how it actually works in practice. The Shumski book has a good amount of instruction on the thing.
At this point, I'm over my compulsion to take a sledgehammer to it. And BF does like much of the food I've made with it, both from recipes and on the fly. I also use it as a slow cooker, and no complaints there, although it only heats from the bottom. Like a slow-cooker, it does keep the kitchen cooler if you're just using it for dinner. Because it can also saute, you may not have to turn on the stove at all.  But I can't say it has "revolutionized" my cooking yet, just gave me another way to make dinner. I've not yet come across the "thing" or the trick that gives me the magical understanding of all things IP.
This machine will do whatever you like it to, I suppose. It's just a matter of finding what you like and want to get out of it, no pun intended. In a home with children, an Instant Pot can likely go a long way in making dinner easier. In a smaller kitchen, it can keep you from turning on the stove and oven, or cook one thing while your countertop oven is baking something else.
If you're interested in getting one, do read some of the online resources I listed here. Know someone who has one and loves it? Talk to them first, see what they say, and maybe watch them in action. An IP has different ranges of functions in all of its models, so think about what you'd use it for. One day, I'll make yogurt and dry-bake in it too. For now, it's good for that turkey-white bean chili, a little chocolate cake, and the egg bites, and anything else we try to do with it. Just makes sure to read the directions and do the "water test" before you put food in it.
Happy Cooking!