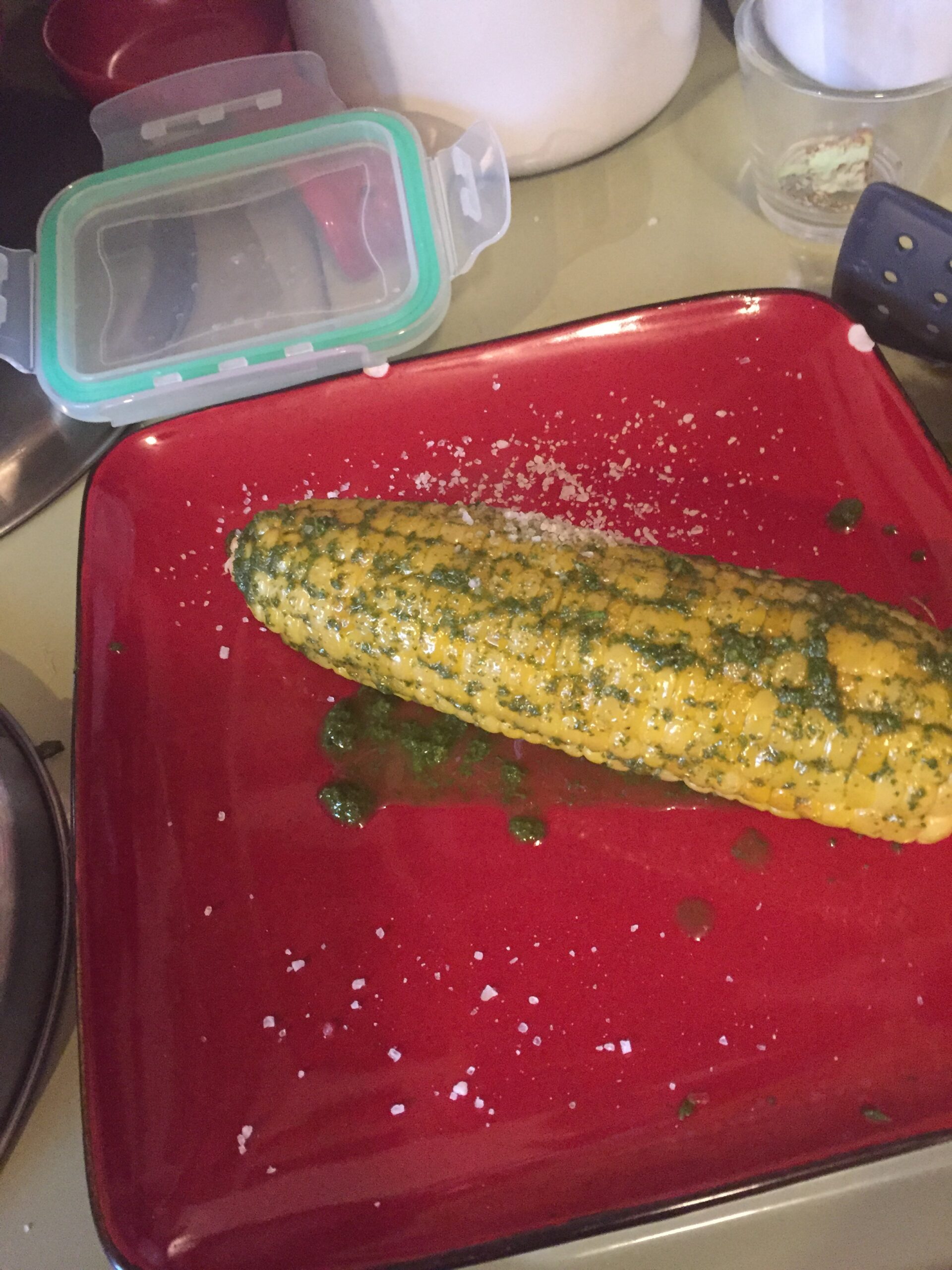 Corn On The Cob From The Garden
In This Edition of HeatCageKitchen
Corn–picked fresh–is a summer favorite. We picked some.
Hello, again, Dear Readers:
I had something else planned for this blog post, but don't worry, it's coming soon. I already told Aunt Ruth, and she's going to be looking at the screen funny when she reads this. Besides, just about everyone knows what corn is, right?
We had to pick some of our corn today, but we should have picked it earlier.
 The Garden Massacre
When Tropical Storm Cristobol knocked over a stalk of corn, we didn't think much of it.
About two weeks later, a very bad storm system passed through. We had about three days of very heavy rain, including lightning. One strike was VERY close to us, but we don't know where it landed. Our neighbor doesn't, either, but it scared all of us.
A day or so later, we noticed that there were more stalks knocked over, and this morning, it was worse:
Two of BF's car-guy friends were here this morning borrowing tools. The elder man said, "Looks like the 'coons found a place to eat."
Raccoons. On TV, they're cute and cuddly, but don't let that fool you. They're destructive little buzzards that pull over the stalks, then nibble on the corn. They don't eat the whole thing, mind you, just pull back some of the husk and nibble on what they see. Then they move onto the next cob, leaving most of it to waste.
Nevermind what I was calling them this morning when I was pulling the yellowed stalks out of the ground. It wasn't nice.
So that means we started picking the remaining corn. We should have picked it before, but BF remembers how his Dad grew corn. . .and we lost some. But we got 11 ears that were in pretty good condition.
What We Got
BF began pulling the husks and the silk off the corn right outside. I don't know why he did, but you shouldn't do that.
Ideally, pick them right when you're ready to cook them, or at least, leave the husks on until you cook them. By the time I got to cook them in the evening, they were starting to dry out a little, but they were OK.
In the evening, I had to get out the biggest pot I had, which isn't a heavy-bottomed pot from The Martha Stewart Collection At Macy's. No, this big tin pot was given to us, and it's the biggest one around. It doesn't even have a lid, and it sits atop the fridge most of the time. I filled it with water, salted it, and waited forever for it to boil, even though I put the universal pot lid on it.
Of course, it's been many years since I did this, so I had to look it up. But BF, ever so helpful, offered, "I think you just boil it." So that's what I did.
After I looked it up.
Help Me, Martha!
Years ago I made corn on the cob for my then-fiance and used a recipe out of Martha Stewart's big green cookbook. We boiled the corn with a touch of sugar in the water and made a butter-lime combo to coat it. It was unusual but very delicious. I don't believe I've made it since, even for the GER.
A quick search today on Martha Stewart's website gathered 203 recipes, all for corn on the cob, and I skimmed through a few of them until I found what I wanted.
I followed the directions for boiling them, and they came out fine.
But when I saw the article on "upgrades," I was intrigued. The one that caught my eye, of course, was the basil-mint pesto. I have plenty of basil and mint, and decided to go for it.
This is the mint after I cut it. Those stalks are over a foot high:
I only needed a quarter-cup of basil, but I need to make more pesto soon:
I thought I had too much, but it turns out I had cut exactly enough. I'm getting good at this:
After pulling leaves and measuring them out, I washed them:
Then started the process.
Now Make It
You add the 3/4 cup of olive oil into the blender with two cloves of garlic and blend.
Leave the mixer running:
Then start adding the mint and basil leaves:
To avoid a possible big mess, I just used the removable cap in the lid and added them in there, a little at a time. Let it blend for another minute.
There are no nuts, just herbs, oil, and garlic. Next, I poured it out into one of the many containers I have for regular pesto:
I felt like it needed salt added at this point, so I did, just a shake, then mixed it.
Pesto On Corn
The corn was still hot, so I had to try it out. Brush it right on like melted butter.
I made sure to add plenty:
It was at this point that I discovered the pesto needed some salt, so I added some directly onto the corn before adding a shake to the pesto.
I didn't wait for BF. I had mine right away.
It's worth the trouble, honest.
The Fourth Of July
It's this weekend. If you're making corn on the cob. . .you're welcome. Pick some, buy some, go to the farmer's market if you have access to one. If not, your usual grocery store will have some too. Try out the basil-mint pesto if you've got herbs, or try out one of the compound butter recipes, like this chive butter. (One day soon!)
I also offered to make this delicious looking dish for us, Ree Drummond's Fresh Corn Casserole. I hate that word, but it's simple and uses fresh corn. From Facebook, I sent him the link and asked if he'd like me to make half the recipe so I could use the small oven.
His response: "I know you're trying to enlighten me. You're trying to drag a caveman out of his cave."
I followed this comment with several amusing caveman GIFs.
Don't forget about using your:
To make things easier this weekend if you're entertaining or meeting up with family and friends.
Slow cooker guru Stephanie O'Dea has oodles of recipes available on her website and they're indexed here. You can sign up for her emails too.
Terry Boyd's Blue Kitchen blog today sent an email that offers 15 recipes for your July 4th holiday menu. He always has some good food to share, and he publishes more than me, too. He and his wife have been busy and not blogging as much lately, but that's OK.
You're also welcome to check out the recipes page here, of course. Looking for a blog on a particular subject? Use the search function on the right-hand side of the page if you're looking for something specific–I may have written about it previously. If you're looking for something related to the slow cooker (aka Crock Pot), that's the best way to find it.
The *next* blog will be about another delicious garden-based topic, and probably something you've never heard of.
Have a great holiday weekend.
Enjoy!