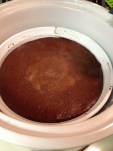 Summer Simmer: The Crock Pot
Hello, Dear Readers:
Well, I'm back for a bit. The copywriting training went well, and I've been quite busy working on my marketing materials–and getting a little brain freeze occasionally. No, Blue Bell ice cream is completely unavailable, and I don't want any other kind. Soon the "great ice cream listeria hysteria" will be over and Blue Bell will be in stores again. No, it's been the writing and constructing of things I've needed for a long time. I have a better understanding of it, but it's a bit slow going. There will be an email to the coach/instructor soon, if for no other reason than clarification of a few things.
One idea borrowed from my copywriting website is a page for my writing samples. I realized one night that I could start a recipe section on this website, and I have. At the top of the page, you'll see a link to recipes, (you can click on the link too)  where my favorites old and new will be available as PDF files. I even created a logo that I think I'm going to use on the recipes and maybe elsewhere on the site. I'm not a designer, so that's a "C priority" right now. But there are currently four recipes there, one from this post, and more will be added as I can.
While the rest of the country says "spring," the 80-degree days are here, so we're pretty much back into running our air conditioners 24/7 except for the recent spate of cool fronts that have come through. I've been wearing shorts for some time now, and even with the breezes we get, it's still warm. Neighbor K's adorable Daft Pug isn't interested in the long walks anymore, but he's good about. . .well, going outside for a sunshine break.
The HeatCageKitchen garden is roaring along–I'm getting tomatoes! I now have only three Meyer lemons growing, after one dropped off during the rainstorm this morning. . Mint, pesto, onions, parsley, cilantro–they're all getting bigger, and so is the Anaheim chili pepper plant. Oh, and I've re-done the 're-grow your lettuce" experiment; it's working this time, but I should plant one or two more lettuce cuttings. More on the garden soon.
Neighbor J upstairs has gotten into the habit of giving me the Sunday paper when he's done with it, mostly for the coupons. He keeps the sports section, so naturally, I'm not complaining. He's also the neighbor who has generously given me some venison and some raw honey on occasion. I need to bake him some muffins or a cake soon, as well as a couple that live in a different building. They generously planted some free landscape things in front of our little enclave; someone else dug up the free plants. Neighbor K and I keep saying we'd get around to it, but this sudden gift happened on Good Friday.
Remember: gifts do not always come wrapped up at Christmas. Ask anyone who's received something handmade from me, like The E Man and friend of the blog KJ, both in New Orleans, who each received a package of handmade items recently; KJ didn't know it was coming.
Speaking of The E Man, I recently helped him find Trader Joe's in Baton Rouge. He happened to call me a couple of weeks ago and mentioned that he was in Baton Rouge, and I said, "Are you going to Trader Joe's?" No, but he wanted to, so I employed a strategy I've used before: faith, hope, and Google Maps. He took a casual ride up Perkins road, saw lots of newly constructed housing and was amazed. It only took about 15 minutes or so, and he had to take another call. When I called back he was in the store and found the coffee samples. I may have created a monster.
Now, speaking of warmer weather, if you're one of those people who has a taste for iced coffee, take heart. Nick Usborne at Coffee Detective has you covered. Nick just posted a tutorial on making iced coffee at home–and it couldn't be simpler! I've been making it one cup at a time, and when I put almond milk in it, well, the milk curdles. No more. I first started drinking iced coffee when it was just hot in the Boeing building, and I poured my fresh coffee in a glass of ice and have loved it ever since. Check out Nick's tutorial and start making your own. I did, using some decaf Community coffee last night.
I just used the big French Press. Twice. Made it a little stronger than I should have; but since this was the first time, I'll be able to do better next time.
If you have the room, and I don't, you can also make coffee as you normally would and make coffee ice cubes so your drink isn't diluted. Maybe in the country house.
Anyway, into the pitcher it goes for whenever I want some.
If you go to a coffee shop, you will pay good money for iced coffee. Since Starbucks uses some kind of sugar-heavy mix, when I ask for a decaf iced coffee, they make it fresh for me. I don't do that often, honest.
Now, I've written before about the wonders of the Crock Pot. Do you have one? Do you use it? Seriously, do you? Well, you should. If you don't, go get one. But before you do, let me tell you what you can find. Well, let me tell you how I found out about all this.
I first started using one when I lived with the GER. When we weren't getting along and I was planning to move, I stopped at Big Lots one day after a Buddhist meeting (I didn't want to go home, basically) and found that they had white Crock Pots for $19.99 each. (This was 2004.) I bought a big round 6-quart and a smaller, oval 4-quart. I used both of them regularly, but slacked off a bit in recent years (I've been busy.)
One of the biggest draws is that the 110v Crock Pot doesn't heat up the entire kitchen like your 220v stove will. Put food in it in the morning, and it's ready to eat when you get home, no extra cooking, baking, or anything. So. . .with summer on its way, dust yours off, read the instruction manual and get started.
Continuing The Karma of Spare Parts, (oh, you have no idea) I haven't used either of my Crock Pots in a while because a) the 6-quart needed a new knob to replace the melted and cracked one that didn't work well, and the 4-quart oval needed a new lid after the old one lost the handle. I just got sick of waiting. Finally. . .I got on Crock Pot's website and ordered them, darnit!
They arrived Easter Saturday, and I was SO happy. . .I had a piece of pork ribs I was going to drown in BBQ sauce, and I was going to make a breakfast, too, all on Easter Sunday. I figured the ribs would fit in the 4-quart one. Nope–change gears. Pulling the 6-quart out of the cabinet and transferring the meat, I moved the 4 quart to the other side of the kitchen. The plug caught in my apron somehow, I felt the pull when I moved, and before I could stop it, the next thing I heard was. . . .CRASH.
The 4-quart oval stoneware piece was in pieces, although the brand new lid and heating unit were fine. Oh, this was a big problem. I had to go out anyway, and one place I did go was Wal-Mart to, ah, "rent" another Crock Pot until I could get a new stoneware insert for the 4-quart. (Returned it a week later.) Meantime, I had a schedule and I had to get on with it. The day was saved, and the next day, I was cruising through a cookbook and found a chocolate custard recipe to make.
The next day I called Crock Pot and asked if they might have any white ones, but no, all they have now is black. That's OK. I also needed to make sure I had the right one, and I did. The new stoneware arrived a few days later, and all was back to normal, more or less.
The Crock Pot started out as a bean cooker back in the 1970's, and I've actually used it for garbanzo beans recently; that's the subject of an upcoming post. But it didn't take long for people to figure out that inexpensive cuts of meat cook up really nice and tender in it. Whole meals can be made in them, if you like (and if you have a small family.)
I clicked around Crock Pot's official site, and I found a number of interesting things, including recipes, travel gear for Crock Pots, and something I wish I had when I was working–a Crock Pot for lunch! It's small enough to tote around and carries just enough for lunch. You just plug it in at your desk and your lunch is nice and hot whenever you get to it. No waiting for a microwave that may not be sanitary, or leaving your lunch in the community fridge where someone might mistake it for theirs (or worse, mess with it.)  Awesome, and I wish I'd known about these a long time ago.
Now, the technology side comes out when I see the WeMo web-enabled Crock Pot. If you've never heard the term "The Internet of Things," well, it means stuff that we use every day that is (or will be) *Internet-connected. While the smartphone is an obvious example, this is a definite contender. You download a free app for your smartphone, and you can turn the temp up or down, or turn the thing off by way of your phone. Great idea for people on the go, but it begs one question:
Do you really want your dinner hooked up to your WiFi?
Look, I'm kind of tech-savvy, especially after being in IT for 8 years. I'm so glad I have an iPhone (even if it is a 4.) The iPhone does, shall we say, butter many parsnips, and it's a great help in a lot of ways. But connect your Crock Pot? Is that really necessary? One of the benefits of slow cooking is that if you're a little late, it won't burn. This, of course, is your choice, but even as a writer who does marketing, I just think it's techie for the sake of being techie.
Up to you, of course.
There is also a blog, a spot for replacement parts, customer support (US based) and a page where you can order food just for your Crock Pot all ready to drop in. Call me whatever you like, but is it that difficult to cut up some stuff and throw it in? I've seen them once or twice in stores, but you can order them online. Up to you.
My first, and favorite book for slow cooking is The Everyday Low Carb Slow Cooker Cookbook, which I bought when it was new. (The GER wasn't sure what to make of that, but that's OK–I still confuse him to this day.)  Another one I have but only recently rediscovered is Dana Carpender's 200 Low Carb Slow Cooker Recipes from 2005. That's where the next recipe comes from. (I also have her book 15-Minute Low Carb Recipes, which I also need to go back and look at sometime.)
If you've never used a slow cooker before, or you need a refresher, let me tell you the basic rules:
You put the food in
You put the lid on
You plug it in
Turn it on
Leave it alone
Got it? One other thing–make sure that when you put the lid on, it is covered and there are no "escape holes" for heat to leak out. You could come home to dry, tough food you weren't expecting. I've done it, that's why I say that.
When you go to clean the stoneware, make sure it's cooled, or you use hot water to wash/soak it with–or you'll be getting on the Crock Pot website and ordering a replacement.
Last night I went on Pinterest and typed in "Crock Pot Hacks." I actually started another board to save them. One tip that I found was to line the crock with foil makes it easier to clean and helps everything cook evenly. However, I found a list of tips here that you might find interesting. One pin involved wrapping potatoes–sweet or russet–in foil and baking them in the slow cooker, but dry. Another one involved some wire and stuff, turning it into a sous-vide machine. I'm not posting it here because I do NOT want any of my readers getting shocked because it looked easy to do. (I'm thinking about you, GER, 'cause I know you'll try it.)  But if you're interested in finding new recipes, or other stuff you can do with a Crock Pot, check out Pinterest for more. Just start searching–you never know what you'll find, and it's not like Facebook at all.
Last night on Facebook I saw a short video titled "Shredding chicken like a boss!" It was a video of someone with a hand mixer shredding chicken that was obviously cooked in the Crock Pot–it was still hot. (Looked like chicken breasts, in a big Crock Pot.) The cook used the hand mixer on low speed, and the chicken was shredded in no time! It may be on YouTube as well.
Now–dessert time. How about some chocolate custard made in the Crock Pot? (That's one of the recipes on the new page.)  It takes just a few ingredients and couldn't be simpler.
First, heat up some almond milk and chocolate:
When it looks like that, whisk in your sweetener (I used 3/4 cup of SomerSweet, but the recipe calls for 2/3 cup Splenda, which you know I won't use.)
The original recipe called for some kind of low-carb milk called Carb Countdown. I've never seen it, but the same amount of almond milk worked just fine. I don't know if coconut, rice or other alternative milks will work, but if you want to try it, go for it. I just can't guarantee anything.
Next, grease or spray a 6-cup glass casserole dish, and pour the cream in:
Then add the chocolate mixture, then the eggs individually:
Carefully put the casserole dish into the slow cooker, pour water around it, up to 1″ of the top rim. DO NOT get water into the custard, please.
Cover the slow cooker and cook it on low for 4 hours.
What you get later looks like this, but it's not ready to eat yet.
You take the lid off and let it cool. When it's not burning hot anymore, carefully remove it from the crock, cover it, and when it's cool enough to refrigerate, well, do so. Once it's nice and cool, this is what you slice and serve:
It's rich, fudgy and substantial. Made in advance, it's a nice option for a dinner party, or for a single woman to enjoy all week by herself. Hey–it's my kitchen, I'll enjoy a sugar-free, low-carb chocolate thing anytime I want.
Incidentally, the second time I made this, I topped a slice with some bought-on-sale raspberries and a light dusting of SomerSweet. Yum.
A printable PDF copy of this recipe is available on the new recipe page, so you can try it today if you like.
With summer pretty much here in the south, and coming everywhere else, a Crock Pot is going to be a good thing to have around. There are so many models available in various price ranges that it's a good investment for cooks everywhere.
There are hundreds of books on slow cooking; I just listed two that I have. But with all the cooking websites available, it's easy to find and keep recipes you like and either stash them in your DropBox, save them to your hard drive or print them and save them in a notebook. I found two e-books last night on Pinterest–one Paleo and one gluten-free that I'll be reviewing soon.
College students in dorms also might want to think about Crock Pots, too–and learn to use it before they go to school in the fall. Might that be a good gift idea for a graduating senior? Just a thought.
And really–now that the long, cold winter is done, you want to get outside again, right? Let dinner cook itself. It's easy to do, and couldn't be simpler. Follow simple directions and you'll have some tasty food waiting for you on your schedule. (You almost can't burn it–that should make the "I can't cook" crowd happy!)
Have you got a favorite thing you use the Crock Pot for? Post it in the comments (nice, please), so we can all try it! (If I do, I'll post a review later.)
Whatever you cook in it, get that slow cooker out and start using it again. After a few times, you'll be glad you did.
Enjoy!