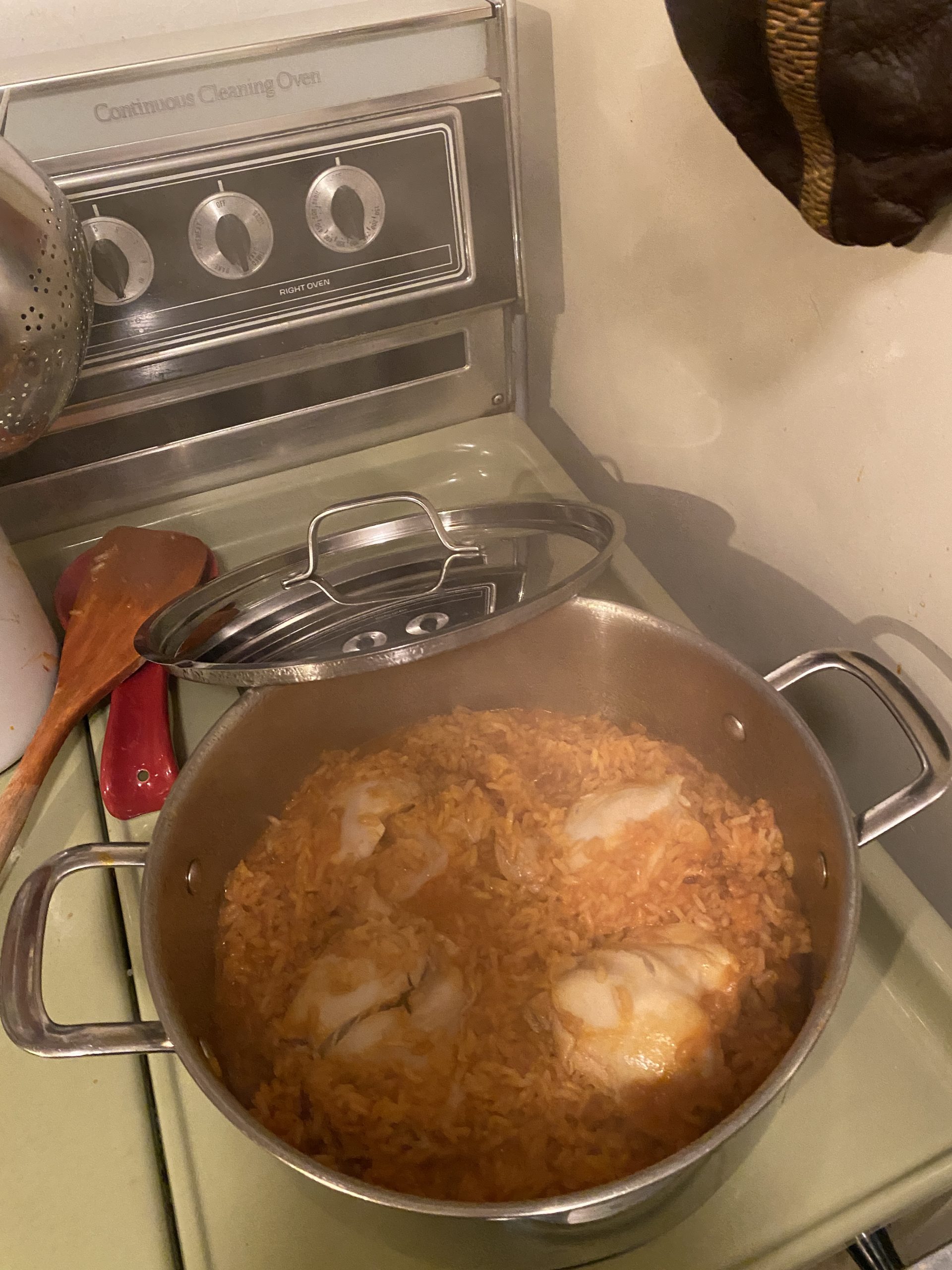 Today's post is not sponsored, but more of a love letter to Bolner's Fiesta Spices Company. If you like a good chicken and rice, you're reading the correct blog today.
Hi, again, Dear Readers:
If you're in Texas, you probably look at Fiesta Spices like you look at the shelves when you shop–it's in every grocery store, everywhere. Of course, it is, because the company is in San Antonio, and their spices are widely available throughout Texas. But when you find it in the middle of Louisiana, where Hatch chiles are not embraced, that's something to celebrate.
I can get a small selection of Fiesta spices and products at Albertson's, which includes their River Road brand of Cajun-style spices. I had no idea that River Road was a Texas company until recently.
BF's Seasonal Mantra
Yes, he's saying it: "I hate cold weather!" Repeatedly, and more often if there is an implication and/or inference of snow in the forecast. Despite my sincerest hopes, snow has not made an appearance, and for this BF is happy. However, despite the incredible Arctic chill, we've fared well. And as BF is fond of saying, "it gets cold in the piney woods." He's not kidding, either–it was 17F when that cat showed up five years ago.
Still, the closest thing I get to a fireplace is streaming on my Roku through YouTube or another streaming channel. I look for the ones with music, but there are some with just the crackling sounds. PlutoTV's fireplace channel is now just a loop of commercials until Christmas.
For many years I've asked BF for a space heater that looks like a fireplace. I've shown him multiple available models that look and feel like a fireplace but don't carry as many risks as a real one. We could even build a nice little wooden mantel for it and put the "fire" inside. Nope–didn't think it was a good idea.
But last week saw the purchase of exactly that–a space heater with a fireplace-like inset. We got the last one at Walmart. All the rest of the heaters were gone in anticipation of the sub-freezing weather. Obviously, last year's big freeze is still on everyone's mind, both here and in Texas. I use it in the back room where it gets really cold, and the pit bull pulls his little cushion in front of it to stay warm. Awwww. . . .
Powerless
Sure enough, last week we woke up to no power. The weather was fine, just really cold. BF got up, started the camp stove like he's done many times before, and got cracking on bacon and eggs for us. After a short phone conversation with his brother, he went back to sleep. He had to go to work at noon. Meantime I started dusting because I don't need power for that.
Entergy said the power would be back about 9:30 am, which came and went. About 11 am, I asked him to please get the generator set up so I could plug in a heater. He dragged it to the house, filled it, and started it up. I went inside to get an extension cord, only to see the ceiling fans start turning. Nevermind! I flipped the switch to turn it off and that was the end of it. BF was out in the shop snickering because he knew what happened. I plugged the heater in for the back room, the HVAC system kicked on, and he went off to work.
BF also purchased another indoor heater this week, one that runs on the same propane bottles as the camping stove. It will keep us from freezing if we have another outage, and no need to go into town for petrol if we don't need it.
And it works well, too, because we tested it.
Since it is winter, though, we always need something warm and comforting for dinner. Luckily, I found something that's easy and fast.
Finding Fiesta Spices
Living in Texas as long as I did, I got used to buying certain things. When I moved here, I had to find what I needed locally or order it online. Ask our mail ladies how many packages they handle from all over the US with my name on them.
A few years ago I found in Winn-Dixie one spice brand I used to buy, but not many of the Mexican variety. What am I supposed to do with a tiny bottle of cumin?
I always bought Fiesta because it was there, it's good stuff, and readily available. I brought a fair amount of it with me when I moved. Leave Texas and the brands are all different–and you can't always get those big containers of ground cumin, coriander, and chili powder. Then one day I stumbled on Fiesta Spices in Hammond. Oh, Happy DAY!!
It was kind of an accident–I went into the Albertsons to look for something Rouses didn't have available. I walked down the spice aisle and there it was! A whole section of the shelf of JUST Fiesta Spices. And River Road, too!!
I was so happy, I didn't know what to buy first. (I think I bought a big container of chile powder.) BF stayed in the truck while I went into the store since he's not enamored with grocery shopping. Really. He'd rather not be bothered with grocery shopping, ever.
Foodies Of Instagram
In the quest to make a good dinner for both myself and BF, it's frequently a hit-and-miss proposition. Really, the thing I think he'll dislike is the thing he asks for again. And the thing I think he'll enjoy is what he'll turn up his nose at, loudly. ("She's tryin' ta kill me!") But this time, things went well, and all because of an innocent Instagram post a couple of weeks ago.
I follow a myriad of people and companies on Instagram, including some food bloggers and culinary celebrities I've mentioned here. Jen Fisch of Keto In The City and Emilie Bailey, The Texas Granola Girl, are two of them. Others include Stephanie O'Dea, Ina Garten, (The Barefoot Contessa) her protege Lidey Hueck, Rachael Ray, Valerie Bertinelli, Ree Drummond (The Pioneer Woman) plus her two daughters, and of course, the Goddess of the Home, Martha Stewart.
I originally joined Instagram to follow sewing maven MimiG, who occasionally posts foodie stuff, some of it in sponsored posts. I also follow her talented sewing/designing husband Norris Danta Ford, both of whom are very nice folks. Since then I've followed more like Emilie Bailey and Jen Fisch, both of whom are active on IG. I even follow a couple of personal injury lawyers who produce interesting video content. Many will answer questions if you ask (the lawyers don't give legal advice) and interaction seems to be easier on Instagram.
Of course, food companies are all over Instagram, including Caulipower, and a Texas favorite, Fiesta Spices. And that's where it started.
Fiesta's Instagram
So this particular day, the folks at Fiesta Spices posted a picture of Arroz Con Pollo, or Spanish chicken and rice. The post (and the recipe) featured Fiesta's Spanish Rice Seasoning.
That sure does look good. . .so I asked:

Dinner is solved! The recipe is also on Fiesta's website.
We had another reason to head to Hammond, and a quick trip to Albertson's was added to that trip. There it was, the Spanish Rice Seasoning right on the shelf. Also got some chicken thighs on sale, broth, and promptly forgot the cilantro.
Wait, hang on–you mean they have it in the big bottles? For $8.72? Yep, that's good to know.
Making Arroz Con Pollo
This couldn't be easier to make, and it's faster than the jambalaya BF insists upon making occasionally. (I know, keto what?)
BF isn't a fan of chicken thighs the way I am, but that's been the least expensive option lately:
Ideally, boneless and skinless chicken thighs would be the best option, but I got what was on sale and just removed the skin myself.
Just get all your ingredients together, and get started.
I used my chili pot, and it worked perfectly. First, add the olive oil:
Then start frying the rice in the oil:
Then add in the tomato sauce:
Then the seasoning:
The 2.5 cups of chicken broth:
Carefully add the chicken thighs:
Cover and cook for about 20 minutes, or until the water is absorbed and the chicken is cooked. I think.
I actually don't know how long I cooked it for, I just looked at it a couple of times. I cut open one of the chicken pieces, and it was done. Might have been 25 minutes, but of course, the chicken is the barometer. You can add a little more water or broth to the rice if needed.
When you open your pot, this is what you get:
The rice is deliciously cooked:
And you've got a tasty one-pot meal that's on the table in less than an hour.
Feeding Arroz Con Pollo to BF
Now comes the scary part: will he like it?
I'm happy to report that it was a two-thumbs up! BF really enjoys this dish and will be happy for me to make it again. I better order a restaurant-sized bottle soon. He'll keep me around for this one.
Arroz con Pollo could be a perfect dish for our Valentine's Day "dinner and a movie" night.
Now that I think about it, I bet you could make this in the Instant Pot, too, although maybe not using the pressure cooking function. I'll have to fiddle with it and see how it works. If the power goes out, I can plug the IP into the generator, saute the rice, add everything, and then cook it normally until done with the glass lid. Maybe pressure cook it for 15 minutes? I'm thinking ahead to the next winter power outage, and if we can do this on the generator.
What Happened Next?
Two days after this success, Fiesta posted a picture of a spatchcocked chicken seasoned with their Chicken Rub, featured by a different poster.
As you can see, I also mentioned the previous night's dinner from their post. And when I went to Hammond the next morning to run errands, I picked up a bottle of their Chicken Rub for us.
A few days later I took two chicken thighs out of the freezer and used this chicken rub:
I forget what else I made with it, but BF enjoyed this dinner and said I should make it again.
Two winners in a week! (Although BF may soon complain that he is "clucking" from all the chicken.)
Fiesta's Tamale Kit
During the holidays, lots of companies have online contests for different things. In the case of Fiesta Spices, it was a bottle of this or a that. Not expensive things, but it was fun, so I entered and tagged people every day.
Then on December 19th, at 8:37 in the morning, I got a message on Instagram from Fiesta. I won their Tamale Kit!!
As requested, I sent them the address, and it arrived on December 28th. Woo hoo!! But checking their website, it's out of stock right now. So I guess I got the last one.
Now for the bad news: making tamales is a long-term commitment. Seriously. Lots of labor and a little hand cramping. But done correctly, well-made tamales are delicious. At this point, I don't know when I'm going to be making our own tamales. When I do, I will need to get a Food Saver to freeze five dozen of them. Meantime, Texas Tamales will have to take care of our cravings for real tamales.
Buying Fiesta Spices
If you're in Texas, you already know where: your local HEB, Kroger, Food Town, Randall's, Fiesta Mart (the grocery store chain, I miss them too), and every other little place that sells Hispanic foods and goods. Toss a quarter in any direction in the state of Texas and you'll likely find at least a few Fiesta Spices products.
Locally, there are two stores I've found that carry Fiesta Spices. The first is Albertson's in Hammond. Chances are the other Albertsons carries them too, but I've only been in the Hammond store. Amazingly, the Walmart in Covington also carries a huge selection of Hispanic foods and spices, and I believe they had some as well.
I don't remember seeing Fiesta products in Los Primos last year, but I may have also missed something. In my defense, I was just wide-eyed at all the wonderful things from Mexico they have. It's been a while since I've been there, but I should make more Salsa Macha soon.
But if you're in a place like, say, Idaho, chances are Fiesta Spices aren't something in your regular grocery store. For that, you have the option of a) buying from their own website, or b) ordering from their Amazon store.
Prior Exposure
Now, this wasn't the first time I'd ever had Arroz con Pollo, nor will it be the last (now that HE likes it.) My mother had a complete set of The Betty Crocker Recipe Collection, circa 1971. In it was a recipe she used, sort of, and made many times when we were growing up–Arroz Con Pollo.
If I remember correctly, she didn't use pimientos or olives:
It was pretty easy, so that was the draw, plus everyone ate it. The recipe was scaled down for a family night dinner for six. But we didn't know it was simply Spanish chicken with rice. This was New Orleans in the 1970's, before Paul Prudhomme and Emeril and all that.
Recipe "collections" like these were sold as a small package bought monthly for a small price, and the storage box usually came with the first package. Over a year or two at that price you'd have the entire collection in your kitchen. Most people didn't add up the total cost of these little "collections" that you bought for a small sum every month. My father bought the whole thing for my mother, and I only recall that recipe ever being used. Maybe one day I'll go through all the cards and if there's anything else that rings a bell.
Then one day, about 15 years ago (and probably more) my mother decided to get rid of her Betty Crocker Recipe Collection. I convinced her to give it to me instead of tossing it in the trash. As a fan of the always amusing and occasionally crass Vintage Recipe Cards website (also on Instagram), I might actually use one of these recipes one day. But nothing with aspic, gelatin, or other "gourmet" techniques of the day. Occasionally recipes from this collection show up in the postings.
Until Next Time
If you're looking for something new and different for dinner, Fiesta's got you covered. Their website has a huge library of recipes featuring their spices and products, both Mexican and Cajun. Let's face it, a muffuletta has nothing on these Fishing Sandwiches.
Wait. . .did someone say Chorizo? Hang on, is that an Overnight Oatmeal recipe?
There are also keto recipes featured, and guess what? The links take you to The Texas Granola Girl's website! These were two of the many recipes that feature Fiesta Spices (and of course, sponsored by the company.) Keto Deep Dish Pizza and Keto Shrimp Etouffe look like two dishes I need to try really soon, especially the second one. Oh, wait, there's a Mexican Shredded Beef recipe for the Instant Pot.
Wonder if he'll *almost* want to yell at me as he wanted to the first time I made the Wheat Belly Gumbo recipe.
Another warm and delicious vegetarian recipe is coming, along with a couple of cookbook reviews and another Spencer story. Right now, we all need warm comfort food, and I'm looking for more of those too. Don't worry, spring is on its way, and soon we'll be watching the Gulf of Mexico again. Meantime, make some delicious Arroz con Pollo and find something funny to watch.
Happy Dining!