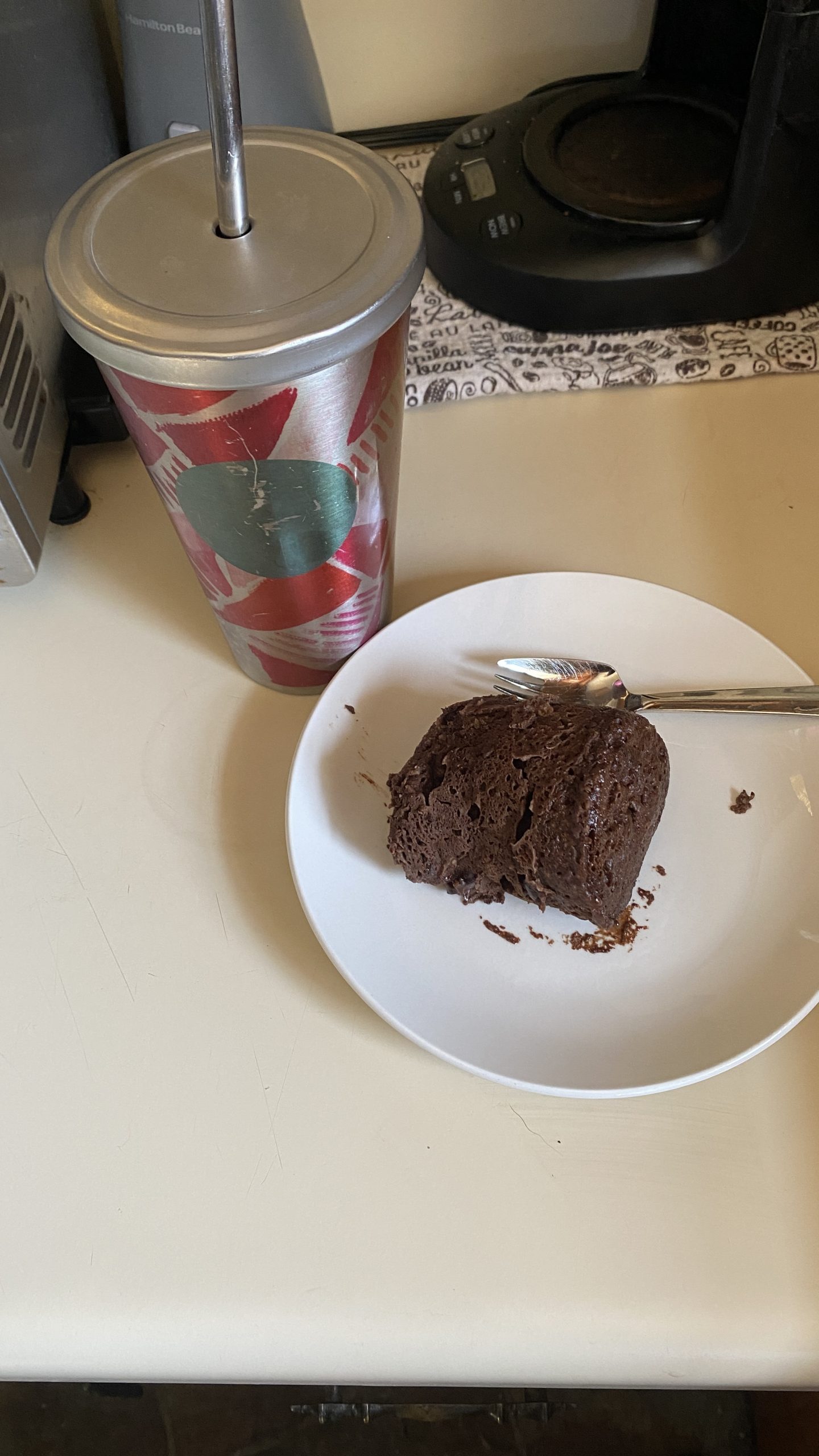 Double Chocolate Mug Cake
Chocolate cake in a single serving is always a good thing, especially when it's keto. I've got a quick and easy chocolate mug cake that you can make and enjoy anytime.
Hi again, Dear Readers:
It's been over a month since my last blog post, and for that, I apologize. We did a little traveling, and it's been go-go-go since we got back. Maybe I need to listen to Stephanie O'Dea's Slow Living Podcast, if I could find the time. I'll tell you more about our trip in a future blog post.
I intended to post this much earlier. With the Holidays bearing down on us there's a lot happening for nearly everyone. Things are about to get very busy and complicated for many people. As I was once told by a former supervisor at Boeing, "we're getting into the time of year where a month is not a month." For those working in the corporate sector, it means vacations, either yours or someone else's. Many people will be gone for days, and probably when you need them the most. That's been my experience, so be forewarned.
But at the Casa de Rurale, we're debating on whether we want to tackle that backroom area where all the Christmas stuff is stored behind a bunch of other things or leave it for another year. I'm guessing we're probably going to try later.
Meantime, let me catch you up on our recent happenings.
My Birthday
Before our trip, it was my birthday. I did make a Swerve chocolate keto cake, although we didn't "do" anything because we had a trip the next week. I made some chocolate buttercream icing from Suzanne Somers' book Somersize Desserts but using the same 1:1 sweetener you see in this post. Then rushed the process so the icing's texture was a bit clumpy:
But it was still delicious and we enjoyed a keto/low-carb/Somersized (sort of) chocolate cake. Earlier in the day, I made it to Starbucks for my birthday treat: 
The protein box wouldn't ring up, so it ended up being the drink that was free. I was also running errands so I needed a bite.
The Banana Rat Gets Married
We went to Houston for a few days, finally. It was a short trip with multiple mishaps, but we made it there and back just fine. After hiring a local sitter on the Rover app, we solved the problem of who to ask to take care of things while we were gone.
We couldn't see everyone and go everywhere, but we did make it to our intended destination and made a few in-person visits. Zoom calls just aren't the same. It was good to see some folks after so long away. BF was his usual very entertaining self.
The focus of the trip: our favorite web guy, Rafael, aka "Banana Rat," recently married his longtime partner, Carmen. It was a beautiful wedding at an incredibly gorgeous place called The Springs of Magnolia. The venue is in Magnolia TX, north of Katy, and about a 45-minute drive north from Katy on the Grand Parkway.
Their wedding was at the Stonebridge venue. The actual ceremony was outside, with cocktail hour on the porch including delicious appetizers, then the full reception inside. The building is nestled in a grove of pine trees with fountains and bridges for picturesque views. Pinehaven has a long porch area that goes around the entire building. The weather was perfect, and I'll tell you more about the wedding and the wonderful food in a future blog post.
Meantime, here's a picture that Rafael put on social media not long after the wedding.
I managed a selfie with Rafael during the busy reception, too:
We took our own pictures, of course, and were close enough to get some great shots. I've since shared them with Rafael, once I figured out the most efficient method to do that. More in a future blog post.
The Double Chocolate Mug Cake
I'm piggybacking on my last blog post about the new book Easy Dirty Keto by Emilie Bailey. I decided to try this recipe after I published that blog. I intended to publish either before we left for Houston, or right after we got back. That didn't happen. Finally, when I'm caught up a little bit, I have the time to finish up.
To make things easy, I'll put the printable recipe right here so you can print your own copy. It's an easy, fast recipe, and it takes just a few minutes. If you don't have sugar-free chocolate chips on hand, you can skip it—because, let's face it, you may just snack on the chocolate chips anyway. There's also an unusual ingredient that you might not be expecting, but it works well here.
Double Chocolate Mug Cake
Ingredients
3

tbsp

Keto yellow cake mix (from a box)

See note below if you don't have a box of this

1

tbsp

cocoa powder

1

tbsp

mayonnaise

1

large egg

2

tsp

water

1

tbsp

sugar-free chocolate chips
Instructions
In a mug, combine cake mix with cocoa powder and mix well. Add mayo, egg, and water; stir well to combine. Mix in the chocolate chips

Put the mug into the microwave and cook on high for 1 minute to 1 minute and 20 seconds, until the cake is firm but still glossy. If you're using a large mug, you may need to cook for a few more seconds.

Top as desired and enjoy.

NOTE: if you do not have a boxed keto cake mix, stir together 2 tablespoons of almond flour, 1 tablespoon of 1:1 granulated sweetener, ¼ teaspoon of baking powder, and a pinch of salt. Mix together, then proceed with Step 1.
Now let me show you how to make one when you just really need some chocolate cake.
How To Make It
Like many of the mug cake recipes you see on Pinterest, Instagram, and other places, there are only two steps here, and the third is optional.
First, you mix the cake mix and the cocoa powder in a cup.
Then add the wet ingredients: mayonnaise, egg, and two teaspoons of water.
Stir it well, then stir in the chocolate chips if you're using them.
Stir them in:
Next, microwave it on high for one minute to one minute and 20 seconds. Emilie says, "until the cake is firm but still glossy." A larger mug takes a few more seconds or a microwave that's not as powerful. I think our microwave takes one minute and 30 seconds to be completely done. Just don't cook it too long.
At this point, you can sprinkle on a little bit more of the 1:1 sweetener, you could put a little whipped cream on it, or just eat it as is. I usually skip the embellishments because I think it's fine right out of the microwave. But if you put, say, some sugar-free raspberry preserves on top when it's done, I won't judge.
Mayonnaise In Cake?
Yes, you read that right, and I'm guessing Aunt Ruth and Aunt Kathy are nodding their heads in agreement. I've heard of it before, but never tried it myself, until now. And, honestly, I thought it was a horrible idea. But Emilie comments in the book that she's tried multiple recipes for cake in a cup but they tended to be too dry or too "eggy." The addition of a tablespoon of mayo makes it rich and fudgy, just like a cake should be. You don't taste the mayo, honest.

No, I haven't told BF.

You can read more about mayo in cakes in this article on Epicurious' website with links to other recipes, including this one by BestFoods/Hellman's using their own mayo. Apparently it's a "secret ingredient" in chocolate and other cakes that gives it richness and moistness. Here's another chocolate mayo cake recipe from Taste of Home. Warning: unlike Emilie's recipe, these cakes aren't keto, and are both whole cakes.
The Keto Cake Mix Dilemma
Like many people, I haven't bought much in the way of prepared keto products. There are so many keto things in most grocery stores now. Of course, you must read through everything to know if it really is keto or just something with the "keto" name pasted on it. I've seen a few things that claimed to be keto, but they contained wheat or other things in them that disqualified them from being "keto." But then again, there's "dirty" keto, too, but I don't want wheat at all.
What I really like about this recipe, and what made me try it, was Emily's note to tell you how to make it with other ingredients. Well, I had them, and I appreciated the note on making them without buying a full box of cake mix. Since discovering this little variable, I've enjoyed this chocolate cake in a mug several times.
Instead of the boxed mix, you simply whisk together 2 tablespoons of almond flour, one tablespoon of granulated 1:1 sweetener, ¼ teaspoon of baking powder, and a pinch of salt for your cake base.
That replaces the three tablespoons of the boxed yellow keto cake mix. Just mix it up and proceed with the recipe.
Easy!
Ready For A Little Keto Chocolate Cake?
Really, I wish I'd done this before, but I'm glad I finally got around to trying this recipe.
Miss Alice has not had the pleasure of making any recipes from the book yet, but she's planning on doing some while she's off for Thanksgiving break. I highly recommended this recipe and a couple of others to her so that she and her daughter don't have to rely on mac and cheese or some other "instant" thing when they get home at night. But they still haven't gotten around to using a slow cooker during the week just yet.
This chocolate cake is an easy and fast keto dessert that makes just one serving whenever you're ready. You don't have to make an entire cake, just one little cup of cake. And isn't that what you need sometimes just to hit the spot?
Enjoy!