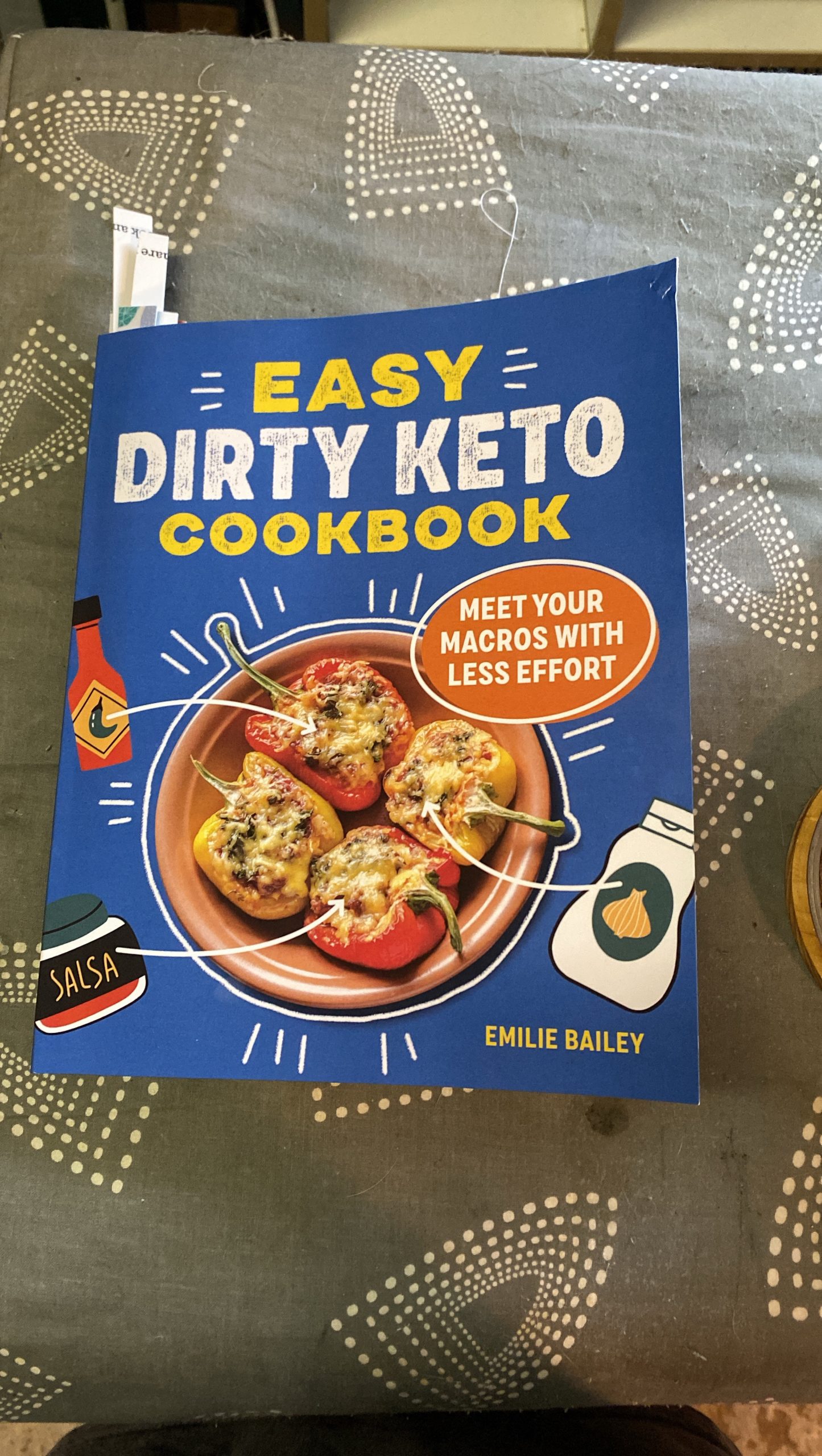 Cookbook Review: Easy Dirty Keto
Easy Dirty Keto is the latest cookbook by Emilie Bailey. Today I'll review it and tell you why it's a good book to have in your collection, whether or not you eat keto.
Hello, again, Dear Readers:
Apologies for my tardiness, it's been a busy few weeks. We watched as Hurricane Ian went through Florida doing pretty much the same thing Hurricane Ida did in Louisiana last year. One of my project managers lives right in the strike zone, and she finally got power and Internet back a few days ago. Don't we know about that! 
Others have checked in from the area on social media. Keep these folks in your thoughts and prayers, although I think the good Governor DeSantis has everything well in hand. We've been through it, and we know some folks who are still not back in their homes more than a year later. Everything moves VERY slowly here, but Florida's working it.
We've had a few lovely cool fronts come through, and another brief one graces Texas and Louisiana tomorrow. There's been scant rain for over a month. Autumn came early this year, and we're thankful. I can open the windows some days and clear the air (especially after BF has been cooking.)
As promised, I've got a delicious new cookbook to tell you about, and five delicious recipes you can enjoy this week.
Get Ready For Dirty Keto
Are you looking for new and delicious keto recipes or just delicious food that's easy to make? Well, aren't we all? Today I'll tell you all about the newest—and possibly final—book from The Texas Granola Girl, Emilie Bailey. This book covers both bases.
Let me say at the outset that I was fortunate to get a review copy of Easy Dirty Keto before its release on August 25th. Thank you, Emilie! (I feel special when that happens.) I've already left a five-star review on Amazon, because, well it deserves five stars, in my opinion. But that's because the food is good.
Honestly, if the recipes weren't any good, I wouldn't be writing an entire blog post—it would be a short "news item" with my polite opinion. But this is Emilie, and the food is really, really, good—as usual.
Let's get cooking.
What Is Dirty Keto?
No, it's not something you get into trouble for, should be embarrassed about, or risk arrest. Nothing like that. It's a form of keto that stays within the parameters but isn't exact.
There are two types of keto:
Clean keto, where you eat "clean," no processed foods, artificial sweeteners, and the like
Dirty keto, where the rules are a little looser, but still help you meet macros and stay in ketosis
Ingredients like these might be considered "dirty keto":
Or this one:
And if you wanted to classify my keto, it would be called "filthy dirty keto." Because I can't say I eat keto every day—especially when BF makes jambalaya or one of his other "specialties."
The rule is to stay in ketosis. I can't say I've ever checked that. Still, dirty keto isn't as strict, and the variety of foods is wider because you can include some things that you wouldn't under "clean keto." You'll see what I mean in the recipes.
Many people find clean keto to be difficult to sustain, or they just get bored with the same types of foods. With dirty keto, there's a little more to enjoy that's still "keto." Emilie explains in the intro–she's busy, like most people, and needed to loosen the rules a bit. One example is the sugar-free version of Cool Whip.
I've tried these five recipes myself and give my opinion on each. (Spoiler alert: they're delicious!) I'll be trying more of them in the future, and I may include them in a future blog post. So, here they are for your information and enjoyment.
Chorizo and Spaghetti Squash, Page 125
Let me say right up front that this is the recipe I really wanted to make first but had to wait until BF wasn't home. I don't want to listen to the retching.
It's simple and straightforward. You might not believe it was really keto. The setup:
First, start with the spaghetti squash:
Cut in half and scrape out the seeds:
They should look like this:
Put them face down onto a microwave-safe plate and cook on high for ten minutes, until it's fork-tender.
When it's done, it looks like this:
While that's cooking, measure out your spices and things:
Then remove the chorizo from the casings and add it to the pan.
You won't need oil, because the chorizo gives off plenty once it starts cooking. Remember, it's a highly seasoned pork sausage.
Once the chorizo is cooked, add in the pico de gallo:
Mix that around, then add the salt and the spaghetti squash:
Toss that all around to distribute:
Then sprinkle the half-cup cheese on top:
And dinner is ready!
It takes about 30 minutes or so, but it's really fast and easy. If you want, you can cook the spaghetti squash ahead of time (keep reading), refrigerate it, and add it to the pan when the chorizo is cooked. If the spaghetti squash is cold, you may need a few more minutes to let it reheat in the pan before topping it with the cheese.
When I finished, I posted this picture on Instagram:
And I tagged Emilie. She saw it and responded that it was one of her favorite recipes from this book. Well, yeah! But really—chorizo. Do we need anything else?
What I Did Wrong
I bet you weren't expecting to read that. Let me explain.
The recipe was made according to Emilie's directions. But because we were on a rushed trip to Winn-Dixie, two things were different:
I bought salsa, not pico de gallo because that's what I could find quickly
I also couldn't find the queso fresco quickly so I relied on the Cotija cheese I had in the freezer
Guess what? Both were wrong for this recipe—but it was still delicious!
The salsa I bought:
And the magic secret ingredient:
That's right, sugar. They call it "cane sugar" so they can show that it's "natural," and not from high fructose corn syrup. It's still sugar, though, and it matters if you're a diabetic watching sugar or you're just trying to cut down or eliminate your sugar consumption.
The Cotija cheese is tasty but has a stronger taste, similar to Manchego, but not as potent as Feta. Just not the same as Queso Fresco, which has a salty, mild taste. I love Queso Fresco, and BF won't touch it, so it doesn't last long when I buy some. Fortunately, the recipe only calls for a half-cup of cheese as a topping, so it doesn't overwhelm. I was looking forward to the milder cheese taste.
A subsequent trip revealed that our local Winn-Dixie simply doesn't carry Queso Fresco, but Walmart does, along with pico de gallo. Good thing, because there's suddenly a lot more Spanish spoken in Walmart here than before. No kidding.
Because BF was gone on a recent weekend, I made it again with the "right" ingredients. (He still won't touch it.) I made my own chorizo because I didn't have any but did have ground pork in the freezer. Really good both ways, but I'll stick with the recipe next time.
Here's the printable recipe:
Chorizo & Spaghetti Squash Toss
From Easy Dirty Keto by Emilie Bailey, Page 125 (c. 2022)
Ingredients
1

medium spaghetti squash, about 2½ to 3 pounds, or four cups cooked spaghetti squash

1

pound

Mexican chorizo, casings removed

1

cup

pico de gallo

½

tsp

Kosher salt

½

cup

Queso Fresco (fresh Mexican crumbling cheese)
Instructions
Carefully cut the ends off the squash, then slice it in half lengthwise. Remove the seeds, then place the squash halves cut side down on a microwave-safe plate. Microwave on high for ten minutes, or until the squash is soft and fork-tender.

While the squash is cooking, preheat a large skillet over medium-high heat and add the chorizo to the skillet. Break apart the chorizo with a spoon and cook until lightly browned, about 5 to 7 minutes. Add the pico de gallo and cook for another 2 to 3 minutes, until the onions begin to soften.

When the squash is cool enough to handle, remove the strands with a fork, and add them to the skillet. Season with the salt, and toss with the chorizo mixture until warmed through.

Remove the skillet from the heat, top the mixture with queso fresco, and serve.
I have updated the chorizo blog post with a printable recipe for that, too.
Notes About Spaghetti Squash
Emilie calls for microwaving the spaghetti squash here. And for this recipe, it works great. But there are other ways to cook this wonderful vegetable if you like it and want to make it for something else.
It's low-carb and keto and tastes good when cooked correctly. It's an ideal substitute for wheat-flour spaghetti, and tasty with any kind of spaghetti sauce. But of course, it's called "squash," and that puts BF right off eating any. His comment, "I'll try anything you make" is rendered null and void when anything contains the word or ingredient "squash."
My first encounter was some 20 years ago with one of Suzanne Somers's many low-carb cookbooks. Her recipes called for the same prep: cut in half and remove the seeds. But then the recipe called for:
Rubbing both cut sides with olive oil
Putting them cut side down on a sheet pan
Roasting in a 350F oven for an hour
You must wait for the squash to cool before handling it. Or use a thick potholder to hold the halves and scrape out the stringy flesh into a bowl. I can roast a smaller one in the countertop oven easily.
I think the recipe I tried first called for a little salt and pepper with a pat of butter, which is probably my favorite way to eat this squash. If you're not going to use it or eat it immediately, just put it into a dish and refrigerate it until you're ready.
Slow Cooking Spaghetti Squash
Another way I found to cook spaghetti squash is in the slow cooker. No kidding, you can totally put your spaghetti squash into your slow cooker—whole—and let it cook on "low" while you're at work or doing other things. You must poke it with a fork in a few places like a potato, but it cooks up nicely. It's hot, of course, so be careful cutting it open and scraping out the seeds.
Why would you do that if this recipe calls for microwaving? It's your choice, really. You can also use the countertop oven to cook one in advance if you wanted. But using the slow cooker also means it's hands-off and ready when you are, although it does come out softer this way. Again, use immediately or refrigerate.
If you're making this dish on a busy weeknight, the ready-to-use spaghetti squash can make it a little easier.
However you cook this, it's delicious in a fantastic Tex-Mex sort of way.
Barbecue Glazed Chicken Tenders, Page 95
This is so easy and tasty with just a few ingredients. Here's the recipe:
Barbecue Glazed Chicken Tenders
From Dirty Easy Keto, Emilie Bailey, Page 95
Ingredients
½

cup

Sugar-free barbecue sauce

¼

cup

Sugar-free peach jam

I couldn't find peach, but apricot worked well here.

1½

tbsp

Sugar-free barbecue rub or seasoning

1

pound

chicken tenders
Instructions
Preheat the oven to 400°F. Line a baking sheet with parchment paper and set it aside.

In a bowl, stir together the barbecue sauce, peach jam, and seasoning. Reserve three tablespoons of this mixture for later.

Dip each chicken tender in the sauce mixture and place it on the prepared baking sheet. Place the tenders in the oven and cook for about 20 minutes, or until the internal temperature of the chicken reaches 165°F. Base the tenders with the reserved sauce and bake for another 5 minutes.

Serve as desired or store in an airtight container in the refrigerator for up to 4 days.
The setup:
See that sugar-free apricot jam over there? It's supposed to be peach, but that's all I could get in Winn-Dixie. It's close, so I bought some, and it worked just fine. On sale, 2 for $6, with a jar of red raspberry. Because let's face it, all you need is a spoon, and you have an instant keto dessert.
So. . . .
Preheat the oven to 400F, then line a sheet pan with parchment. I measured out the barbecue sauce in a measuring cup and then kept using it because it was just easier for mixing.
Mix the barbecue sauce, jam, and either some BBQ rub or other seasoning. I used a seasoned salt mix I like to make from another book.
Mix well
And take out three tablespoons for later. I can't find that picture, though. But it gets easier from here.
Dip the chicken tenders into the remaining mixture, just like you were breading them:
Drop onto the baking sheet:
Then bake it at 400F for about twenty minutes.
Once done, brush with the reserved sauce and give it another five minutes or so.
So what should you serve this with?
Balsamic Brussels Sprouts, Page 64
Make this while the chicken is in the oven. I started heating the oil first, took care of the chicken, then went on to make this one.
And if I'd read the directions ahead of time, I would have passed. Why? You're FRYING them in hot oil on the stove. I'm not saying it's not tasty—it is. However, I quit frying back in the '80s, I think. Big mess, dangerous, and all that.
But. . .these little babies are SO GOOD!!!! So if you're up to it, and you can do it safely, I highly suggest making this recipe—as is.
I can see Aunt Kathy in Texas reading this and saying to herself, "Frying? Yeah, right." Well, here's how it went.
Admittedly, I didn't realize I'd need so much oil. And the big chili pot I was planning to use would have required several bottles of olive oil, so I used the smaller, 3-quart Dutch oven. Lucky me, I bought it years ago and I'm very happy I did because it's super handy. I also didn't have a lot of olive oil, so I used coconut oil with some olive oil, which worked just fine.
Before I started with the chicken, I put the oil in the pot and put the thermometer in with it:
You can't see it in the picture because the inside is so faded, but 400 degrees is at the top.
I bought pre-washed Brussels sprouts, so that was a good thing:
I dropped them into the very hot oil slowly and carefully, half the bag at a time.
And this happened:
Use your "splatter screen," not the pot lid, because condensation will drip water back into the hot oil and cause popping and splattering. No.
Let them cook for 3 to 5 minutes, the book says. I think the second batch cooked a bit longer, maybe 6 minutes, and they came out a little better.
When you take them out of the oil, put them on a sheet pan lined with paper toweling:
Repeat with a second batch if you need to.
After the frying is completed, sprinkle on a bit of salt:
Transfer to your serving dish and sprinkle on a quarter-cup of Parmesan cheese:
A bit more salt:
Then drizzle over the tablespoon of the balsamic reduction:
If the chicken isn't ready, keep this dish warm until it is. But the chicken should be about ready by this time. I stuck the dish into the toaster oven to keep it warm until the chicken was done.
This is a seriously good keto dinner:
I admit I was just going to use my default keto recipe, cauliflower rice. And it wouldn't be bad, either. But Emilie suggests this recipe as an accompaniment, so I made it. I'm glad I did, frying mess and all.
This balsamic reduction is a syrupy condiment based on balsamic vinegar.
It's not totally keto, but then, you don't need much to add a really nice extra touch of sweetness to any dish.
Here's the printable recipe:
Carmelized Brussels Sprouts with Balsamic Glaze
From Easy Dirty Keto by Emilie Bailey, page 64 (c. 2022)
Ingredients
Olive oil, for frying

I used olive and coconut because I was nearly out of olive

1

pound

prewashed fresh Brussels sprouts, cut in half, dry, and at room temperature

½

teaspoon

kosher salt, divided

¼

cup

grated Parmesan cheese

1

tablespoon

Balsamic glaze
Instructions
Line a baking sheet with a layer of paper towels for draining. Into a Dutch oven, pour about 1½ inches of oil and heat the oil to 400°F over medium heat.

Put half the Brussels sprouts and any leaves that have fallen off into the hot oil. Turn the heat up to medium-high and cook for 3 to 5 minutes, stirring them often until they are dark golden brown and crisp. Remove with a slotted spoon to the prepared baking sheet to drain. Immediately season with ¼ teaspoon of salt.

Bring the oil back up to temperature, add the remaining Brussels sprouts to the oil and repeat step 2.

Place the crispy sprouts on a serving plate, sprinkle with the Parmesan cheese, and drizzle with the balsamic glaze. Serve immediately.

NOTE: Emilie says that to ensure that the sprouts come out crispy, and to reduce any splattering, make sure that they are dry and at room temperature prior to frying. Don't use frozen sprouts, since they have much more moisture. Use a screen to control the splattering but don't use a lid, which will make the splattering worse.
Guess what? I made this dinner again, this time for BF, along with the Mint Chocolate Chip Ice Cream Whip (keep reading) a couple of weeks ago. I managed to find sugar-free peach preserves, too. He was looking forward to trying this menu and really enjoyed his dinner with dessert. So we have one more "acceptable" keto dinner for BF, thanks to Emilie's great recipes. We'll definitely be having this again sometime.
Boogie Cheeseburger Skillet, Page 117
What led me to try this, knowing BF wouldn't eat it? Well, there's a lot he doesn't eat, so there's that. A couple of other things, too:
A lady I've known for a long time in nearby Albany calls everyone "Boogie" as a term of endearment. So naturally, the title caught my attention.
One recipe called for chipotle mayo, but I wondered where I would find it here. I mean, soy sauce is considered "international food" in our local stores. Walking through our newly renovated Winn-Dixie, I found not only the chipotle mayo, but it was also on sale, so I bought a bottle. It is SO GOOD! Then I went back and found the recipe in the digital book. Warning: it's got a strong bite. So if peppery is not something you'd like, Emilie says to substitute regular mayo in the sauce and the milder Monterey Jack cheese for the topping.
And one recipe called for a poblano pepper, which happened to be growing outside in the paint bucket garden. It was the same recipe, so that was my chance to use it in a recipe before it went bad. I've got a couple more growing this late in the year, but I can get poblanos in both Winn-Dixie and Walmart, too.
Then it was a matter of getting a few more ingredients and cooking it.
Yes, this is sugar-free ketchup by the same company that makes our favorite barbecue sauce.
Start by preheating the oven to 400F, mix up your mayo, ketchup, and Worcestershire sauce, and set aside.
If you haven't chopped anything yet, let me give you a tip: wear gloves for nearly any type of pepper but bells:
You'll seed it and cut it into two-inch strips:
You'll need a large, oven-safe skillet for this. A cast-iron skillet or stainless one like mine is perfect. Melt the butter, then add the chopped onion and Poblano pepper. Cook for 7 to 8 minutes, stirring often until the onion is translucent and starts to carmelize.
Remove this from the pan and set it aside. Now start with the ground beef, along with the salt, pepper and garlic powder:
Brown it up really nicely, and break it up into small pieces, which will take about ten minutes:
Then add the requisite cauliflower rice:
Cook until the cauli-rice is no longer frozen, just a few minutes. Then add the onion and pepper back into the pan and stir:
Take the pan off the heat, and stir in about two-thirds of the mayo mixture we made first:
Sprinkle with the cheese:
Put the pan into the oven for five to seven minutes:
Drizzle the reserved sauce on top and dig in.
No, BF wouldn't eat this either, he told me at the outset. I'll make it again when he's working late or I decide he can have his favorite frozen pizza for dinner.
Here's the printable recipe:
Boogie Cheeseburger Skillet
From Easy Dirty Keto by Emilie Bailey, page 117 (c. 2022). If you like fancy burgers, this one will hit the spot.
Ingredients
½

cup

chipotle mayonnaise, plus more for serving

You can use plain mayo here if you can't find chipotle mayo or prefer less or no spice

2

tbsp

sugar-free ketchup

1

tbsp

Worcestershire sauce

2

tbsp

butter

½

onion, cut into ¼" wedges

1

poblano pepper

1

pound

ground beef

1

tsp

kosher salt

½

tsp

ground black pepper

½

tsp

garlic powder

1

12-ounce

bag frozen cauliflower rice

1

cup

shredded Pepper Jack cheese

If you'd like to cut down on the spiciness, use Monterrey Jack instead
Instructions
Preheat the oven to 400°F.

In a small bowl, stir together the mayonnaise,ketchup, and Worchestershire sauce and set aside.

Heat a large oven-safe skillet over medium-high heat. Melt the butter, then add onion and pepper; cook for 7 to 8 minutes, stirring often, until the onion is translucent and beginning to carmelize. Remove from the pan and set aside.

Add the beef to the pan, and season with salt, pepper, and garlic powder. Cook for about 10 minutes or until browned, breaking it apart as it cooks. Add the frozen cauliflower rice and cook for another 2 to 3 minutes, until there is no liquid left in the pan and the cauliflower rice is tender. Stir the pepper and onion into the beef mixture.

Remove the skillet from the heat and stir in two-thirds of the mayonnaise mixutre. Top with the shredded cheese. Put the skillet into the oven and bake for 5 to 7 minutes or until the cheese melts. Carefully remove the skillet from the oven and drizzle with the remaining sauce.
Mint-Chip Ice Cream Whip, Page 137
Let me just say that this is a total "cheat" of a recipe. It's a prime example of "dirty keto," since it's not what you'd call "clean eating" under any circumstances. And I wouldn't have considered it unless Emilie or another keto writer suggested it.
I'm talking about Cool Whip. It now comes in a version called Zero Sugar.
If you serve this dessert in fancy little dessert cups or glasses, I suggest calling it "Syllabub." Chances are no one will know what that means, and it will sound posh. Maybe even French posh.
I'm not a fan of frozen non-dairy dessert toppings, even if it's sugar-free. But now and again, this might just be what you need to hit the spot. As Emilie describes, it's not really ice cream, just a little ice-cream-esque dessert that comes together quickly.
The prep for this one calls for putting the Cool Whip into the fridge for four hours to thaw. Don't let it sit out or microwave this stuff because it will separate. Why? It's non-dairy, and this commercial from about ten years ago ("Oil? Or Cream?" ) explains the difference. Read more on Kraft's website.
Oh, and one more thing: I couldn't get the white chocolate sugar-free pudding here, so I used regular chocolate sugar-free pudding. This, too, worked fine. The setup:
Once your Zero Sugar Cool Whip is sufficiently thawed to a soft texture, dump it into a bowl:
Add in the rest of the ingredients:
Chop the mint patties up fine:
Add them:
And discover that the bowl you picked up is too small, so you switch to a larger one because it all fits in the dishwasher:
Fold carefully to mix:
Add it back to the Cool Whip container and stash it in the freezer for a couple of hours.
When it's stiffened up a bit, it's ready to dish out and serve.
Don't serve it from the Cool Whip container if you're trying to be fancy and call it syllabub. However, if you collect this fine piece of culinary Americana, here's another reason to add to your "collection."
And if you're a fan of regular Cool Whip, here's a new dessert for you, whether you're eating keto or not. I'm sure it would work well with the regular stuff, too. If you try it, leave a comment about it.
The first time I made it, I mentioned it to BF and offered him some. He declined. Amazing, because he's a huge fan of the power of Listerine. But with the chicken and Brussels sprouts for dinner, he was open to trying some, and he really enjoyed a dish of this fast and non-fancy keto dessert.
Here's the printable recipe:
Mint Chip Ice-Cream Whip
From Easy Dirty Keto by Emilie Bailey, page 137 (c. 2022)
Ingredients
1

8-ounce

Container sugar-free whipped topping, thawed

Do this by leaving in the fridge for four hours--don't leave it out or microwave

2

tblsp

Sugar-free white chocolate pudding mix

I used sugar free chocolate because I couldn't find white chocolate.

½

tsp

Peppermint Extract

3

sugar-free peppermint patties, finely chopped
Instructions
In a medium bowl, combine the whipped topping, (save the container), pudding mix, and peppermint extract and stir together well.

Fold in the chopped peppermint patties and return the mixture to the whipped topping container.

Put the container in the freezer for at least 2 to 3 hours for an ice cream-like consistency.
About Peppermint Extract
Be VERY careful not to add too much. Otherwise, the finished dish will taste like toothpaste. I speak from experience here. The mint can overpower everything else, so measure carefully, and not over the bowl. Now, do you see why I prep everything beforehand? You can't add too much when it's already measured into a small dish or pinch bowl.
Yes, I did that, but I didn't stage the picture right. I was by myself, as usual, and I had to stand around the tripod.
Verdict: It's A Great Book!
Easy Dirty Keto is a really nice cookbook to have in your collection. If you aren't looking for dirty keto, I still recommend Emilie's book. The recipes are easy, and most of the recipes don't need a large number of ingredients. Plus, the food is so good that even non-keto folks can still enjoy them. Even BF!
When I had the opportunity to review Emilie's first book, The Southern Keto Book, my first thought was something along the lines of, "Keto and Southern? Oh, come ON!" Of course, you know how that went, and now I'm a total fangirl.
Keto or not, I feel like these recipes are real comfort food. At least, that's what I felt like when I made them and then enjoyed eating them. No kidding. Even though I grew up in New Orleans, the cuisine just isn't appealing to me anymore, plus all the excess starch of rice and potatoes and the like. I liked Tex-Mex early on, and it's what I've liked since the late '80s. Nobody understands that here, but I'm sure Emilie does.
Delicious food is the best reason for buying any cookbook, isn't it?
Is Easy Dirty Keto The End?
Emilie and her family are on a working game ranch in Texas. That's probably the reason you can find several venison and wild game recipes on her website. While she's enjoyed sharing her keto journey with readers, another book may be out of the question. We hope not, of course, but we're thankful for the four she's published. Read her blog, you'll see that her blog and cookbooks are a "side hustle." Like a lot of modern authors, she has a "day job" and writes on the side.
Should this be Emilie's last book, I would just say thank you to Emilie for four great books with delicious food to enjoy for years to come. All four have become favorites with us, and even BF likes many of the dishes I've made. No more canned soup if he wants something better.
Emilie didn't say anything about discontinuing her blog. Like me, Emilie doesn't blog regularly. That's OK—Emilie's website is a huge collection of delicious keto recipes that aren't in any books, to my knowledge. Those aforementioned venison recipes will be tried next time someone brings over deer or something. (It's happened a few times, and deer roast is quite easy in the Instant Pot.) If you're so inclined, sign up at her website (right-hand side, scroll down a little over halfway.)
Maybe one day we can make the trip to visit Emilie's ranch in Texas. When we do, there will be a full blog post here with lots of pictures.
Enjoy!