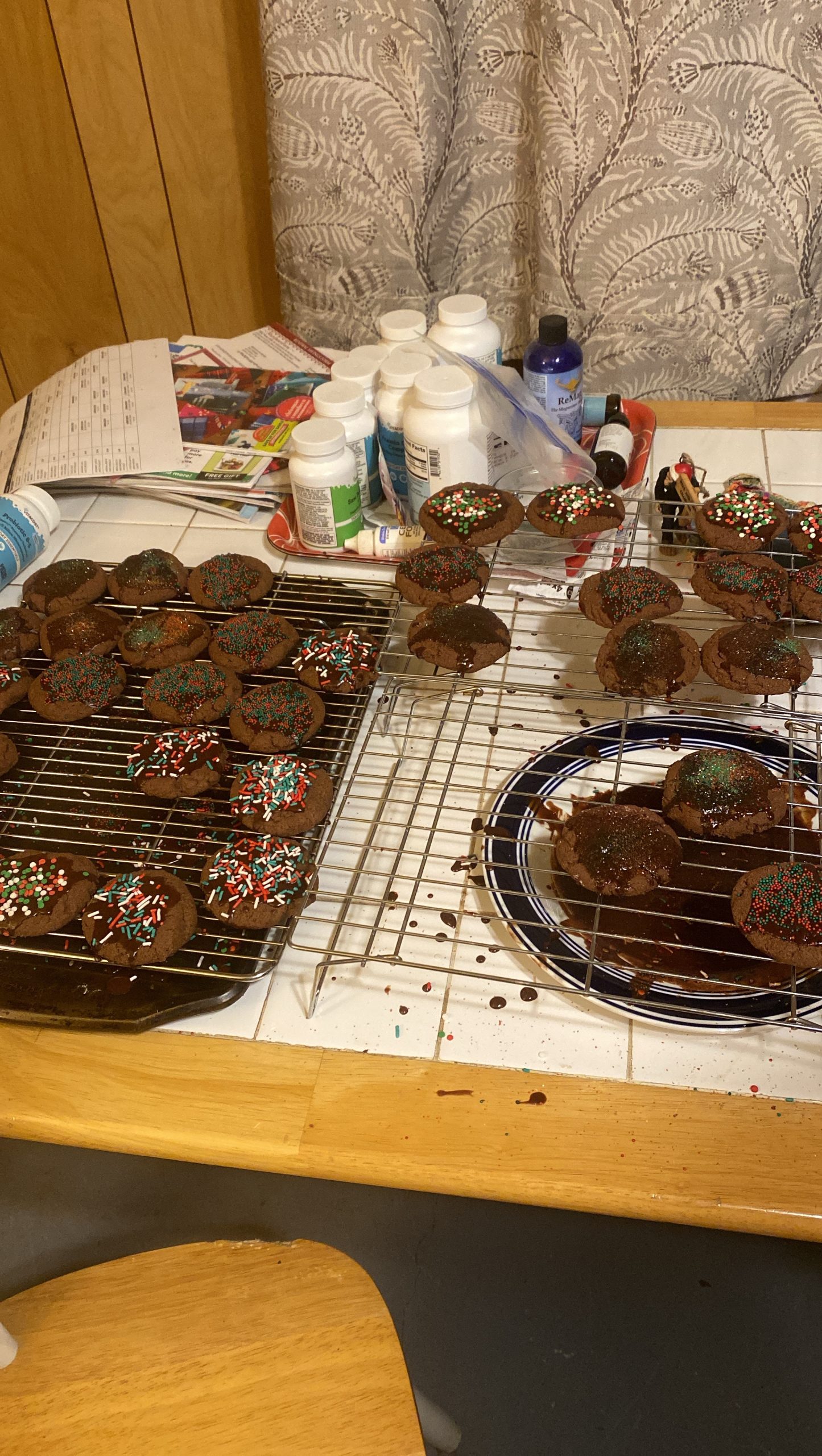 Happy New Years, 2023 Edition
In This Edition of HeatCageKitchen
Welcome to 2023! Yes, another year. What are you going to do, go back to the '80s? Not happening. Embrace 2023 for what it is, and hope that it's going to get better. (Yes, the Amazon affiliate links are live.)
Hello Again, Dear Readers:
Happy New Year! We made it to another year, and more importantly, through another holiday season. Anytime you can make it through a difficult time, I say, raise a glass and toast yourself. Even if it's milk. The holidays are difficult for a handful of reasons, even though most people wouldn't admit to it.
I realize that it has been more than six weeks since my last blog post, and for that, I apologize. This post has been sitting in the draft folder and I've been picking at it for more than a week. I have a couple of blog posts planned about our trip to Houston back in November, I just haven't been able to sit down and finish them. Since we got back, we've had a lot happen, much of it boring.
We Got Sick, Again
I don't know what the heck happened, but we caught some kind of bug not long after we returned and were laid up for a few days. I was coughing for at least a couple more weeks after it was over. We're OK, and we didn't need a doctor, just time to let it run its course.
I posted about it on Facebook, and a lady up north said that in her doctor's office, they were seeing a lot of people with a "cold they just can't kick." Coughing was included, so I presumed we had the same "super-cold" we'd been reading about.
Of course, that set everything back more than a couple of days, too.
Another Freeze!
We made it through the holiday freeze just fine and did not lose power. However, others were not so fortunate. We were ready with our space heaters and other preparations just like we did for the last one nearly two years ago. Fortunately, we had nothing to worry about. But you never know with these things. We realized that we were much more fortunate than others. We got cold, but not "Buffalo cold." That is, Buffalo NY, where things literally froze over.
Multiple stories of everyday heroism emerged from Buffalo. One described how a lady and her boyfriend brought home a 64-year-old man to keep him from freezing to death. She didn't have to do that, but she did, and saved his life. She was able to notify his family and get him to a hospital, where he was later reunited with his family.
But the cold didn't stop me from doing a little cookie baking for friends:
That's Nigella Lawson's Chocolate Christmas Cookie recipe from Nigella Christmas. I dropped off two batches during the day on Christmas Eve, then visited an elderly couple that evening to drop off the rest. Ended up helping them out a little more than we expected, but that's OK, we were glad to help them. The recipe always comes out just right. Not all of them came out perfectly round, so there was some "quality control" involved. Thanks, Honey.
Turkey Day
At Thanksgiving, Winn-Dixie had turkeys on sale if you belong to their Rewards program. We bought a 16-pound turkey for under $8.
Because it was just us, we decided to cut the turkey into parts and just cook half and freeze the rest. Known as spatchcocking, we cut the backbone out first, then cut through the breastbone, separating the two sides and freezing one of the breast parts. We also separated one of the leg quarters with a wing and froze that too. Mostly, we just needed it to fit into Ziploc bags.
Thankfully BF was home on Thanksgiving because I needed his help doing this. That bird wasn't going to split up easily, and he very nearly went out to his workshop and got his Sawzall reciprocating saw to cut through the bones. I think I would need to set up the tripod to record that incident because there's no way anyone would believe it. Especially the attending physician in the emergency room. Fortunately, we got the bird cut into parts with great difficulty and without incident.
I still can't find turkey thighs here. I really want to buzz back to HEB and buy a case for our freezer. Maybe one day. Or at least the Rouses or Whole Foods in Baton Rouge.
Christmas Day
For Christmas, we had another part of that turkey. (There's a leg quarter and wing still frozen. Maybe for Easter?) I also gave BF a DVD of the old Mel Brooks film, History of the World, Part 1.
He's a fan of Brooks' earlier films but had never seen this one. Immediately, he cracked open the wrapper and sat down to watch the film. He really enjoyed it, and it was all new to him.
What did he get me, you ask? A small but sharp pocketknife. No kidding:
I asked about the reasoning for such a gift. He responded, "because you're always using mine. It's for opening all those Amazon packages." I resent the implication that I order so much from Amazon because I don't. But anytime I get a package from anywhere, his collection of pocket knives is always on the little table. Now I have my own, and it's sharp, too.
He never said he was sentimental, and, well, the knife is. . .practical. I still cook him dinner.
Also managed to get one of Starbucks' delicious Cranberry Bliss Bars this holiday season. They're more than double the price they were when I first found them in 2007. But as always, there are recipes available for making your own; just pick one.
Holiday Apparel
The one thing I couldn't leave behind in Houston was this gorgeous t-shirt from HEB:
And I wore it Christmas Day, with an apron while I was cooking. It's now washed and hanging up for next Christmas. I couldn't interest BF in the sweaters that Winn-Dixie was selling, half price right before the holidays:
Yes, they really sold these, and marked them down to $14.99 later. I haven't seen anyone wearing any, though. Maybe the store employees bought them for the freeze. I guess it was a part of their promotion with the "Winn Win Twins." Don't ask.

But BF did like this from our local Tractor Supply on sale after Christmas:
Suddenly, BF has a supply of Bigfoot Merch. If ever we exhume BF's Christmas tree from the back room, we'll hang that right where it's visible. It goes with his BigFoot t-shirt and the lovely collection of BigFoot gifts his brother gave him.
The Somewhat Traditional New Year's
We haven't really made any resolutions for 2023, so it's easy to say that we haven't broken any, too. And we never got to go through the pantry or the back room, despite BF being on vacation for an unexpected two weeks. He planned one vacation week, and somehow, it turned into a second week. He watched quite a lot of TV, especially after I loaned him my older Roku device. Wish I hadn't done that.
He's now obsessed with Tubi, Crackle, Peacock, Paramount, The Roku Channel, and other great streaming sources. When he discovered I had the YouTube channel, he threatened to start watching BigFoot videos in my YouTube account so they'd show up in my feed. I very nearly took it away from him right then. I'll be "repossessing" that device very soon.
Still A Sunday Dinner
As I've done in past years, I made Stephanie O'Dea's wonderful slow-cooker Black Eye Pea Chili for us along with some coleslaw for myself. We can make this chili any time of year, but we only seem to make it at the New Year. Really, it's tasty anytime and easy to make. I used the Instant Pot for browning the meat, onions, and garlic, removed them, wiped out the cooking pot, then went back to the recipe. Put the glass lid on it, set it to slow cook, and R2-D2 had dinner ready on time.
I froze half of the chili for another time. Otherwise, we were home all day and I got some work done for clients. I think I did a little bit of sewing in the evening, too.
If you are of a mind to make fitness resolutions, Sunny Health and Fitness is having a sale both on their own website and in their Amazon store. Still under $100 is the original Row & Ride, as well as the higher-end version of the same thing. Yes, I still have mine, and I dust it occasionally. I am planning to return to using it regularly, soon as I get a big bottle of Aleve.
Happy Birthday, Broccoli Stirfry
It's been just about a year since BF brought home this little rodent at the tender age of eight weeks:
Now this derp (aka "weirdo") weighs 65 pounds.
On his backside, you can see slight colorations from the Catahoula input. He's still chewing everything in sight, which recently included the remote for BF's years-old DVD player:
It's easily replaceable, we just haven't done that yet. The dog has also chewed wood furniture, a door frame, a roll of electrical tape, the Dash dog treat maker, and a whole bunch of other things he suddenly found within his reach. He's stopped short of boring a hole in the wall.
You know those winter memes telling you to bring your pets inside, because "if you're cold, they're cold?" Broccoli Stirfry doesn't get that, he wants to play. But we drag him in any way. Generally, when I get near him with the leash, he knows it's time to stop playing "Stick" or chasing leaves and go back inside. Once I hook him up, he politely walks inside with me.
Because if I don't hook up that leash, he'll continue to run high-speed circles around the house and around the property until he falls asleep. And you cat people thought only the felines did "zoomies." Nope—this guy was trained by a cat:
And paws like one, too.
It's coming up on a year since BF bought him from a guy he knows through work and brought the little cutie pie home. He loves to tell the guy that he wants his $20 back on the "defective dog." Nope, he's all ours, and we're stuck with him.
Houston IKEA Reconnaissance
During our Houston trip, we paid a visit to the hallmark of Swedishness, IKEA. Still on I-10 at the Antoine-Silber exit, we spent at least three hours checking out everything. The purpose of visiting IKEA was to get an idea of what's available, and what might be good for the future kitchen whenever we get to do some updating. (It's not anytime soon.) Planting seeds of ideas, really. I did get some small house things, but there were no big purchases like furniture.
We had lunch in the upstairs café, and my IKEA Family card still got me some free coffee. Before we had lunch, I was able to get something else—a picture of that look BF gets when presented with something he's not entirely sure of:
I first saw this look when he looked into the pantry after I moved in and he saw it full of stuff he didn't understand. I showed the picture to one of our local friends and she said, "he looks like he's getting old! Are you giving him all that grey hair?" Poor BF was way out of his element at first. Eventually, he enjoyed his trip through IKEA Houston.
As you can see, he's now fully embracing his inner Swede. (No Swedish accent yet.)
Up Next: Valentine's Day 2023
Valentine's Day is in about a month. If you're so inclined, give some thought to a dinner date with your significant other. Dinner out is usually crowded and problematic, so consider dinner at home. This post includes some tasty desserts that would fit the bill. There's also this small chocolate cake that I tried two years ago. I'll start asking BF what he'd like to have this year. Hopefully, the entertainment will be better than last year.
And if you and your S/O like the Cranberry Bliss Bars during the holiday season, it wouldn't be a bad move to make them in February. This copycat recipe suggests heart-shaped cookie cutters.
Williams-Sonoma has its usual collection of heart-shaped and high-end cookware for Valentine's Day. Of course, they're not a requirement, but they are pretty to look at for a while. Less expensive models are available on Amazon, like this one from Martha Stewart for $80 and this one from Miamo for $75. If you like that sort of thing.
Should a Galentine's Day party be on your itinerary—a party just for females to celebrate friendship in lieu of having a partner—start planning now. Nothing wrong with enjoying time with friends.
And if you're going to be alone for that Tuesday, well, that's OK too. Been there, done that, and you can either ignore the whole thing or enjoy a nice dinner by yourself in front of the TV, or meet with friends who are also unattached. Have a little chocolate of your choosing while you're at it. Should Starbucks resurrect the Molten Chocolate Latte, I highly recommend getting one if you're in the vicinity. Not sure if the bottled version is still available, but with a recipe, you can get one made by request.
Coming In 2023 (Hopefully)
I'm overdue to write about Rafael and Carmen's beautiful wedding in November, as well as the rest of our Houston trip. I'll start that soon. They'll be celebrating their first Valentine's Day as a married couple this year. Rafael said he was running around on Christmas Eve getting ingredients for Carmen to bake these Cranberry Walnut Oatmeal Cookies on Christmas Day.  Aunt Ruth asked for the recipe, so I emailed it to her. I need to try those for BF one of these days, too.
Even though "winter weather" alternates between warm and cold here in the South, don't put the coats away just yet. Heck, even Florida was freezing at Christmas, and it could happen again. Keep these two soup recipes handy for the day you need something warm for dinner and don't want to mess with too much. Or if you're doing Meatless Mondays.
I'm always looking for new and interesting topics, so I'll be bringing those to you as well. Until then. . . .

Happy Dining!