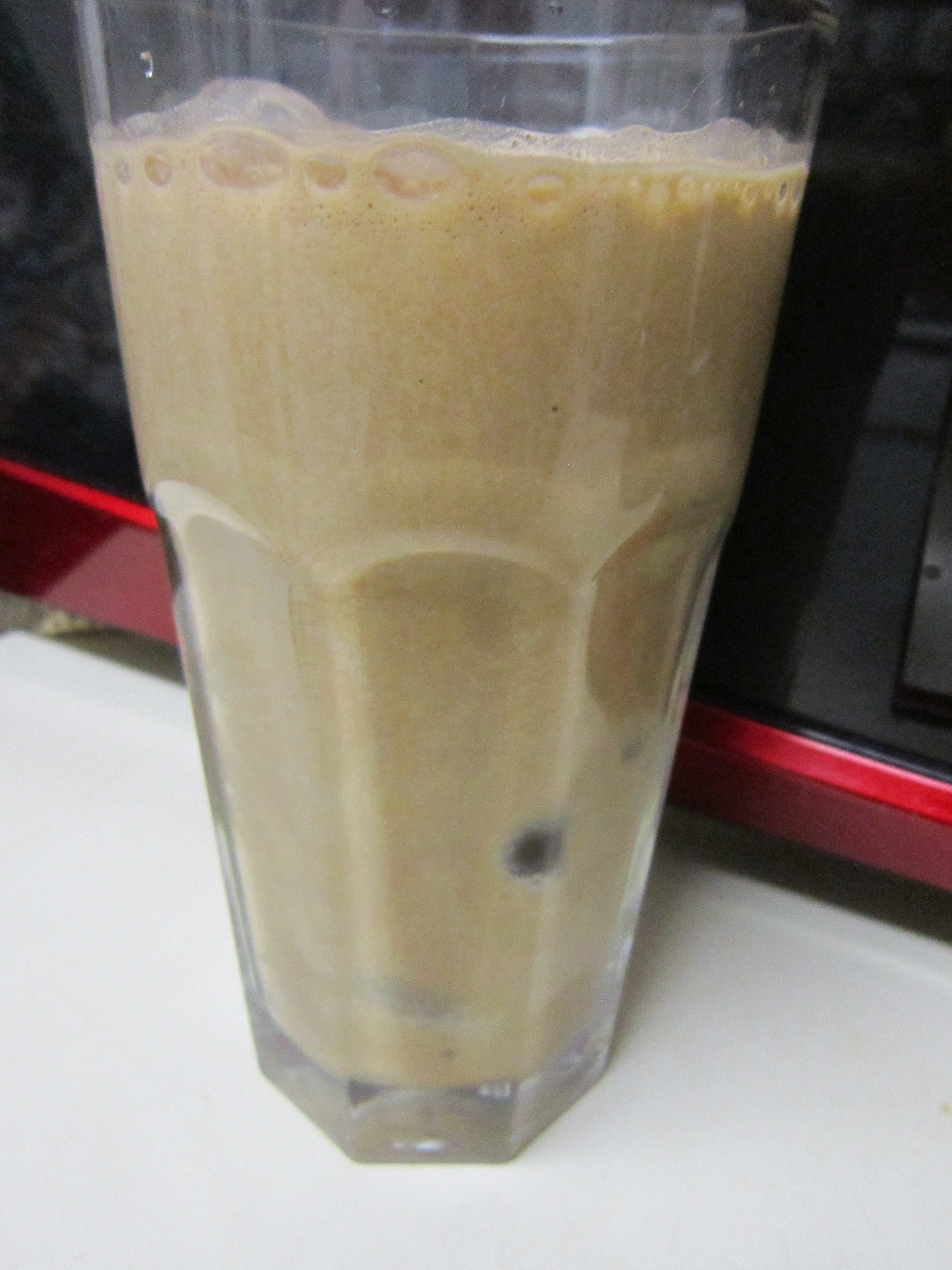 Happy Monday, Dear Readers:
This weekend saw two trips to HEB–one was our fabulous new one, the other in Friendswood, where I haven't been since the new one opened up. I was able to sample and enjoy a lot of things, and had the accompanying heartburn afterwards. Neighbor E and I used up the last of our Chipotle coupons for a free meal, (they expired Sunday) and we buzzed around for a while, before finally ending up at home. He wanted to walk around Baybrook Mall, and since it was his turn to drive, I wore my usual t-shirt and bike shorts along with a fanny pack. For some reason, I thought he meant "power walking," but it turns out he just wanted to meander. No matter, I was slinging the kettlebells around later anyway. It was great, we saw everything, took pictures, and we had a blast.
Also in this post: an exclusive picture of Neighbor E!
I forgot to mention in my last post that this week's breakfast quiche was also created with some of the 3-foot-high green onions and garlic scapes from the garden. I just went out and cut a bunch with the kitchen scissors, rinsed them, then chopped them on the cutting board. Very, very tasty, especially when I added a few shakes of green Jalapeno Tabasco sauce instead of my usual Chipotle Tabasco, my favorite. Both are very good, and not burning hot; I just found a bottle in the pantry that was never opened. Had no idea! With all the green stuff from the garden, it worked really well.
Breakfast quiche in the Crock Pot has a basic formula: 8 to 10 eggs, a cup of milk, a 8 ounces of grated cheese, and a pound of browned breakfast sausage, usually HEB's sage flavor. Colby's my favorite cheese for this, I've also used Colby Jack and mild cheddar–but if you like sharp cheddar, go for it. Brown and crumble the sausage (and onions or other veg, if using), and toss into the bottom of the Crock Pot (after you put the liner in it, of course.)  In a large bowl, add 1 cup of whole milk (half and half and/or cream will also work), the eggs, any seasonings (including Tabasco, if you like) and mix. The immersion blender is good for this. Then mix in the cheese with a spatula or spoon, and pour into the Crock Pot, stirring to combine. Cover it, plug it in, turn it on, and cook for 3 hours. This breakfast quiche is why I love the slow cooker liners–it's a bear to clean it off the stoneware, even when you grease it well. But it's also 6 days worth of breakfast I only have to microwave and eat.
So, it was Saturday–Buddhist meeting at 11:00 am, and then a couple of stops on the way to HEB. Before the meeting, I returned two quarts of milk to Target. I'd purchased skim milk by mistake, since it was marked down (but with long freshness dates.) Well, I returned the unopened one and picked up whole milk–but darnit, they sure do look alike. Saturday morning, I returned both quarts. Why? They both taste like skim milk. If I'd wanted skim milk. . .well, anyway, for whatever reason, both milk types made my coffee taste like dirty water. Target, like most grocery stores, have a guarantee on their food. So I reluctantly returned the milk before the meeting.
On the way from the meeting, I stopped at JoAnn's for some reconnaissance for a potential scrap fabric project (found what I needed, but I didn't buy anything for it.) I also got a look at our now-closed The Fresh Market building. Sad, it is. I was so happy when they put one down here, but it's not just ours, as I mentioned in my last post–it's 3 states, and all of their Texas stores.
Neighbor E texted me on Friday and said they were closing at 5:00 pm for good, days ahead of the originally scheduled May 18th closure. They must have sold everything down to the walls, including the baskets. There's something about the words "50% off" that makes people pay attention, although the store was always busy when I went in there. The security guard is still there, sitting in her vehicle, but the windows are all papered up.
I'm guessing the employees were still inside, packing up whatever was left, sweeping, mopping, and dismantling the fixtures for shipment back to their headquarters in North Carolina. Soon those folks will be looking for work, unless they move to a different store out of state.
After I left that sad little spot, headed to the big HEB, since I still needed milk. I had a few items on my list, not many, but you know what I say–I'm heading to HEB for lunch!
I was treated to all kinds of tasty samples–fish, chicken, barbecue–and some other new things HEB is starting to carry.  I wondered if they carried my favorite cheese, Manchego. All I had to do is ask:
Of course they do! If you're not familiar with this Spanish sheep's milk cheese, well, it's wonderful. If you're in a grocery or gourmet store that has a "cheese department," ask if they would let you try a sample. (HEB will–I already asked.)  It's a pricier cheese, so obviously, it's not on my regular grocery list right now. But if you have the opportunity, try a little sample, you might like it too. Trader Joe's is the cheapest I've seen, and the import grocer Phoenicia is also less expensive than the rest.
Why is it my favorite? Years ago I saw Rachael Ray make this really delicious Chili Sweet Potato Hash recipe, and I wanted to try it. So interesting and unusual. . .but didn't know what Manchego was. I printed out the recipe, and bought everything I needed. I made it one time, with Manchego, and was immediately in love with the whole thing. I had that for breakfast every day for more than a year, making it on Sundays. I stopped eating Manchego when I had to go on the yeast-free diet for a while. I haven't made it in a long time, although I do have a couple of chunks of Manchego in the freezer that I'm avoiding touching. It's the "good stuff," so you know I'm "saving it." But when things get better for me and my bud Neighbor E, I think I'm going to have to make it for him one day, and the GER too. It really is that good, and is, to date, my all-time favorite Rachael Ray recipe.
And if you're wondering why I never made it for you, GER, it's because I'd already moved out of your house and into Clear Lake when I saw it. The recipe was first shown in late 2004 or 2005, and came out in the book shortly thereafter.  But I'm happy to make it for you anytime, because it's absolutely delicious with HEB's sage breakfast sausage. Note: the recipe is available on The Food Network's website here, but if you have her book Rachael Ray 365: No Repeats, it's on page 255.
Nevermind how many of those hot, fresh tortilla samples I had by the bakery department. . .just, never mind.
This was the weekend that HEB featured their Healthy Living department, with interesting samples and a 20% discount on all "sports nutrition items" and energy bars. This included things like protein powders, energy drinks–all that stuff the gym rats gobble down. You know, those big jars with stylish graphic labels of some kind of "whey powder" and "pure protein." I'm not knocking anyone for their choices, of course, but to the rest of us, it's a bit mysterious, so we keep a respectable distance.
Also handed out was a pack of coupons for these "healthy items." Included are coupons for. . .Lean Cuisine and Stouffer's Fit Kitchen. (Yes, frozen dinners.) At least Lean Cuisine has gluten-free options, but. . .sorry, I'll pass those coupons onto Neighbor E if he wants them or Neighbor R if he doesn't.
Now look–if healthy food gives you heartburn, you're not healthy! You need to get on the Yeast Free Diet, get the prescriptions from your doctor or something OTC (you might need more than one jar of Yeast Control) and get RID of that yeast overgrowth in your gut. If you're not sure if it's yeast, try treating yeast first and see what happens. It can't hurt.
Remember what I tell you about anything–read them labels, because I've made that mistake before. Some of those "energy bars" are loaded with sugar, or other rubbish you wouldn't normally eat if you know what it is. There's frequently soy protein in stuff like that, so if you don't want soy–even if it's touted as "non-GMO"–don't buy it until you at least do a cursory read. Just saying.
I have three 3-day passes to 24-Hour Fitness, and I will need to start using them soon, they expire on the 31st. Neighbor E doesn't want one, and Neighbor R doesn't even like to drive! (She's elderly.) So I'll be heading to the gym this week, and using them all up. Since it's supposed to rain really good this week, I won't be on the bike, so that will be a good thing. Hook up my phone and listen to music for a while, or a good podcast.
I was also introduced to a brand of sports nutrition called FitAid. I was given samples of FocusAid and TravelAid, soft-drink style canned drinks with a little bit of fizzy and sweet, lots of nutrition and good things. There are several varieties of these drinks, and all sweetened with agave syrup, not sugar. I just don't drink soft drinks anymore, not since 1998, so I was a bit reluctant to try one. But I was quite pleasantly surprised, and they pass my "taste test." It won't taste like a cola, it's more like a lightly sweet 7-Up or ginger ale. The folks who were sampling it were also very nice. I don't know how much they cost, but were my situation different, I might put one in my lunch bag occasionally.
What I will be doing if I find myself on long drives for work is getting some of this interesting Chike High Protein Iced Coffee for the moment I get hungry later in the am:
What's that? You've never heard of this stuff? Me either, so join the club. It was my favorite thing to sample, and I'm glad I tried it. The lady who was sampling this with the spicy tilapia and herbed salmon offered me a sip (or two) of the Chike original flavor. It's quite tasty, but I thought it was the Mocha. No, original, and it was very delicious (which is how I talked her into a second sample.)
It too, was on sale, but even 20% off HEB's price of $26.99, I passed. . .but I did get a single-serve packet for Sunday, of the Mocha flavor. (That was cheaper, and better, than buying two of my favorite chocolate/cherry/cashew Kind Bars, which are usually 4 for $5 or 2 for $3 at HEB.)  I was also handed a coupon for $5 off the big bag, which is 17.56 ounces, and I think she said it was 14 servings. But that would be for a mid-morning thing when I'm hungry and it's way too early for lunch.
So what's in it? It says soy, and it says caffeine, but I have my doubts:
I couldn't find any soy in it, but it says soy, and I had no reactions from it. So. . .I can't say it's bad for me. But it's made right here in Texas, so you know it's good, right?
Sunday morning, I got out my little whiz blender and made some with almond milk:
I can't believe I was coherent enough on Sunday to do this, but I was. The label says to use "6 to 10 ounces of milk or water," so I just went with the requisite 8 ounces.
Hit that button:
I could have put ice in the blender, but I didn't think about it. I just poured it over ice, good enough for me.
Now let me say that although it claims to have the caffeine of 2 shots of espresso, I don't believe it does (or the effects of caffeine have been neutralized.)  Had I consumed 2 shots of real, regular espresso (not decaf like I normally would) I would have been picking my claws out of the ceiling and calling around for bail money. I would  have been sweating like a sauna and begging Neighbor E to take me home for a cold shower. None of that happened to me. I'm not saying it's a bad thing, but if you're looking for a shot or two of full-leaded espresso, head to Starbucks, Dunkin' Donuts, Dunn Brothers, or any coffee shop in your area that serves it. You will not get that from this iced coffee. That's not a bad thing, though–Americans consume way too much caffeine, and it's not a good thing. I know, because I did it.
Now onto Sunday.
As I mentioned, we had those coupons to use up on Sunday, and E wanted to buzz around Baybrook Mall first, and of course, I was happy to go with him. I was in Baybrook a couple of weeks ago when I had the brakes repaired (remember that RING??), but he hasn't been there in quite a long time. He hasn't seen the new additions, and our new Sur la Table store. (Being a guy, he just wasn't interested in Charming Charlie.) We walked around, he took some pictures, particularly around the restaurants, where a 2011 Jaguar was parked, and later, a Corvette and a BMW. (He's a car guy.)
There are a number of other places planned for that outside area, one of which is called Gloria's Latin Cuisine. The planned entries are represented by very intricate murals in the intended spots. E found one he really liked, so here is the exclusive picture of one of my taste-testers:
Doesn't it look like he's going into a bakery? Honest, that's a mural on a stone wall, and he thought it would be funny to take a picture in front of it. But it's a good one, taken on his iPhone. (E also has a sweet tooth, so you understand why he wants that bakery to open.)
Finally, I introduced E to my favorite place, Sur la Table. We had a small bite of their Lemon Buttermilk Quick Bread, made in a sheet pan rather than a loaf pan and cut into dice-sized pieces. A very nice lady offered to make me a cappuccino, and I happily accepted.
E was accustomed to going into Williams-Sonoma when we had one, but that spot is now yet another dress shop. Sur la Table was a new experience for him, but I've been shopping at them for several years–well, he's read about it here for a while. E went back into the huge chef's kitchen, where they conduct cooking classes and whip up things like that cake for you to try. His eyes bugged out. I knew he'd enjoy it.
Another thing we sampled was this Iced Tea Lemonade. Now, I wouldn't normally buy this kind of thing (and I didn't), but I really, REALLY like it. It tastes like the iced tea my mother used to make when me and my first brother were little (it ended after the other two came along, I think.) She'd boil water and add three or four tea bags, then turn it off and cover the pot. While that was happening, a lemon or two were squeezed. A big glass pitcher was filled with ice, sugar and lemon added, and a great big metal spoon wedged down the side to absorb some of the heat. Then the bags were removed, and the resulting tea was poured in and mixed with the metal spoon.
THAT is what it tasted like. If you want some real good Southern-style tea quickly, Iced Tea Lemonade from Sur la Table is what you want. It's expensive, or you could make your own like my mother used to. But it's THAT GOOD.
After we left Sur la Table, we prowled around a little more, going through clothing stores, furniture stores, and buzzed through Macy's too.
And the lady in Macy's let me try on THAT RING again yesterday. The sale price seemed to be lower than the first time, but. . .it's still in the case, I promise. I only dragged E into Sur la Table, not Victoria's Secret or anyplace else we females go into.
After the mall, we made our sad journey across the street to visit the now-shuttered Fresh Market. E keeps an electronic journal, and he has a picture of himself outside of Fresh Market the day it opened. He wanted one last picture before it gets rebuilt, whenever that is. The security guard came out and told us that it was closed. . .she thought we were trying to go in it.
E calls it a journal. I call it "evidence that can, and will, be used against you in court." But that's what happens when you study law for five years.
Finally, he was ready for lunch, and we headed across the freeway to Chipotle. E had his favorite tacos, and I had the Steak Bowl I like. He also bought a bag of their delicious chips and kindly shared them–they're delicious and addictive! The weather wasn't bad, either, so we had our late lunch outside before any rain showed up (we're getting rain all week, but not a monsoon.) No rush, and we enjoyed the leisurely pace for a while longer.
When it was time to head home, we passed by a place E is absolutely in love with: a place called Torchy's Tacos. I've heard of them, and they do have locations in town, but I've never been there. Torchy's has a cult following, apparently, because on our local NextDoor.com area, people are going bonkers for it.
They're adding a location in our little neck of the woods, ironically, across the street from Vitamin Shoppe. That spot housed, until sometime last year, a place called Berryhill Baja Grill. I've never set foot in that one, either, because I just didn't know what it was. But folks are getting VERY excited about Torchy's Tacos coming here. You can see the location here, but they don't list an opening date yet. That's OK–it's a big place with a big buildout, and you just can't rush these things. The sign is up, and it looks to be about halfway built on the inside:
E can't contain his excitement. He went with his sister D to Tyler, TX (up near Dallas) a couple of months ago to visit family, and they stopped at the Torchy's there. E says that this Torchy's is being built like the one in Tyler, so he's doubly excited about it.
If you're wondering how a grown man can get so excited over a chain taco restaurant. . .well, you've never been to Texas, have you? We take this kind of thing VERY seriously. And even thinking about dissing someone for this kind of enthusiasm will get you in a lot of trouble very fast. We don't mess around in Texas!
Once the workers inside the place realized we weren't going to walk in or storm the place (I mean, really) they were OK with us peering in through the plate glass windows. We were just curious, nothing more.
Will they send out free try-us coupons when they open? We certainly hope so!
With that, we headed home, and he dropped me off by my building. It was a fun time for two friends with coupons for free lunch and a little extra time on their hands.
But wait–there's more!
I needed to head out again, and back over by Target for something else. (E was driving, I didn't want to drag him all over the place on my account.) Once I got what I needed, I headed to the HEB in Friendswood for. . .a can of coffee. See, in all the fun on Saturday, I completely forgot to get more coffee to make my regular iced stuff on the weekends. Because I didn't realize that HEB's Healthy Living promotion was a weekend thing, I ran into two blokes handing out samples of. . .Chike High Protein Coffee! They made it with HEB's refrigerated almond milk, and they were sampling the Mocha blend! So I sat through their spiel while I had another sample cup, and bought. . .one more envelope, on sale, which I had this morning. No, I'm not buying them anymore, honest, unless I have a job that requires long drives. THEN I'll be buying the big bags, carrying some milk with me and shaking it up mid-morning.
Last time I bought coffee for iced, I decided to try HEB's "Classic Decaf." not the fancy stuff in a bag, like the stuff I sent my Aunt recently.
I sent her the good stuff. But I realized that I was buying higher grade coffee than I might have needed. So I tried this kind. First I bought the 13 ounce can, just to try it, since it was $2.68. Made it hot, tasted good, so the next batch was made for iced, and it was also really good. Yesterday, I bought the bigger can, which cost $7.98 for 2 pounds, 7 ounces. That will last me for a while.
It's in a CAN. No kidding.
Why have I never noticed this before??? It's good coffee!!
I got the idea because a neighbor I am no longer affiliated with buys Kroger's French Roast in the can. That, too, is really good coffee–and it's really obvious when you drink it next to stale-tasting Folger's. It's always been there, but since 1998, when I moved to Houston, I never noticed. So I'll have iced coffee all summer, brewing it on Sunday in the French Press and refrigerating it all week.
BTW, if you decide to try any of HEB's coffees, it looks like they sell it online, too, but they can't ship it to California. You can buy the Breakfast Blend I sent to my Aunt last month here, if you're interested. It's not a strong coffee, either–but if you want regular, just do a search on HEB.com for "Breakfast Blend Coffee." I think they even have K-cups now.
So, that was my exciting weekend! We really did have fun, and had some really tasty food. Since I managed to get all my laundry and cooking done last week, I just did some vacuuming, dusting,  scrubbed the bathtub, took out trash (and Neighbor R's too), watched some TV and sewed some more.
I've got a couple of posts in the can that I'm working on, and I hope to get them finished for you soon.
Meantime, have some good food and have a good week.
Enjoy!