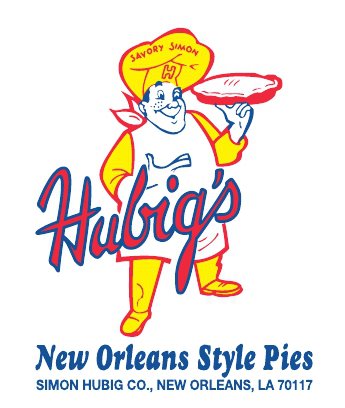 Hubig's Pies Return Next Year!!
Hubig's Pies are coming back next year!
Hola, Amigos!
Only an hour after I published my July update post yesterday, I go into the living room and there's a blip on the news about the return of the old New Orleans favorite, Hubig's Pies. There is rejoicing in the land tonight.
I wrote about these iconic treats a few years ago, when I was still living in Houston. I think I was looking for something else to blog about. When I stopped traveling around Houston and trying different places, I struggled for new blog topics that were interesting. And, quite frankly, there were times when I just didn't feel like writing anything.
But I couldn't believe my luck–I knew I should have waited before I published, but I just wanted to get a quick update out.
The Announcement
Since 2012, people in Louisiana have patiently waited for the return of a beloved hand pie that was available about anywhere for 90 years. Their patience has finally paid off.
In a joint press release, Governor John Bel Edwards and Hubig's owner Andrew Ramsey announced today that the company would resume producing the famed pies in a new facility in Jefferson Parish, not Orleans parish where the company lived for 90 years.
The State of Louisiana and the Parish of Jefferson offered multiple business incentives, that, apparently, Orleans Parish wouldn't. But whatever–people are overjoyed, and who cares if they're made in Jefferson Parish? They plan to use the same recipes, and not change anything, so that should ensure consistency and happiness again.
Not So Fast
However, they note that they don't have a place yet, but they are working to get one, and get started. Mr. Ramsey was quoted as saying,
"I don't have a facility yet. I don't have a place where I can press a button and start making pies," he said in an interview.

"This (loan guarantee) is a part of the puzzle to get the business back again," he said. "Everything has been coming together; we've had a tremendous amount of support. But I don't have a timeline yet."
But after seven years of nothing, this is definitely good news.
The manufacturing equipment they need is going to be highly specialized, so that's probably going to be their biggest hurdle. The factory will bring something like 30 jobs to the suburban parish, likely in Metairie or Kenner.
Side note: the Govna is from the area where I live. I've met a couple of his relatives because I happened to be in town, and BF introduced me. BF actually shook hands with him at a funeral a year or so ago, and went to school with a few of his relatives. The Gov lives here and commutes to Baton Rouge every day, something I thought I'd be doing when I interviewed at LSU in 2016.
There's more information here in this news story.
What's The Big Deal About Hubig's?
In a state that doesn't always value health and wellness, local food is one of those things that people hold onto and take very seriously.
The Hubig's Pie affair is bigger than the Twinkies affair, because Hostess pretty much already had a buyer waiting going into bankruptcy court. But I'm sure Mr. Ramsey has been able to learn from the Twinkies re-set and will be working with new, more agile, manufacturing practices.
Things like king cakes and other regional favorites have become wide spread. As I mentioned originally (and probably a few other times), king cakes are available in bakeries in Texas, and New Orleans bakers ship the cakes nationally. Check your grocery store for "Louisiana" or "New Orleans" foodstuffs, and you'll find things like Tabasco, Zatarain's, and maybe even Tony Chachere's spices. I bought a wide range of things at HEB in Houston, so I know they're available elsewhere, and online if you know where to look.
But Hubig's Pies didn't really make it out of Louisiana. It's just one of those regional favorites, like kolaches in Texas. They were just always available, in every grocery store, convenience store, truck stop, gas station, and everywhere snacks were sold in the region. When they went away, as I mentioned in the last post, people missed them terribly, and have been asking for them to come back ever since.
The Devotion To Hubig's Pies
Ladies and Gentlemen, your patience will be rewarded next year. Hubig's Pies will make Louisiana great again! (I'm sure that's what they'll say, anyway.) You'll be able to buy them online, too. How about that?
This article on NOLA.com (full of garbled code written by a monkey, I presume) details all the ways people have kept the flame burning for Hubig's Pies. One lady kept a blueberry Hubig's in her freezer all these years as a souvenir. Another has one sealed up in a plastic freezer bag in her closet. (EEEWWW!!) And as you saw in the last blog post, Mardi Gras costumes abound for people who are waiting for their Hubig's Pies to return.
There's even a comment by the Governor himself, speaking at a campaign stop, about his love for the missing pies. I'm guessing he'll be using that in his re-election platform. Well, let's face it, wouldn't you?
Let me reiterate, as stated the first time I wrote about Hubig's Pies, that there is nothing healthy, sugar-free, or gluten-free about these things. They are, like a lot of Louisiana foods, primarily white flour, sugar, starches, and likely unhealthy oils. Enjoy at your own risk. . .because everyone else here will take that risk once they are being sold again.
I'll have a small bite of BF's, just to satisfy my curiosity.
The Divided Dinnertime
Last night was one of those nights where we ate from our "pre-relationship menus." BF calls things like Hamburger Helper "the pre-Amy menu," and I referred to the roast chicken leg quarter as one of my "favorite single-girl payday meals." Because it is, like the perfectly cooked flat iron steak that's sliced against the grain and laid on top of a crisp salad with lettuce, tomatoes (grape, please), sugar snap peas, maybe some avocado, and a quickly whisked dressing of EVOO and a raspberry vinegar. Oh, and a bit of Celtic of pink Himalayan sea salt to finish it.
I asked why he would make such a thing, and his response was, "Well, you're always telling me how great Pea & Pesto Soup is, so you can have that tonight." I found the chicken leg in the freezer next to the ground beef and claimed it as my own.
We've been doing that sometimes, when he feels that Hamburger Helper, or a frozen Swanson dinner is just the thing. I'm sticking to the healthiest things I can eat here, which occasionally involves something like rice, which I don't normally consume. But if it makes him happy, oh, well.
Drag Week
BF and his twin brother are planning to make the pilgrimage this year to Hot Rod Magazine's annual Drag Week. BF went last year with another of his "car guy" friends, but they were only gone a couple of days. This time, the twin mechanics are planning the entire week of smelling like the exotic scents of car exhaust, motor oil and transmission fluid, as well as eating at various local greasy spoons. For this red-haired foodie, it means:
I will be alone and free to be myself for an entire week
I can cook and eat whatever I want all week long without criticism, critiquing or fake retching

This includes the absence of comments such as, "She's tryin' ta kill me!"

I can watch my own TV and sew as much as I want
I can invite over whomever I want, including, but not limited to

BF's brother's wife and 5-year-old daughter
"Car guy" girl JJ, and possibly her daughter if she's interested
Friends J&A who live a couple of miles away; A is one of BF's collegues, and J is her boyfriend
BF's father who lives up the road (although he won't come unless there's an emergency)
Anyone else who appreciates gourmet cooking and lives close enough or wants to drive up here
Or nobody at all
I'm not planning a dinner party, although I probably could. But as I've told BF several times, I'm making plans for my "Drag Week Menu." I'll be cooking all manner of delicious, healthy food to enjoy while he's across the country. The recipes may come from the new cookbooks I've bought, too. So what if he can't say "Braciole?"
Networking
Remember when we went to Mr. Earl's Barbecue? BF knows Mr. Earl from Drag Week, since he works on these kinds of cars at his shop outside of Baton Rouge. That New Year's Eve gumbo fest and barbecue event is a yearly thing he does for all his "car guy" friends. (We missed it last year, maybe this year.)
Honestly, Drag Week is a networking event for petrolheads. BF knows so many people from Drag Week, I can't tell them apart. But they have a great time, make new friends, meet up with old ones (supplemented by Facebook) and have fun while they're there.
On a basic level, it's like AWAI's yearly copywriting Bootcamp. I streamed it live again this year, and I loved it all. But I do wish I could go in person next year. You never know, you might meet an automotive copywriter there!
Until Next Time
I plan on blogging again before too long, honest. Meantime, thanks to everyone who keeps reading my foodie-related rantings with SEO optimization.
Enjoy!