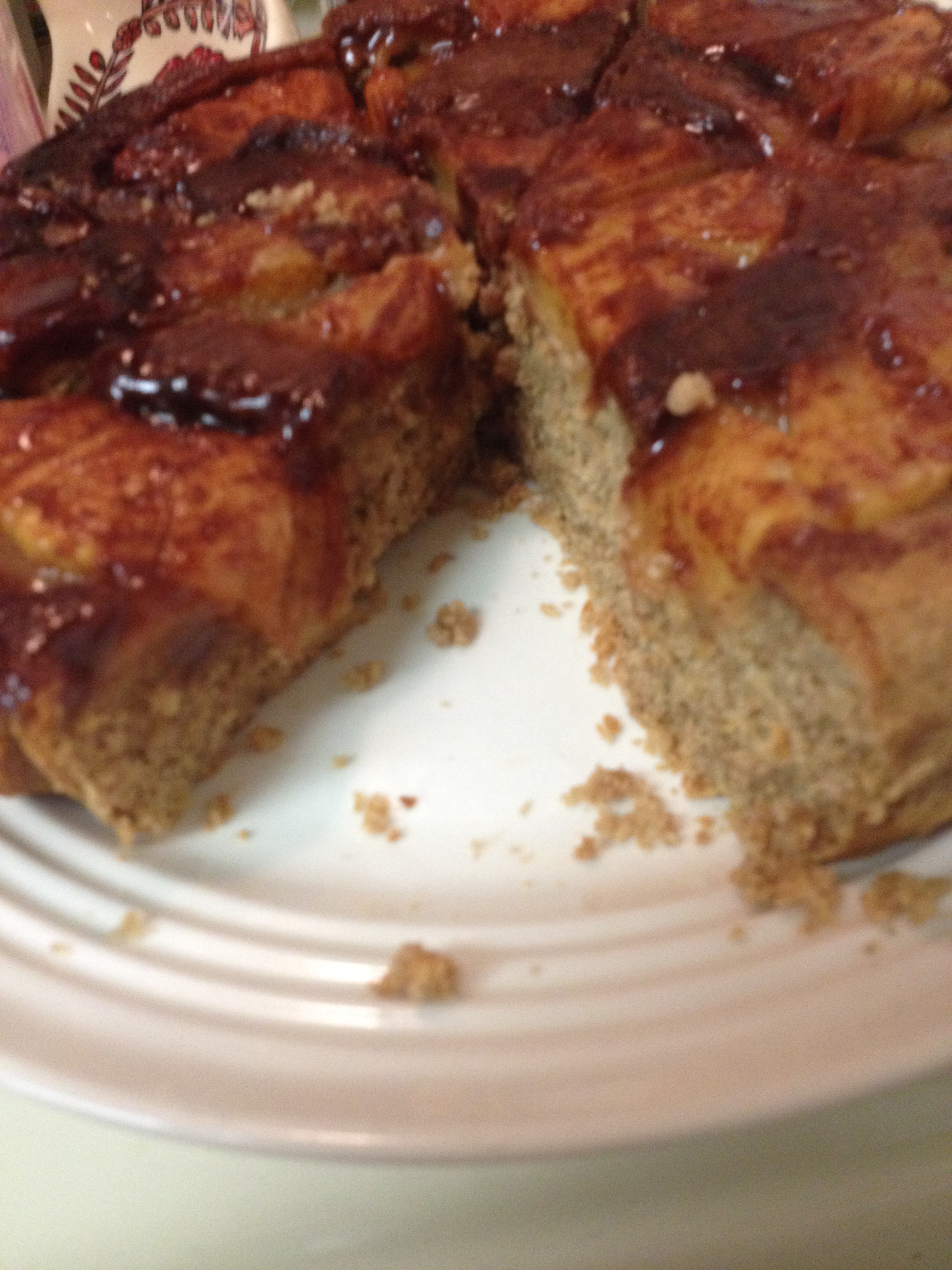 A Little New-Fashioned Cake
In This Edition of HeatCageKitchen
Happy Monday, Dear Readers!
Our weather warmed up and has cooled a bit, with another cold front coming. We don't think it's going to be a hard freeze, just cold. Whatever. My joints are snapping, crackling, and popping all over the place. Knees, toes, ankles, and occasionally, my elbows or wrists. Just a light snap. Might be because I have been seated a lot, I don't know. My Dad taught us to do the knuckle-cracking when we were kids. . .I just took the ball and ran with it.
Oh, that cat is looking at me funny again.
The other day I was in Kroger and found some cross-cut beef shanks on sale. They were cheap, so I bought them and froze them. I defrosted them, added them to a crockpot with a jar of fire-roasted bell peppers and some sliced onions today. That was it, and it cooked on low until about 6:00 pm.  It fell apart when it was done–delicious. Maybe I need to do a blog post on crockpot cooking or "cheap meat." Let me think about it.
Well, the official garden of HeatCageKitchen is doing great! I've got one small tomato still hanging on, mint, rosemary, green onions, and garlic growing like weeds, a Meyer lemon plant that's about to bloom with a million flowers, several sprouts of lettuce that were doing great until a hungry snail found its way in (ate ALL the shoots, you hear me?) and one. . .radish. No kidding, I think there might be two growing, but so far, only one radish for sure. Oh, well. Maybe next winter. I need to start thinking about basil, tomatoes, and other summer crops in a paint bucket.
Pineapple Cake, Redux
Remember a couple of weeks ago, my neighbor made a Pineapple Upside-Down Cake, and we ate half of it ourselves? Well, yesterday I made the Babycakes version of Pineapple Upside-Down Cake and shared it with K and the other two neighbors. (The recipe is in their second book, Babycakes Covers the Classics, on page 116.)
This was in no way a competition to see who could bake better. This was strictly to use up a pineapple that I'd bought and I thought was ripe enough to cut. It wasn't, not just yet. But it was good. And I tossed out the top, I don't want any more monster pineapple plants.
I was just thinking yesterday morning about K's pineapple cake and how good it was and wondered if there was a version in that book. Sure enough–so I checked the pantry and fridge for ingredients. Check. I had already decided to give K, R and T a slice, and then. . .there would be some cake left for me, but not the WHOLE cake. And so it went.
No Sugar Added
I also decided to use Somersweet for the little amount of sugar required, and it worked like a charm. The cake itself is sweetened with agave syrup, but the caramelized top/bottom needs the sugar along with the pineapple.
Now, let's backtrack a bit–this is what the Babycakes version looks like in the book:
Never mind the tea bags. I expected my pineapple cake to look a bit like this.
Much as I enjoy these recipes, I'd never thought to try this one before, so I had no idea how it would turn out. I didn't think to take pictures while mixing it, but really, the principle was the same as K's.
First, you line a 9-inch cake pan with parchment paper and grease it with a bit of coconut oil. then mix a quarter cup of sugar with 2 teaspoons of cinnamon, then sprinkle that on the bottom of the pan, in the lining, of course. Of those pineapple slices, you sort of fit them on top of that, however you like. I made sure to take the tough, fibrous centers out before I put them into the pan.
I'm sorry, I'm trying to scan the recipe for you, but my scanner isn't cooperating.
Making The Cake
Now, it does have quite a few ingredients aside from pineapple, but lucky me, I had everything I needed, except for one thing, for which I used coconut flour. I think it was rice flour. Well, anyway, after you take care of the first layer of pineapple, you mix all the dry ingredients, then the wet ingredients into the dry. Mix until smooth, and pour that batter over the first layer:
I trimmed all that parchment paper down to the perimeter and stashed it in the toaster oven at 325F.  It baked exactly as the directions instructed, 20 minutes, turn, 20 more minutes, and that was it. Looks good:
Here's where it gets fussy–let it cool for 30 minutes IN THE PAN, then turn it out onto a plate.
Now, besides the ingredient listing, here's where it differs from K's original pineapple cake (which we ate half of right out of the oven.) This cake is not only thicker, as you'll see, but it's also. . .drier. No kidding, it's not the moist pineapple cake K made. That's not to say it's not as good, but it is definitely different than K's. I think this may be more like what you might imagine when someone says "pineapple upside-down cake." It's not as moist, and not as sweet as K's–hers had more butter than this one has coconut oil.
But when you absolutely can't have wheat, and you get sick from it, this is definitely lookin' good to you, right?
Tasting The Pineapple Cake
Take a look at what happened when I cut the first slice:
I did want to make sure it was suitable to pass along to friends, and it was. I did warn them that it was not like K's cake (yes, including K), and that it was drier and not as sweet. But the pineapple definitely carmelizes nicely.
At press time, K had not yet tried the cake, and I haven't asked the other two yet.
So I have three more slices to enjoy, since I had one today after lunch and one when it came out of the oven.
YUM!
This also goes to prove the old adage that there's more than one way to. . .do something. I'm not saying that other adage, OK?
I'm busy for the next couple of days, but will try to pop back in later this week.
Enjoy!