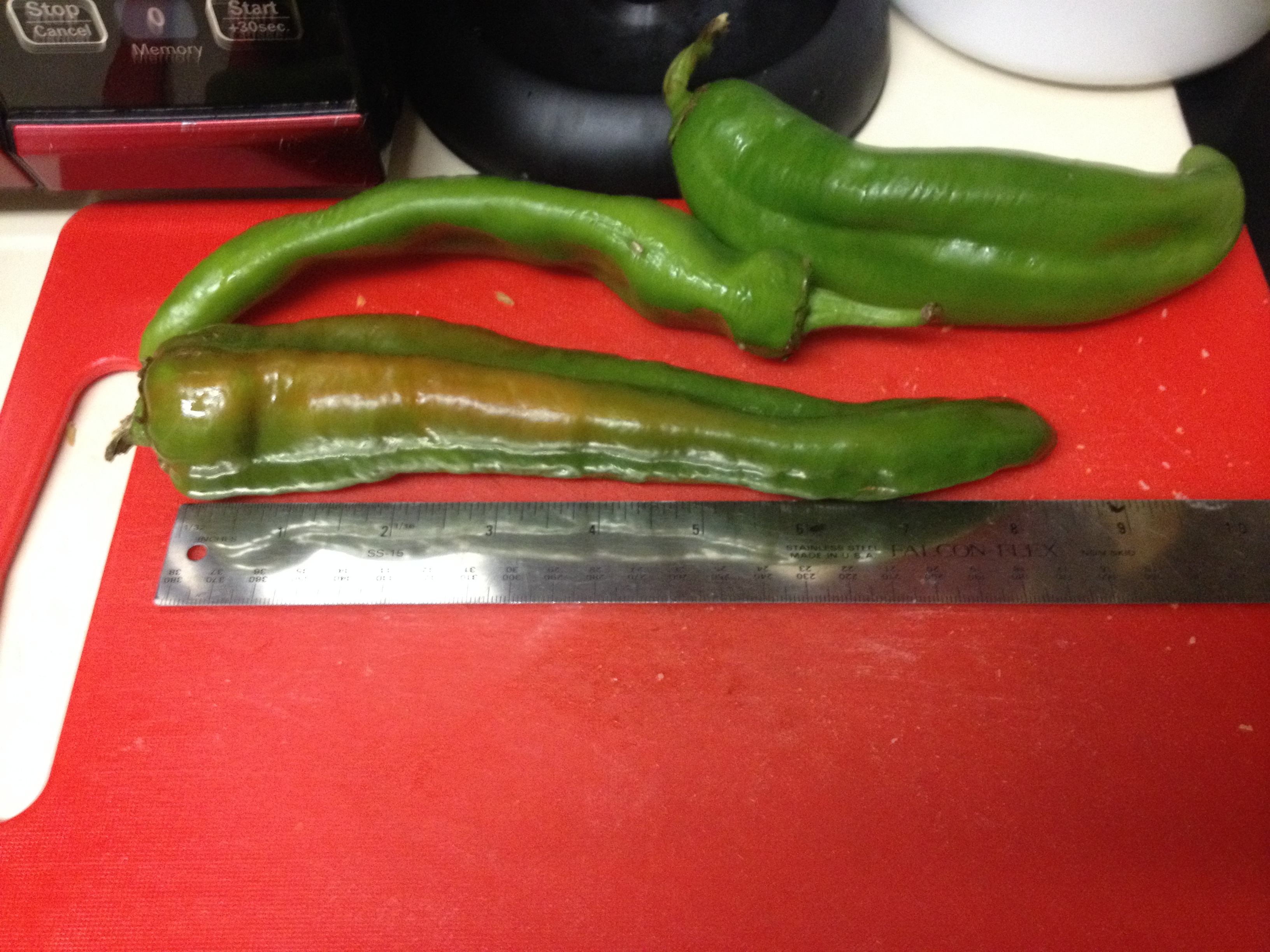 Sampling Saturday: The Hatch & Pesto Weekend
Happy Monday, Dear Readers:
My apologies for being so late in posting again. . .it gets away from me sometimes.
If you're in Louisiana and reading this, please stay safe and dry–the situation is dangerous in many areas, and I have friends who have been impacted. Mechanic friend JK's house is fine, but his vehicle isn't. JK is in touch with many of his friends who were impacted, one person he knows has been evacuated, and his brother's place of business took on a foot or so of water on Saturday. Heck, even the Governor's Mansion in Baton Rouge took on an inch of water! This is some of the worst flooding Louisiana has ever seen, and it wasn't even due to a hurricane. Most of the flooding is north of Lake Ponchartrain and in the Baton Rouge area, rather than New Orleans, where it normally occurs.
Mercy Chefs is heading to Baton Rouge to help serve food to affected people and first responders. If you're interested in making a donation to help, Mercy Chefs is a good place to start. They have professional-grade mobile kitchens and drive to disaster areas and COOK FOOD. I have not personally had dinner with these folks, I don't know them, but I have donated to them a few times. I do know they prepare hot, fresh gourmet food for people who can't cook for themselves and can't get home to eat.
I haven't forgotten floods that I've been through in Louisiana previously, including one that kept me and my now-ex-husband upstairs in our apartment for three days. We didn't have cable TV, or Internet, or a computer, we only had each other and the cats. And then we ran out of coffee. . . .
While we here in Houston are now getting some rain after a hot dry spell, it's not Louisiana's excess rain. Neighbor E and I have had a couple of adventures last week, and it involved two trips to our local and fabulous HEB. We both had errands to run on Tuesday, and decided to go together. We also visited the Lego Americana Roadshow, which happened to stop in our own Baybrook Mall last week. One of E's friends liked a post on Facebook, and E saw it. Otherwise, neither of us would have known! It was quite interesting–ten American icons are built in. . .Legos.  No kidding. The Liberty Bell, the Statue of Liberty, The Lincoln, Washington and Jefferson Memorials, and other historic structures are all made of Legos, most of them white. It really was something to see, it was FREE, and I'm glad we got to go.  (You can check out our pictures here.)  If you want Americans to see something, you put it in the mall.
We also made a quick run to HEB for a few things, where we were introduced to a few things in the upcoming Hatch Chili weekend. Oh, BOY. At the Cooking Connection area, where chefs are constantly preparing tasty things for sampling, we were among the first to try a "Dump Cake" made with a Hatch Apple Pie Filling. No kidding. Three ingredients: the filling, which I'll show you later, a box of Duncan Hines Yellow Cake Mix, and a stick of unsalted butter, chopped and laid on top. You pour the pie filling into a 9×13 baking pan, then the cake mix on top of that, then the butter pieces atop that. You're just layering here, not mixing anything, and make sure they're evenly spread, including the butter. Bake at 350 for 35-40 minutes. Of course, that Hatch Apple Pie Filling is only around for a limited time. I got a jar and the recipe in the pantry for a special occasion, which hasn't happened yet.
Don't judge me. We were floored.
I think that was the day we were also treated to ice cream samples with mini-M&Ms and some of this delicious elixir:
Miss Kathryn, who is usually in the Cooking Connection area daily, told us that Saturday was the big Hatch promotion, and there would be everything with Hatch chilis all over the place. She was actually working on the Hatch Apple Dump Cake while we were there, and asked us to try it to see what we thought–and of course, gave her two thumbs up. We were among the first to try it! So E and I made plans to return on Saturday and have lunch. Because, quite frankly, that's what you do in HEB on a Saturday.
I had to head into town on Thursday, and well, I needed some chocolate. Since I was in town anyway, I made a quick stop at IKEA for some catalogs; Neighbor E is happily looking at his, and JK, The E Man and PK will all be receiving theirs later this week. I went up to the Second Floor Cafe, and got a look in the fridge case.
Yes, I fell off the wagon. It's called–the Chocolate Conspiracy Cake. I have no idea why, and maybe it was the dry, gentle Swedish humor, but it sure was good. Again, don't judge me, I had a bad day. Chocolate helps. And I rode for 16 miles that night.
Saturday I headed to LK's for our monthly Buddhist study meeting, and texted Neighbor E when I was leaving. I dropped by the complex, E hopped in my ride and off we went. My pictures are only iPhone shots, because, DUH, I forgot to bring my regular camera, darnit. But they came out pretty good. Come on with us on Sampling Saturday, Hatch Edition, and enjoy the sights. (Sorry I can't help you taste the food.)
When you turn into the parking lot off El Dorado, the tendency is to park there, but that's at the "back end" of the store, where the pharmacy is. No, it's better to park on the other end, by the Clear Lake City Blvd. entrance, so you go in through the door by the floral and produce areas. Bring your bags, and don't forget your "cold bag," the one that keeps your milk and other perishables cold. (I also made this Butterick grocery bag that keeps things hot *or* cold.) Of course, that's where they also keep the "grab-and-go" meals, where a very nice lady is frequently sampling them:
This weekend Miss Sunie was sampling delicious Hatch Meatball Stuffed Mushrooms (that's what she's scooping up in the picture) and chicken breasts stuffed with green beans and, what else, Hatch Chilis. Two thumbs up from both me and E. YUM. Next up is Miss Lei, who was serving a most incredible Salmon Hatch Burgers on a toasted bun:
If I had to pick a favorite, which would be difficult, I would probably have to pick this sandwich. But since E is "not a fish guy," he passed on it. Darn shame, but I'm not twisting his arm for anything.
These Hatch Salmon Burgers start with, what else, the Hatch Salmon Patties at HEB, and are served on their delicious Onion Rolls, which are buttered and grilled. While those are going on, you mix a cup of sour cream with a box of Boursin Garlic & Herb Cheese, and when the buns are toasted, spread some on the bottom. Add the cooked Hatch Salmon Patty, place some Dill Dip on top the patty, and put the top bun on it.
And you have just become enlightened, folks. It's that good.
Now, while we were waiting for the burgers to finish cooking (they only had a couple of minutes to go), we got to talking about the Hatch chile. Longtime readers may remember my last post on the Hatch Chili last year, (and a previous post from 2014), and I gave you some insight and history into these little green babies. Miss Lei went online and did some more research into them and found out a number of neat facts–like one Hatch has three times the Vitamin C of an orange. (I should have taken a pic of that flier she had posted, darnit.) That when you visit New Mexico, as I did with friend of the blog Aunt Ruth in 2012, they ask, "red or green?" Meaning, red or green sauce–and they really do put it on everything. And that only those peppers grown in Hatch, NM can be called "Hatch."
Also available is one of their "Entree Simple" lines, Hatch Chile Stuffed Salmon. They weren't sampling that, but it's available in the oven-ready section by Miss Sunie. (That's where the countertop oven comes in handy.)
Next up was Miss Carolyn, who was sampling delicious breads. (What I eat in HEB stays in HEB!)
Miss Carolyn not only had store-baked French bread, she had Hatch Corn Bread and some Hatch Sliced bread too, which you must taste to believe:
Don't tell my doctor. It's like going to a birthday party or a wedding. You know you're going to eat some cake, right? Same thing.
With the French bread, she buttered it, but not the sliced or corn bread. Good thing–butter would be wasted on them. Don't cover the flavor of the delicious Hatch breads. Ever.
Next up was over to the Cooking Connection demo area, where another one of the store chefs was cooking up more delicious things:
I can't find the recipes for what we sampled, but yes, we had more of that Hatch Apple Dump Cake! Cooking Connection also features recipes using new and interesting ingredients like the Hatch Apple Pie filling, and that mustard sitting right next to it. Oh, and a delicious Hatch Chile Jalapeno Jam topping some softened cream cheese. Oh, I can't stop eating whatever they put with cream cheese–it's always addictive, and is perfect on top samples of tortillas from the bakery, right across the aisle.
Mom's Hatch Apple Pie Filling is, as they explained repeatedly, "only here for a limited time." It's also made in Fredricksburg, Texas–so you know it's good! Both E and I bought some, and as I said, mine's in the pantry with the recipe taped to the lid. It's so "limited edition" that it's not even on the company website!
Past the Cooking Connection and into the Meat Department was a nice guy offering Hatch Empanadas:
Delicious, and they're available in the meat case right behind him:
We also saw Hatch Chiles used to season chicken:
You can also get Hatch Rotisserie Chicken if you don't want to be bothered cooking it yourself.
Delicious sausages that we also sampled (but I forget where):
And even cheese:
Yeah, they put Hatch chilis in everything at HEB, and some of their Hatch chili products are available year-round.
We also did a spot of shopping, and while we don't buy the same kinds of things, I got a look at this section:
Since I was getting some un-seasoned chicken leg quarters, it was quite tempting to get a packet of slow cooker seasoning mix. Really, it was. Then I looked at the ingredients on the packet. . .and put it back.
But outside of the sampling, the most fun we had was seeing this little abandoned item. E had some fun and put his shopping in it:
I should have taken a picture of the warning label on the front–but the sign facing the corn flakes box says something about the basket being "reserved only for future HEB shoppers." Cute, isn't it? Of course, it's for the wee ones, so they can shop right along with Mom, Dad, Grandma, or Grandpa.
No, we didn't have that when I was a wee one shopping with Maw Maw O'Donnell at Schweggmann's. I wish.
I forgot to get a picture of it, but HEB is also selling various pepper plants, including Hatch Chile peppers, for $9.98 a pot. The Hatch plants were about 2 feet high and had peppers growing on them. I didn't buy any, but if I can get those seeds to sprout, I'll have my own. And if they drop the price down, well, I might get one anyway.
Next: I went to town on Serve-It-Up-Sunday, where I cooked for the week. I bought three of those huge Hatch chilis:
I could have just seeded and chopped them to throw into the breakfast quiche, but I decided to roast them again. First up: cut them open and remove the seeds and ribs:
Check out how many seeds I saved from those three Hatch peppers:
I cut them flat so that they would roast nicely.
Stuck them in the toaster oven under the broiler for a little while, until the skin starts coming off. You can also roast them over an open flame, using the burner on a gas stove or even on an enclosed barbecue grill, if you like. After a few minutes under the heat, this is what you should see:
The skin is starting to dry out, and that's what you want. I don't know how long it took, but of course, don't walk away and forget them. This is what came out:
Let them cool completely in an enclosed dish, or plastic bag (I put my paws on this first.)
Once they cool off and the skin starts to sweat, they look like this:
Then you just slip the cooled flesh from the skin by hand.
Delicious, not hot. And about the same amount as I would get from a small can. OK, I admit, it's the long way round. But it's worth it.
After I roasted up the chicken leg quarters (nothing exciting) I decided it was Pesto Time again. The basil just became plentiful, particularly with the elephant-ear leaves, so I started the harvest:
As instructed in the Green Thumb gardening lectures, I left five leaves on each one of those plants. This is what I had to work with:
I did pick the bad spots out of the leaves.
I actually had enough to make a full one-cup batch, then a half-cup batch. Both went directly into the freezer.
Yeah, I'm good. Didn't think about adding a Hatch chili though; maybe next year. Maybe I'll get one more batch of pesto before the plants all go to sleep for the winter. Just need to head to Bed, Bath and Beyond for more of those little square glass containers I like. I used up the rest of the sage butter on two turkey thighs, so I had one free for this pesto batch. But I always hope for more. . . .
Hatch chilis aren't around for too long, so if you're a Hatch fan, or you've never tried them, get them while they're, um, hot. Available. Around.
Happy Hatching!