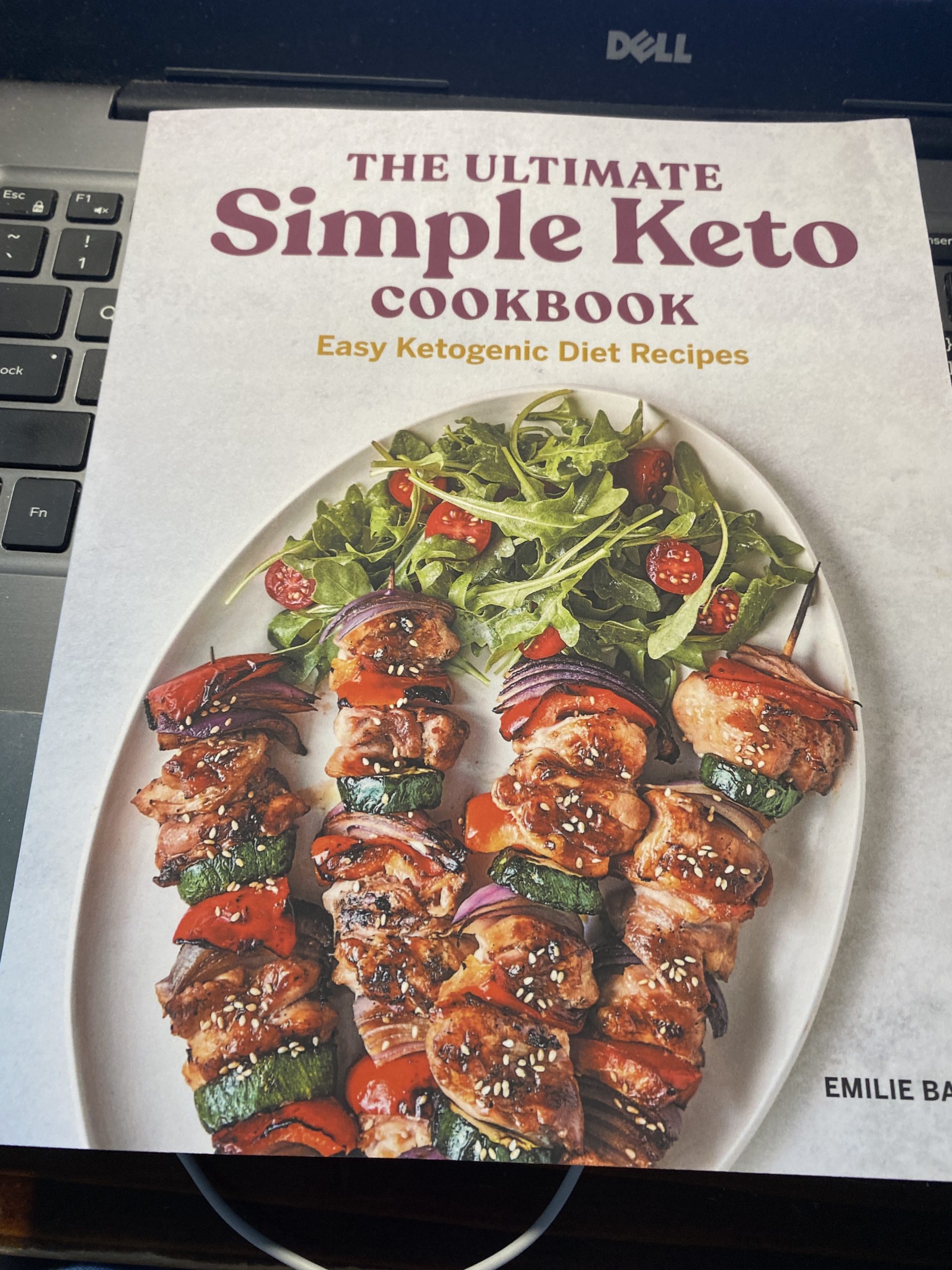 Review: The Ultimate Simple Keto Cookbook
As I mentioned in my last post, Emilie Bailey, aka, The Texas Granola Girl, has a new cookbook. This time, it's all about the simple keto.
Hello, again, Dear Readers:
Ready for more keto recipes? Emilie Bailey has you covered with her newest. I know, I only reviewed her first cookbook just two months ago, but. . .I get around to it. Now, she's got another cookbook with delicious food for you to enjoy.
We've had rain almost daily since April, and everything is growing like wildfire. I'm back to paint-bucket gardening this year, and BF finally mowed over the overgrown parsley from last year's garden spot. I've started more parsley in a bucket, so we should have more soon. Basil is doing well, and I hope to get a few peppers. We'll see.
Let's get started.
Watermelon Update
So after I published the last blog, the car-guy growing watermelons stopped by later in the evening. No, he was not notified of the roasted watermelon. Here's a pic of the original three he gave us:
I first showed him the two books by Emilie Bailey because he, too, eats "keto, mostly." Then, I asked him why the stickers on the watermelons. It took him 15 minutes to explain, but it's because:
The soil in both upper Tangipahoa and Washington Parishes is ideal for growing these melons
The melons grown in this area are highly prized for that reason
Older and native local residents are aware of the reputation of "Washington Parish watermelons" and will seek them out
Melons grown in Texas and Lucedale, MS, are frequently what you get in our local grocery stores, rather than locally grown
Some melons are shipped in from as far away as Florida
Those out-of-state melons are usually grown on land that is used continuously for melons, requiring the addition of heavy chemicals to continue growing them in the same fields repeatedly
These chemicals are in addition to the pesticides used in the out-of-state crops
Even local produce vendors ("fruit stands," as they're called here) sell out-of-state melons and pass them off as "locally grown"
He went into great detail about why his melons are better, but I guess that's to be expected. From his description, I don't believe his have heavy chemicals in them. (I hope not,  anyway.) Admittedly, they are tasty, and I'd highly recommend one if you find them. But if you're in Texas, of course, you'd need to find one grown in the Rio Grande Valley, or maybe at Froberg Farms in Alvin. 
The Pantry
Our little pantry needs a re-org,  and it's not the first time I've tidied it up. But a lack of additional shelving and no interest from BF means that I'm totally on my own here.
When I moved in, there was almost nothing in it. After emptying out all the boxes from my kitchen in Houston (thank you, Miss Alice and Neighbor E), the pantry was overflowing. And the beginning of the pandemic last year also saw BF doing some panic-buying, which is in boxes under the counter as well.
I was looking for an ingredient last week and had to pull out several things to get to whatever it was I needed. I removed this from the pantry, which wasn't mine:
I always buy the stuff in the yellow box, and we have one that I purchased long after the move. So using my amateur detective skills, I decided to investigate further:
Yup, that's the bottom of the can. BF says he has no idea where it came from, but I'm pretty sure I know. From his last marriage, that's where. (The divorce was final in 2008.) I've found (and disposed of) his junk mail that was even older. Hopefully, we've gotten rid of all that stuff he tossed in a box and took with him. Obviously, this can went out in the trash.
So at some point, one of these days, I need to take everything out, check for the expired and bad stuff, and toss it. If I can talk him into it, some wonderful shelving will make its way into the pantry, and hopefully a coat or two of some nice paint. White is fine, but wouldn't white shelves with a nice cheery color be even better? Because it'll be harder to "lose" anything in the back like that.
This isn't the first time I've come across older foodstuffs. I try not to have anything too old in the pantry, but it happens occasionally. The GER's pantry also got a good cleaning when I moved into his house (almost 20 years ago now), and I tossed out a bag full of very outdated stuff that had just sat unused for many years.
The New Book: The Ultimate Simple Keto Cookbook
Author Emilie Bailey, aka, The Texas Granola Girl, spent part of her pandemic energies on writing two new cookbooks. The first of these books is being released tomorrow and is her second book of delicious recipes.
When I got the email from her list, I immediately signed up to review it. After all, it's a free book! Well, it's a good one, too, and I knew it would be. Emilie has been posting regularly on Instagram and sending out emails with new and delicious recipes.
Yes, there are three recipes with turnips. If you like them, the Classic Fauxtato Salad on page 61 is right up your alley. It's made with everything you'd use for a regular potato salad, but with turnips. Let me know how it goes.
There are nine chapters, including an intro to keto, desserts (of course), and a chapter on keto staples, such as Easy Alfredo Sauce, Creamy Feta Dressing, Ranch Dressing, Quick Marinara Sauce, and Three-Minute Mayo, using avocado oil. There's even a Basic Sandwich Bread on page 188.
We tried four recipes when I got this book, and they're all two thumbs up. So let me tell you about the simple keto recipes I made.
One-Pan Chicken Parmesean, Page 122
We had one chicken breast in the freezer and only needed some mozzarella cheese. I gave BF his instructions and shopping list for this and the next recipe, made for dinner one night. Unfortunately, I didn't take a full set of pictures, and none for the broccoli recipe. But I got a few.
First, preheat your oven to 400F. Slice two chicken breasts in half horizontally to make four cutlets, then pound them to a quarter-inch thick.
Mix up some parm cheese, Italian seasoning garlic, and a half-teaspoon of freshly ground pepper. Brush both sides of the chicken with some keto-friendly mayo, which you can make on page 178 or buy (read the labels of course.) Then drop the chicken in the seasoning mixture to coat, and fry in a large oven-safe skillet:
Cook about five minutes on each side and remove from the heat (I turned it off.) Pour some sugar-free marinara sauce over the chicken. I used Classico Tomato & Basil, but she has a recipe on page 183.
Spread it around:
Now sprinkle one an one-half cups of shredded mozzarella (or provolone) cheese over the top:
Into the oven for 10 to 15 minutes, until the cheese is melted and the chicken is completely cooked.
While that was going on, I did the broccoli at the same time.
Sheet Pan Broccoli, Page 80
The second part of this simple keto dinner has no pictures, but it was a perfect accompaniment to the chicken.
I used the countertop oven, which is preheated to 450 degrees. Chop the broccoli into florets, wash, and set aside. Line a baking sheet with parchment paper.
In a bowl, mix:
1.5 tablespoons avocado oil (I used olive because I had it)
2 cloves garlic, finely chopped
2.5 teaspoons sesame oil
1 tablespoon soy sauce or tamari (tamari is wheat-free, and so is La Choy soy sauce)
2 teaspoons sriracha
1.5 teaspoons granulated 1:1 sweetener (I'll explain next section)
Mix this up, and then add the drained broccoli. Toss it around well, then drop it on the baking sheet. Roast for 15 to 18 minutes, until the broccoli is tender. Toss halfway through the cooking time. Serve hot.
This recipe calls for 2 heads of broccoli, but I halved the recipe for me and BF, as I did with the chicken. Oddly, though, it's a good thing I forgot to halve the seasoning and other ingredients for the chicken because it needed all of it.
I did forget to sprinkle sesame seeds over the broccoli. Next time. Amazingly, he loved both and declared them "winners." One more in our dinner rotation.
Classic Fudgy Brownies, Page 173
This was actually the first recipe I made. Does anyone want dessert? Once again, I had everything I needed to make these brownies, except butter. BF was instructed to get some on the way home from work because this recipe takes 1.5 sticks of butter. Oh, YEAH.
Now, one difference is that Emilie calls for 1:1 sweetener here and in the broccoli seasoning. What this means is that it's a blend of sweeteners, frequently erythritol and monk fruit, to taste just like sugar. I wanted to try this one and had good success with it here: 
This is the ingredient list: 
This is what's in it:
And if you're diabetic–there you go!
Making Brownies
These come together in a snap and bake up nicely.
With eight ingredients, you can have delicious keto brownies. I know, I know–you can buy a boxed mix too. Read the ingredients on that box, that's all I'm saying.
So you'll preheat the oven to 350F, and line the bottom of an 8×8 pan with a bit of parchment paper.
Chop up the butter and chocolate:
And melt together in the microwave, slowly and carefully, in 30-second intervals. Watch it so it doesn't boil over or make a mess. What comes out is this:
Stir them together:
And set aside to cool for a bit.
Get Mixing–Wet Ingredients
So now you blend together the sweetener and chocolate mixture together, then the eggs, which must be room temp or it'll make a big mess at this stage:
Now the eggs, one at a time.
Now add vanilla. If you're lucky, you have some of this:
Blend it well:
Mix until the batter is smooth, and proceed to the next stage.
Dry Ingredients
Into another bowl, mix up a cup of almond flour, a teaspoon of baking powder, and a quarter-teaspoon of kosher salt:
Now add into the wet ingredients. I prefer to do this a cup or so at a time so I don't have it all over the kitchen.
Once it's all incorporated, mix well, but don't over-mix it.
Time to spread it into the pan. Now, remember that you have one and a half sticks of butter here, so greasing isn't necessary. My guess is the parchment paper is there as an assistant to make sure they all come out.
Into the oven at 350F degrees for 20 to 25 minutes, "until the center is just set but still jiggles":
This is what it looks like coming out of the oven:
You must let them cool for about 15 minutes on a rack, then refrigerate them for 35 minutes or longer before you cut them:
I would say maybe 45 minutes because they were still warm and crumbled apart when I removed one from the pan. One of BF's car-guy friends, this one a millennial, happened to be visiting and tried one. His father is doing keto, so he knows what that is. BF tried one in the next day or two and said it was "good, but dry." There's a reason for that.
Remember that when you refrigerate them for a longer time, the butter in the brownies will harden up, so they'll be a bit on the dry side. However, they will stick together quite nicely, and taste just as delicious.
Of course, I loved them. Can't wait to make more!
Cheeseburger Casserole, Page 137
Ok, I know, I said I "don't do casserole," but this is too tasty to pass up. Ground beef, onions, cream, and cheddar cheese–what's not to like? Even he couldn't say no to this one. Last week, we made it. But I didn't take as many pictures as I intended.
First, brown a pound of 80% lean ground beef on the stove with onion and garlic for ten minutes:
When it looks like this:
If there is any grease, drain it, then add the browned ground beef mixture to the bottom of a 9-inch pie pan or 9-inch square baking dish. Like the blackberry cobbler, I used 8-inch because that's what I had.
Mix in a medium bowl 4 eggs, 5 tablespoons of tomato paste, a half-cup of heavy whipping cream, a half-teaspoon of kosher salt, and a quarter teaspoon of freshly ground pepper:
Add in a cup of shredded or grated cheddar cheese:
Mix well:
Baking
Now add to the pan:
Spread it over the top:
Add the remaining half-cup of cheddar cheese:
Make sure it's covered:
Bake in the oven for 30 to 35 minutes, or until it's set and looks like this:
This recipe makes four generous servings, and we had dinner one night and lunch the next day.
BF really enjoyed this one, and I'll be making this more often, too.
After All That Cooking
Did I have a mess to clean up:
But the mighty dishwasher of the HeatCageKitchen took care of it:
And it was a good night.
Until Next Time
Many thanks to Emilie Bailey for the gifted book, which will not collect dust. The next recipe I want to try is Creamy Parmesean Pork Chops on 151. Maybe I'll wait until we have a dinner guest to try it with either the broccoli or another side from the book.
I emailed her to thank her for the book, and to let her know what we made. She responded that her favorites are the Creamy Cabbage Alfredo on page 96, and the Osso Bucco on page 140. Cabbage? Oh, he's not going to like that. Move that to the "Drag Week Menu."
If you're looking for some delicious and easy keto food, this is your book. And if you don't eat keto but want some easy, delicious food that simple, this is also your book. Or if you want to impress friends and family while sticking to simple keto recipes, Emilie's book has got you covered there, too.
The new book is available on Amazon and other book outlets (yes, that's my affiliate link) tomorrow (July 13th) and is currently available as a Kindle book. I'll be posting my review there shortly.
Enjoy!!