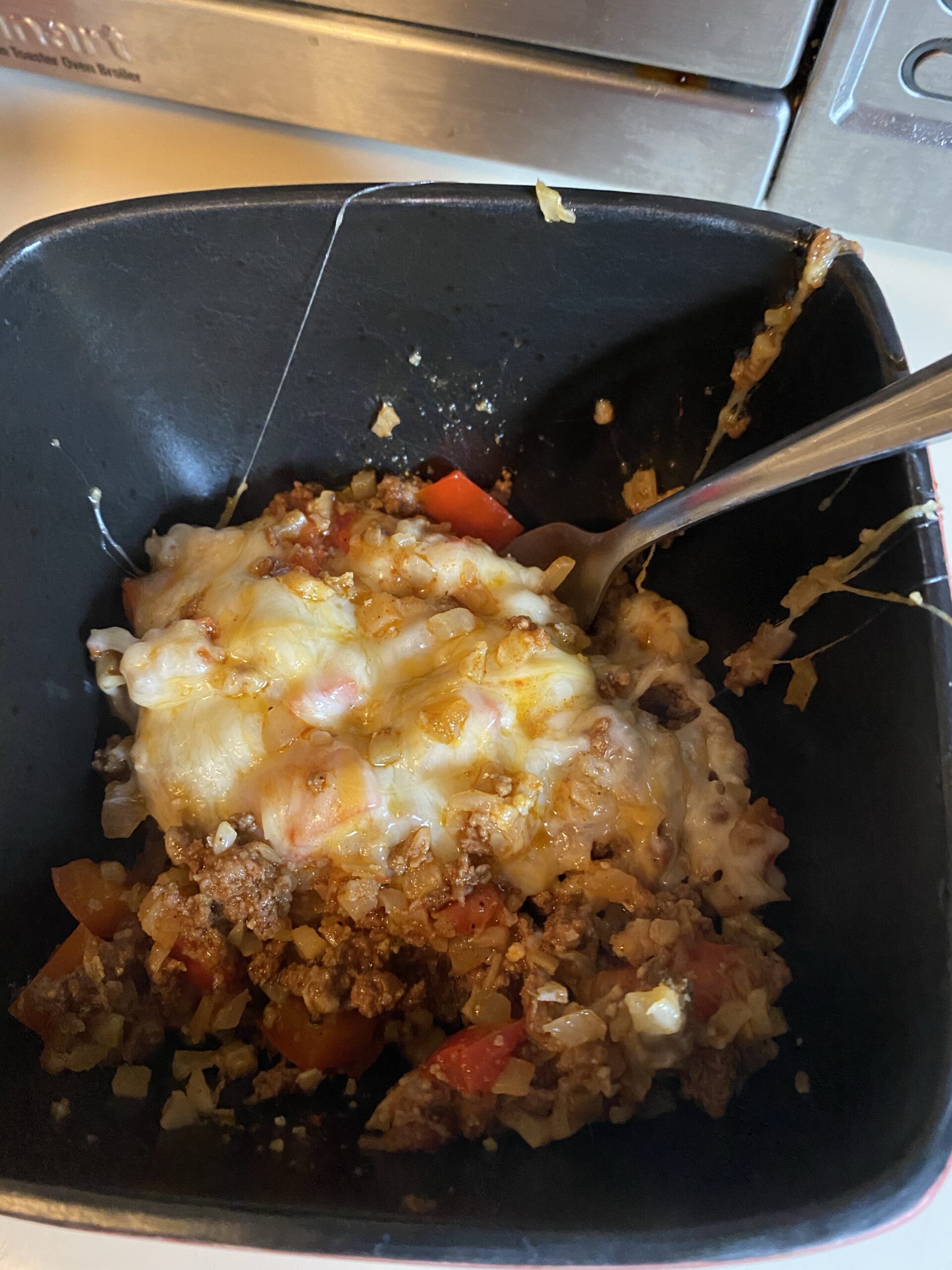 Mexican Cauliflower Rice (Keto/Low-Carb)
Cauliflower rice is a tasty dish for low-carb and keto eaters. I recently found a dish that uses it for Taco Tuesday or anytime you want something with a delicious Tex-Mex flavor. Let's get started.
Hello, again, Dear Readers:
Finally, I want to tell you about another fast dinner recipe that's good anytime. IF you don't have a fussy eater like BF.
R2D2 And Cauliflower Rice
In my big Instant Pot post, I mentioned the Etsy shop that makes wraps to turn your ordinary IP into something else. In our case, mine became R2D2, because BF is such a Star Wars fan. It just made sense. And, let's face it, it's funny. However, I neglected to post pictures of what mine looks like dressed up as a droid:
I just happened to look on Etsy and found it. Becky has a wide range of them.
I haven't tried any cauliflower rice recipes in the IP yet, but Corrie Cooks has a recipe for IP Spicy Cauliflower Rice. I'll try that soon, even if just to use the machine for something that night.
Oh, and that little spot to the left of the IP? That's a little burn mark. I'll take care of it soon. My many-year-old coffee grinder blew last night.
POW!
I plugged it into the wall socket and heard a loud POP and a bright flash of light. Scared the bejeezus out of me.  BF was in the living room and saw the flash.  I showed it to him, and he said, "well, you got your money's worth out of it."  We looked at the underside and saw that the copper wires were exposed, and I suppose touched when I plugged it in. Into the trash can it went.
If I remember correctly, I bought it while I was working at Boeing so that had to be prior to 2012. So it's time for another one.
Cauliflower: The "New" Vegetable
So, again, I read many blogs, both on social media and in email. One that I discovered a few years ago and only recently rediscovered was Carolyn Ketchum of All Day I Dream About Food. Her blogs are all about low-carb, keto, and gluten-free foods.
This delicious one-skillet dish popped up on Facebook or Instagram one day, with a graphic that said it was "keto." Seeing as we were getting onto Taco Tuesday, I thought we could do this instead. So, without telling BF what I was doing, I set out to make it for us.
What Is Cauliflower Rice?
Now, cauliflower rice is this new thing that keto and low-carb folks do to eat something that looks like rice, and when properly cooked, acts like it. However, it's infinitely lower in carbohydrates and takes on the flavors that you add to it. Suddenly, cauliflower is "having a moment," and it's the "newest" vegetable on the foodie scene.
I've found these recipes in a search on The Pioneer Woman's website:
Of course, you could search for recipes anywhere, like Pinterest, or any blog you like. Flip a coin in any direction, you'll likely land on a recipe for it that's different than mine and everyone else's.
You can buy all sorts of cauliflower-based things now, including my favorite, Caulipower Pizza. The company has added a range of new and healthier foods, including riced cauliflower, sweet potato toasts, tortillas, chicken tenders, and pastas.
Basic Cauliflower Rice
I've made the cauli-rice a few times, and honestly, I could eat it every day the way people around here eat white rice. If you have a food processor, you wash and cut a whole cauliflower head into florets, and grind it up until it looks like grains of rice. From here you can do a number of things with it, like the recipe I'll describe shortly. Or, if you don't want to mess with it, you can buy it already ground into bits:
I can't believe we can buy this here. I'm very glad our local Winn-Dixie carries it. I haven't looked for it in either Walmart or Rouse's yet. What you get is perfectly chopped cauliflower:
It's still raw cauliflower, of course, but it cooks quickly.
Cooking Cauli-Rice
To make cauli-rice as a side dish for nearly anything, it's really simple:
Heat your pan on medium-high, then add in the oil and butter:
When it's melted completely, add in the cauliflower rice:
Stir it around and add in some salt and pepper:
As always, use a light touch on salt. You can always add more if it's not salty enough. Keep stirring for five to seven minutes:
Cook it until the cauliflower is just softened:
And enjoy it with all manner of keto or low-carb dishes, or pretty much anything you like–even if it's not keto. I served this with the Instant Pot pot roast I blogged about last week.
Cooking it like this takes out the "chalky" taste that BF doesn't like–as well as Ina Garten, The Barefoot Contessa, no kidding.
Low-Carb Mexican Cauliflower Rice In A Skillet
This dish was almost as easy as making regular cauliflower rice.
So I got all the ingredients together and got started. This is one of those times I wish I hadn't told BF what was in it until later. He doesn't appreciate it when I buy grass-fed beef or anything organic.
I did just a little prep work to make the cooking process easier, as I always try to do:
Since it's Taco Tuesday, there is the appropriate cheese:
The Process
Start browning your ground beef:
Drop in the chopped onion and bell pepper:
Now cook for a few minutes until they soften and the meat is no longer pink.
Add in the taco seasoning:
If you like the packet stuff, go for it. You can also use any kind of taco seasoning you like, or mix one up.
Step Two
Now add your chopped tomatoes:
And the cauliflower rice:
Stir a little, then add the half-cup of chicken broth:
Now reduce the heat to medium-low, and let it cook until the cauli-rice is done. This should take about eight minutes if it's raw, and ten minutes if it's frozen, according to Carolyn.
Cheese!
Now take that cheese and sprinkle it on:
You should have enough to cover the top:
Now put a lid on it until the cheese melts:
And dinner is served!
You can serve it with your favorite toppings like avocado and sour cream. If you have others not eating keto, tortillas, tortilla chips, or other non-keto things will be great too. Or, you can have it just like this.
Not the neatest picture ever, but it was delish. I don't care what BF says.
New rule of thumb: do NOT tell BF what's in it until he tries it!
If you're interested, Carolyn Ketchum also has some additional recipes for cauliflower rice on her website. You can read more about Carolyn on her About page.
New Taco Tuesday Options!
Sure, tacos are delicious, but you don't have to eat them every single week. It's always nice to have another recipe that has the Tex-Mex flavors as another dinner option.
Since you'll make it in one pan, dinner will be ready in about thirty minutes, so it's great for a weeknight or a fast dinner on a weekend. And it's healthy, too.
Enjoy!